The current iteration of Volvo's XC90 flagship crossover debuted for the 2016 model year, and was instantly a hit, taking home accolades from major media outlets globally. It now moves into its fifth model year with no major hardware changes, however a few subtle tweaks here and there have made for improvements to an established player. We spent nearly three weeks behind the wheel of this 2020 Volvo XC90 T8 Inscription with Optimization by Polestar, to determine where it fits into the luxury crossover landscape amidst newer and fresher players from Mercedes-Benz and BMW.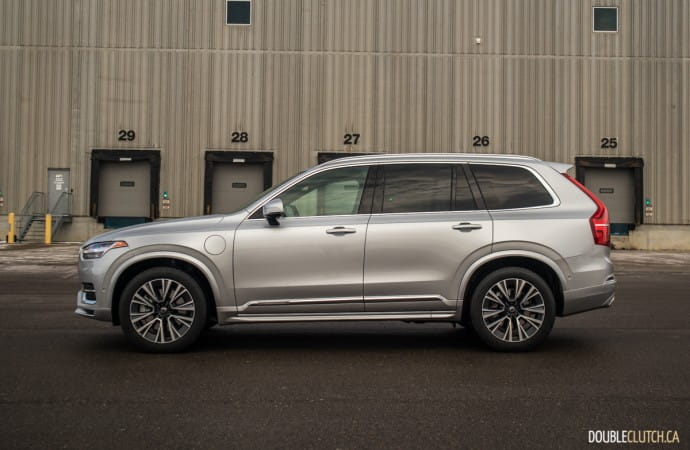 The XC90 proudly wears its Volvo fascia, with understated elegance being the name of the game. The two-box crossover proportions look excellent here, and while competition from the Germans moves towards aggressive styling, the XC90 retains the simplicity that allows it to remain universally stylish. The Thor's Hammer headlights that debuted on this model in 2016 and have since become a Volvo signature piece look great, and the traditional vertical taillights look great, as well. The silver colour on our Inscription tester hides the pretty lines and highlights, and makes it appear slab-sided. In just about any other colour, the XC90 looks most excellent when equipped with the 20-inch wheels pictured.
Inside, things are no worse – Volvo makes one of the most ergonomically well designed interiors available today. Nothing stands out at you in one way or another, save for the 12.3-inch Sensus infotainment touchscreen. The seats are extremely well designed, and on a holiday road trip to and from Québec City with his family, our content editor Ben So sang praises about their overall comfort. In this example the seats are heated and cooled in the first two rows, and offer an effective massage feature in the front. Volvo is known to make exceptional seats, and the XC90 is no exception to this. Plenty of adjustment is available and it won't be hard for drivers of any size to find their ideal seating position.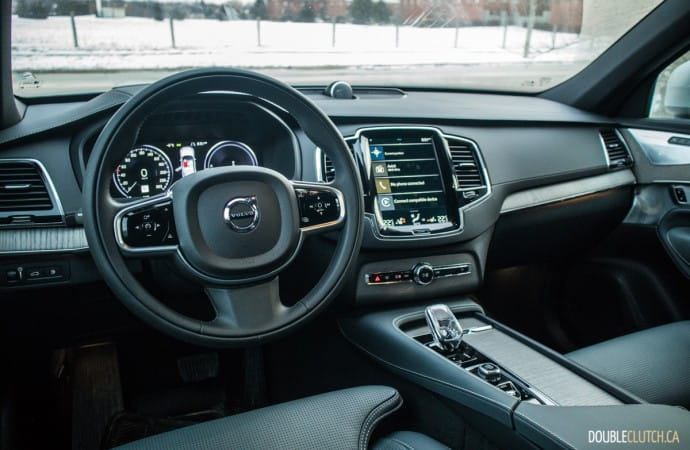 Rear seat accommodations are just fine too, with the second row remaining comfortable for adults of all sizes. Despite the panoramic sunroof equipped on our tester, headroom doesn't seem compromised at all. While the XC90 does have a third row of seating, it's an occasional-use setup only, compromising cargo space substantially and not offering much space for adults at all. Instrumentation is easy to decipher, with a clean-looking digital gauge cluster. This could use some improvement as it's a bit confusing to get through and monitor trip/fuel consumption information, but the visuals are great.
Volvo is one of the automakers moving towards full "electrification", and while this doesn't mean we're going to be bombarded with an onset of full electric vehicles, they are moving towards offering plug-in hybrid variants of all models. Models badged with the "T8" designation are offered with a twin-charged version of the 2.0-liter inline four-cylinder that is also mated to a 65-kWh electric motor with plug-in capability. It's a great powerplant in operation, with an observed EV-only range of up to 24km. This may not seem like much, but it's enough for the average Canadian to travel to work and back. Fuel mileage will vary depending on how often you're able to plug in the vehicle, but we averaged 9.2L/100km over roughly 3,000km of driving.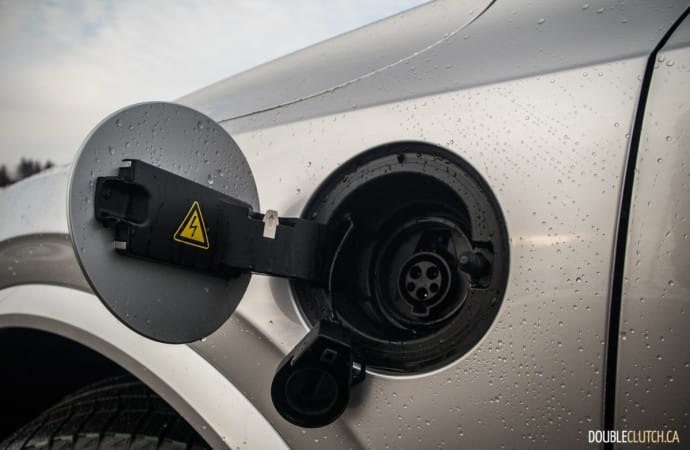 Should the EV-only range not work quite as well for your needs, the XC90 functions as a hybrid in regular operation, pushing 400 combined horsepower and 472 lb-ft. of torque at 6,000RPM. Power is channeled to all four wheels through an eight-speed automatic transmission, a pleasant change over the CVT seen in many hybrid vehicles. The transmission is well-calibrated, and power delivery is linear and reasonably urgent. Volvo claims a 0-100km/h sprint time of 5.6 seconds. The twin-charging is a question mark with regards to long-term reliability, but while it's new and within the warranty period, has proven itself reasonably durable.
Volvo has always prided themselves on safety first and foremost, and as the automotive landscape develops further into active safety features, the XC90 remains at the forefront. Their Pilot Assist technology uses the adaptive cruise control and lane keep assist to keep the vehicle going in a highway setting with minimal intervention. It's still not a fully autonomous system and lacks the seamless lane change assistance that Mercedes-Benz's Intelligent Drive offers, but Pilot Assist is right up there at the top. Other features like blind spot warning, pre-collision braking, and cross traffic alert are also all on board.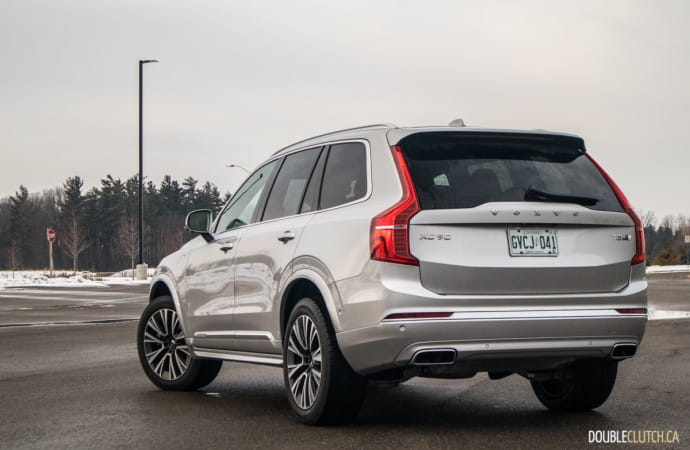 While the regular XC90 starts at $61,250, the T8 model will set you back $74,950. Opting for the top-trim Inscription brings this to $85,800, and the massaging front seats are $1,300 extra. Also on our tester are a Premium Plus Package at $2,800 (Pilot Assist, 360-degree camera, HomeLink) and a Premium Package at $2,100 (heated steering wheel, BLIS, heated rear seats), both of which really should be standard fare at this price point. Factor in the essential Bowers and Wilkins sound system at $3,750, four-corner air suspension at $2,350, and Park Assist Pilot at $600, and the as-tested price just slides over the $100,000 mark.
It may seem high, but we recently tested a Mercedes-Benz GLE 450 (reviewed here) that was priced a little bit higher, and it's easy to get a BMW X5 into the six-figure price point as well. There's a plug-in hybrid X5 on the way, but a rival that shouldn't be forgotten is the Lexus RX 450hL. The Lexus has an interior that's considerably tighter inside than the XC90, and an infotainment system that may be a deal-breaker for some, but it's cheaper and the hybrid powertrain is bulletproof. Acura's MDX Sport Hybrid is also priced lower but doesn't offer nearly the amount of comfort, space, or safety features as the Volvo.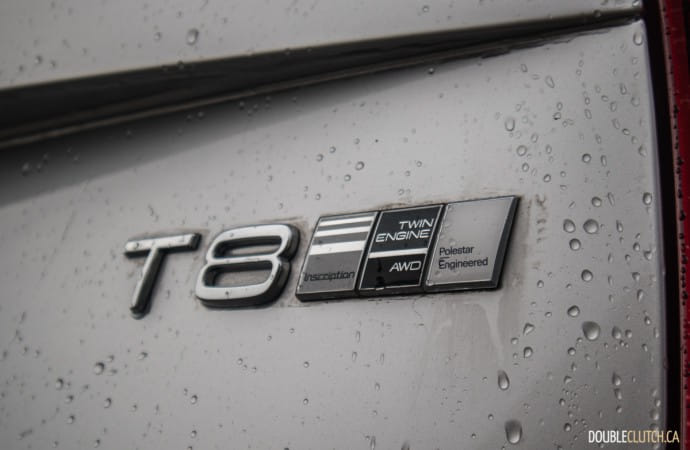 The XC90 is sure-footed and drives well, but the only real weakness we experienced is the slightly jittery ride exhibited from most SPA-platform vehicles. It rides adequately and smoothly, but there is a bit of discomfort over road imperfections that aren't seen in the major German competition. Additionally, the 400-horsepower motor is great and all, but it still sounds like an unrefined four-cylinder when under load. At $100,000, this is one of those times where artificial sound would work to the vehicle's benefit.
Despite being a half-decade old, Volvo's crossover still has relevance. Rather than a mid-cycle update, Volvo has made subtle changes nearly each year. Pilot Assist has been improved over the years, the T8 has gotten more electric range, and the infotaiment system has been made faster. Adding onto this, the tiny tweaks to the XC90's appearance over the years have contributed to a podium finish in its segment. The 2020 Volvo XC90 T8 Inscription remains an excellent pick in the three-row crossover class.

See Also:
2020 Mercedes-Benz GLE 350 4MATIC
2019 BMW X5 xDrive50i
2019 Volvo XC90 T8 Inscription