Although wagons are a tough sell in North America — and that probably won't change anytime soon — we have to hand it to Volvo. If the 2022 Volvo V90 Cross Country B6 proves anything, it's that the Swedes haven't forgotten their roots.
See, it's tough to resist the siren song of SUVs and crossovers — most Canadians love them for their jacked-up ride height and perceived toughness, and automakers love them because they're pretty much a license to print money. Countless automakers have bought into the craze, including Volvo with their admittedly very good XC lineup, but not everybody wants to keep up with the Joneses and drive a blob-shaped, high-riding family hauler. Enter the V90 Cross Country.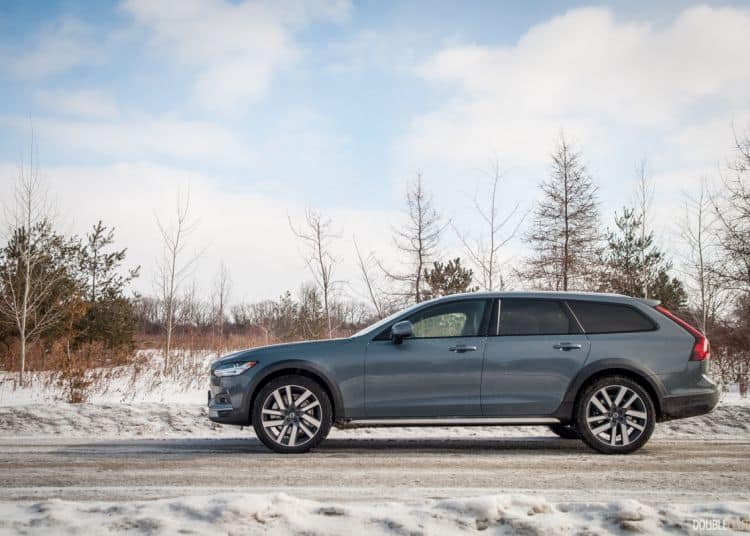 Or should we say, re-enter? Thus proving if a tree falls in a forest and nobody's around to hear it, it indeed does not make a noise, the V90 returns for 2022 after a brief hiatus, armed with a new powertrain, a new infotainment system, and a very, very minor refresh — you'll have to park a 2022 V90 Cross Country beside a 2019 model to fully pick out the visual differences. Oh, and if you're pining for the gorgeous, body-cladding-free V90 of yesteryear, you're out of luck: the Cross Country flavour is your only way to get a flagship Volvo wagon these days. Otherwise, you'll have to make do with the smaller (but equally handsome) V60.
For 2022, Volvo as a whole has tweaked its powertrain lineup. Anything with a plug is now part of the Recharge family, and the T5 and T6 powertrains have been replaced with the B5 and B6. The V90 Cross Country is available solely with the latter; it's still the same supercharged and turbocharged 2.0-litre four-cylinder engine, and it's still hooked up to an eight-speed automatic transmission. Oh, and all-wheel-drive is still standard.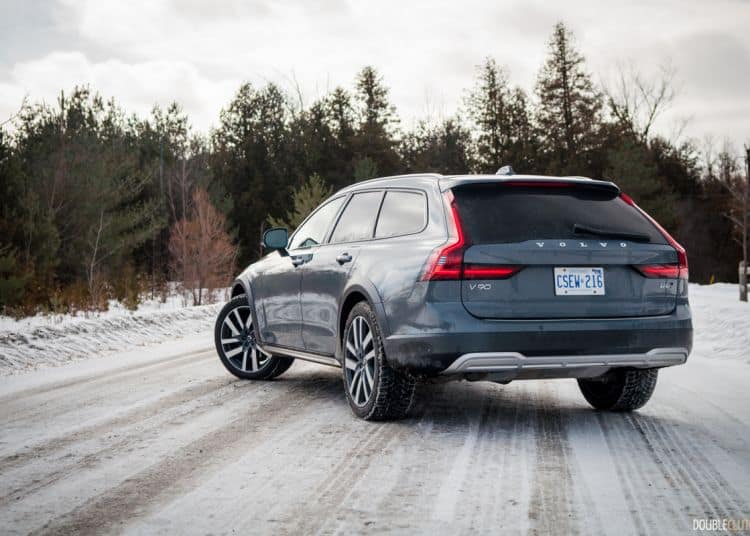 But now, on account of Volvo's full-steam-ahead push towards electrification, there's a 48-volt electric motor on board. On paper, there's a slight difference in output with the new mild hybrid B6 powertrain: you now have 295 horsepower and 310 pound-feet of torque to play with, versus 316 and 295, respectively, in the outgoing T6. In reality, you probably won't notice a massive difference, but it's not like the T6 was a powerhouse to begin with. 
You probably won't notice a massive improvement in fuel economy, either, but the electric motor does help. Officially, this latest V90 Cross Country is rated at 10.6L/100 kilometres in the city (a decent improvement over the 11.6 in the 2019 model) but highway fuel economy remains at 8.1L/100 kilometres. We averaged 10.2 in our time with the V90 Cross Country — not bad, but not great, either.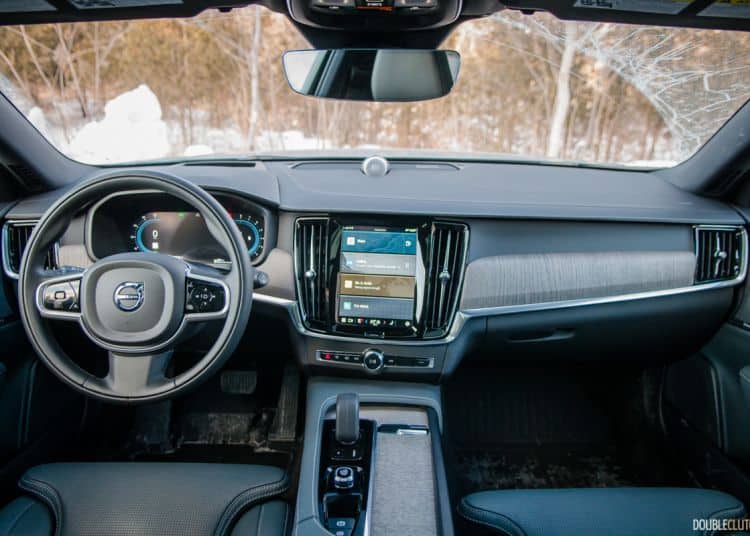 All told, the V90 Cross Country promises little in the way of sportiness. In fact, it's perhaps a little too soulless: the B6 is smooth and gets out of its own way, but it doesn't pin you into the seat and it doesn't sound particularly noteworthy, either. Ditto the steering; it's responsive but almost too light and numb. There aren't even any drive modes — just an off-road mode and a setting for heavier steering, even though it feels like it does nothing. If you care about driving, the Mercedes E-Class All-Terrain might be a better fit. 
But, boy oh boy, you absolutely cannot fault the V90 Cross Country for its impeccable comfort and buttery smoothness. Most automatic start/stop systems will send a jolt through your butt while coming up to — and taking off from — a red light, but the V90's mild hybrid setup means it's seamless. Shifts from the eight-speed automatic are damn near imperceptible, no matter how hard you drive. And the cabin is so well-isolated from wind and road noise, bumps and potholes, rough pavement and pretty much any kind of road imperfection, that it may as well be a sensory deprivation chamber. If comfort is your top priority, nothing but the V90 Cross Country should be on your short list.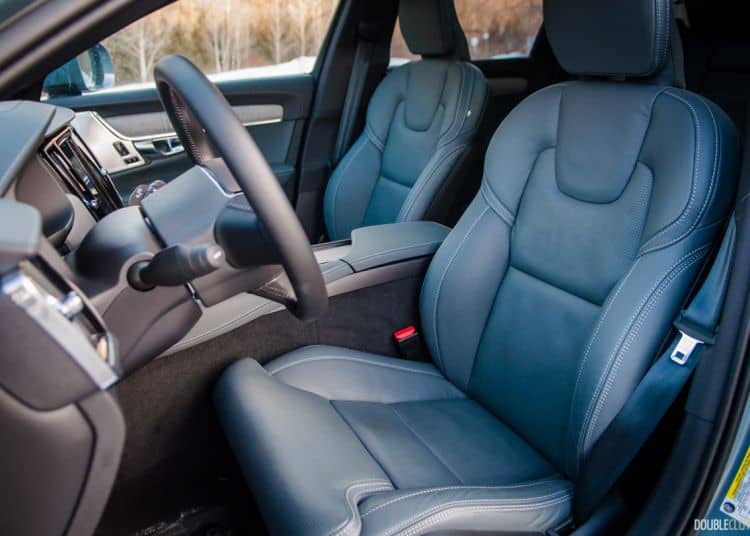 Some might call it handsome and subtle, while others might say it's a snooze-fest to look at as much as it is to drive, but one thing is certain — the V90 Cross Country wears Volvo's styling well, foregoing things like a massive front grille and illuminated badges in favour of a cleaner, more understated look overall. Extra ground clearance and body cladding complete the ready-for-the-beaten-path look, but who are we kidding? The most intense off-roading most V90s will see is a gravel access road leading up to that rustic bed-and-breakfast you always wanted to check out. 
The V90 Cross Country's cabin is pretty much the automotive embodiment of what you'd see when you search up "Scandinavian style" on Pinterest. It's a simple, subtle, and elegant environment that's refreshingly free from the gesture-controlled-this, haptic-feedback-that, let's-cram-a-touchscreen-everywhere gimmickry many other luxury automakers try to cram down your throat. Fit-and-finish is first-rate, visibility and space all around is excellent, the all-digital instrument cluster is easy to configure and shows exactly what you need and nothing more, and those massaging seats are absolutely divine.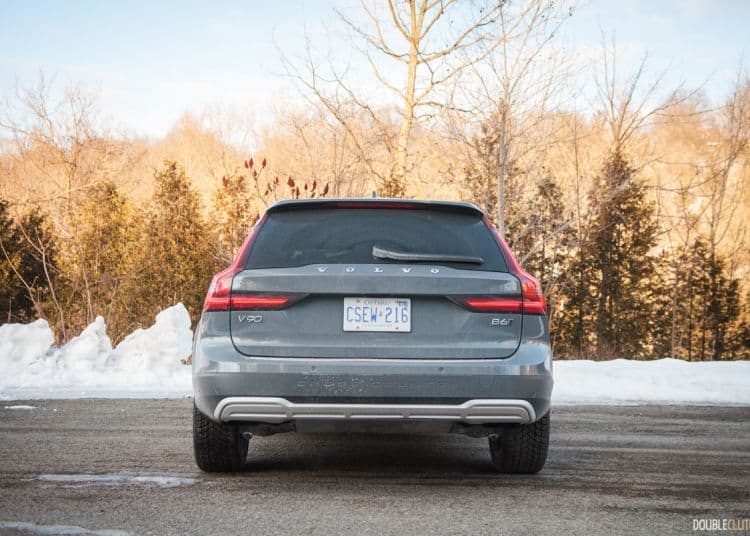 But the interior misses the mark in a couple of areas. First, the infotainment: along with the powertrain, this is the next big revision for 2022 appearing not only in the V90 Cross Country, but across the rest of the Volvo lineup, too. There's a bit of a learning curve with this new Google-based system, but if you've used Volvo's previous Sensus infotainment — or a tablet, for that matter — you'll get used to it in no time. 
The graphics are crisp and the nine-inch display is quick to respond, but the infotainment system is missing Apple CarPlay connectivity and an AM tuner. The former is supposedly coming in an update later this year, but the latter is a curious omission for local news and talk radio junkies. What's more, some key functions — climate controls, mostly — are buried within menus. Fortunately, if you rest your hand on the shifter, the touchscreen is a close-enough reach.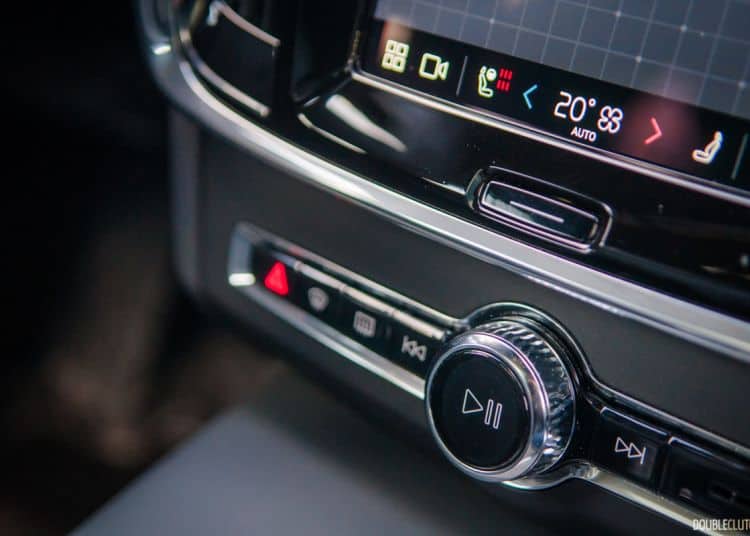 Speaking of the shifter, that's our second nit-pick. Many automakers are keen on fixing what ain't broke, including Volvo. Rather than a conventional P-R-N-D layout, there's a separate button for park and the electronic shifter's straight-line layout of reverse, neutral, and drive means you're tapping twice to change your trajectory. It's annoying at first, and you might be needlessly revving the car the first few times while trying to park. 
Starting at $65,950, the V90 Cross Country is a good chunk pricier than the Audi A4 Allroad, but then again, that's a closer match to the V60 Cross Country. Our particular tester topped out at just under $80,000 fully loaded, undercutting both the E-Class All-Terrain and Audi's A6 Allroad. Granted, they both pack six-cylinder engines and considerably more kick, but it's also too easy to push them past the $90,000 mark.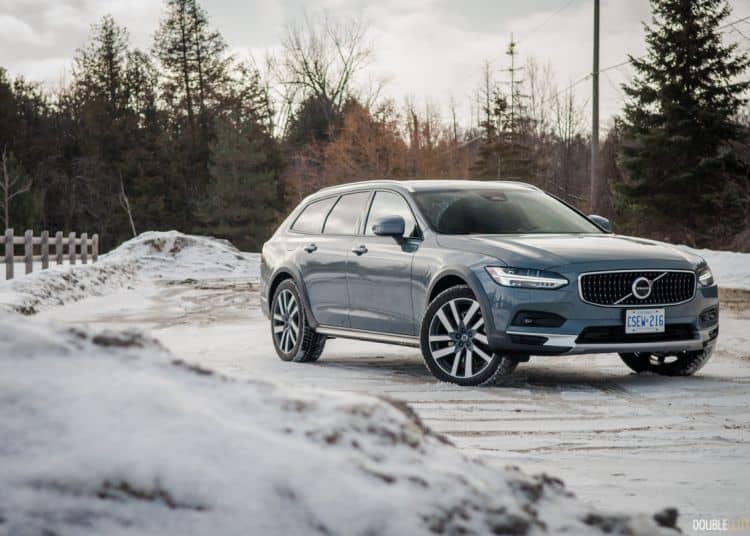 Not everyone needs to keep up with the Joneses. If you fall into that camp, look no further than the 2022 Volvo V90 Cross Country — it occupies a comfy middle ground in the anti-SUV space, offering impeccable comfort, good value, and an efficient if not particularly exciting powertrain, wrapped up in a stylish and elegant package. SUVs and crossovers aren't going away anytime soon, but it's refreshing to see Volvo hasn't turned its back on the turbobrick.
See Also:
2021 Volvo XC60 Recharge Inscription