Launched in 2017, the second generation Volvo XC60 has been evolving year by year as the brand continues their transition to electric powertrains. Each year the hybrid version has received a battery upgrade extending electric range. Freshly renamed, the 2023 Volvo XC60 Recharge is now equipped to handle a commute of up to 59 kilometers on purely electric power and can now be topped up via an EV charger. We spent a week with the luxury plug in hybrid crossover to see how it stacks up in this quickly crowding segment.
Having received a facelift in 2021, the XC60 is distinctly European though with more restrained styling compared to its German counterparts. When looking at the proportions in profile view there is a tale of two halves – the front is low and sleek with long front doors, while the rear doors are noticeably shorter as the rear end rises and widens for more cargo space.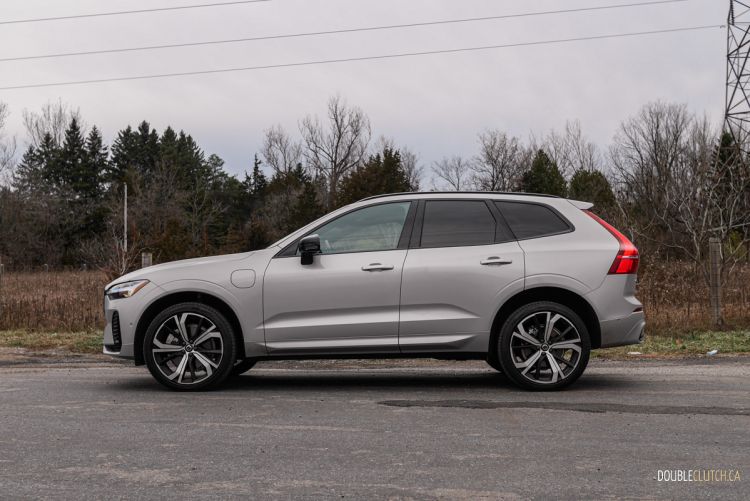 Our press car is equipped with the "Ultimate" package which can be optioned out in Bright (chrome accents) or Dark (High Gloss Black accents) motifs. The dark version on our press vehicle includes a high gloss black front grill, window trim, roof rails, and mirror covers. Also included in the package is a set of 20-inch 5-Y Spoke Black Diamond Cut wheels, but ours has been outfitted with even larger 21-inch Double Spoke Black Diamond wheels. Finished with a "Silver Dawn" paint job this XC60 makes a strong visual statement.
The Ultimate package makes its biggest impression in the interior space. Charcoal Nappa Leather and contrasting textiles blend with metal mesh aluminum décor providing a premium look and feel. The upgraded contour front seats with extendable thigh support are fantastic, though we wish our presser had the available front seat massage option equipped as Volvo has some of the best in the industry. The heated steering wheel and seats are a welcome comfort in subzero temperatures, though the signature crystal gear shift by Orrefors was mysteriously absent from our press car.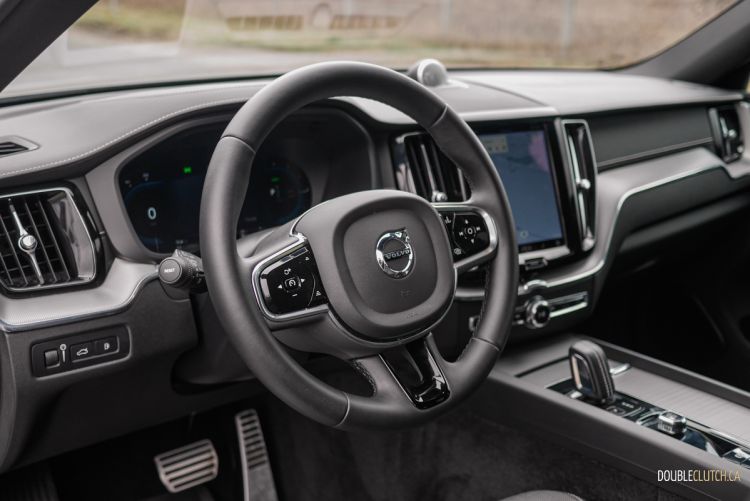 For 2023 all Volvo XC60s come standard with an infotainment system powered by Google.  It gives us a look into an alternate timeline where auto manufacturers allowed Apple and Google to take care of infotainment as de-facto providers and is a significant improvement over Volvo's previous system. The home screen has space for 25 apps but is only populated by seven by default which looks a little bit unfinished but can theoretically grow by downloading apps. The lack of wireless Android Auto or CarPlay is somewhat mitigated by the excellent implementation of Google Maps which displays route guidance right on the gauge cluster.
The Ultimate package includes an upgraded Harman-Kardon sound system, but we are thrilled to find the iconic tweeter-on-top speaker on top of the dash indicating our presser has been outfitted with the optional Bowers & Wilkins upgrade. The Bowers & Wilkins audio system offered by Volvo is among the best in the industry, and the one we find here is no exception.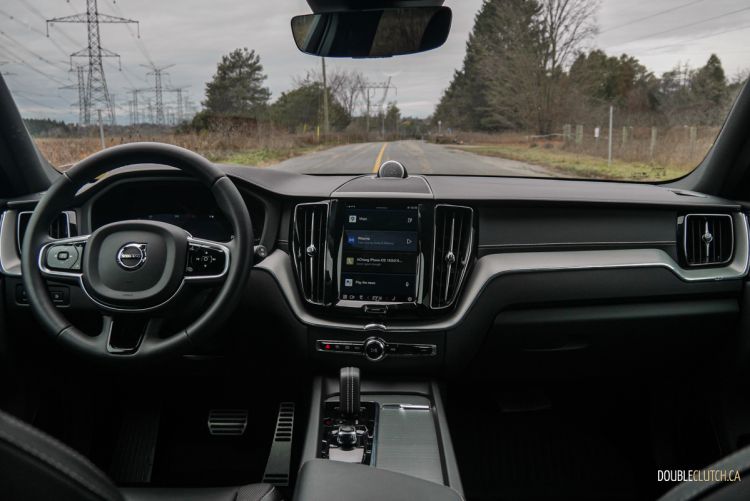 This is a 1,460-watt high-end system with 15 separate speakers including an air ventilated subwoofer. The sound is unbelievably clean and detailed for virtually any recording you play through it. There are four room modes – Studio, Stage, Concert Hall and Jazz Club which recreate the acoustics and staging appropriately. The stainless steel speaker panels allow you to see the premium silver speaker cones underneath add that extra layer of premium luxury to the interior that looks almost as good as it sounds. At $3,750 the upgrade may seem like splurging on an unnecessary expense but after experiencing it, it would be very hard to decline, much like that front seat massage option.
Under the hood of the XC60 PHEV Recharge lies the T8 2.0-liter four-cylinder turbocharged engine mated to an electric motor driving the rear wheels. Combined horsepower is 455, with 523 lb-ft. of torque good for a brisk 100 km/h acceleration time of 4.8 seconds. Power delivery is smooth and satisfying for a vehicle of this size and weight. There isn't much road feedback through the steering wheel, but the XC60 is easy to place on the road and we appreciated the ability to make the steering feel heavier through the infotainment settings.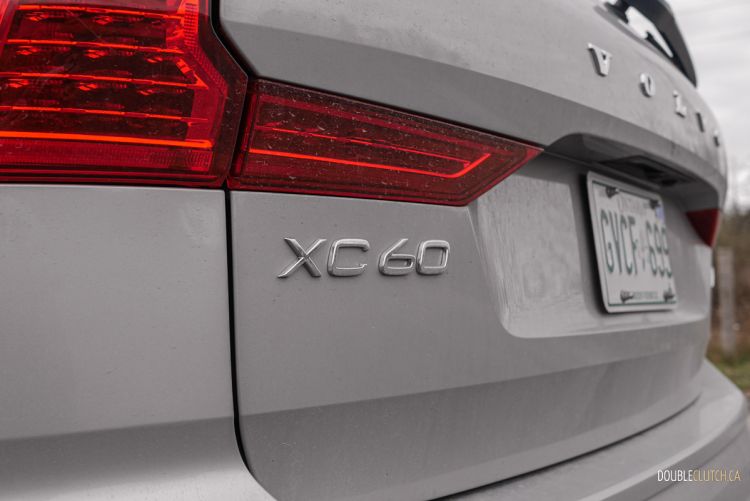 Our tester was also equipped with the optional Active Chassis with self-adapting air suspension which does a great job soaking up road imperfections despite the 21-inch wheel setup. Ride height lowers on highway cruising and when getting in and out of the car, and raises to provide extra ground clearance in Offroad mode.
As luck would have it, our first trip in the XC60 PHEV was about 60 kilometers, giving us an opportunity to see how it would manage the available battery power. The 18.8 kWh battery took 4 hours and 45 minutes to achieve a "full" 80% capacity via a Level 2 charger. There is a "Pure" driving mode that makes the XC60 PHEV run strictly as an EV no matter how it's driven, but for this trip we left it in the "Hybrid" mode which optimizes efficiency between the two power sources.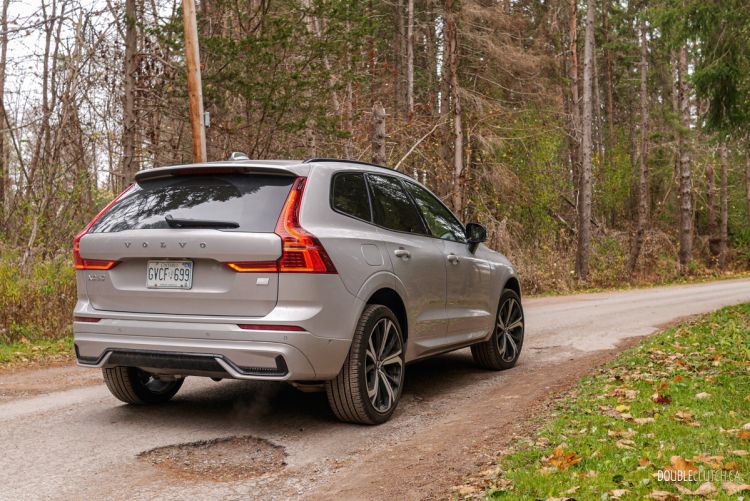 We were surprised to find that even in Hybrid mode, the vehicle relied almost entirely on battery power for the duration of our commute, leaving us with zero battery range upon arriving at our destination. This trip did reveal some issues, starting with the absolute lack of heat. While only on electric power the only heating was from the steering wheel and seats as we could not get hot air to blow at all until the battery was depleted and the gas engine finally roared to life. The XC60 should have an electric heater which we believe was not functioning on our test vehicle.
The transition from electric to gasoline power has a harsh feel and sound with a high RPM kick in the pants; a bit disappointing given the premium luxury feel everywhere else. When we departed our fuel range was reported at 580 kilometers, but upon arrival it had ballooned to 1,150 kilometers. The trip computer seemed to use our 60 kilometer travel using next to no fuel to calculate its range estimate, understandable for the overall fuel economy figure, but this could lead to some confusion on longer road trips.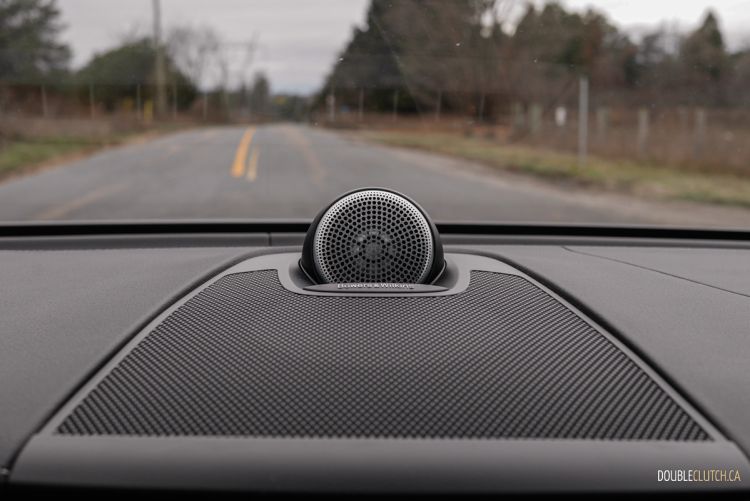 Fuel economy for the gas engine is rated at 8.5L/100KM both city and highway. We observed 7.8L/100KM during our test in harsh winter conditions with mixed highway and city driving. The XC60 T8 AWD powertrain runs on premium fuel so 12 dollars at today's prices buys just over six liters of fuel which should give us about 70 kilometers of range. Without a charge station at home, it cost us $11.83 to charge the battery at the closest Chargepoint station and travel 60 kilometers. So in our case it really wasn't any more economical to run on EV power alone.
Being a Volvo we expect the XC60 to be loaded with the latest in safety and driver assist technology and the Ultimate package delivers including Park Assist (Front, Rear, and Sides), a 360 Camera, Adaptive Cruise Control w/ Pilot Assist, and a heads-up display.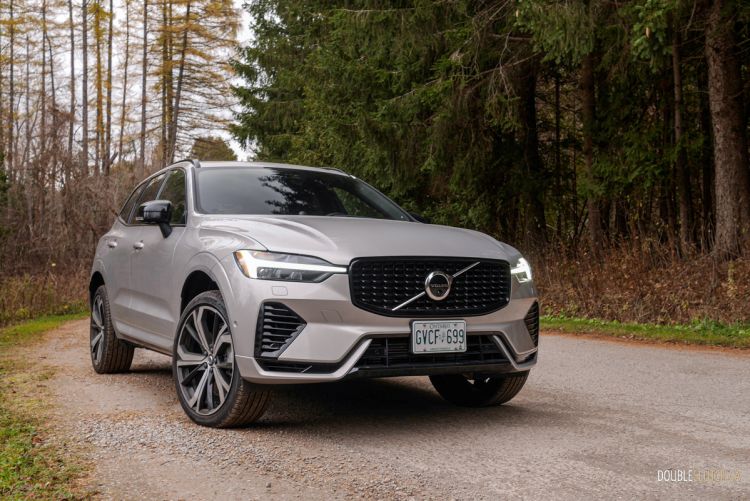 The XC60 Recharge starts at $64,950 which gets you the PHEV powertrain and the Google infotainment system. The $17,250 Ultimate package adds all the bells and whistles that really set it apart from the competition – fantastic seats, premium materials, CleanZone air purification, and the ability to add the phenomenal Bowers & Wilkins audio system, front seat massage and air suspension. Our presser rings in at $90,200 and it was still short the $1,300 front seat massage.
As a PHEV there are some teething issues we hope will get sorted in future updates. As it stands, the 2023 Volvo XC60 Recharge is a fantastic entry in this hotly contested segment especially for buyers looking to spend more for a premium feature set and total comfort while maintaining efficiency.
See Also:
2022 Mercedes-AMG GLB 35 4MATIC
2022 Volvo XC60 B6 Inscription