Mercedes-Benz rolled out the GLB for the 2019 model year to fill the gap between the GLA and GLC crossovers. For anyone currently in the market for a crossover, it's an excellent time to be shopping. If you're looking for big or small, efficient, or sport focused there is sure to be a model that will satisfy your crossover craving. We got to spend time with this 2022 Mercedes-AMG GLB 35 4MATIC to see how this modestly sized Mercedes with a kick of AMG power has to offer.
While most crossovers do very little in the way of lively styling, the GLB offers a unique boxy silhouette that many including myself will find appealing. The GLB is special as it's one of the only vehicles in its class that offers three rows of seating, which can partially be attributed to its box-like proportions. There are small AMG touches on the exterior of the GLB that set it aside from its lesser counterparts such as the wheels, front and rear AMG bumpers and grille.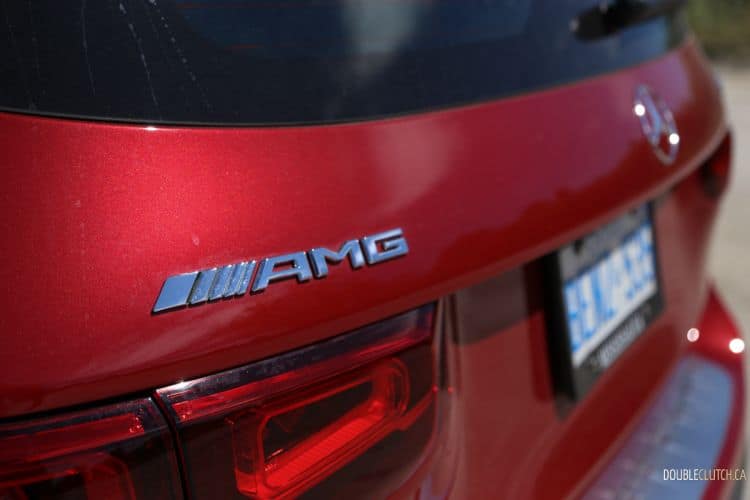 Under the hood, you will still find the same basic 2.0-liter boosted inline-four as the base GLB 250, however here it is tuned for an additional 81 horsepower and 37 lb-ft of torque, rounding out the numbers to 302 and 295, respectively. With the extra power, the GLB 35 boasts a 0-100 km/h time of just 5.2 seconds which feels quite quick. When you are pushing this pocket-sized AMG, the shifts from the eight-speed dual-clutch transmission are nice and firm, however at normal speeds, the gearbox feels rather dimwitted and can be erratic.
Power delivery from the inline-four is reminiscent of turbocharged cars of yesteryear. There is a surprising amount of lag if you are not high in the rev range, and when boost kicks in it can a little abrupt and rough, and while some may find it maddening, I feel that it adds a bit of character to this crossover. Equally rough is the suspension tuning; the GLB's adaptive dampers are on the firm side and even in the comfort setting, they still feel too stiff for city driving.
An advantage of the stiffer AMG suspension tuning is the fact that the GLB actually does handle well for a taller crossover. Steering response is crisp and sharp and the turn-in is quick. We like the way the GLB feels around the corners, and although you probably will not be seeing too many of them at your next track day, it's nice to see that such engagement is still available in a practical crossover form factor.
Moving inside, you really can really see the benefits of the boxy exterior shape of the GLB. There are large windows which offer not just great visibility but also open up the greenhouse, making it feel spacious and airy. Our GLB is configured with two rows of seating. There is plenty of room for four people and cargo with 1,680 liters of storage with the second-row seating stowed, or 700 litres with it in place.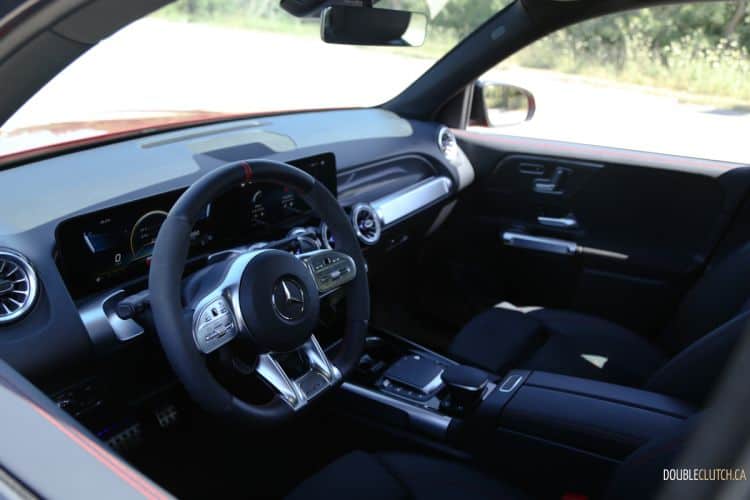 Interior materials were fantastic, though we are not sure of the long-term durability of the Alcantara material Even with only a few thousand kilometers of use on this press unit, we saw the Alcantara wrapped steering wheel looking rather tired. All the standard Mercedes switchgear is on display here and feels high quality; there is no doubt you are in a premium vehicle inside the GLB.
Tech and infotainment are provided via Mercedes-Benz's MBUX system. We find that the sheer amount of customization provided can make the system feel overwhelming, as simple features such as next track can be difficult to find. It's all bit challenging; on one hand we are really happy to see so much customization in the form of various gauge cluster themes and endless ambient lighting settings. We hope that manufacturers continue to offer such features and more, however we wish to see this laid out in a more user-friendly interface.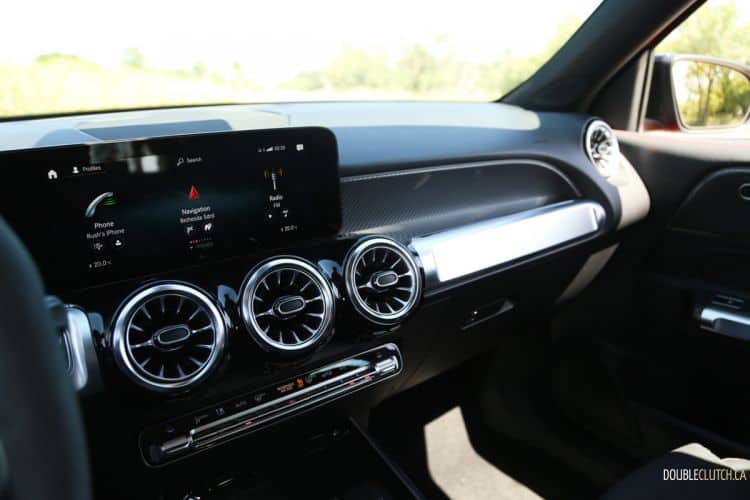 The fact that you can control the center screen three separate ways with no clear advantage to two of them really highlights the over-complicated nature of this beast. This combined with some downright tacky lighting cues with certain functions like the vents turning red with an increase in cabin temperature and blue with decrease show that this system needs a bit of maturing before we can call it perfect.
Apple CarPlay and Android Auto are on deck however are wired, and will require the purchase of a $4,300 package. In a very Apple-esque move there are no standard USB-A ports, only USB-C. As far as driver assistance goes, there are the basics such as adaptative cruise and blind spot monitoring, these are mostly passive systems and are not exactly cutting edge. There is an Advanced Driver Assistance Package that can be had for $1,700 which will add a plethora of active features.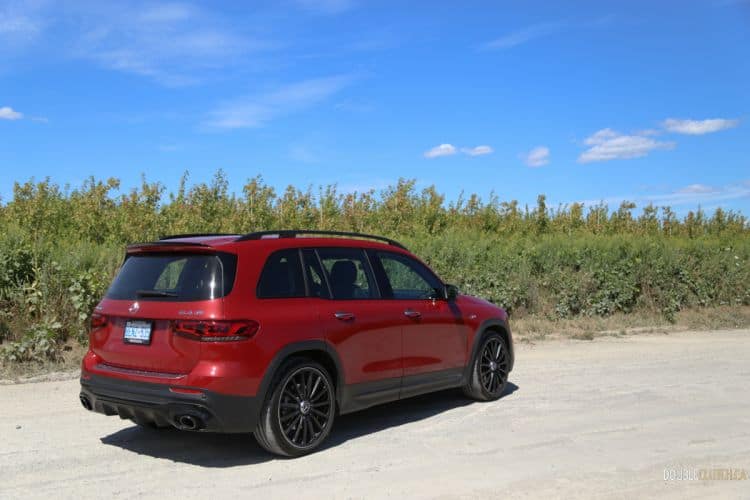 The GLB 35 starts at $59,300, an eye-watering 26% premium over the base GLB 250. Our test car came kitted out with a few additional extras such as the MANUFAKTUR Patagonia Red metallic paint job for $1,400, which I'd skip, the 21-inch shoes which require the AMG Drivers package adding $3,200, the Tech Package which will add some great LED headlights for $1,600, and $1,000 for the AMG Night Package which is essentially an exterior trim blackout package.
One package that is pretty much a must have is the Premium Package which will add powered front seats, CarPlay and Android Auto and blind spot assist along with a handful of other goodies for $4,300. And we had advanced sound for $400 which includes a 10-speaker 225 watt stereo setup that is a little underwhelming for an as-tested price of $72,300.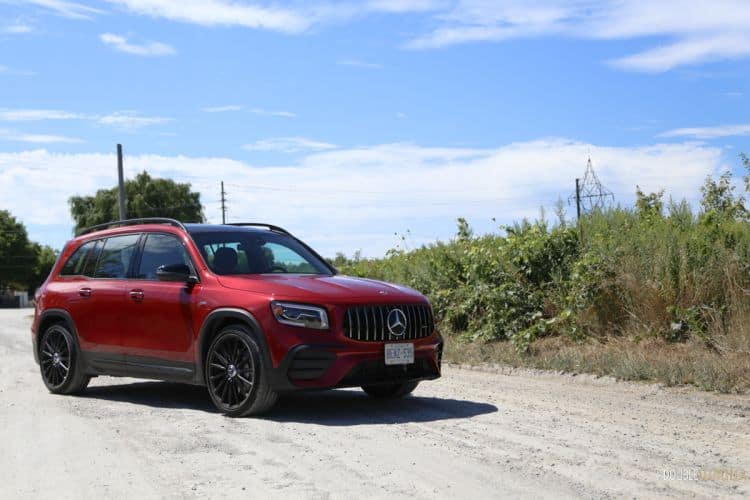 The 2022 Mercedes-AMG GLB 35 4MATIC is an interesting package as it sort of falls in its own class. It offers a strange mix of premium feel with hot tuner car driving characteristics, but with its unique boxy appearance and perfectly imperfect driving characteristics, this mini-AMG has won my heart over by proving that in what seems like a sea of never-ending crossover mania. You can still have that practical family hauler that will also be fun to throw around the corners. 
See Also:
2021 Mercedes-Benz GLB 250 4MATIC