While luxury electric vehicles (EVs) like the Polestar 1, Audi e-tron, and the recently announced and upcoming BMW iX get all the hype these days, it is plug-in hybrid electric vehicles (PHEVs) that are getting the attention (and money) of luxury car buyers who want to lower their carbon footprint. The 2021 BMW X5 xDrive45e PHEV promises to be that while providing great driving dynamics, and we recently borrowed one to embark on a mini 800-kilometre road trip to test out its capabilities.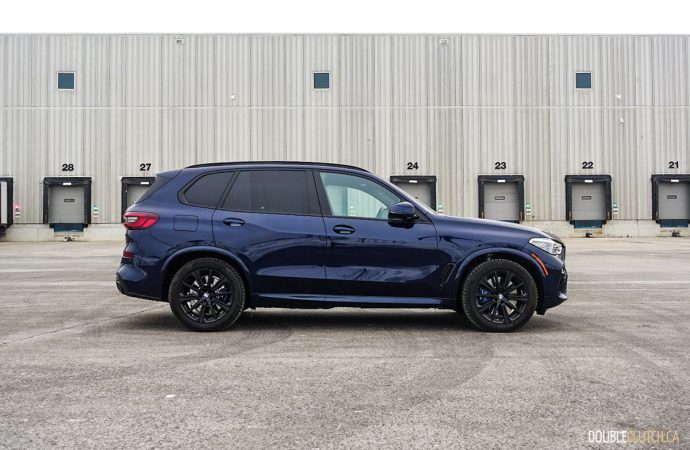 The popular BMW X5 had undergone a thorough refresh for 2019 and looks sharp. Its styling is unmistakable as anything but a BMW, and the sculpted body makes the X5 appear smaller and more agile than its competition. We particularly liked the $1,450 Tanzanite Blue Metallic paint job that allowed this X5 xDrive45e to stand out in a sea of black, grey, or white luxury crossovers. BMW does not go out of their way to distinguish their electrified models, leaving the small charging port door on the driver's side front fender and dedicated badging as the only identifier.
The X5 xDrive45e combines a 280-horsepower 3.0-litre six-cylinder engine and a 111-horsepower eDrive electric motor for a combined 389-horsepower and 443 lb-ft. The electric motor offers instantaneous power off the line, and we observed plenty of highway passing power during our time on the road that makes long road trips a joyful adventure. The X5 xDrive45e has a 24-kWh battery offering an estimated electric range of 45 kilometres, and more importantly allows the motor to resume part of the duties along the way thus creating a more refined ride.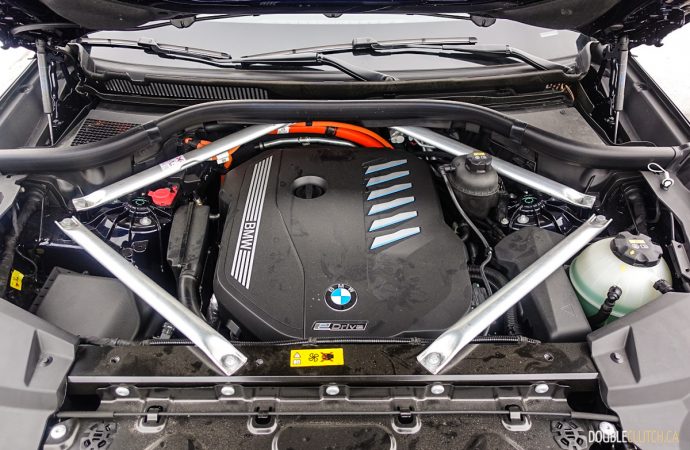 The BMW X5 handles very well for a crossover of its size. Steering is accurate with good road feel and has good weight in the Sport steering setting. The standard air suspension played a strong part in keeping things tidy as we entered a winding stretch of Ontario back roads while maintaining good road comfort. We found ourselves enjoying the PHEV's relaxed manners more than the typical sporty ride in luxury crossovers on these country roads and the whisper quiet cabin certainly contributed a lot to this. Those looking to bring along a watercraft for the journey can do so up to a maximum 2,700 kilograms towing capacity.
According to Natural Resource Canada's 2021 Fuel Consumption Guide, the 2021 X5 xDrive45e is rated at 12.2L/100km in the city and 10.6L/100km on the highway for a combined consumption of 11.5L/100km. During our test, we observed a frugal 10.3L/100km, and we were able to squeeze over 70km of electric range from our 700km journey without having to plug it in. Premium grade gasoline is recommended for the 69-litre fuel tank.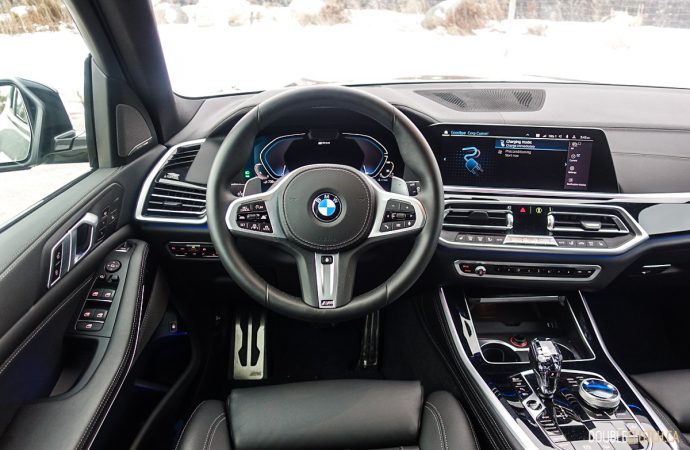 The interior of the X5 is very nice place to spend extended time in. Our tester has the optional Premium Enhanced Package that adds a pair of Comfort seats up front that are great for long trips, as well as heated and cooled cupholders that proved to be handy during our adventure, but the omission of ventilated front seats is regrettable. The optional 'CraftedClarity' glass application for the ignition switch, shifter, volume knob and iDrive controller remains one of our favourite interior design details in the industry and the overall ambience is upscale and elegant.
Infotainment is delivered by BMW's Operating System 7.0 through the touchscreen atop the centre console, and is one of the more intuitive systems out there. Commands can be given through a variety of methods including touch, rotary knob, gesture, and voice thus allowing drivers to stay focused on the road. Apple CarPlay and Android Auto integration is supported wirelessly and we like that the X5 offers USB Type A and Type C charging ports as well as a wireless charger. We relied on the upgraded Harman-Kardon premium sound system as part of the Premium Enhanced Package throughout the journey to keep us entertained.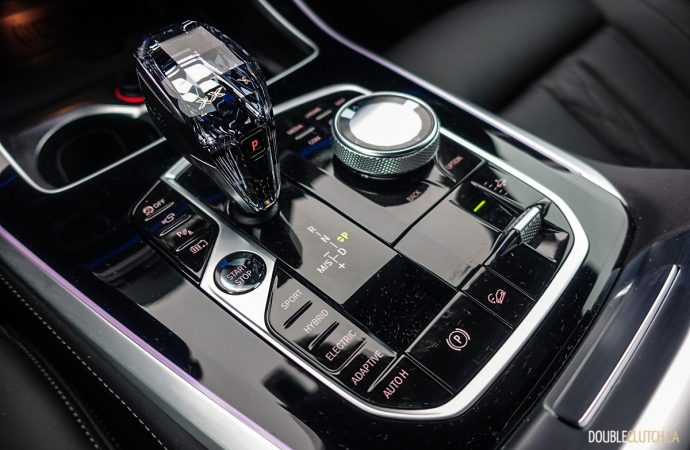 Our tester comes with the optional Advanced Driving Assistant Package which we found to be absolutely crucial for anyone looking to spend extended time on the road. The Driving Assistant Professional system uses its driver assist features such as Steering and Lane Control, Active Cruise Control with Stop and Go, and Lane Keep Assistant systems for semi-autonomous driving.
Driver involvement is still required but we found the systems to work flawlessly in maintaining the vehicle's speed and distance, in keeping the vehicle centred in the lane even through the winding roads, and the system can even safely change lanes just by indicating using the turn signal. This level of driving assistance is great for keeping its occupants safe on road trips and we hope to see it popularize in the industry.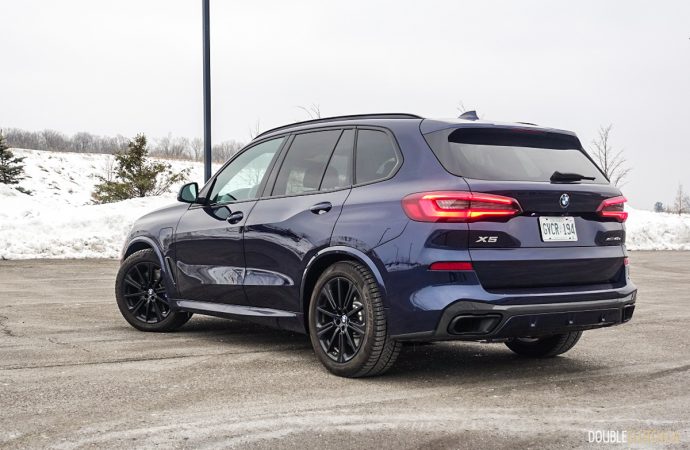 With a base MSRP of $80,900, the 2021 BMW X5 xDrive45e starts about $5,000 lower than the Volvo XC90 T8 Inscription. They also share a similar sticker price when fully loaded, with our as-tested total reaching $98,850 after the expansive options list that includes the $9,000 Premium Enhanced Package, $2,500 M Sport Package, $2,000 Advanced Driving Assistant Package. The X5 xDrive45e is the better driving option between the two, while the XC90 T8 Inscription comes with a more serene cabin and a full Scandinavian experience.
The 2021 BMW X5 xDrive45e PHEV might not steal any headlines, but after spending extended time with one, we can say with confidence that it certainly deserves more attention from any luxury crossover shoppers. It eats up miles like the best of them and manages to offer the best of both worlds between traditional gasoline powered crossovers and full electric ones.
See Also:
2021 Mercedes-AMG GLE 53 4MATIC+
2020 Volvo XC90 T8 Inscription