Calabogie, Ontario – In the realm of big trucks, the Ram HD is a relatively new face in the game. Yes, they've been around for about as long as Ford and GM's offerings, but they weren't really a force to be reckoned with until the big 1994 makeover, which showed the world that trucks could be attractive lifestyle vehicles, and kicked off a new wave in truck design (it was also the subject of one of the most successful product placement campaigns ever in the 1996 summer blockbuster Twister, which definitely helped). Since then, the Ram has enjoyed a steadily increasing market share, and in 2009, the Ram brand was spun off from its parent company Dodge, so as to give the Ram team their own branding, marketing, product planning, and development teams to really hone in on what truck buyers want. We were invited up to the remote reaches of Calabogie to drive the next big thing they've been working on: The 2023 Ram 2500 Rebel.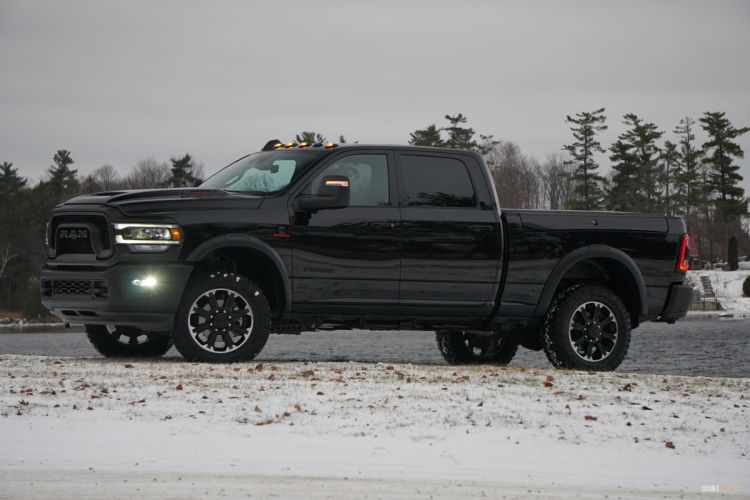 The Ram team found there was a bit of a hole in their product lineup. If you want a serious Ram that can tow a huge trailer, you buy a 2500 or 3500. If you want an HD Ram with extreme off-road capability, you buy a 2500 Power Wagon. If you want both… you buy a Ford F250 Tremor – not good. See, for all of the Ram Power Wagon's class leading off road capability, it had to make compromises on HD capability to do so. That trick front suspension that offers so much articulation couldn't support the Cummins diesel engine, and compromised towing. So, the Rebel package, which has been around and selling great since 2015 on the 1500 models, has been brought to the 2500 to bridge that capability gap, bringing both the ability to haul eight tons and conquer a hairy trail.

Very much like on the 1500 models, the Rebel package offers a slew of hardcore hardware to elevate the 2500's off road capability. This includes Bilstein shock absorbers, five link rear suspension, skid plates, Borg Warner electronic transfer case, electronic locking rear differential, hill descent control, meaty 33-inch all terrain tires, and of course some visual goodies like black wheels, exclusive paint colors, and a Mopar Sport hood. Some options include some Rebel-branded interior choices, from cloth bench seats all the way up to Natura Leather buckets, an 8.4 or 12 inch touch screen with UConnect 5, rear air suspension, a 12,000 pound Warn winch, and – this is the big one – the almighty 6.7L Cummins diesel engine is available as an option, with the 6.4L gas V8 being the standard motor.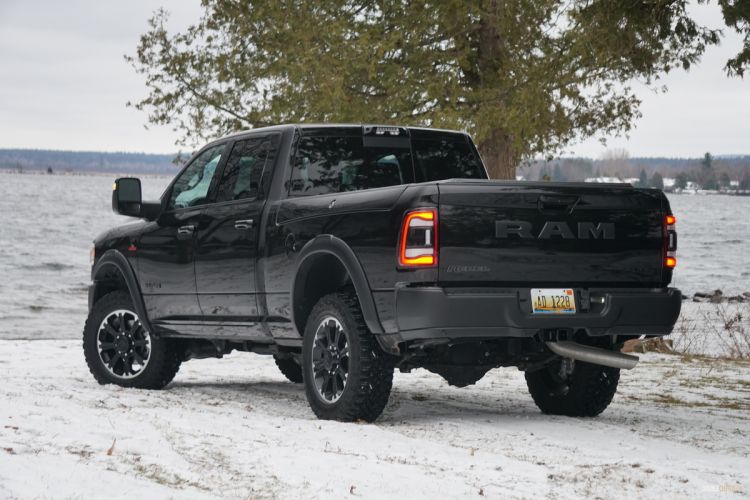 I spent the day on and off road with a diesel engined Rebel, and I came away very impressed. Something that big should not handle itself that well; the air suspension is incredible and the three link solid front axle is a feat of engineering. Trucks with solid front axles all feel like trucks with solid front axles – they're all clunky, messy, and generally all over the place. Ask anyone who's ever driven a Wrangler or a big rental moving truck, they're not exactly precision instruments on the road. So when I say I would have never guessed this had a solid front end, that's a huge compliment. It doesn't feel nearly as big as it is. 
The Bilstein shocks pair with front and rear coil springs (or optional air springs in the rear of ours) to deliver an excellent ride, gliding over broken pavement with hardly any of the chassis shudders you'd expect on a ladder frame that's nearly twenty feet long. It also has acoustically laminated glass on the front windows, so wind noise is almost nil, and road noise from the chunky tires is kept to a minimum, leaving you with muted mechanical diesel noises to keep you company (or an optional 17 speaker Harmon Kardon sound system if you'd prefer; whatever you're into).  It drives well, it's incredibly comfortable, and Cummins offers big waves of seamless power with the 6-speed auto neatly slipping into the background.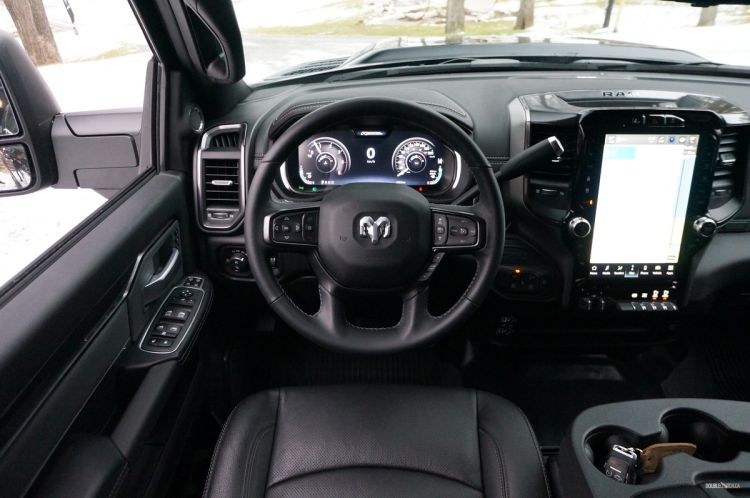 But whatever, we already know Ram trucks drive well, what we really came to see is how this leviathan handles itself with the pavement ends. We were taken to a craggy, icy, rocky trail to test the HD Rebel's off-road capability, and I can report it was completely unconcerned with what we were doing the entire time. Climbing up icy hills? No sweat. Climbing down steep rocky hills? No problem. Fording through rivers full of broken ice? Easy. Typically with a vehicle this long, there are concerns about maneuverability and getting beached over big ridges, but the Rebel's ground clearance and firm shocks shrugged it all off, and never even had to rely on the skid plates. 
Articulation in crawling over rocks was impressive, and the adaptive four wheel drive system managed traction so deftly that we never had to lock the rear axle, and barely needed to use 4WD-Lo. The Hill descent control worked impeccably, and we were pleased to see Ram's version of the system doesn't defeat itself when you use the brake pedal. Of course, the icing on this cake of competence is the diesel engine, which, much like the rest of the rig, was totally indifferent to what was being asked of it. With a massive 850 foot-pounds of twisting force available right off idle, hauling the big rig up hills and out of ruts felt like nothing.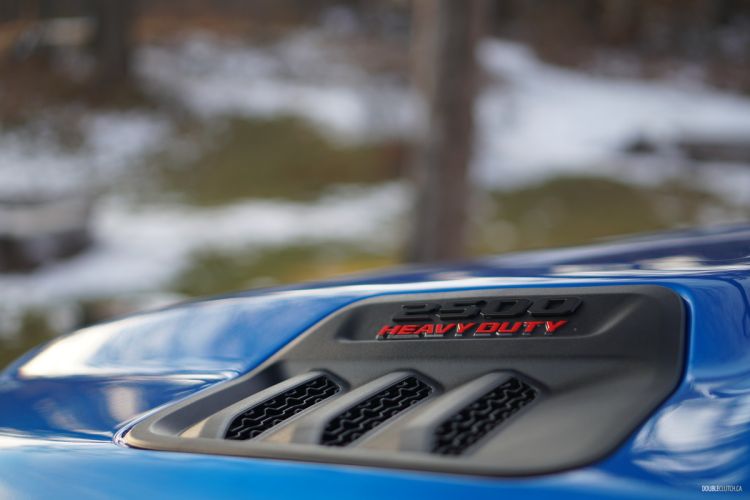 It's such a competent package, regardless of what you're asking it to do. We've liked this generation of Ram since its inception in 2017, and the Ram team has just been making it better and better, to a point now that it's a little ridiculous. To have a machine that can tow nearly 17,000 pounds, breeze over a nasty trail, glide over the road, and do it all effortlessly in quiet comfort is astonishing. They've really hit a sweet spot with the 2023 Ram 2500 Rebel, and for those select few that need a serious rig that can do everything, this is shaping up to be the most compelling option out there. Prices start at $75,950 for the gas model, and $85,400 for the diesel. You can expect to start seeing them soon.
See Also:
2021 Chevrolet Silverado 2500HD High Country