The 2022 Ford F-150 Tremor is the just right in a demented, hyper masculine version of the Goldilocks fairy tale. In this retelling of the classic fable, Goldilocks wants a truck. A big truck. F-150? Not enough. What if we add an FX4 Off-Road package? Not quite there, gonna need more. How about an F-150 Raptor? It's the biggest, angriest truck Ford will sell you (as of this writing). Bulging fender flares, ultra heavy duty Fox shocks with external reservoirs, gigantic BF-G K02 tires, and a more powerful tune of the EcoBoost V6 to hurl this rolling monument to testosterone over dunes. Maybe… that's a little much.
See, the Raptor has a serious problem: It's a toy. When the Raptor first launched in 2009 as a pre-runner inspired off-road package, Ford tapped into some weird schism of truck extremists. They don't care about practicality or utility, they just care that their truck is the most extreme thing you can buy. It's very important to this subset that their truck can jump and, perhaps more importantly, land – even if they will never actually do this, or come close to it at all.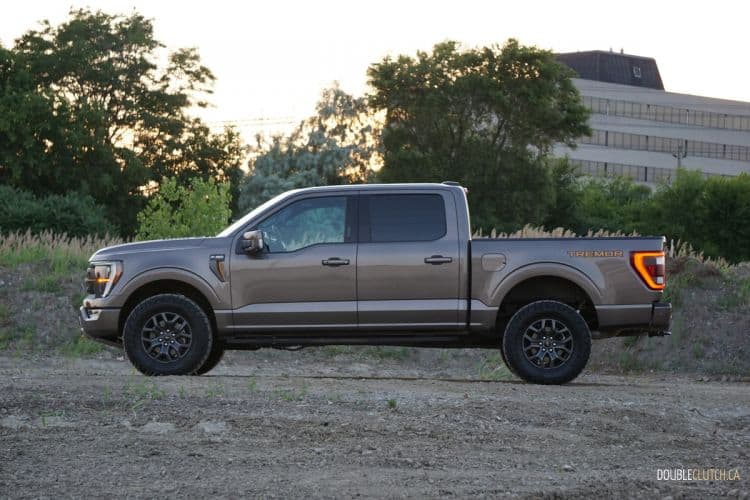 Ford has listened to these truck extremists/flight enthusiasts, and the Raptor has become a monstrosity as a result. It can jump. It has the biggest tires. It has the chunkiest fender flares. It has the most obnoxious grille. It has the most absurd graphics. But for all this, it's horribly impractical, and actually has less payload and towing capacity than a lesser F-150, and costs far more to operate. Naturally, all this extreme hardware carries an extreme price – our recent 2022 Raptor tester rang in over a hundred thousand dollars. There has to be something in the middle… a Goldilocks option. 
The F-150 Tremor is that just right option. For starters, it still looks like an F-150, rather than the garish, hulking Raptor. The Tremor features revised front and rear bumpers, with recovery hooks and tidy cutouts for the beefy dual exhaust. It's further differentiated from its lesser F-150 brethren by use of metallic orange accents and Tremor badging, along with a vented hood and of course, 33 inch General Grabber All Terrain tires wrapped around matte black 18 inch wheels. It looks serious, and seriously handsome.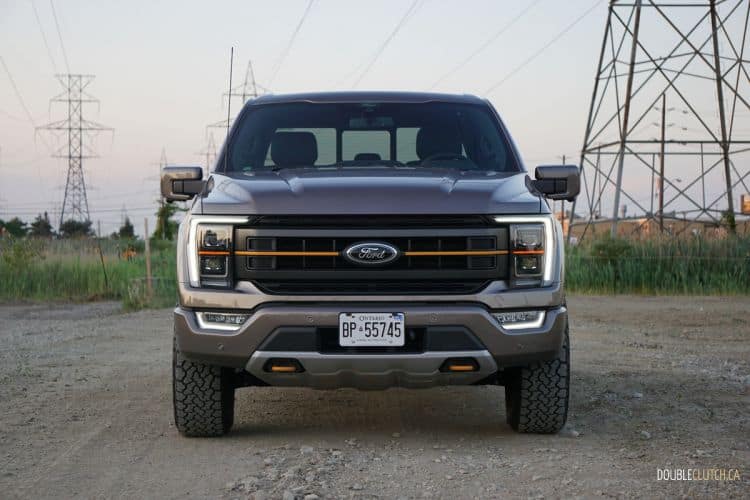 The Tremor is more than an appearance package though. Those bumpers are designed for improved approach and departure angles, and integrate a bash plate in the front. The Grabber tires provide a modest lift, and the upper control arms and knuckles are revised to accommodate them. Springs and shocks are tuned to be a little softer at low speeds for better body control over rough terrain, and provide a purposeful rake. Skid plates are borrowed from the Raptor to protect the Tremor's vital organs over the rough stuff, too. 
It doesn't end there – the Tremor makes use of the Raptor's locking rear and Torsen limited slip front differentials, too. It borrows a lot of the same off-road assists as well, which includes a slew of drive modes, hill descent control, trail camera, turning radius assist, and more. The list goes on and on, and that's even before you get into the litany of optional regular F-150 stuff, like a 2 kW on-board generator, a desk (Ford calls it Interior Work Surface, but it's way cooler to say your truck has a desk), radar cruise and lane keep assist  – you can build this beast however you want and make it just right.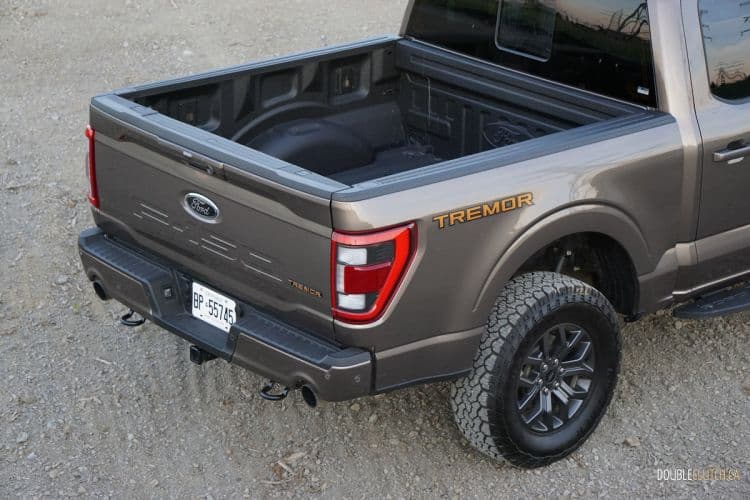 On a related note, Ford will sell the Tremor package on an otherwise base F-150 4×4. If it's just the meat and potatoes you're after, that's all you need to spring for – you can buy a Tremor with cloth seats and not much else for $63,145, if you feel so inclined. Our test truck came loaded with all the trimmings, bringing the sticker up to a whopping $81,905 before taxes and fees. It's a lot, but then again you get a hell of a lot of vehicle for it.
It feels like a lot of vehicle on the road, for sure. The Tremor is massive, and towers over just about everything else. Ford's done a brilliant job blending truckish charm with ease of use, as the Tremor never stops feeling like a truck, but in the same breath it drives incredibly well and is astonishingly quiet. Controls are all very much on the relaxed side, but natural and well gauged, and the 400 horsepower and 500 foot-pounds from the well known 3.5L EcoBoost V6 comes in smoothly and very eagerly, followed with a deep baritone exhaust note. It's no V8, but it sounds satisfactorily husky in its own right.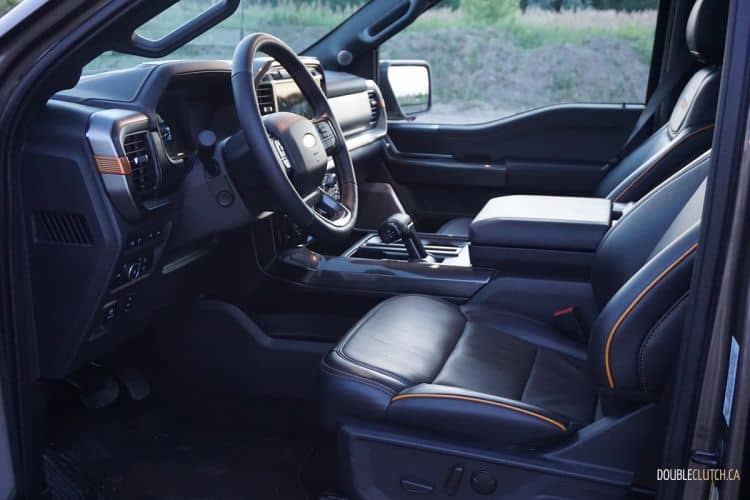 The Tremor's cabin continues the exterior motif of rugged good looks and utility. The dashboard and vents are covered in a pattern reminiscent of stone, and the exterior's metallic orange highlights make an appearance as well, making up the contrasting stitching on the black leather center console, shifter, and seats. There's lots of tech, as seen in the 12-inch touch screen, and the entirely digital gauge cluster as well – both are extremely flexible in their capability and easy enough to make use of. Seating is excellent and there's more room than you could ever possibly want, front and rear. 
The ride and handling of the Tremor suspension setup is extremely impressive, as it always feels planted and well controlled, with no bobbing on the highway like we've seen on some other F-150's, and it never feels clumsy, despite being enormous. Ride comfort is exemplary at all speeds, and even the roughest surfaces (or lack thereof) are well isolated and translate hardly any chassis tremors through to the cabin. Combine this with excellent insulation and sound deadening, and it's a damn near luxurious drive.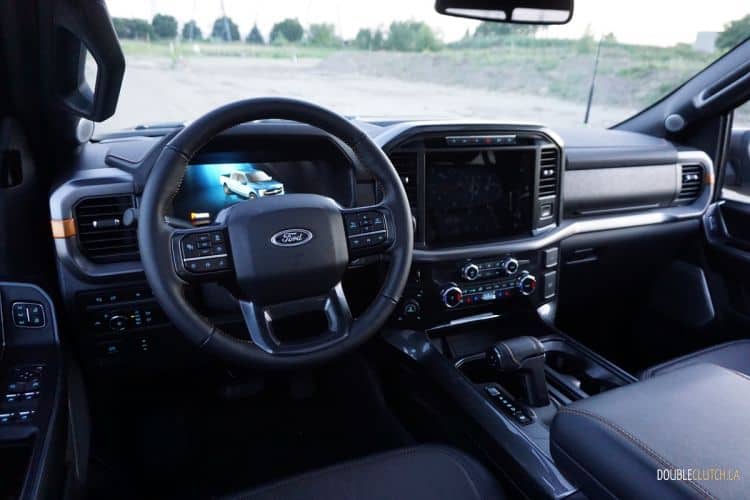 It deftly blends easy controls, a refined chassis and effortless power to make this a brilliant cruiser and fun when you want it to be.  The suspension tuning is extraordinary, with terrific on road manners and off road capability, absolutely nothing phases this thing. Less impressive is the ten speed automatic transmission, which usually works quite well, but can feel a little odd under some conditions – the frequent, evenly timed upshifts can almost feel like the engine has a misfire under mild acceleration. Either way it's an improvement over previous iterations and never got in the way of our enjoyment. 
Unfortunately, there were quite a few things that did get in the way. For one, our test car's mirror adjustment switch was broken – not a good look. Satellite radio functionality was intermittently quite poor, with some stations taking a long time to load, or failing to load at all. On one occasion, the whole screen froze, went dark, and restarted itself. Speaking of radio, one of the B&O speaker grilles was loose, and wouldn't snap back in. On another occasion, the truck indicated a rear radar fault, which neutralized parking sensors and blind spot monitoring, until a restart.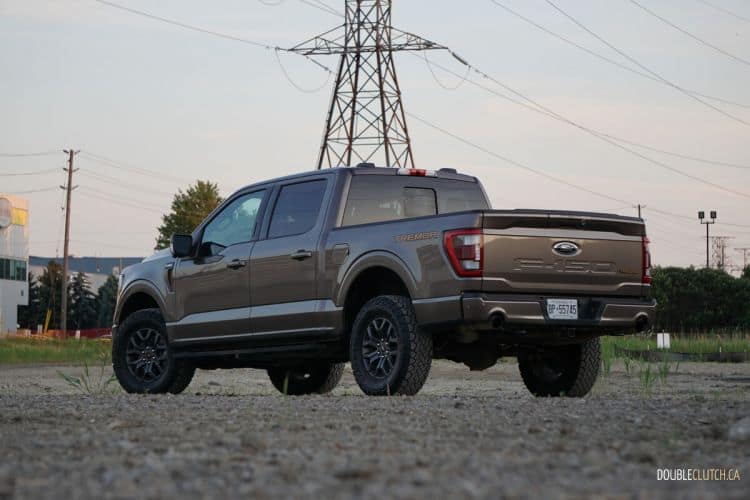 Perhaps most annoying of all was the lane keep assist, which while it generally functioned well, felt incredibly overbearing in its nannying. It monitors your eyes, and if you look away from the road for more than a few seconds – say, to figure out why half of your radio stations have gone blank – it'll chirp at you. Not a bad idea but definitely a little much. Worse still was the demand for hands on the wheel – if you are not firmly grasping the wheel with both hands, it will assume you're not holding on at all, and chirp loudly before eventually defeating the cruise control altogether. This was so bad so often that I'm inclined to guess something was malfunctioning – either way a huge disappointment on a premium priced truck with 4500kms on the clock. 
On a brighter note, fuel economy was fairly impressive, given the sheer size of the thing and the rolling resistance generated by those chunky all terrain shoes. We saw an average of 14.3L/100km over the course of a week but noted that it was capable of being surprisingly thrifty, seeing an average dip down to 11.8 on one trip. The trick to this thriftiness is Ford's Eco drive mode, which effectively neuters the engine, but works wonders for saving gas. In any of the other modes, you need to have a judicious right foot to get anywhere close to decent fuel economy. I've said it before with these EcoBoost motors, it's Eco or Boost, not both. Thankfully, unlike the Raptor, it does fine on 87 octane.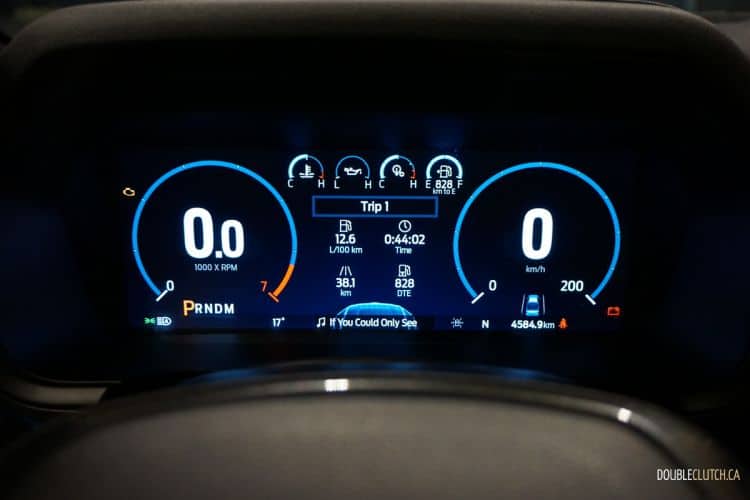 That's kind of the whole theme of the 2022 Ford F-150 Tremor. It's not the Raptor, it's not trying to be the Raptor, and it's so much better for it. It borrows a lot of the right stuff and leaves the over-the-top macho excess for the truck extremists to squabble over. It'll go everywhere you need it to go, and do everything you need it to do. It might not be able to fly through the air, but it can fly under the radar, and that's something the Raptor couldn't dream of. If Ford can sort out their quality control – I'm inclined to believe they have, we got an early build – this truck could be just right.
See Also: