A lot of the things we call perfect in a day aren't perfect, and dulls the meaning of the term when something actually is perfect. Ultimate is another big word that carries a lot of meaning and doesn't get overused – as such, it's still a big word. It still has weight. When you hear something called ultimate, you know whoever said it means it. Oxford defines ultimate very simply as "the best achievable or imaginable of its kind", so it's a serious statement, right about on par with perfect. So when GM slapped the U-word on its 2022 GMC Sierra Denali Ultimate, we took notice. 
The Denali trim level of GMC trucks have always been nice vehicles, and for years have been the go-to choice for people who need a truck that will get things done, with an heir of luxuriousness on par with anything from Cadillac or Lincoln. The new Ultimate trim expands on that and pushes the luxury even further, offering some devilishly handsome styling touches, gorgeous cabin materials and killer tech features, built upon a proven and capable platform that is ready and willing to work.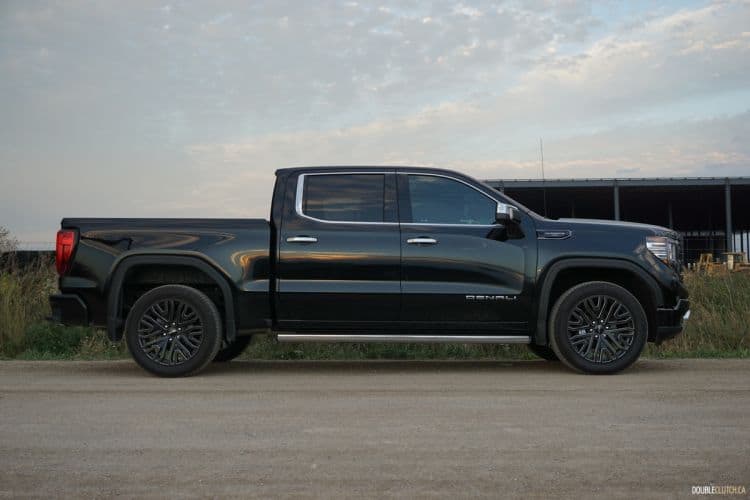 The Ultimate trim adds exclusive 22-inch machined wheels with dark pockets and a satin chrome Vader grille (that's what GM calls it) with blacked out emblems – relatively simple touches that make the already-handsome facelifted Sierra even more distinguished, and pair beautifully with our tester's Onyx Black paint. Of course, there's a pair of Ultimate badges on the front fenders so that nobody forgets you've got the nicest truck. 
The nicest truck should also be the nicest place to sit, and GMC has done their best to elevate the Ultimate to fit its name. The seats are handily among the best on the market, featuring heating, ventilation, 16-way power adjustment, and even a massage function. Of course, they're all wrapped in full-grain baseball glove leather that GMC calls 'alpine umbra," with white piping and honeycomb stitching. The cabin is further adorned with black leather on the steering wheel, shifter and dashboard, lots of paldao laminate trim, metallic accents, and a suede-like black headliner. Topographic maps and coordinates of the peak of Mount Denali in Alaska serve as finishing touches, and are less gimmicky than they sound; top maps can be really pretty.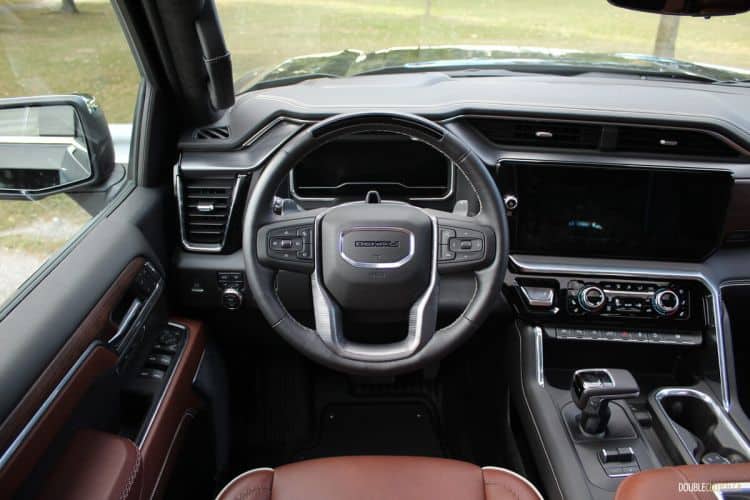 It's not all just old school leather and wood, as the Denali Ultimate is equipped with every single tech trick in GM's playbook. There's an ultrawide 13.4-inch touchscreen, a 12.3-inch digital gauge cluster, and a 15-inch heads up display, which all integrate very well. The infotainment system is equipped with Google software for maps, search and assistant functions, and the gauge cluster is easily configurable to display whatever you want to see. It's all very well thought out and generally intuitive, but we noticed a number of functions could be quite slow to load and respond – we're hoping this can be patched out, as it's the only part of this truck that doesn't feel up to snuff and we know the processing power is in there.
We're sure there's serious computational muscle in this truck, because the Ultimate comes standard with GM's Supercruise – which in this iteration, includes towing functionality as well. Supercruise is handily the most robust driver aid package on the market, offering a true hands free driving experience that is nothing short of incredible. It will start, stop, follow curves in the road, follow traffic, and even change lanes with zero driver input. If this sounds unnerving, it also does a brilliant job of clearly telegraphing when the system is ready to operate, and when it needs you to take over.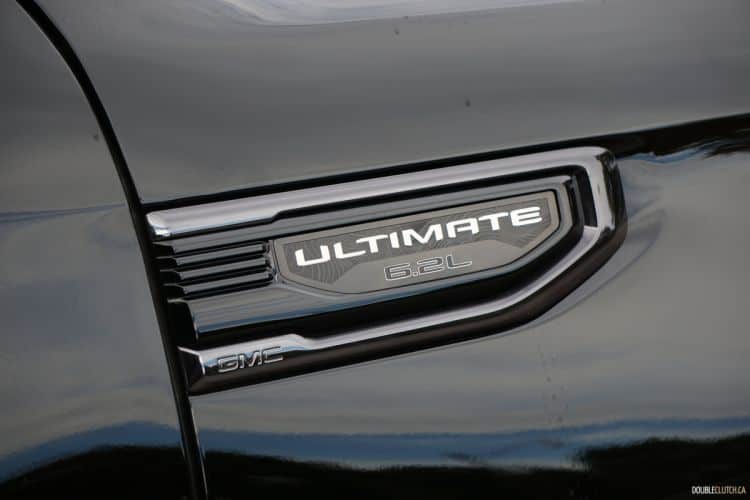 Even when Supercruise isn't available, the radar cruise is among the best on the market, and if you navigate a route, it will tell how much Supercruise will be available on that route. I personally was able to spend over 90 minutes in rush hour traffic on the highway with only actually driving for maybe three combined minutes, while getting a massage at the same time. What was supposed to be a long slog after an already long day became a delight. This is game-changer luxury; some might say ultimate. 
Despite all the work that GM has put into making the truck drive itself, it's a pleasure to drive when you feel like taking the wheel. It's all very refined and mature, somewhat reminiscent of an older Mercedes – it feels like an elder statesman, even if it is an accomplished athlete. Handling is secure and predictable with excellent body control, reassuringly solid brakes and and the engine, while tuned to feel docile, offers very healthy acceleration if you bury the skinny pedal. All the driver controls are well gauged and feel right, and it all does a good job of making the truck feel smaller than it actually is.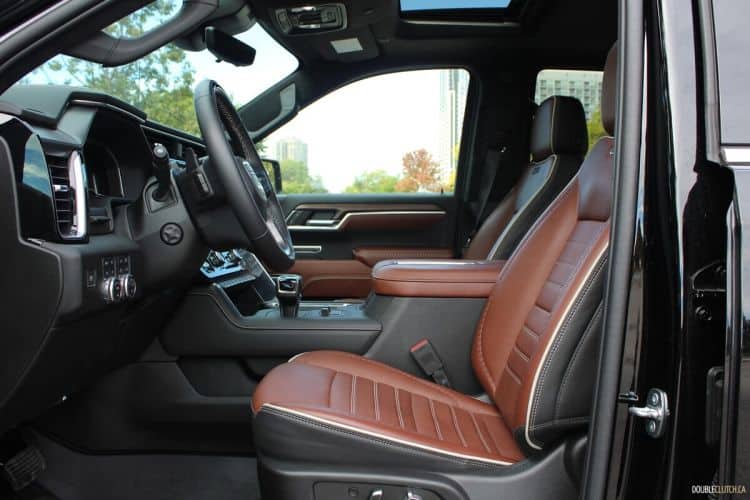 The cabin is quiet, thoroughly isolated from road and wind noise, and the chassis is almost totally free of the body shudders you'd expect in a truck. Despite this, the ride is still very much on the firm side, no doubt a consequence of those massive (but so good looking) wheels – it's terrific on the highway but definitely a little choppy around town. The engine is thoroughly quiet, almost surprisingly so – most luxe trucks leave a generous amount of engine noise on the table to give the impression of brawniness, GMC isn't playing that game here. Its long since proven 6.2-litre V8, with 420 horsepower and 460 foot pounds of torque just is brawny and doesn't need to make a fuss about it (though a $2,600 cat-back exhaust is available from the factory if you want to).
This good-ole-fashioned pushrod V8 forgoes the modern trends of turbocharging and hybrid assistance, and instead proves to us all yet again that there is in fact, no replacement for displacement. Old fashioned doesn't necessarily mean old tech, as it makes use of some clever engineering, including variable valve timing, direct injection, and cylinder deactivation, the latter of which is extremely impressive. You will never notice it working, but you will notice the astonishing fuel efficiency; we averaged 13.3L/100km in our testing. This is all enabled by an excellent 10-speed automatic transmission, which was smart and seamless in its operation.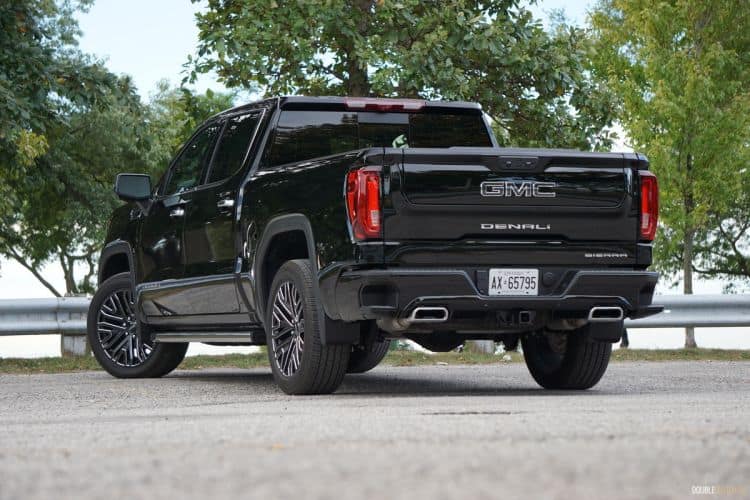 Of course, for all its luxury frills, the Ultimate can and will put in a hard day's work. It's capable of towing 13,000 lbs, and the fancy-pants Supercruise system will work just as well with a long trailer attached. It's got a litany of cameras and sensors to monitor your load and help maneuver in and out of tight spaces. The powered running boards that automatically pop out to greet you will also swing towards the rear of the truck to ease access to the bed with a little kick of a button on the running board. GM's signature double tailgate makes a return as well, and is also tricked out with a two-speaker Kicker sound system with its own bluetooth and auxiliary ports, for tailgating or job site tunes.
Despite doing so many things so well, there are some gripes with the Ultimate. As we mentioned, some of the infotainment functions can be quite slow to load, and the whole system takes a little too long to warm up; the massage controls in particular are pretty egregious with this. Then there's the supply issues that are hitting this truck particularly hard, and as a result, our parking sensors were inoperative and as of June, Supercruise is unavailable according to GMC's website, which is a major disappointment. That feature alone goes a long way to justifying the Ultimate's rather lofty sticker price: $99,638.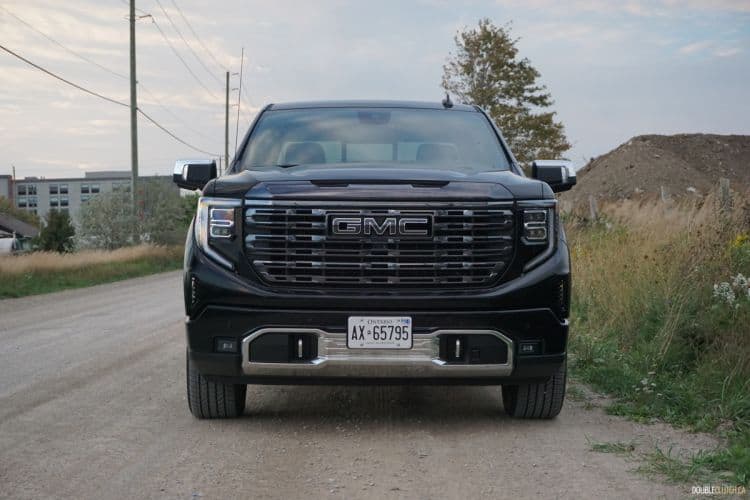 While much of the competition is embracing turbocharging, hybridization, or abandoning engines altogether, GM is holding fast with honest-to-god engineering prowess that works, and shows us that maybe some things don't have to be reimagined. The Denali has always been great at being a really nice vehicle without letting any of those niceties get in the way of it being a work truck, which is why it's been the go-to for luxe trucks that actually have to get things done. The 2022 GMC Sierra Denali Ultimate builds on those fundamentals, and makes a case that all of its opulent touches are actually tools to make life easier, and get more work done. Ultimate is a mighty bold word to slap on the side of a truck, but in this case, we're inclined to agree.
See Also: