As popular are Ford trucks are in Canada, their full-sized SUV, the Expedition, doesn't seem to get a lot of attention. Which is a shame as it is one of the largest and most capable SUVs on the road today, and for 2022 it received facelift inside and out, along with some interesting new trim levels. As a fan of full-size SUVs, I was more than happy to spend a week with a new 2022 Ford Expedition Limited with the Stealth Performance package.
While restyled outside with fresh lights and fascia designs, the 2022 Expedition still looks plenty familiar and immediately recognizable as the largest offering in the Ford SUV lineup. Generally, it's a fairly conservative style that isn't nearly as attention grabbing as it's fancier sibling, the Lincoln Navigator. The clean yet bold lines, LED lighting all the way around, and very business-like front end, combined with its sheer size do give the Expedition a powerful road presence,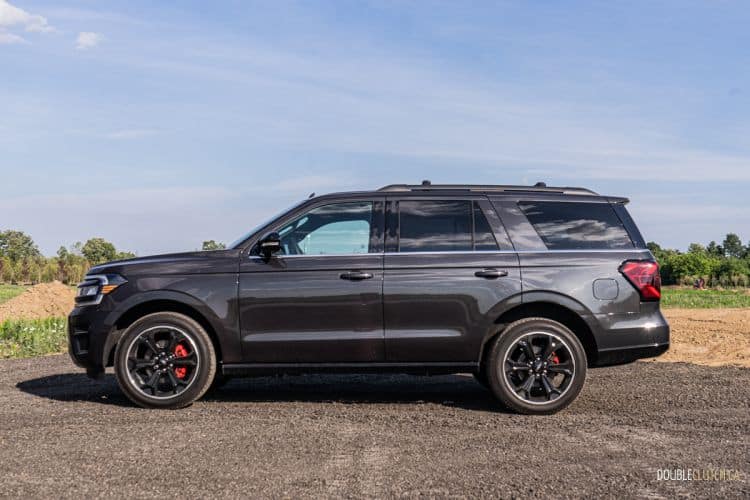 Our test Expedition is, believe it or not, a short-wheelbase model. A longer model for even more cargo and passenger space is available in the Expedition Max, and looks even more like a road train with its enormous length.
Our mid-range Limited trim tester came equipped with the Stealth Performance package, a pricey $9,995 option. It adds to the good looks with gloss black 22-inch wheels, red brake calipers, a unique front grille and rear bumper, power running boards and blackout badging. More interestingly though, the package does come with some legitimate performance goodies such as a performance tune on the standard 3.5-liter twin-turbo V6 that raises the output to 440 horsepower, dual exhaust, a sport-tuned suspension and a 3.73 non-limited slip rear axle.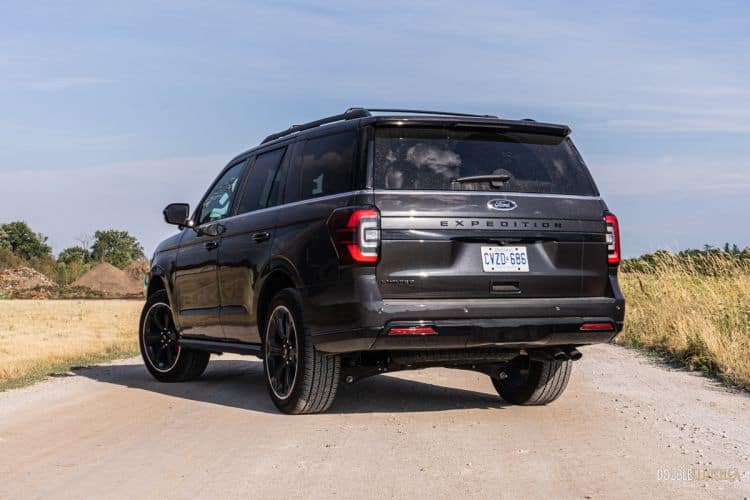 The package also includes some luxuries inside as well such as a Bang & Olufsen 22-speaker sound system, enhanced noise cancelling, red stitching, and Ford Co-Pilot Assist 2.0. So, while a costly package, there's a lot of content here to help justify the spend. The interior of the Expedition also got a thorough facelift for 2022, most notably the dashboard is now a lot more like the most recent F-150 treatment, which is a fairly clean and straightforward design.
It's dominated by an (optional) massive 15.5-inch touchscreen with enhanced voice recognition as well as wireless Apple CarPlay and Android Auto compatibility. Opting for the large screen over the standard 12-inch unit moves controls such as climate and audio to the screen only, which I am not a fan of, so I'd personally rather have the smaller screen and hard buttons for things like climate control and radio tuner.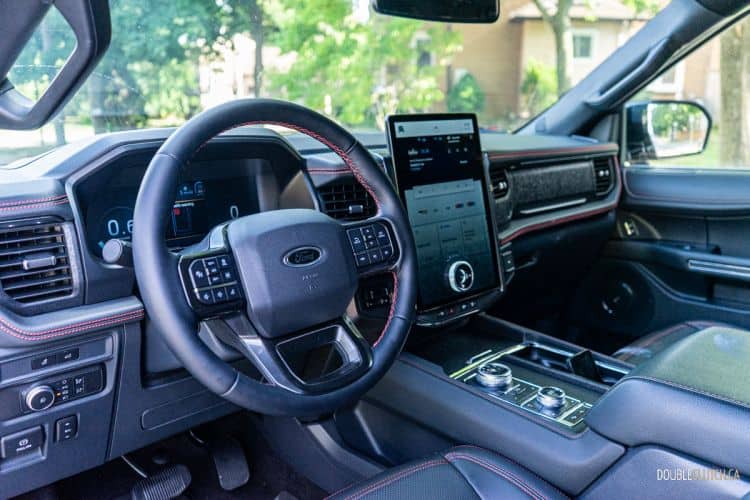 For families, or anyone who just needs maximum interior space, the Expedition is the obvious choice in its segment. The interior space is cavernous, even in this short model, and large enough for the kids to have a soccer game in the back if you opt for the longer Expedition Max – seriously, the space is impressive. Acres of leg and headroom for second and third row passengers, and plenty of cargo space even with the third row in place. Not to mention tons of handy bins and storage cubbies throughout the vehicle to keep smaller items or valuable hidden.
The seats, while hard for my tastes, are supportive, comfortable and both heated and cooled up front and in the second row. Materials are nothing special though, with lots of black plastics throughout. It's fine for a family hauler, but maybe not at the price point some of these Expeditions can hit. Regardless, for a family road trip vehicle, the space and convenience of the Expedition's interior really can't be beaten.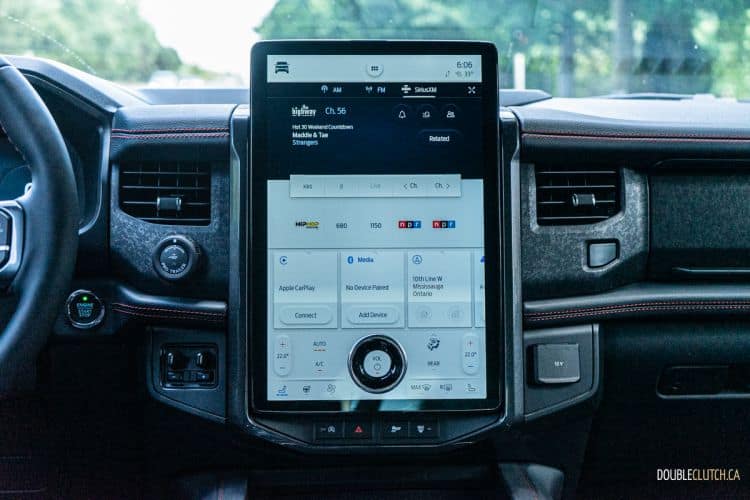 Under the hood of all Expeditions you'll find Ford's 3.5-liter EcoBoost twin-turbocharged V6. The standard motor puts out 380 horsepower and 400 lb-ft. of torque, but there is a high output version available in the Stealth Performance Package, or the Timberland Off-Road Package, which puts out a class leading 440 horsepower and whopping 510 lb-ft. of torque. Either engine comes mated to the 10-speed automatic transmission, which can be a little slow to react at times.
Sporting the higher output motor, our tester has plenty of passing power and impressive acceleration, but power delivery is still not as smooth as its V8 competitors and as a result doesn't feel as powerful as it really is. The big power does come with great capability though, boasting a hefty 9,300-pound tow rating, making it ideal for families with travel trailers or boats to take.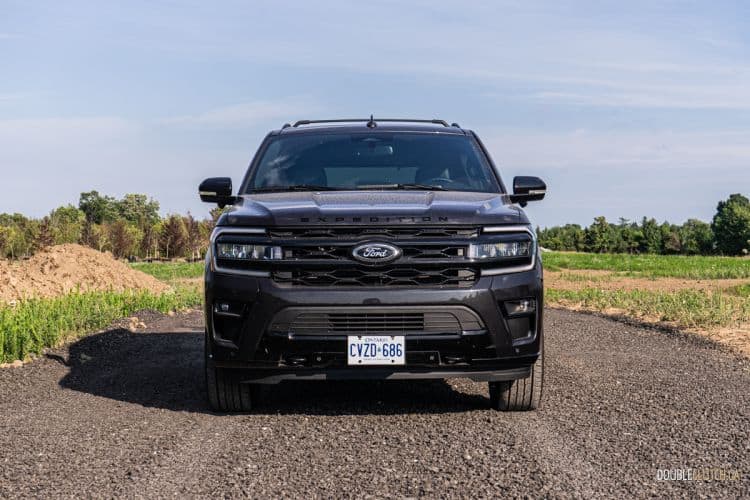 As expected, fuel economy is nothing exciting here, but it is not as bad as one might expect given the power and capability here. After a week of mixed driving and some city traffic jams I observed and average of 14.5L/100km, which is pretty decent for an SUV of this size. That said, I've consistently failed to hit the official ratings with Ford EcoBoost engines, even though I tend to be a conservative driver, so I suspect it would take considerable effort on the driver's part to get better numbers.
Where the Expedition's sheer size scores it points in terms of interior space, it's also an SUV that feels every bit of its size from behind the wheel. While some competitors, most notably the Chevrolet Tahoe and GMC Yukon feel surprisingly nimble on the road which means they feel a lot smaller to driver than they really are, the Expedition is slow to react to driver inputs and tends to wallow into turns or hard braking. As a result it's a lot less engaging to drive, and even more difficult to maneuver around in the city.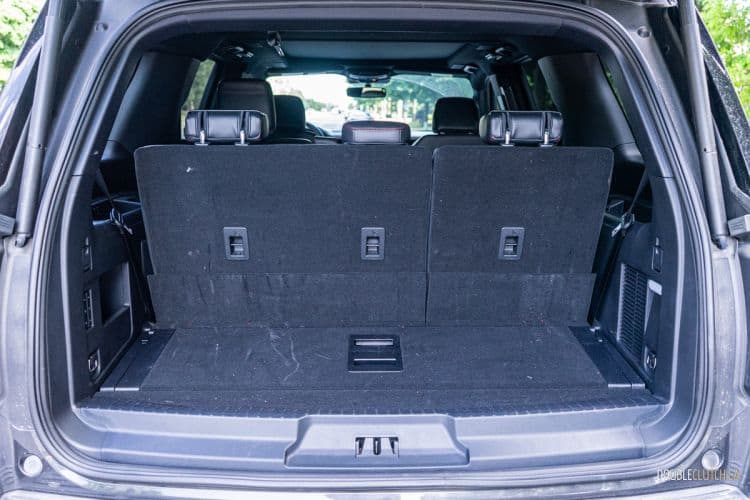 Ride quality is good, but there is a touch of harshness while cruising on the highway which may be a result of the sport-tuned suspension here. There's also a very noticeable secondary motion that follows any large bump, something that's been an annoying ride-quality trait of all full-size Ford trucks. The bottom line is that if you're just looking for a comfy family cruiser, most drivers would find little to complain about, but if you want something that delivers an enjoyable driving experience there are better options out there.
Now we come to the key reason for why I believe the Expedition has been flying under the radar for years now – pricing. It's expensive; a base model XLT starts at $69,840, and stepping up to a mid-range Limited puts you at $83,350. If you want the larger Expedition Max, pricing starts at $86,515 for a Limited (Max is not available in XLT trim). If you want a top-tier Platinum trim truck you're looking at $95,724 or $98,725 for the Max. Our Limited tester, with its $9,995 Stealth Performance Package rings in at $93,345, factor for taxes and fees and you're facing a six-figure bill.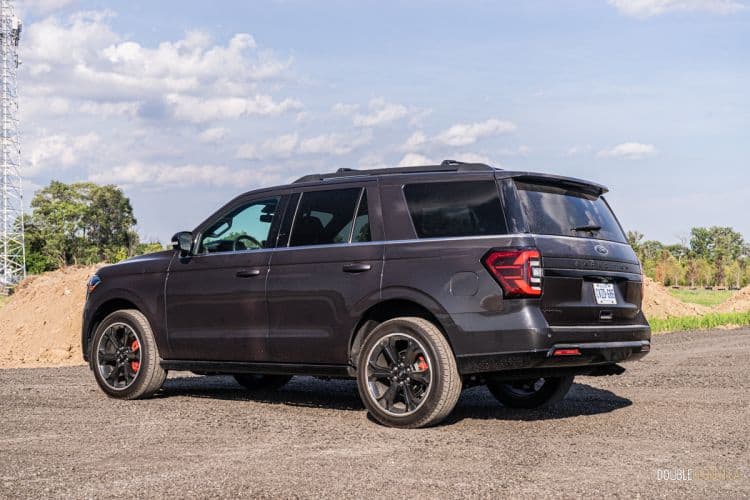 The Expedition is in line with key competitors, but the GMC Yukon has more mid-range trim levels to choose from, and for the sticker of our Expedition tester you could find yourself in a fully loaded Yukon Denali Ultimate. There lies the Expedition's biggest problem; GM has done a great job building the Denali into a premium nameplate that is recognized as such by most consumers, and the Expedition feels a lot less exclusive and upscale, even if in reality it isn't.
Space is king here, so if that's your main priority as you shop for a full-size family SUV the 2022 Ford Expedition Limited delivers in spades. It does so in a handsome looking package, with palatable fuel economy and plenty of available luxuries to keep everyone in the family happy.
See Also:
2022 Cadillac Escalade Platinum