When I look at the large family vehicles available today, I recall my father trading in his Buick station wagon for a GMC Vandura.  Unlike today where SUVs are the norm, cars and station wagons were the vehicle of choice for moving families around. Large family vans with this size, space and comfort were considered lavish in comparison. Fast forward 41 years later, sitting behind the wheel of the 2021 Chevrolet Tahoe High Country it becomes evident how large family haulers have changed.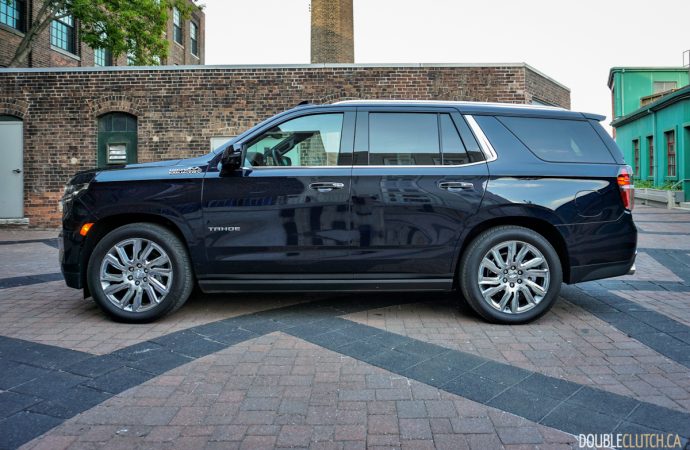 In the world of sport utility vehicles, buyers have so many choices that your head will literally spin. It seems every few months, manufacturers release a new model in an already crowded field. Chevrolet now only has one sedan in the market to move families as they have shifted their focus and resources towards SUVs. Decades into its original inception, the short-wheelbase version of the popular Suburban still remains one of the best on the market.
One of the biggest changes to the latest generation of General Motors' full-size SUVs has been to the rear suspension. GM has finally done away with the solid rear axle and changed to an independent rear suspension. Because of this, the floor is now more than five inches lower than the outgoing Tahoe. This allows for more interior volume. The biggest improvement has been in the Tahoe's ride and handling.  For such a large vehicle, it is remarkably well-riding and comfortable. Handling is equivalent to that of a much smaller vehicle, which is great for those intimidated by the size.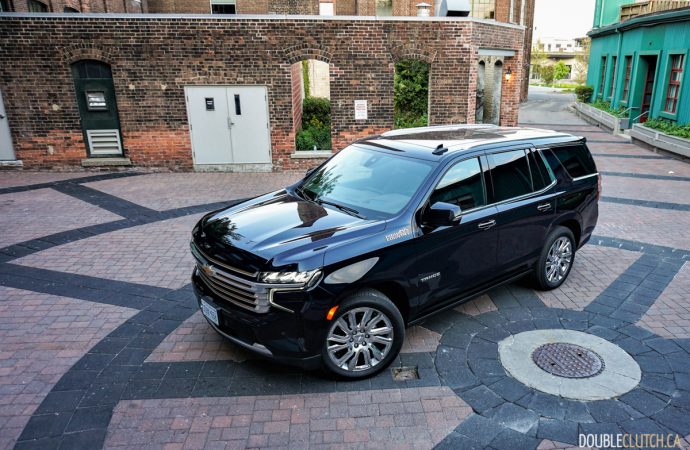 Road work and major potholes were absorbed with ease by the all new suspension.  Where the previous generation could be considered floaty and harsh, the new Tahoe remains body-on-frame, but is composed and confidence inspiring. Power comes from a 6.2-liter V8 with 420 horsepower at 5,600RPM  and 460 lb-ft. of torque at 4,100 RPM. For those paying attention, this is the same V8 found in the Corvette. Lesser trims of the Tahoe receive a 5.3-liter V8 that is still more than adequate for the vehicle.
With weight tipping in at 3,402 kilograms, the Tahoe is far from a lightweight but the V8 matched with the very smooth 10-speed automatic allows this big SUV to move with confidence and authority. Even loaded up with furniture and boxes for a move, there was no muss or fuss. If fuel economy is a priority, Chevrolet offers a 3.0L Duramax turbodiesel where we saw highway fuel mileage as low as 6.9L/100km.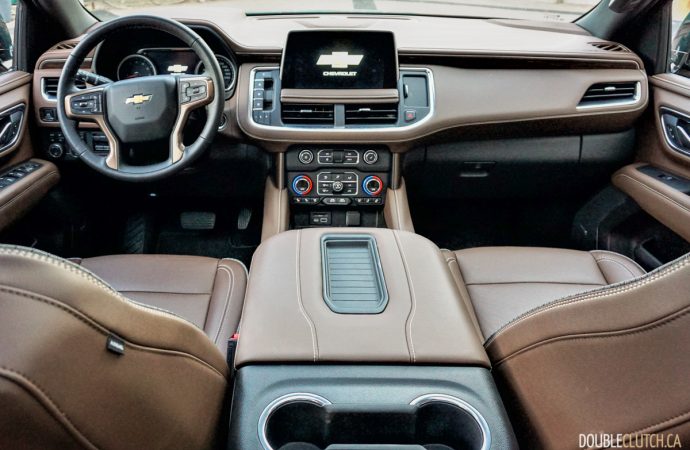 Outside, the new exterior looks absolutely fantastic and close to perfect in my eyes unlike the much more expensive Cadillac Escalade which looks over the top with its more aggressive exterior lighting.  The Tahoe and its sibling the Suburban adopt a clean and subtle look at every angle. The 22-inch wheels equipped on our top-trim High Country tester are a must as these complete the overall look.
Inside the Tahoe, there has been a significant improvement in the quality of materials used throughout.  Soft touch materials can be found throughout the interior. Fit and finish has finally been given the attention a vehicle at this price point deserves. Though much improved, the buttons on the steering wheel and console feel like the bean counters won this battle; those expecting a Cadillac level of interior will be disappointed.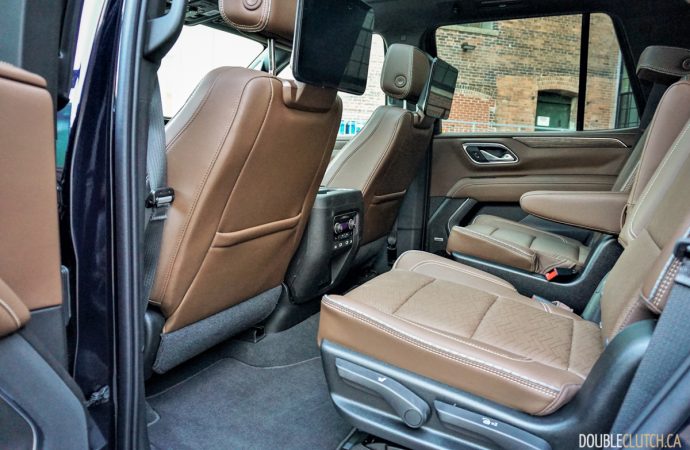 With the optioned four-corner air suspension, passengers are treated to the car lowering for ease of access. To make things easier, a power retractable assist step comes out from under the vehicle to help the driver and passengers further. Consumers looking for proper three-row seating need to look no further. Where midsize sport utility vehicles such as the Traverse, Toyota Highlander and Kia Telluride sacrifice legroom for passengers in the third row, Tahoe passengers won't feel like they have been relegated to the penalty box.
Rear cargo space has improved from the previous generation Tahoe and can hold up to 772-litres with the third row in place. Drop the seats and this grows to 2,055 liters. A large 10.2 inch high-definition Infotainment touchscreen sits front and centre with Apple CarPlay and Android Auto as standard.  The 10-speaker Bose audio system sounds adequate for the segment, and the exterior camera quality is crisp and clear. As with all GM vehicles today, a 4G-LTE Wifi hotspot is also standard.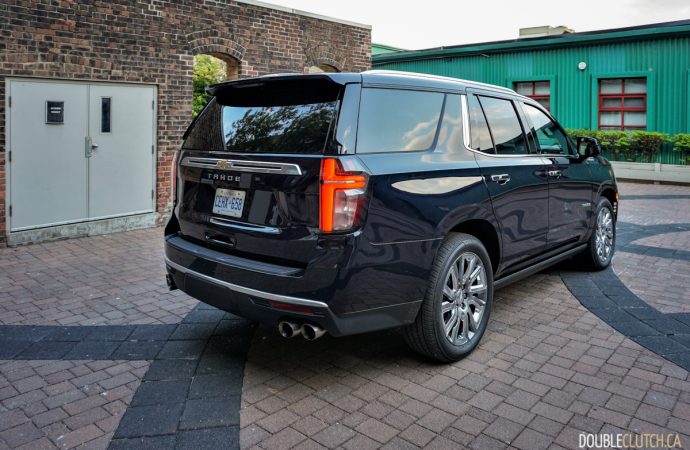 As you can imagine, a massive SUV powered with a 6.2-liter V8 is not going to get spectacular fuel economy. Official numbers from Chevrolet are 16.6L/100 in the city and 12.4L/100km on the highway.  The Tahoe uses features like cylinder deactivation and a transmission that's eager to upshift to ensure efficiency is optimal. We observed numbers as low as 12.0L/100km on the highway, and an average of 14.5L/100km over the course of our test.
The starting price for the Tahoe High Country is $80,898. Options on board include the sliding front console ($400), Midnight Blue Metallic Paint ($495), six-spoke Midnight Silver machine-faced 22-inch aluminum wheels ($4,165), Rear Seat Media System ($2,295) and a High Country Deluxe package ($5,805) and more. A total of $13,160 in options may be a hard pill to swallow for most consumers but make the Tahoe High Country just that much more impressive.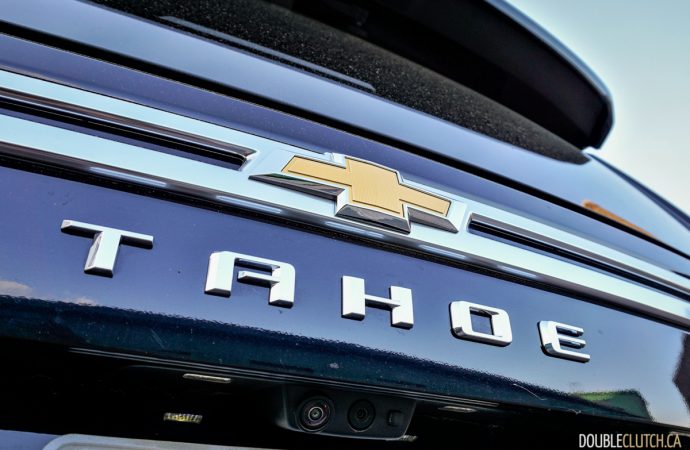 We were pleasantly surprised behind the wheel of the 2021 Chevy Tahoe High Country. The refinement, technology and comfort were more than expected, and put this full-sizer right at the top of its segment. Large families that regularly head up to cottage country or on long road trips would be best served with one of these in their garage. The smooth and powerful engine is addictive and efficient. We strongly recommend the Tahoe to buyers that are looking for a full sized SUV with zero compromises.
See Also:
First Drive: 2021 Chevrolet Tahoe Duramax
2020 Lincoln Navigator Reserve