This is the 2021 GMC Yukon Denali Duramax. Yukon has become a household name over the last two decades thanks to its family friendly capability, bridging the gap between hard-working pickup truck and luxurious family hauler. The full-sized SUV offers the rugged capability needed to haul the family boat, cargo capacity large enough to make most short-bed pickups jealous, enough off-road prowess to take on the local hunting trails or power through a blizzard, and all the gadgets and luxuries needed to keep the entire family in total comfort.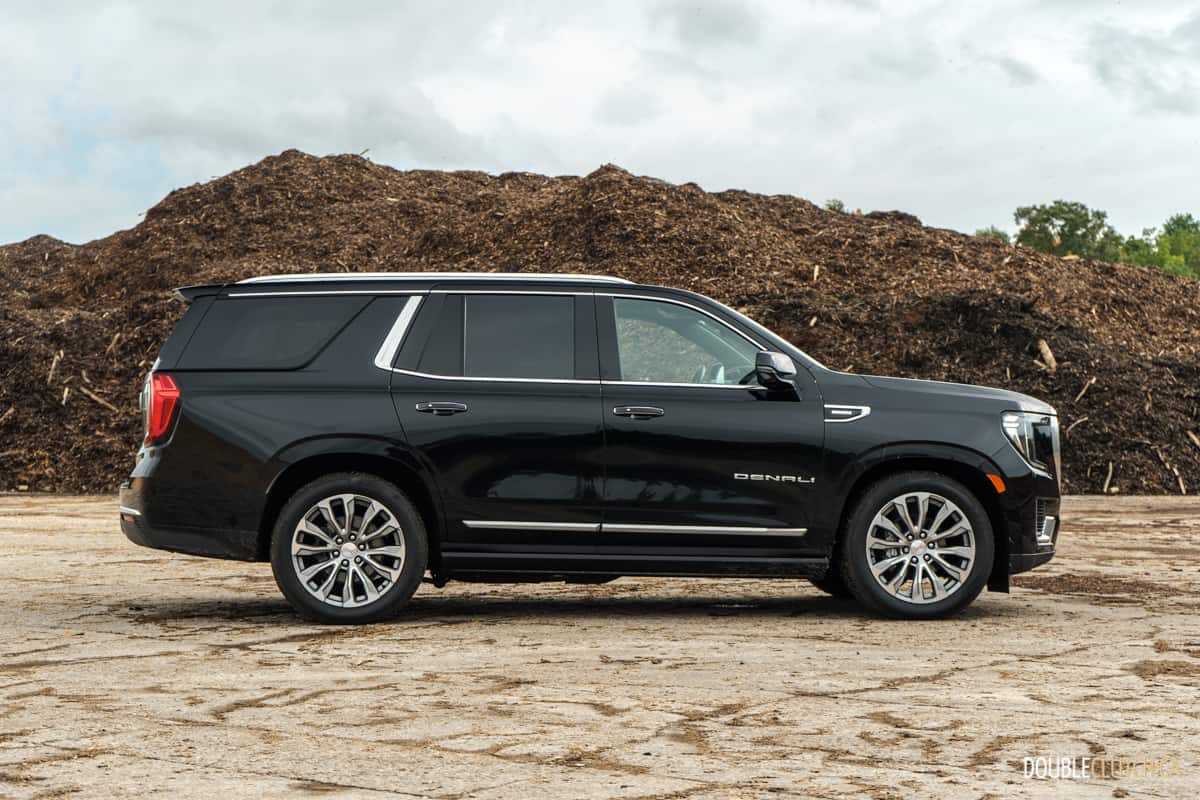 It's a formula that's been attempted many times, harkening back to the original Jeep Grand Wagoneer, but it's never been done so consistently well as it has with GM's full-sized SUV family. The previous generation of the truck, known as the K2XX, is a platform I've logged thousands of kilometers on over the years and enjoyed every one. A week with this 2021 Yukon Denali with the new Duramax diesel engine is the perfect way to get acquainted with this latest version.
Totally redesigned, there is still no mistaking the 2021 Yukon for anything but, thanks to its imposing and nearly vertical front end featuring the unmistakable Denali pattern grille. The overall shape is fairly traditional and it retains a lot of the boxy slab-sided lines that the Yukon and its siblings are known for. The rear end is less distinguishable but is dominated by a large chrome GMC finisher and LED taillamps that match the lesser offerings in the current lineup, which in a way cheapens the Yukon a little bit.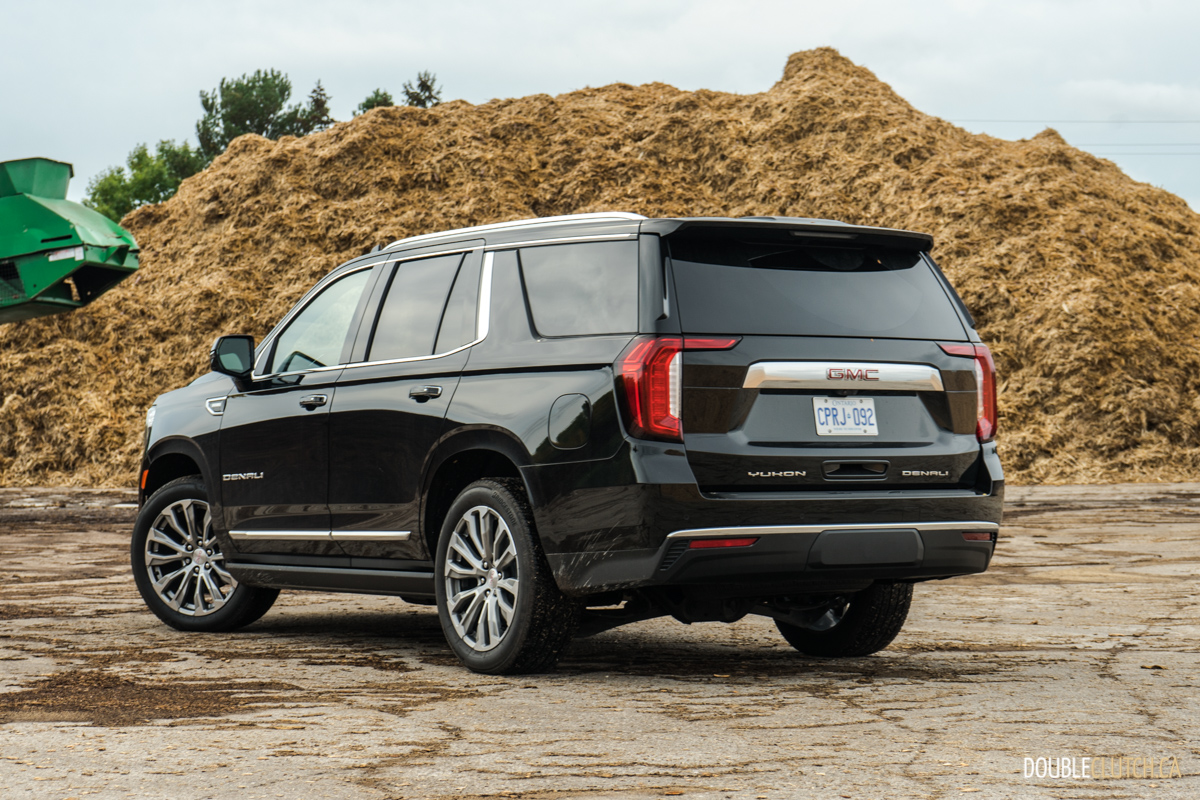 That oversight is however, offset by the impressive exterior light show that starts when you unlock the Yukon at night. It has all of the door handles, puddle lamps, perimeter lighting, GMC logos projecting on the ground, and LED strips lighting the power retracting side steps.
The fancy lighting and power steps are part of the Denali Ultimate package, which takes an already impressively equipped Denali and decks it out by throwing the entire option list at it. It upgrades the standard 20-inch wheels to 22 inches and adds luxury features such as a glass panoramic sunroof, ProGrade trailering package, adaptive air suspension, rear view mirror camera and adaptive cruise control. At $10,252 it's not a cheap endeavor, but does add some costly content and ensures that your Denali isn't going to be upstaged by anything.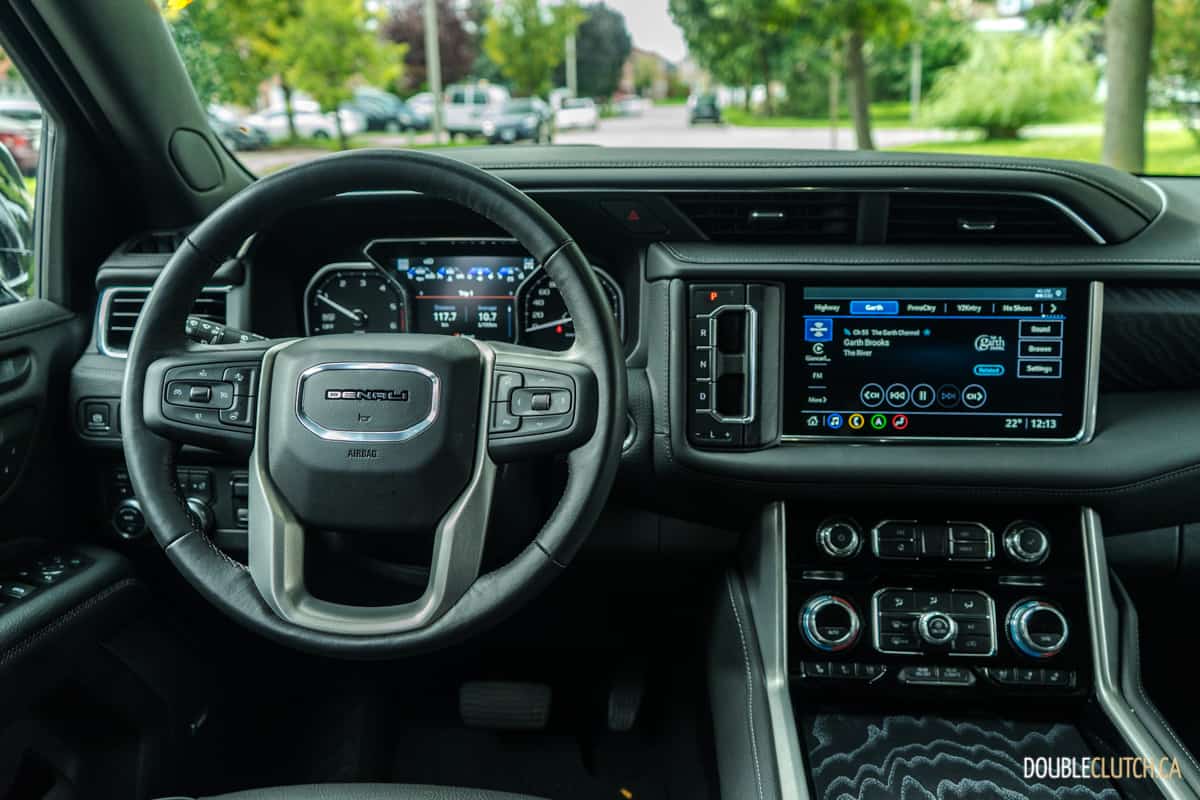 The interior in the Yukon Denali is arguably the most critical element of the whole truck, and it was the source of some mixed emotions with me. Having spent the prior week with a Lincoln Navigator, and having reviewed a 2021 Escalade earlier in the year, I was expecting a comparable level of opulence in the Denali, or perhaps slightly toned down. Stepping into the Yukon I was immediately surprised at how unimpressive the interior looks. It has a much more traditional layout, and while the materials are nice I wouldn't call them luxurious. It's a bit bland for a top-tier SUV, especially wearing the Denali nameplate.
However, the more time I spent with the new Yukon the more I appreciated the interior and by the end of the week I preferred it to the more complex and tech-heavy layouts in the pricier Navigator or Escalade. The Yukon's more traditional layout makes for more storage, more intuitive controls and a less-busy and more driver focused cabin. The heated and cooled seats, while not the finest leather and a little firm for my taste, are great by today's standards and I easily found the perfect driving position.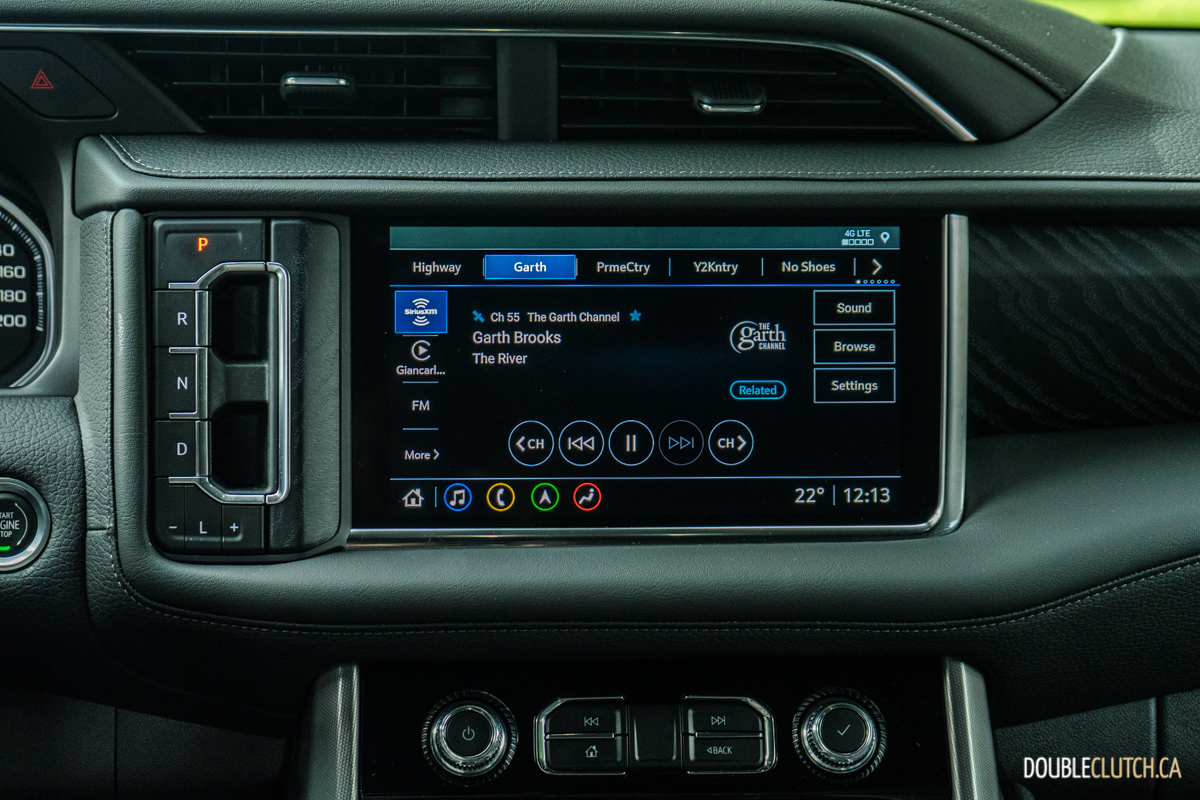 There's plenty of handy storage everywhere, and the center console is one of the best designs I've seen with huge cupholders, generous storage bins and a large armrest. It also powers back to reveal even more storage! Perhaps the biggest improvement in the rear is the additional legroom for second and third row passengers that the new platform's independent rear suspension affords. Our tester came with second row captain's chairs and it felt like they had acres of room around them to get in or out or to access the third row.
Cargo space behind the third row is still shy in the short-wheel-base models, but if you intend to use the third row often you can opt for the long-wheelbase Yukon XL. If you're like us though, the third row is seldom used, so it stays folded flat to make way for tons of cargo.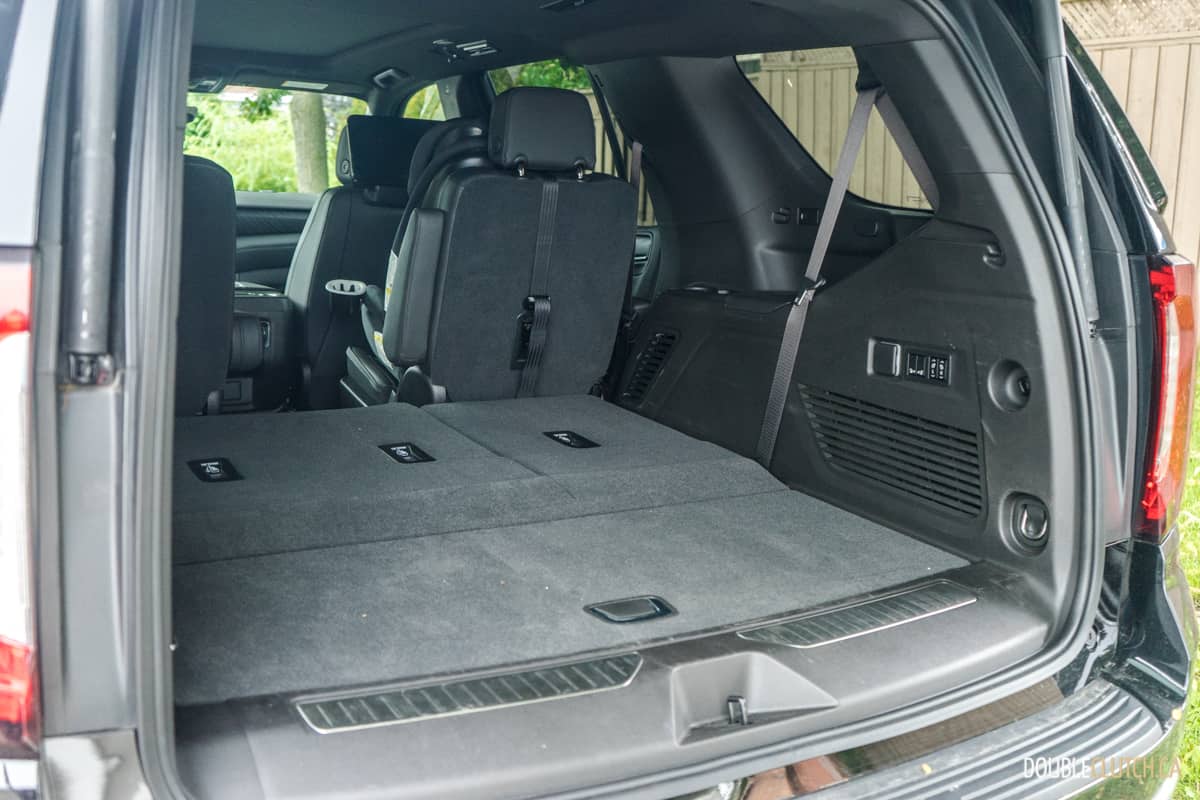 The base engine in the Yukon is the venerable 5.3-liter V8, and the Denali comes with the more powerful 6.2-liter V8 that sounds glorious. However, a 3.0-liter Duramax inline six-cylinder diesel is also available on all trims, and that's what was equipped in our test vehicle. The diesel makes an adequate 277 horsepower but matches the 6.2-liter's 460 lb-ft. of torque, a much lower 1,500RPM. This means you have more usable torque at lower RPMs, making for smoother towing and quick launches.
While I admittedly missed the passing power and muscley sound of the larger 6.2-liter V8, the diesel did impress with near perfect road manners. It's nearly impossible to distinguish as a diesel by its sound alone, and power feels more than adequate in any driving situation we experienced in my week with it. All engines are mated to a 10-speed automatic and power flows to the wheels through a standard 4×4 system with 2WD, Auto, 4Hi and 4Lo modes.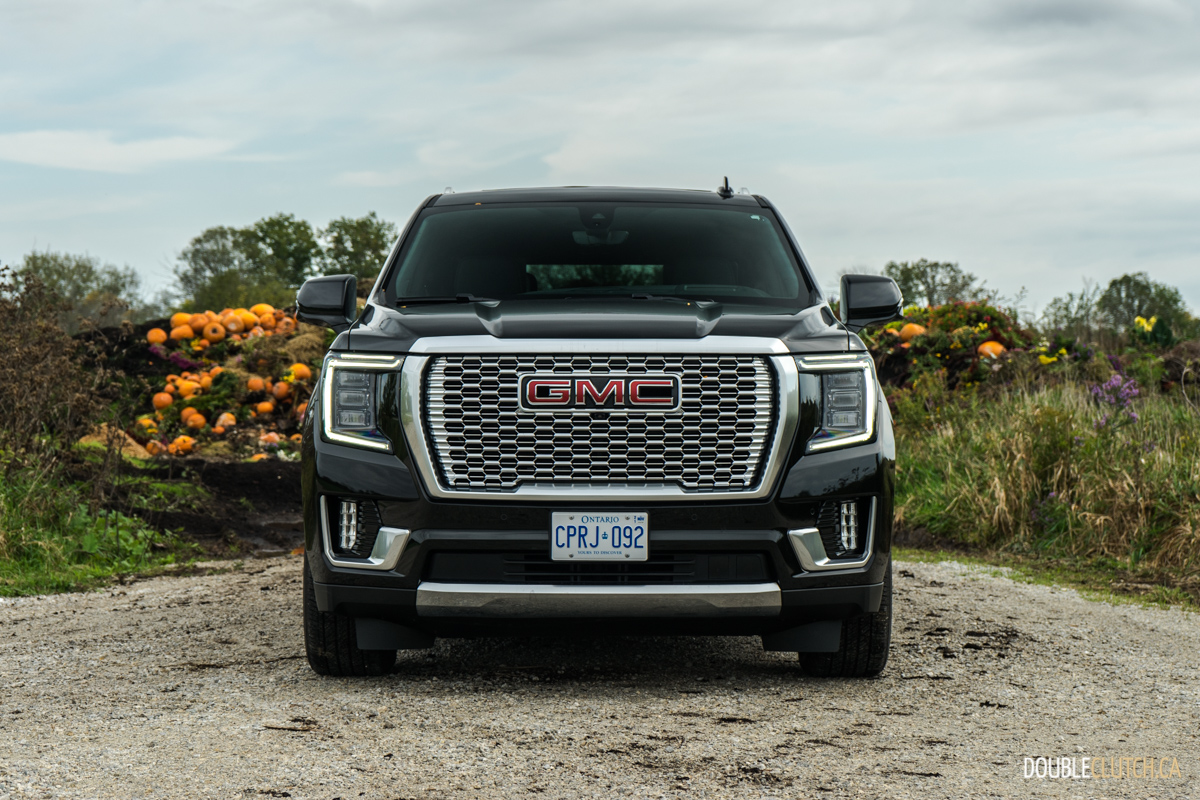 I might have missed some characteristics of the V8, but the diesel certainly paid dividends at the pumps where we observed and average fuel consumption of 10.3L/100km, in a good mix of highway and city driving. For comparison purposes, in a similar 6.2-liter equipped Escalade I managed 14.0L/100km, so the diesel offers a significant fuel economy advantage if you're willing to compromise on the ferocious V8's behaviour.
Regardless of which engine you decide on, the Yukon Denali continues to set the bar in terms of driving dynamics for full-sized SUVs. It's smooth, compliant and cruises on the highway in total relaxation. Steering remains direct, offers enough feedback to know you're in control, and if you do take a corner with a little extra zest you won't send passengers tumbling around. GM has mastered the ride quality to deliver a sense of control and engagement, without compromising comfort. Cabin noise is exceptionally well controlled with almost no road, engine or wind noise entering the cabin.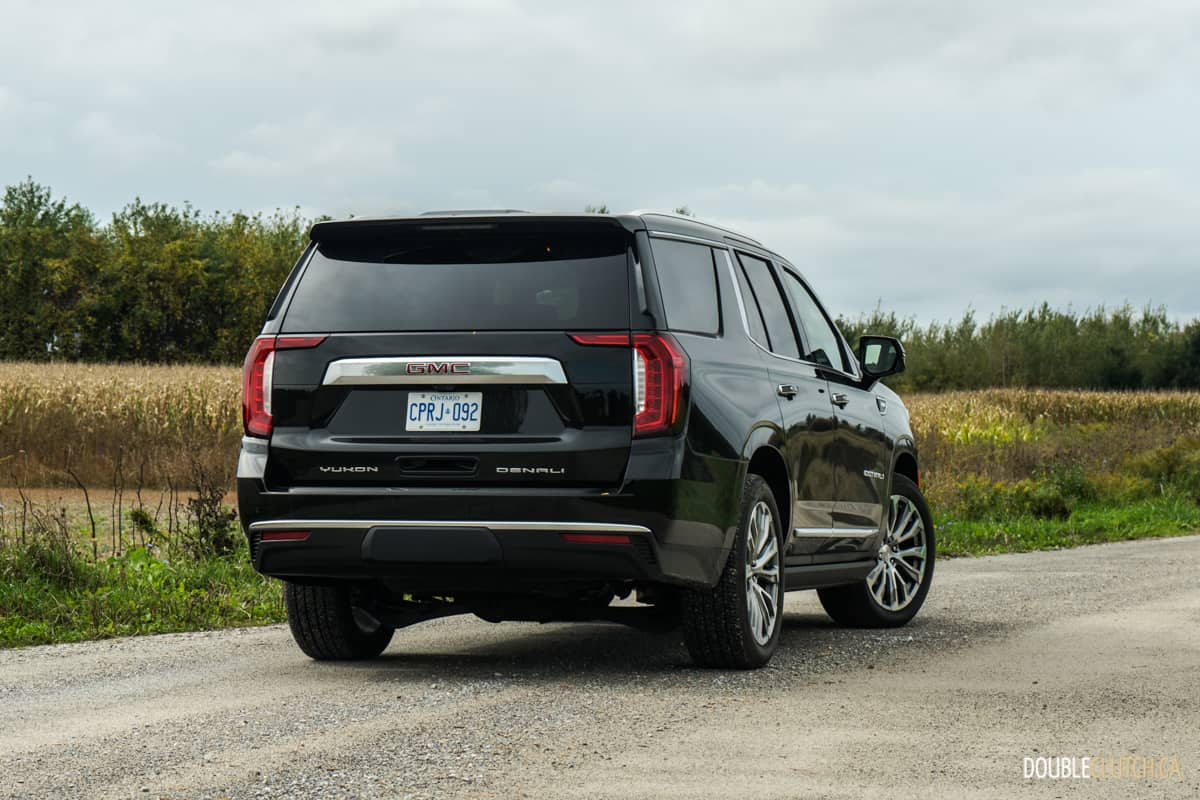 One of the reasons the Yukon is so popular is that you can build it up to your budget, and if you're set on controlling costs, you can still get a world-class full-sized SUV with proper truck capabilities for well under $70,000. In fact, a base Yukon SLE with 4×2 starts at $58,548 and you can step up to the 4×4 model for $61,848. A mid-trim SLT model starts at $69,948 and the top-tier Denali starts at $80,223. Most options are available in a package, or a-la-carte, so you can build the perfect Yukon for your needs and budget. Our tester came with the Denali Ultimate package, which essentially ticks every option box available on the Denali trim for a cost of $10,252, bringing our as tested price to $90,475.
In writing this I realized that the Yukon Denali with the Ultimate package, offers at least $10,000 of savings over a Navigator or a base Escalade, and likely significantly more savings if you started adding options to those. It does everything just as well, if not better, but lacks the prestige of the luxury nameplate, and you do give up a bit in the way of interior styling and materials.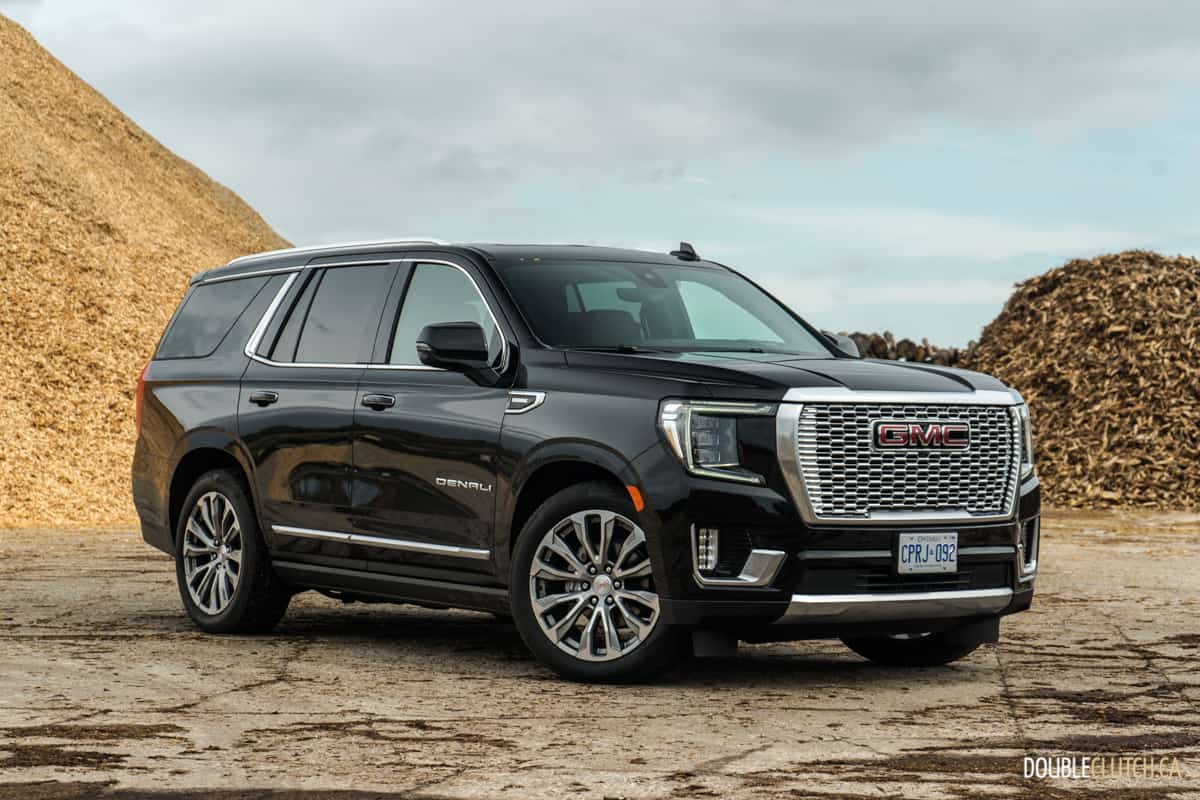 From a practical standpoint, I found the 2021 GMC Yukon Denali Duramax easier to live with thanks to simplified controls and more interior storage. GM has mastered this formula and I have no doubt that the new Yukon will live up to its legacy, so expect to see these everywhere very shortly. If you're in the market for a capable full-size luxury SUV and you're at all cost conscious, there's no reason to consider anything else – other than maybe the Yukon's own siblings.
See Also:
2020 Lincoln Navigator Reserve
2021 Chevrolet Suburban High Country