Over the last several months, manufacturers have presented their electrification plans as they move away from fossil fuel engines. With the rise in fuel prices, consumers are looking at alternate means of transportation to skip going to the pumps. However, there are some vehicles that remain in high demand even though efficiency is not considered high on the list. The 2022 Cadillac Escalade Platinum we have this week proves that there are some things that an EV has yet to offer.
The 2022 Escalade is big to say the least; imposing when you see it in the rearview mirror and small vehicles will graciously move out of its way. Six to seven adults can sit comfortably inside. Complaints about the lack of leg and headroom will be few and far between even for those seated in the third row. Road trips across Canada with several adults are what this full sized sport utility was built for and no pure EV currently on the market can make this claim.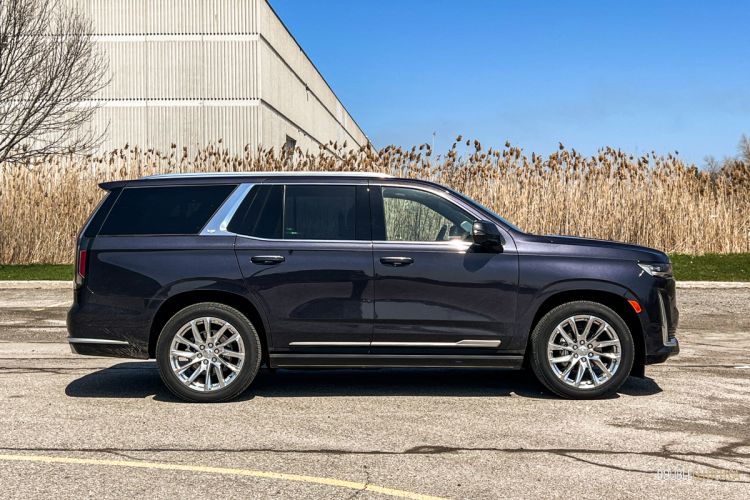 With 3,427 litres of cargo space available with the third row seats folded, four adults have ample space to load multiple suitcases behind them. For reference, the next-largest Cadillac XT6 has 1,220 litres of cargo space. The space is impressive, especially when you consider that the longer Escalade ESV model has up to 4,044 litres if you need the full three rows and space to fit an entire house behind them.
Heading up to cottage country and have a boat you need to tow? The 6.2-liter V8 powered Escalade will easily pull 8,000lbs with ease. Add standard Hitch Guidance, Hitch View, Smart Trailer integration, Tow/Haul mode and Integrated Trailer Brake Control to make things easier, the Escalade ensures that your travels are as stress free as possible.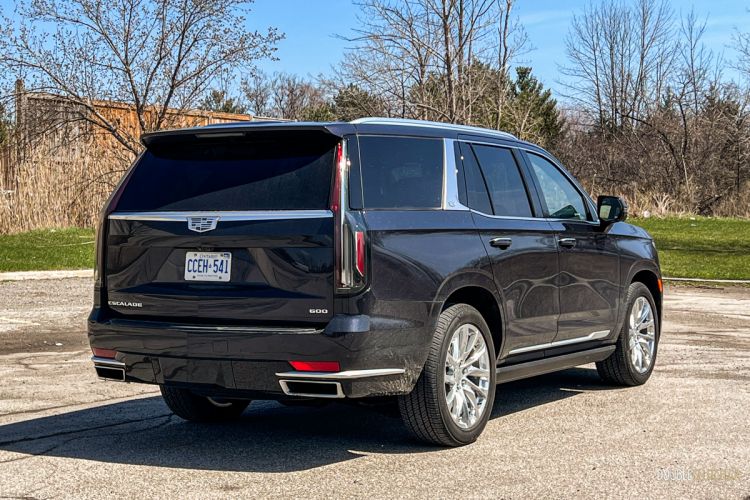 As mentioned earlier, a tried and true naturally aspirated V8 can be found under the hood. There is no hybrid or EV version available, but those looking for improved fuel efficiency can opt for a 3.0-liter Duramax turbodiesel engine. The V8 pumps out a healthy 420 horsepower at 5.600RPM and 460 lb-ft. of torque at 4,100. Matched to the latest version of GM's 10 speed automatic transmission, expect super smooth shifts and power that move this 5,983-lb full sized sport utility vehicle with authority.
Even with the aerodynamics of a brick, the 2022 Escalade Platinum looks just as fantastic as it did when at the global reveal two years ago. The blacked out grill looks like it can swallow a Mitsubishi Mirage. The horizontal light strip front and rear make sure you know that this is in fact a Cadillac. The lack of curves adds to the Escalade's overall appeal and uniqueness in this segment.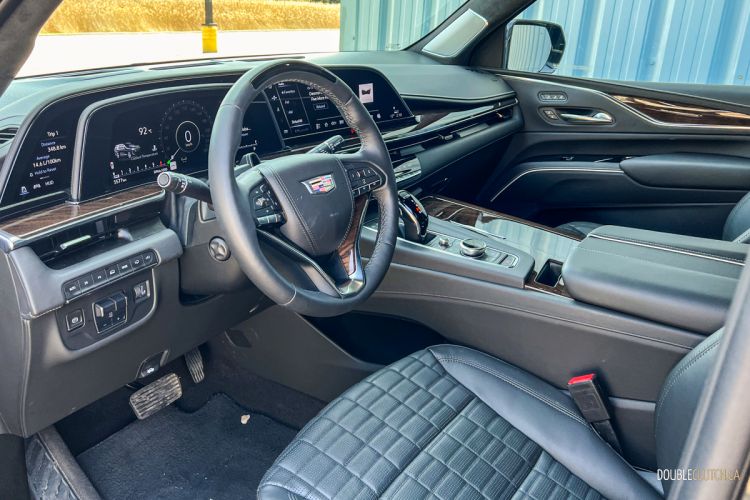 Inside the Escalade, you are treated to the best technology that General Motors has to offer. An industry first, 38 inch curved OLED display is front and centre with perfect blacks and the widest color range available. Even two years later, this still manages to impress anyone who steps inside. The overall dash layout may not be as modern as those found in a Mercedes-Benz but it gets the job done with its simplicity.
The 36 speaker AKG Studio Reference audio system may seem like overkill until you remember the size of this vehicle and hear the clarity that it provides. This is truly one of the best sound systems you can find in a vehicle today, and lesser trim levels make do with a 19 speaker system. Those seated in the second row have access to two 12.6-inch screens placed behind the driver and passenger seats. You can watch movies, listen to music or navigate using this system. Sadly, there are no built in subscription services such as Netflix or Disney+ available.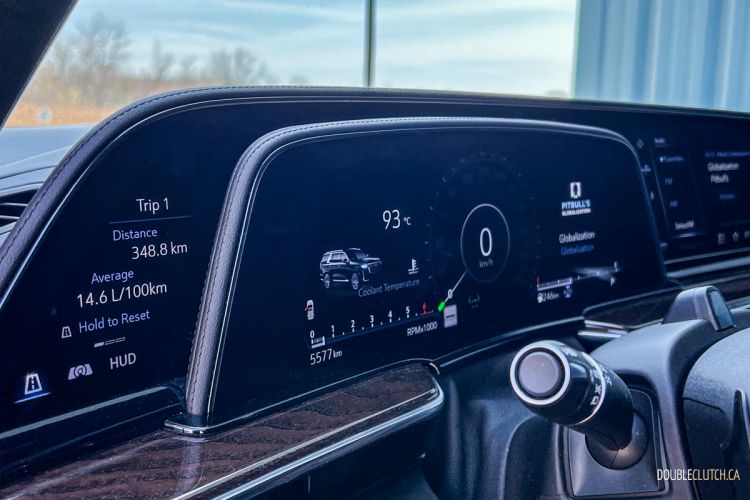 Even with the 22-inch 10-spoke polished wheels, the ride is buttery smooth. Only the worst of the worst potholes in Toronto managed to rattle the Cadillac Escalade. Inside it feels as quiet as a tomb and surprisingly, the Escalade feels smaller than it should. I was able to navigate my daily commute through downtown Toronto without second guessing if I could make tight turns or access certain parking spots. Handling is surprisingly good and the Escalade feels more agile than it should.
Sadly, not everything is rainbows and sunshine.  Fuel economy is a sore spot even with the automatic start/stop feature in place. Premium fuel is required to fill the 91-liter gas tank. During my test run, I managed to meet the combined fuel economy of 14.8L/100km. Official efficiency is 16.8L/100km in the city and 12.4L/100km on the highway.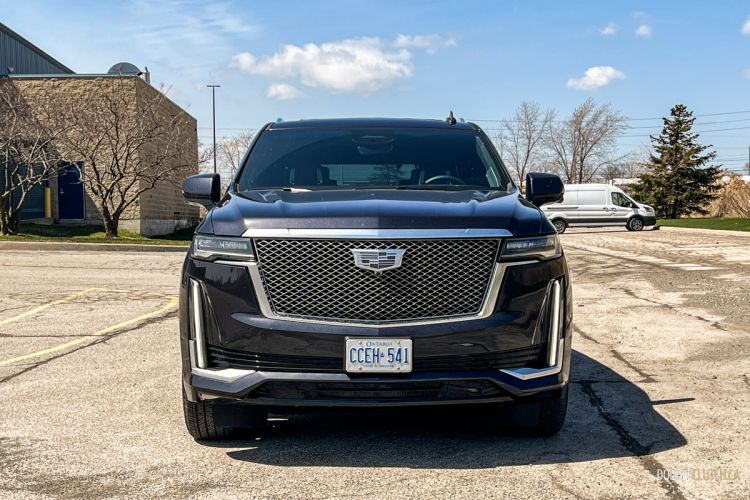 2022 Escalade prices start at a fairly reasonable $90,498. This Premium Luxury Platinum trim level comes in at $120,498, and the Galactic Grey Metallic paint adds another $900. For comparison, a Lincoln Navigator starts at $102,500 with less power and lagging behind in technology. German competitors require more money with concessions when it comes to overall size and cargo capabilities, and none of them offer the sheer size and capability of the GM full-sizers.
For consumers that feel that the 2022 Cadillac Escalade Platinum is a bit too much with all the bells and whistles but need the power and overall size, the Chevrolet Tahoe or GMC Yukon are both available. Everything the Escalade does, it does incredibly well. Its commanding presence is that extra oomph that makes me love it more than the Tahoe, and the Escalade makes no apologies for its size. Perhaps that's why it still manages to sell so well and has a long waiting list to prove customer loyalty.
See Also:
2021 Lincoln Navigator Reserve
2021 Chevrolet Tahoe High Country