At 15 years old and nearing 270,000kms, it's seen a lot. A lot of messy kids, winter storms, summer road trips and thousands of grocery runs; it's hauled trailers, dirty strollers, construction material, greasy car parts and just about anything else you can put in vehicle. It's proven that we need a full-sized SUV in the house, and given that fact that it (probably) won't last forever, I've eagerly awaited the release of the all new 2021 Cadillac Escalade ESV Platinum to see what our future family hauler is all about.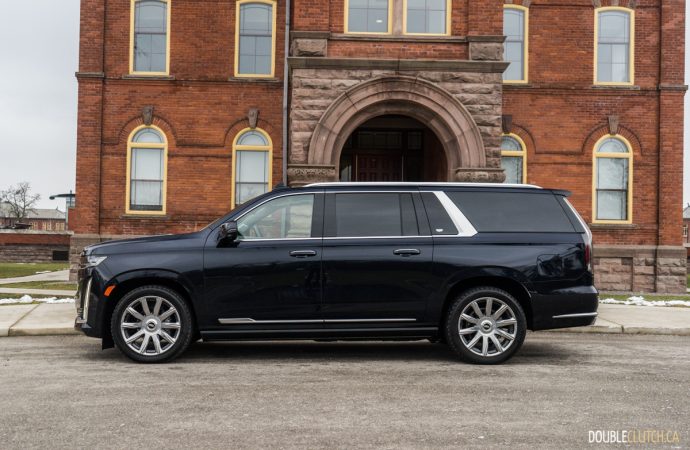 The new Escalade certainly has come a long way from its origins as a gussied-up Chevrolet Tahoe. Yes, it still shares a platform with the other GM full-size SUVs, but the Escalade is on a whole different level, and the exterior makes that very clear. As the largest Escalade yet, this ESV (extended wheelbase model) tester is absolutely massive at nearly 227-inches long. It's so big, that to make ingress and egress easy it features an air suspension system that lowers it when parked, coupled with power running boards (standard on the Platinum) to make stepping in and out of the Escalade an easy task.
Dimensionally the ESV could probably pass for a short school bus if it weren't for the carefully sculped lines and gorgeous exterior lighting that ensures nobody will mistake this SUV for anything but a Cadillac. The fascia features a huge grille flanked by signature vertical LED running lights, which match the taillights that have become an Escalade trademark. The rear features a lit emblem and prominent dual exhaust tips perfectly integrated into the bumper. Even the power running boards are lit with LEDs and of course, a selection of 22-inch wheels are available to complete the look.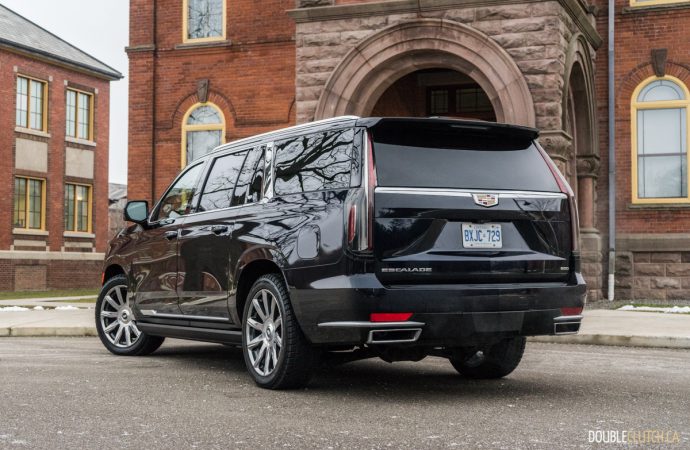 While there is a lot to take in on the outside of the Escalade, it pales in comparison to the detail, technology and levels of luxury that have been applied inside our Platinum tester. Climbing in, you're greeted by Cadillac's industry first 38-inch three-tier OLED display, a screen with twice the pixel density of a modern 4K TV. It is absolutely visually stunning, and takes over the entire dashboard control system. The screen on the far left serves as a menu to control the primary gauge cluster screen, plus displays details such as trip and fuel economy.
The gauge cluster can be configured to show the truck's vitals, plus your typical gauge cluster functions; but more importantly it's always where the augmented reality navigation is displayed – this projects a live street view with navigational directions overlaid on top. Alternatively, if so optioned, this screen also doubles as a night-vision screen. In this mode a live street view is also projected, but this time with thermal heat image enhancement which even highlights pedestrians and animals well beyond the view of the headlights.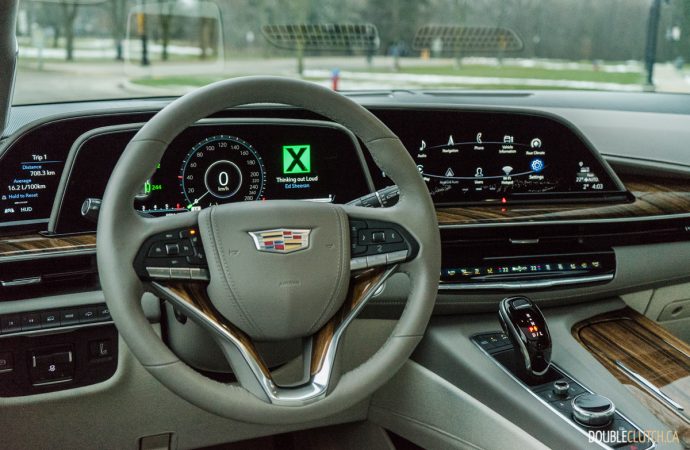 I am not one for tech-gadgets, but night vision like this truly will save lives on rural roads where deer and other animals are a common threat. Lastly, the right-most section of screen serves as your typical infotainment for audio controls, Apple Car Play and Android Auto, etc. Miraculously, it's all surprisingly intuitive to operate, can be mastered in mere minutes, and is visually amazing to look at.
While the massive OLED screen is the star inside the Escalade, the rest of the space isn't shabby either, with some of the most comfortable heated, cooled and massaging front seats I've had the pleasure of sitting in. The second row captain's chairs are equally comfortable. Of course, space is in excess inside the ESV where even the third row bench offers plenty of head and legroom for adults with easy access thanks to a power folding second row. Cargo room is no different and with the third row in place the Escalade ESV still has an abundance of cargo space for a family road trip; or fold the second and third rows and it will easily swallow 4×8 sheets.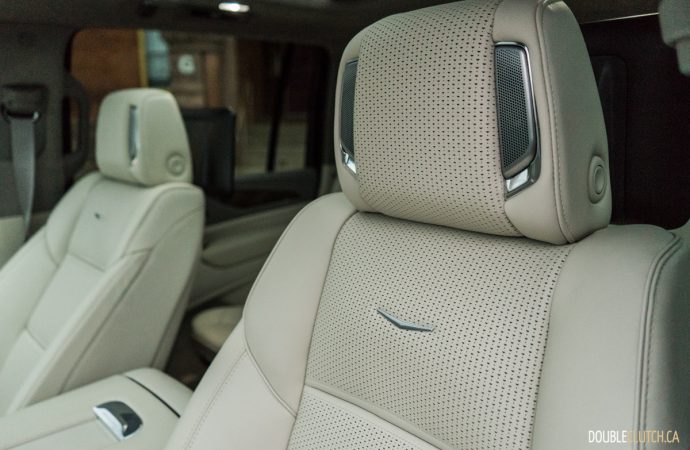 Of course, the space is finished to a high level of quality, especially in the Platinum model which gets extra leather on surfaces such as the dash, console and upper door panels along with a beautiful suede headliner. The acres of leather are complimented by plenty of high-gloss walnut wood trim with polished metal accenting. Everything looks and feels very high-quality and is a pleasure to operate. My one gripe as far as materials go is a cloth weave type fabric used on the lower dash and console – the light color in our tester seems very prone to wear and staining.
Being the six-figure luxury family vehicle that it is, the interior is loaded with unnecessary creature comforts as well such as dual 12.6-inch rear entertainment screens, rear conversation enhancement which gently broadcasts conversations through the audio system to make conversing with rear passengers easy, a huge panoramic sunroof, and more. My favorite feature has to be the AKG 36-speaker studio reference sound system. It's simply amazing, and surpasses any other car audio system we've heard, bar none.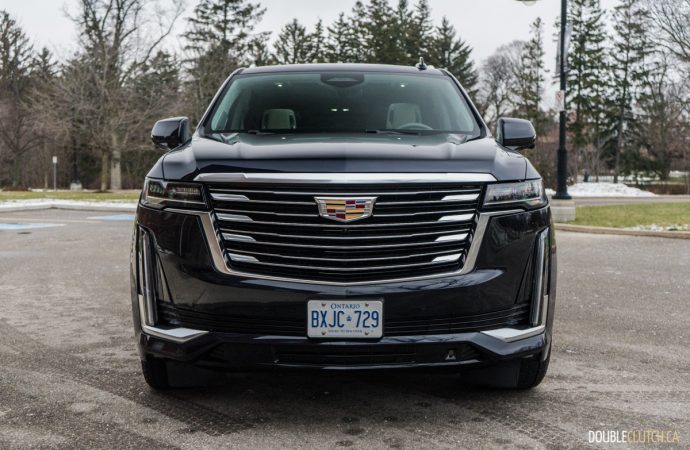 The Escalade is powered by the infamous 6.2-liter V8 making 420 horsepower and 460 lb-ft. of torque. While the V8 will certainly remain the popular choice there is a new six-cylinder 3.0L Duramax turbodiesel available that makes 277 horsepower and matches the V8's torque. Our tester got the V8, which comes mated to the ZF 10-speed automatic. The combo has been used in GM's trucks for a few years now and has proven to be smooth, reliable and efficient.
The 6.2-liter also features Dynamic Fuel Management which shuts down unneeded cylinders all the way down to two cylinders when power is not needed, but seamlessly jumps back onto all eight cylinders when the Escalade's might is called upon with a tap of the throttle.
No surprises from the 6.2L and 10-speed transmission here; it packs good power, decent throttle response, and a great V8 growl when you exercise your right foot. The powerplant feels right at home in the Escalade. I observed fuel economy of 14.1L/100km over a week of mixed driving, which is right in line with the results I expected from this engine based on my experience with the prior generation of GM trucks.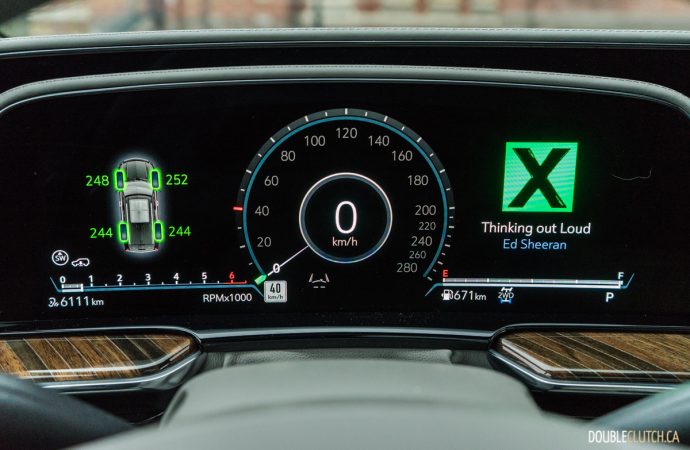 What did surprise was just about everything else about the Escalade's drive. GM has taken what has always been a very refined SUV and moved it to the next level. This may, be a truck platform, but there is nothing truck-like about how this new Escalade drives. In fact, the level of ride quality, smoothness, and quietness in the cabin would be competitive with many of today's big luxury sedans. Thanks to its new independent rear suspension and GM's available Magnetic Ride Control and air suspension the Escalade just floats over rough terrain and maintains outstanding levels of grip.
Steering is light but sharp and despite its heft, the Escalade handles corners and fast highway ramps with impressive composure and delivers a positive sense of control back through the wheel, without being harsh. Let's not forget though, that while the Escalade may be a lot more refined, it can still work hard, with a tow rating of 8,000-pounds for the short wheelbase and a slightly lower 7,900-pounds on the ESV.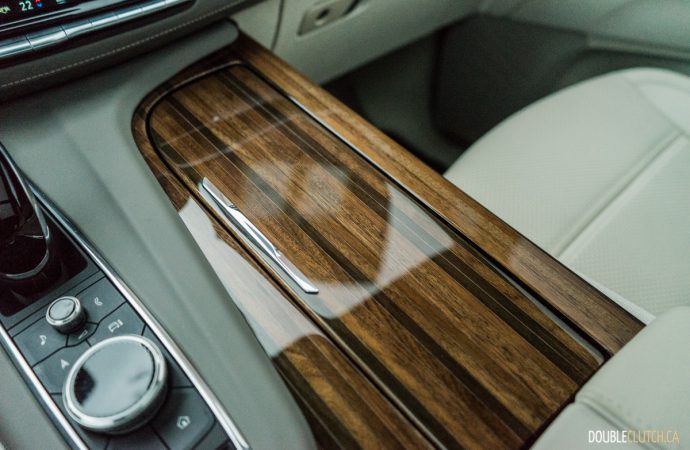 There is a bit of a hiccup, and it's the price. If you opt for a base model luxury trim package you can keep it slightly under six-figures, and the shorter wheelbase saves as well, but start moving up in trim levels to unlock the goodies you'll obviously want in a luxury SUV and you're quickly well over the $100,000 mark. In fact, our ESV Luxury Platinum tester starts at $121,298, and carries with it another $3,105 in options including night vision ($2,300) and the six-pack sized fridge built into the center console ($800). That brings our as tested price to $125,303.
At this price the Escalade does undercut the full-sized European competitors such as the full-size Range Rover or the Mercedes GLS, especially when comparably equipped, but is still an eyewatering amount of money to spend on a vehicle that, for most buyers, gets trampled by kids, worked hard and put away wet. Pricing doesn't take away from the fact that this is the ultimate family vehicle, and while I couldn't stand the thought of putting out that much cash for an SUV that'd get worked as hard as my current one, I'll certainly be looking forward to seeing these on the used market.
Time will only tell how well the new 2021 Cadillac Escalade ESV Platinum and its class-leading technology hold up over years of family use, abuse and harsh Canadian conditions. One thing is for sure; if you can swing the price tag, the Escalade reigns supreme in the world of big SUVs.
See Also:
2020 Mercedes-Benz GLS 580 4MATIC