This one stings. The 2024 Jaguar F-Type R75 isn't the first "final edition" car I've reviewed this year, but it feels especially poignant; not just because it's the end of a beloved model, but in a lot of ways, it's the end of a legacy.
Jaguar put themselves on the map 75 years ago with the XK120, a stunning sports car that combined instant-icon style and bleeding-edge engineering to create a car that looked like nothing else on the road. It was also faster than just about anything, and perhaps most critically, was priced at about half of what Enzo Ferrari was asking for his first sports car, the snub-nosed 166M Barchetta, and Porsche was only just starting to refit Beetles.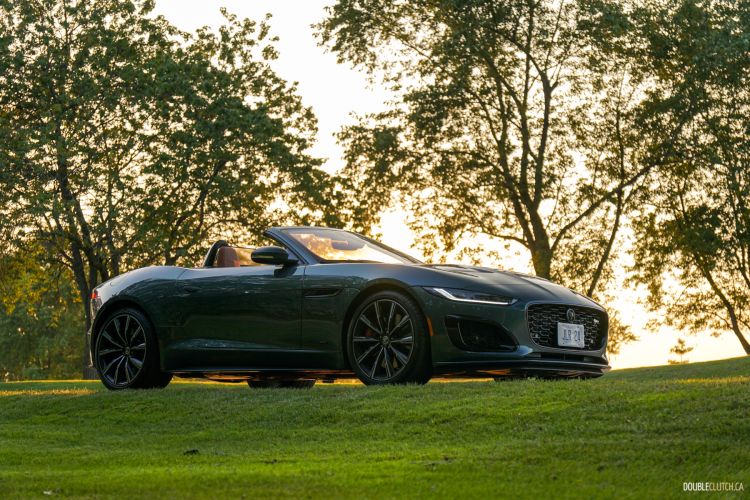 This combination of superb style and skillful engineering has always been Jaguar's hallmark. Their ability to glean inspiration from the hallowed halls of Bentley and Rolls-Royce royalty, put their own spin on it, and make it accessible, is what made the storied brand the institution that it is. It's what allowed them to simultaneously be the choice vehicle of race car drivers around the world, and The Queen Mother.
This 2024 F-Type is a monument to all of that heritage, and marks the end of an era. It's Jaguar's last fossil-fuel-fed sports car.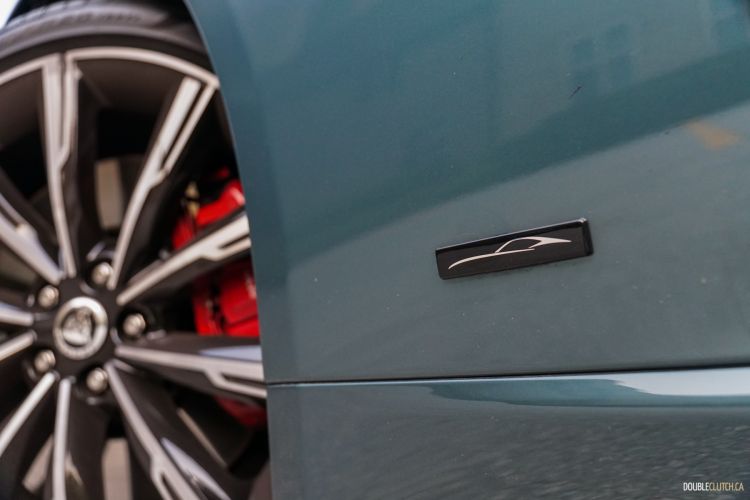 To say that I was relieved that this particular tester was finished in the most correct spec of exclusive Giola Green Metallic paint over tan leather is an understatement; British Racing Green would've been too on-the-nose, of course. This shape has been around for 10 years now, and it still looks like a million bucks, as a Jaguar should. Jaguar knows this, too — a stylized version of the car's silouette can be found all over every final F-Type.
One of those silhouettes is proudly placed atop the center stack of the F-Type's cabin, which is a wonderful place to be, draped in satisfying switchgear, a microsuede windshield frame, and soft leathers. Jaguar calls it "Windsor Tan" leather, but I feel it's a bit of a misnomer, as it's more of a baseball-glove brown, tied together with Oyster white stitching. Still, not a lot has changed here over its decade-long production run, save for an updated infotainment system that works really well and paired with an excellent digital gauge cluster. The canvas soft top is quick and nearly silent in its operation, and Jaguar claims it's insulated well enough to provide near fixed-roof NVH levels.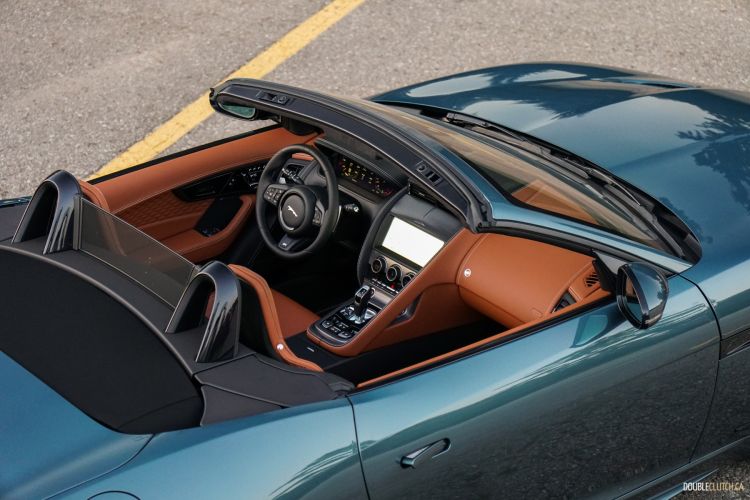 I wouldn't know. I never drove it with the top up. Oops.
The engine's start button illuminates red and pulses, aping the rhythm of a heartbeat. A prod awakens a 5.0-litre supercharged V8 engine we've all come to know and love, roaring to life with a theatrical shout. This is a gem of a motor, a charismatic sweetheart that loves to rev out to its 7,000 rpm redline, but never needs to. In this guise, it produces a hearty 575 horsepower and 516 pound-feet of torque, managed by the ever-excellent, ZF-manufactured eight-speed automatic transmission and routed through all four wheels. This concluding kitty scoots from rest to 100 km/h in under four seconds, on its way to a 300 km/h top speed.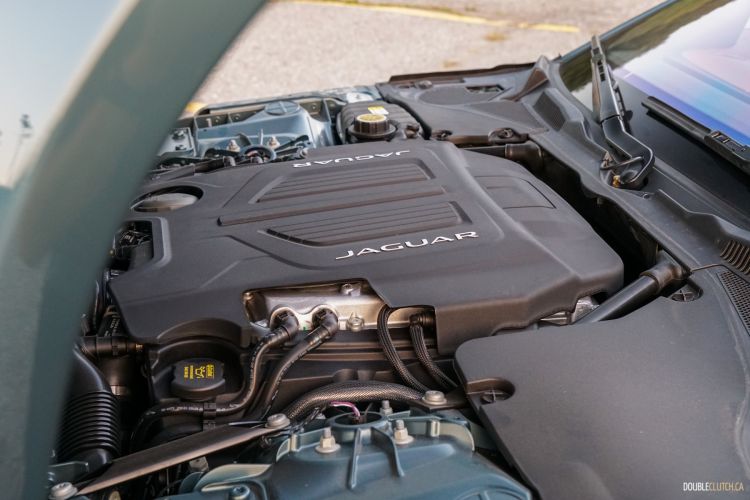 The numbers don't tell the whole story, though. This engine is just as much about showmanship as it is about performance, deftly being to able to be a smooth operator with seamless power, and a bellowing colossus when the active exhaust open up above 4,000 rpm, creating a fierce mechanical scream that no other car comes close to reproducing. This is after all, the original factory-illegal exhaust system where people have been issued noise tickets on bone stock cars. At full song, it goes well past being merely loud, delving deep into decibels that would be considered outrageously obnoxious if it didn't sound so stupidly good.
So it's fast, loud, and maybe a little dumb with how ridiculous it sounds, but the chassis is anything but. It's well-balanced and sharp, with eager reflexes and impressive agility, communicating well through both the seat and steering wheel. It manages the same trick a Porsche 911 does, striking a good balance between reasonable daily driver and fantastic driving partner, with more than enough mechanical grip and muscle to keep up with the world's best — just like the fabled Jaguars of old.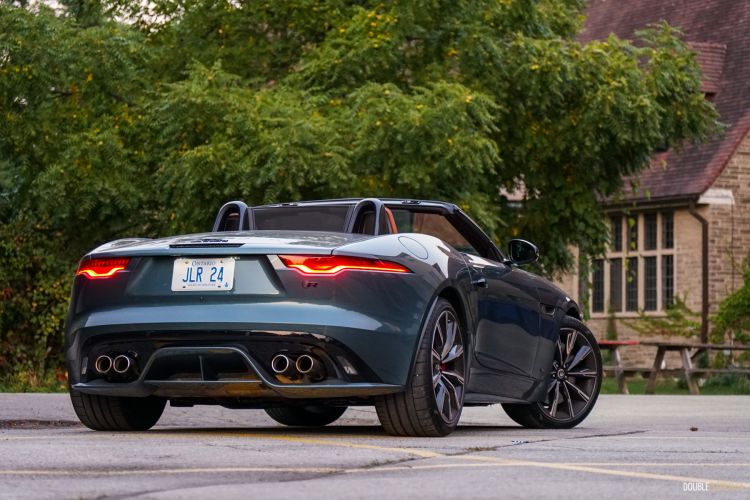 And just like those Jaguars of old, the F-Type's real feat is its ability to combine this mind-blowing capability with some real usability. Its all-wheel-drive system keeps its monstrous power reigned in, and can be dialed back for use in slippery conditions. It's sports car firm, but not punishing in the slightest. Very much unlike those original kitties, the F-Type is impeccably screwed-together, free of shakes, squeaks, and rattles, feeling every bit like the premium product it is.
The driving position is excellent, visibility is good, the quilted heated and ventilated seats are fantastic, and the Meridian sound system is more than capable of delivering rich audio when cruising with the top down. With its integrated wind deflector, turbulence in the cabin is minimal with the windows up. On chilly autumn nights, I was still able to comfortably enjoy piloting the F-Type with the top down for the entire time I had it.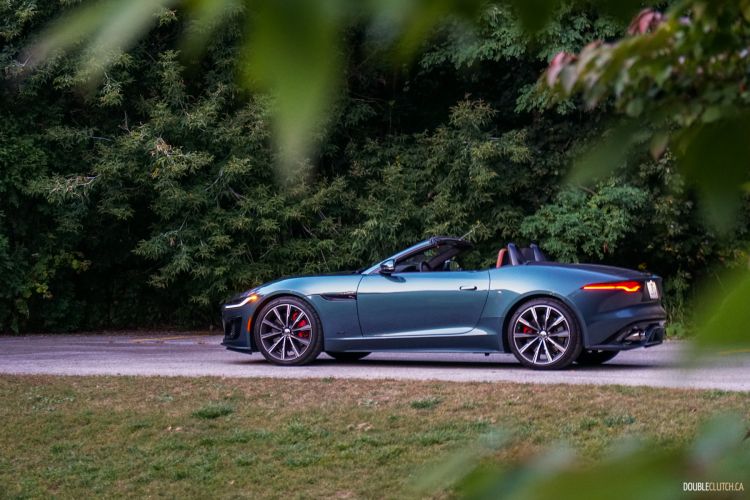 There is an argument to be made that the Lexus LC 500 and the BMW M850i offer more car for our full-fat F-Type R75's $134,350 as-tested sticker price, and that's not without merit. The BMW is larger, more comfortable, and more usable, but being as such, it lacks that extra degree of all-out performance this Jaguar offers. Ditto for the Lexus, trading some performance and practicality for jaw-dropping style, presence, and character — but the LC isn't nearly as quick, and it's not a Jaguar.
That name carries some mighty mysticism with it, and as a culmination of some of the world's most fabled sports cars, the 2024 Jaguar F-Type R75 is a fitting send-off. Thank you for not going quietly into the night. Godspeed.
See Also
2023 BMW M850i xDrive Cabriolet