Even sports cars are not immune to electrification. Yes, most EVs are fast and capable of breakneck acceleration, but less than a handful could really be considered fun, or even somewhat engaging to drive, and most are too complicated for their own good. That's why it is refreshing to see that the 2023 Jaguar F-Type P450 R-Dynamic still exists today. It may not be around for much longer, but with its stunning looks and thunderous V8 under the hood, it's one of the few cars out there that still turns heads and puts a big smile on your face, despite its age.
Jaguar did a bang-up job with the F-Type when it was first launched in 2013, and it still looks good today. It looks aggressive, modern, and clean at the same time, with curves and swoops in all the right places. Our tester was finished in Santorini Black, rolling on gloss black 20-inch wheels; personally, I'm not a fan of the murdered-out look and would have opted for silver wheels for some visual contrast, but that's a small complaint. The F-Type is still one of the best-looking cars on the road today, and will look just as striking in 25 years.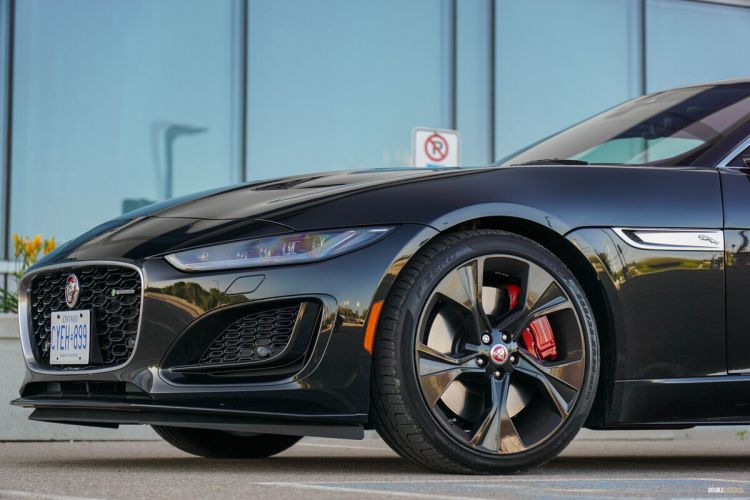 Last year, Jaguar dropped the F-Type's turbocharged four-cylinder and supercharged V6 engine options, leaving only the 5.0-litre supercharged V8 available in two tunes. The V8-only lineup continues for 2023; our particular tester is the P450 trim comes with the "base" tune, putting out "only" 444 hp and 428 lb-ft of torque. Even then, it pulls hard, it's plenty quick — the zero-to-100 km/h run is in the four-second range — and it loves to sing, with the right amount of pops and burbles as you upshift or downshift. These are the sounds EVs could never replicate, no matter how good technology may be.
The six-speed manual has been gone for a few years now, but the eight-speed automatic is well-matched to the V8. It shifts quickly, and it responds well to the steering wheel paddles. Buyers in the U.S. can choose between rear- or all-wheel-drive, but in Canada, all F-Types come standard with the latter. Purists may scoff at this, but it opens up the F-Type to year-round usability up here. It worked well during a short but heavy downpour during my time with the car.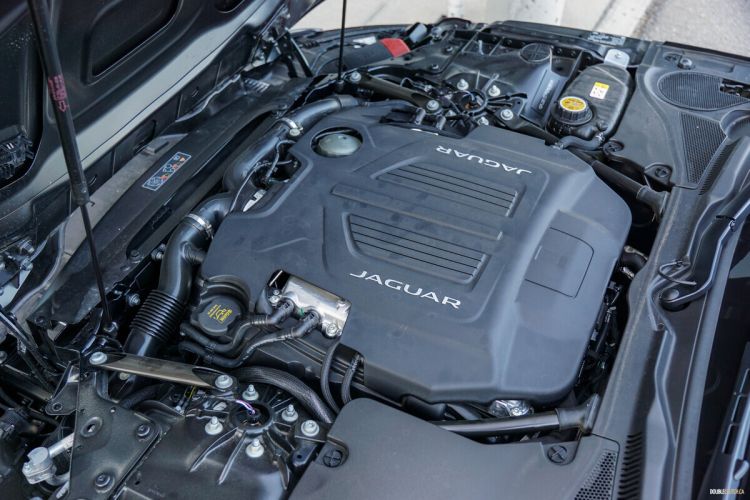 Fuel economy with the F-Type is what you'd expect. It's rated at 15.2 L/100 kilometres in the city, 9.8 highway, and 12.7 combined. As-tested, I achieved a rather impressive 11.6 L/100 km. As expected, premium fuel is required.
While the F-Type's performance levels are nothing to sneeze at, I wouldn't quite consider it a full sports car along the lines of a Porsche Cayman or a Chevrolet Corvette. Both of these cars would run rings around the F-Type on a track, but think of it as a hard-nosed grand-tourer with the right amount of comfort that you don't feel beat up after being stuck in two hours worth of traffic on the highway.
The seats, door panels, and dashboard are all finished in beautiful and soft-to-the-touch leather. The optional red seats look sporty and the aggressive side bolsters hold you in place, but also manage to be extremely comfortable and the standard ventilation is perfect during heat waves. The metal weave finish on the centre console looks attractive, but while most of the physical buttons and knobs have a nice tactile feel, some switchgear on the door and steering wheel look and feel cheap. It's a big difference compared to similarly priced vehicles, especially the Lexus LC 500 and its stunning interior.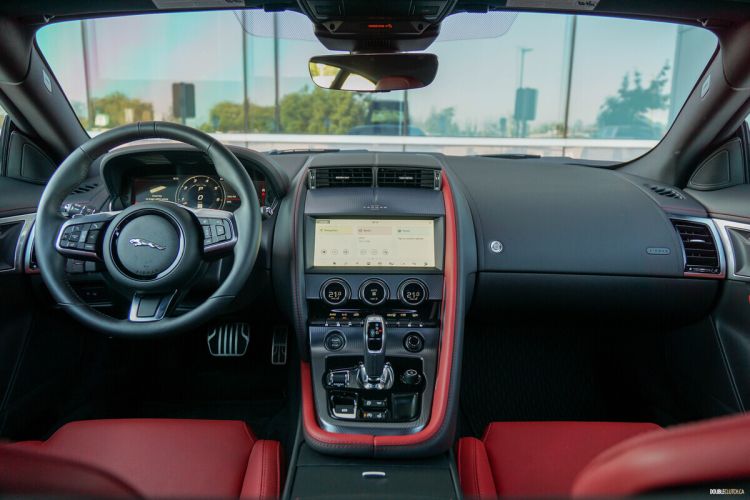 The F-Type may not have all the latest tech at your disposal once you jump in, but it has enough to make life bearable. Navigating through the infotainment is super easy, although the 10-inch display seems rather small these days. As well, Apple CarPlay and Android Auto are standard, but through a wired connection.
With the Jaguar F-Type being strictly a two-seater, you might expect some additional space for the two front passengers, but you would be wrong. In reality, the F-Type is pretty tight and the limited seat mobility makes it difficult for those with long legs. The LC 500 excels in this area over the F-Type, with more usable space.
The F-Type starts at $94,600, but with options such as the 20-inch wheels, various interior upgrades, and many other bells and whistles throughout, our tester worked out to $116,320 as-tested, before fees and taxes.
The 2023 Jaguar F-Type P450 R-Dynamic may not be the fastest or focused sports car I've driven this year, but it does so much right. The looks are a home run in my books, the V8 makes all the right noises, and it doesn't totally beat you up over rough roads. The F-Type isn't long for this world, and when it bows out, it will be missed.
See Also
2022 BMW M4 Competition xDrive