There's something to be said about a big, brawny grand tourer as a dance partner on your favourite summer weekend drive. Add in the convertible factor and this gets even more appealing. With true, dedicated two-door grand tourers becoming rarer by the day, we were ecstatic to spend one of the last warm long weekends of the year with an updated model from the Bavarians. This 2023 BMW M850i xDrive Cabriolet gets a refresh for this model year, and is a real winner for what it is.
In the aesthetics department, the M850i gets some very subtle styling tweaks, though these keep it fresh. It's a gorgeous look for a big two-door, and all of the current 8-series models are absolutely stunning, subjectively speaking. That said, the Petrol Mica paint on our tester isn't far off from BMW's Carbon Black heritage paint, and looks top notch in all lighting. The proportions of the M850i, especially with the M Aerodynamics Package and 20-inch M wheels, are just right. Lastly, the M 50 Years emblems mark a milestone for the brand, and are a great touch.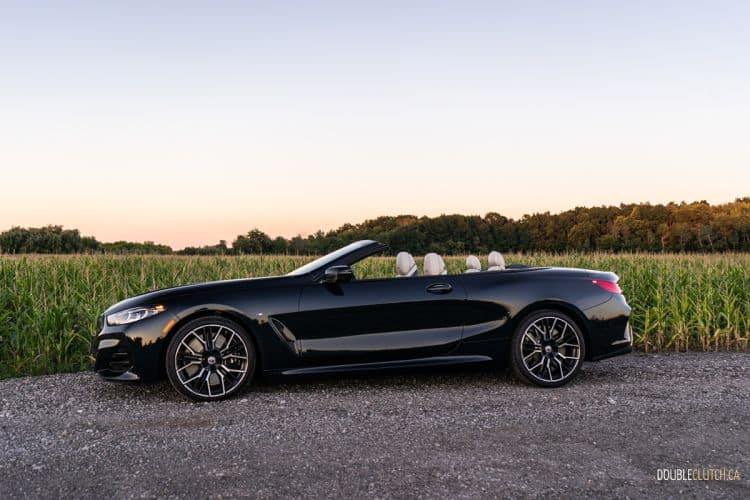 Our test vehicle's interior is even more stunning than the exterior, with scrumptious two-tone digs in Ivory White and Night Blue Merino leather. Everything feels soft to the touch, there are no cheap bits to speak of, and the cabin is bang-on for its nearly-$150,000 price tag. The seats are very, very comfortable and support you perfectly. There is seating for four on board, but the rear accommodations are tighter. Even still, our managing editor Ben took his family of four out for an ice cream run with the M850i and his two young children had a blast.
The latest version of BMW's iDrive infotainment system is on board, and a 12.3-inch touchscreen replaces the 10.25-inch unit in the outgoing model. This version is better than the last, and still remains our pick of the litter as it pertains to native units. Wireless Apple CarPlay is easy to use, though we found the wireless charging pad to be intermittent in functionality. The glass controls are a nice touch, but we were sad to see BMW's best gimmick – gesture controls – absent from this model.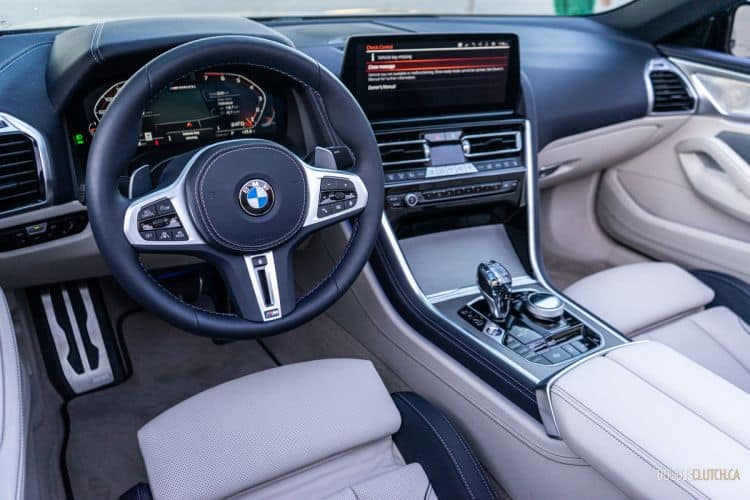 Powering the M850i is the brand's familiar 4.4-liter twin-turbocharged V8, codenamed "N63" and still one of our favourite powerplants of all time. Reliability is hit or miss on early N63s, but the newer versions seem to have improved in this regard. Output is 523 horsepower and 553 lb-ft. of torque, and the sport-tuned ZF-sourced eight-speed automatic is absolutely phenomenal at putting power down to all four wheels through rear-based xDrive all-wheel-drive. BMW Canada claims a 0-100km/h run in four seconds flat – impressive for a car that weighs nearly 4,700 pounds.
The largest ragtop in the BMW lineup drives beautifully, with composed dynamics and a subtle yet authoritative personality. Step on the throttle in any driving mode and it'll reward you with near-instant response and a roar from the performance exhaust. Stick it in Sport or Sport Plus and things get dialed up a notch, including burbles, pops and bangs from the exhaust. It sounds a bit artificial, but there's no arguing with the character of this V8. It feels better than the twin-turbocharged V8s from both Mercedes-Benz and Audi.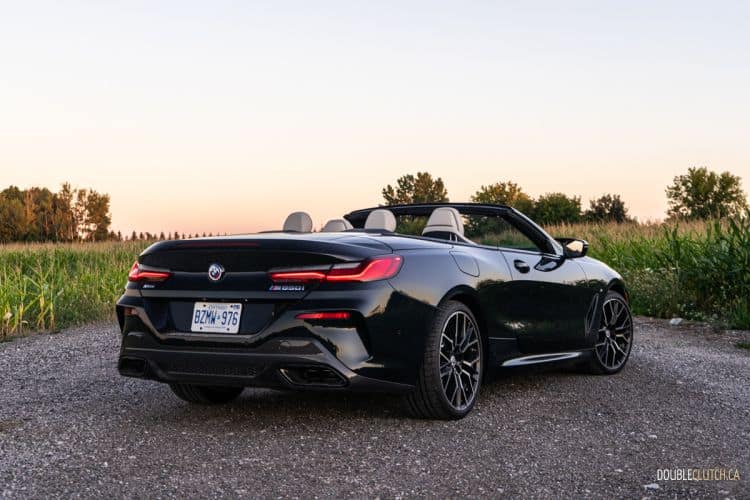 The M850i handles well for its size too – it masks speed spectacularly, so the "Speed Warning" function standard on most BMWs is a godsend. The electrically assisted power steering requires zero correction, and has decent weight to it in corners. It's difficult to hide the weight of a car like this, but as long as you're not expecting Mazda MX-5 cornering abilities, the M850i will do just fine. The active four-wheel steering helps with tight parking lot maneuvers, too.
One of the most impressive personality traits of BMW's big 4.4-liter V8 is its ability to sip fuel. Even with how heavy it is, it manages to remain more efficient than any competition by a wide margin – we averaged 12.6L/100km with zero efforts to try and conserve gas. We saw numbers in the 9 to 9.5L/100km range on a longer highway run. To no surprise, the 68-liter tank will only accept 91-octane premium fuel.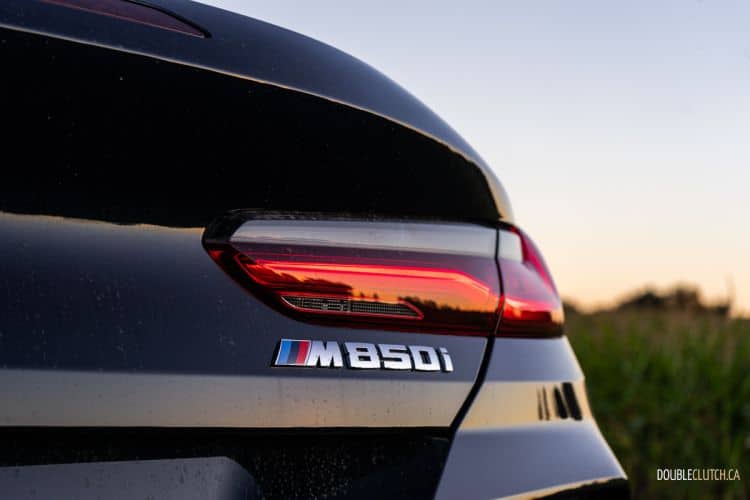 BMW prices the M850i Cabriolet at $128,900 to start, up $9,000 from the Coupé and $11,000 from the Gran Coupé, respectively. Our tester had the must-have Premium Package at $4,750 adding ventilated seats, glass controls, Driving Assistant Professional, and more. It also had a Dark Optics Package ($2,900), Bowers and Wilkins sound system ($4,900), and the two-tone full leather interior at $4,500. All in, this thing came in at $146,650. It appears as though the full-blown M8 Cabriolet is not available to Canadians any longer, though for contest, the last one we drove was $189,200 liberally optioned.
While it sounds on the pricey side, the last S-Class Cabriolet we tested came in at $173,000 and the Lexus LC 500 Convertible isn't far off, at $124,950. The S-Class no longer exists and is quasi-replaced by the SL (which starts at $215,000), and we don't really foresee the LC 500 being cross-shopped. Its V8 is naturally aspirated, the interior is much smaller, and it's a very different car dynamically. The Porsche 911 Cabriolet is also not an unfair comparison, though again, we don't see a 911 buyer looking at the M850i.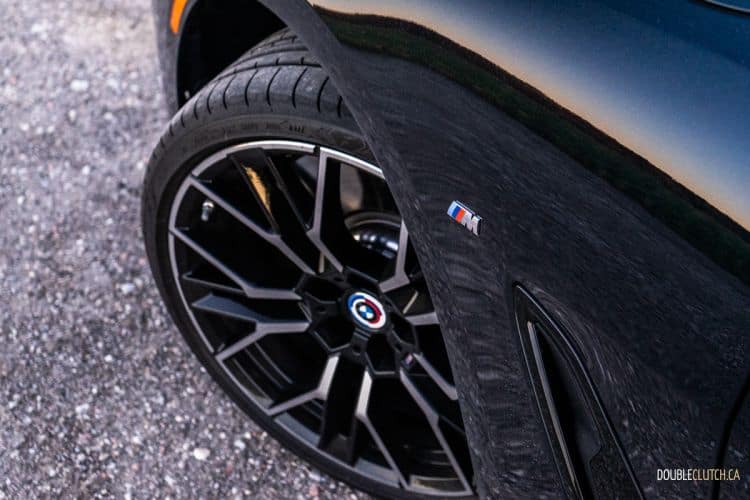 With more and more of the market moving towards electrification, it's exciting to see a traditional touring convertible like this still on the market. The way cars like the 2023 BMW M850i xDrive Cabriolet go down the road will go down in history, because there's simply nothing like them. If you have the means to acquire one, we encourage you to do so quickly, because we feel like this segment is on borrowed time – and that's a crying shame.
See Also:
2020 BMW M8 Cabriolet Competition