Porsche has a fascinating and tumultuous history. They began as a tiny, niche sports car company selling heavily reworked Volkswagen Beetles, and have since grown to become the most profitable car brand in the world, very nearly taking over their parent company along the way. A lot of people forget that Porsche used to be in big trouble, and it wasn't even that long ago. Despite consistently impressive engineering, unanimous praise from the press, and unmatched success in motorsport, Porsche nearly went bankrupt in the early 1990s. This week, I'm driving the car that saved them: the Boxster. Specifically, a 2004 Porsche Boxster S.
There were a few things working against Porsche. The Deutschmark was rising rapidly in value, causing the costs of all of their cars to skyrocket in export markets, particularly the United States. The 959 supercar of the late '80s, with its forward thinking technology like twin turbocharging, electronically adjustable suspension and active all wheel drive — all of which are becoming commonplace now — was hideously expensive to develop. Porsche was rumored to have lost more than a half a million Deutschmarks on every car sold.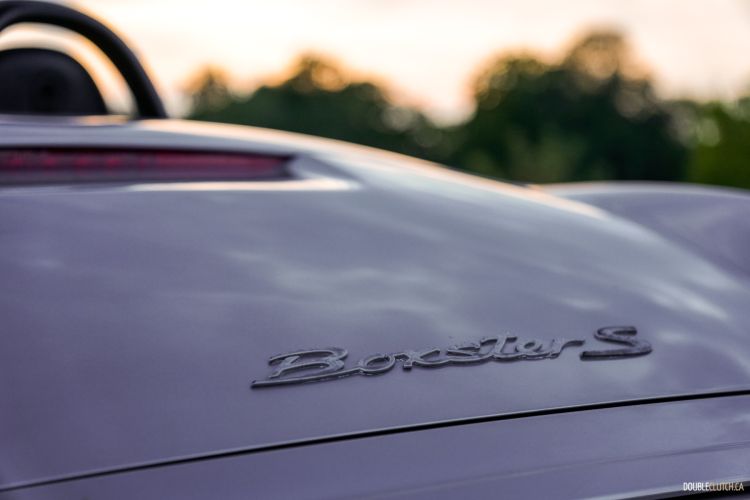 Their product portfolio was getting stale, too. Back then, the flagship 911 still being largely a carryover of the original car launched in the early '60s; setting aside the modern meme of them all looking exactly the same, Porsche literally used the same windows and door skins for more than 30 years. The front-engined 928 and 944 could both trace their roots to the '70s, and didn't quite have the iconic nature of the 911 to back them up. All were still impressive cars in their own right, but were rapidly struggling to justify their hefty stickers.
But perhaps Porsche's biggest problem was their production process: it was an antiquated, logistical dumpster fire. The people building them cared, and the cars were screwed together incredibly well, but they were largely built by hand, and it was a slog of disorganization. Cars would slowly trundle down the production line, while workers climbed ladders to rifle through bins of parts looking for a door handle, or a window switch. The process was tedious, slow, and inefficient. It was made exponentially worse by the fact that the 911, 928, and 944 shared hardly any parts.
Facing financial ruin, and with both BMW and Mercedes-Benz circling the fading marque like vultures, Porsche hired Japanese consultants from Toyota in a last-gasp bid to save the legendary German institution. Their "lean manufacturing" and organization dramatically boosted efficiency, taking per-car assembly time from 120 hours down to 72 — it's gotten much better since; Porsche has some of the most sophisticated production facilities on Earth — and with far fewer errors to correct.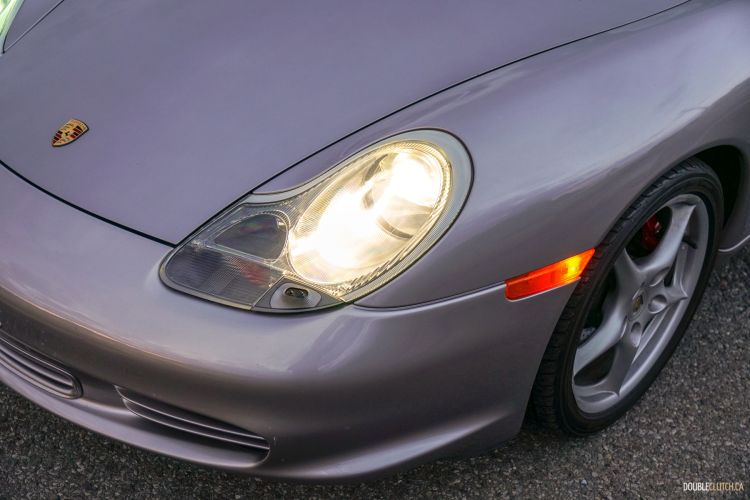 One of the other major directives that came from this consultation was to modernize their products, and consolidate parts between vehicles. The result of this directive was two cars, one was the first-ever all-new 911, which brought about a radical-ish styling departure with its contentious "fried egg" headlights, and a blasphemous water cooled engine, a marked departure from joyously mechanical (read: loud and finicky) air-cooled engines Porsche had always utilized. This new 911 was code-named 996, and came with another car, a sibling: the "986" Boxster.
The Boxster was genius. It was developed as a retro throwback to the 550 Spyder — a lightweight, simple, mid-engined roadster meant to slot in under the 911 (hence its lesser chassis code) and be a volume-selling sports car. It's mid-engined chassis provided better balance, making it more accessible to more people, and arguably more rewarding to drive. It also meant two commodious trunks, making it remarkably practical; more so than the 911.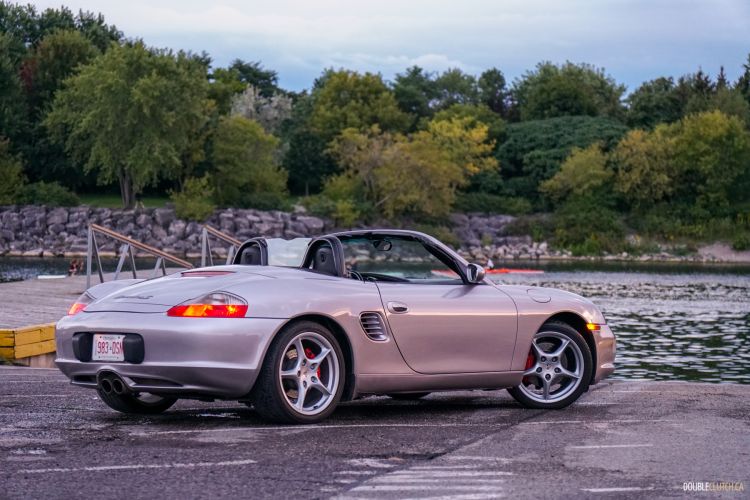 Lastly, and hugely: the entire front end, and most of the interior of the Boxster was shared with the 911, which slashed development and production costs, allowing Porsche to price the Boxster very aggressively and in-line with the Mercedes-Benz SLK, BMW Z3, Audi TT, and Chevrolet Corvette. It was the first budget-ish Porsche in decades; it looked great, drove beautifully, and sold like gangbusters. Porsche was so overwhelmed with demand that after just one year, they contracted assembly of the Boxster out to a Finnish company named Valmet, who used to assemble Saab convertibles, and were known for making better Saabs than Saab.
The only persistent complaint against the Boxster was that it felt a little down on power. It debuted in 1997 with a 2.5-litre flat-six, developing just 201 horsepower. For 2000, Porsche added an S model to the Boxster lineup, with a 250-hp 3.2L flat-six, bigger brakes, stiffer suspenders, and the 911's six-speed manual. The Boxster was quietly becoming the Porsche to have; I distinctly recall reading reviews praising the Boxster for its lively engine that its competition lacked, and its incredible handling balance, something the rear-engined 911 couldn't touch for many thousand more.
This particular 2004 Boxster S benefits from a few additional tweaks. The Boxster was facelifted in 2003, with more aggressive front and rear air dams, a throatier intake and exhaust, new wheels, an updated interior with nicer materials, an optional Bose audio system, a thicker soft top with a glass rear window, revised headlights with subtly smoked tail lights, and an improved variable valve timing system with eight additional horsepower and a much broader torque spread. The '04 S cars in particular also gained a larger rear sway bar to further liven up handling.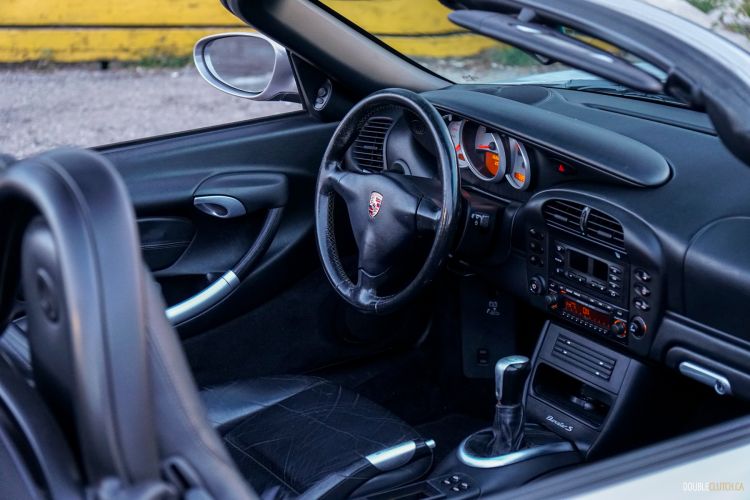 I'm biased. I've always liked these cars. I've wanted one for years. I love the hips of the Boxster, and perhaps as a function of me being seven-years-old when these cars came out, I always liked the fried-egg nose. The Boxster has joined the 944 as the "starter Porsche," with the benefit of more modernity, and the ethereal joy that you can only get from an open-top driving experience. It should be no surprise whatsoever that I found this car to be absolutely brilliant; comfortably among the best bang-for-the-buck in smiles-per-mile out there.
A sizable chunk of that value comes from its intrinsic Porsche-ness. It's a 911 with hips, hiding Porsche's signature flat-six engine tucked neatly where it belongs — behind the seats, in the middle of the car. It breathes through intake gills behind the doors, which make for a satisfying induction grunt right behind your ear every time you prod the throttle, accompanied with Porsche's very characteristic baritone trill that builds into a delicious resonant howl when the VarioCam valve timing goes full-send at the upper reaches of the 8,000 rpm tachometer. It's classic Porsche with a little sprinkling of Honda VTEC violence, and it's wonderful.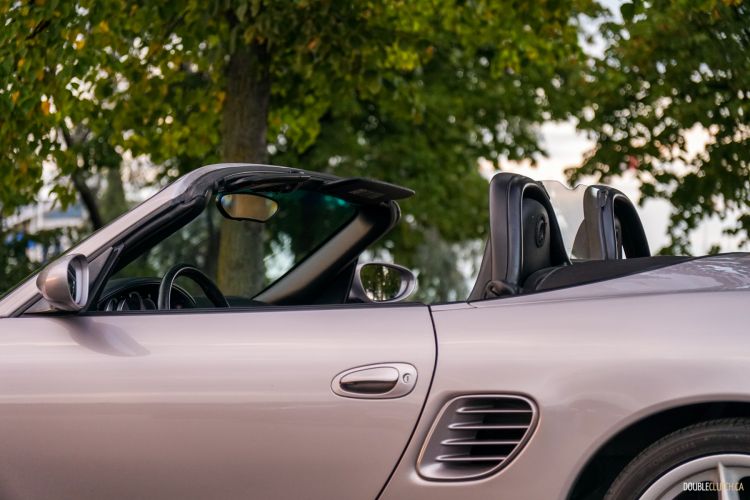 The chassis is similarly wonderful and very Teutonic, a deft concoction of deliberate and dainty. The steering is set up with a little more heft than you might expect, receiving barely any support from the power steering, and it's all the better for it. It's quick and sharp, but isn't as light and playful as a Miata, or as overly eager as a modern sports car. Just like Mazda did with the Miata, Porsche went to considerable length to make this car feel right in a corner, but set a different benchmark, with a greater priority on stability at the high speeds this car is capable of.
It's satisfying and fantastically communicative, and exhibits terrific balance; the front end has incredible turn-in and only pushes wide ever so slightly if you really overcook it, and the rear end is generally planted and secure, but can be dialed in or out organically with the skinny pedal. Like the steering wheel, the throttle is pin-sharp and linear in its response, as are the brakes, clutch, and shifter action. No one thing is the best, but everything is tied together so harmoniously that it becomes more than the sum of its parts.
Okay, Porsche made a great sports car. Big surprise. What made the Boxster so special wasn't that it's fast, sounds great, and arguably handles better than the 911, it's that it did this while being a remarkably good daily driver. When you're not on it, the engine is quiet, smooth, and surprisingly torquey. The Boxster is eminently flexible and easy to drive, and on top of this, they all have not one, but two fairly commodious trunks. They're genuinely, honest-to-God practical.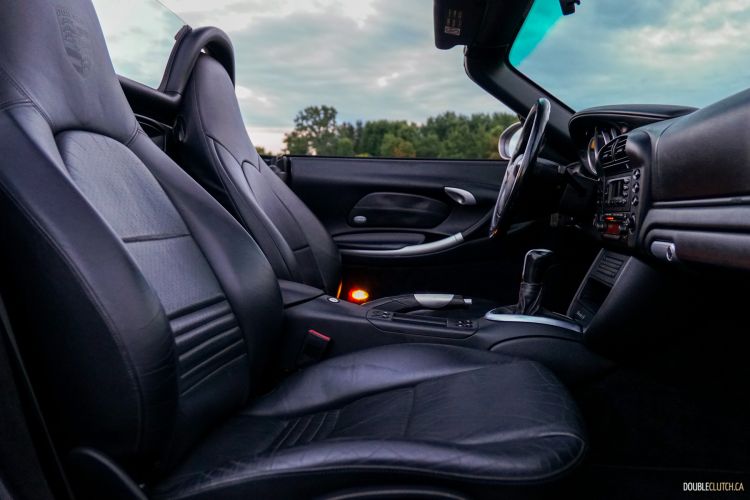 The final-year Boxster S I drove also benefited from a much improved interior, with nicer materials throughout, a bangin' Bose audio system with a subwoofer, automatic climate control, toasty heated seats, a wind deflector, and a dual-layer canvas top with a glass rear window complete with a defroster. Put the top up, and it's a comfortable, quiet commuter car, with a compliant ride and supportive seats. Wind buffeting is very well controlled with the top down, and the powerful heater and heated seats mean you keep that top down well into chilly season.
The Porsche Boxster was a hail-Mary, an expensive project that could have bankrupted the car company if it didn't go over well. There was (and still is) some bristling that it's not a true Porsche, but that comes pretty much exclusively from stubborn 911 elitists. Those elitists don't appreciate that the Boxster hearkens back to a time before Porsche was beholden to the 911. Porsche over 100,000 first-generation Boxsters in its eight years of production, paving the path to where they are now. This humble little roadster is the reason Porsche was able to survive and make the incredible sports cars it makes today, and for that, we should all be eternally grateful.
See Also
Enthusiast's Corner: 2000 BMW Z3 M Roadster
Enthusiast's Corner: 2002 Chevrolet Corvette Z06