The C5 generation of Corvette, which ran from 1997 to 2003, was a huge step forward for GM, representing a quantum leap over the already impressive C4 that preceded it. This 2002 Chevrolet Corvette Z06, when the generation was born in 1997, was so much more modern, with a distinctly curvaceous shape that still looks fantastic today, and it also marked the debut of the fabled LS1 V8 engine, which is arguably the best engine ever committed to production – that's why they're the basis of seemingly every engine swap project! The C5 also marked GM's return to world-class endurance racing with the C5.R, which dominated its class with more than 31 ALMS victories, and 3 Le Mans wins. Chevy had a winner on their hands, and wanted to keep winning with their street cars, and thus the Z06 name was reborn for a modern era.
See, in the early 60s, the corporate leviathan that is General Motors issued a company wide ban on any factory-backed racing efforts. This was right around the time when the Ford Mustang, Shelby Cobra, and Porsche 911 were on the horizon, and the hooligans at GM, headed by Zora Arkus Duntov, set out to develop a sneaky way of keeping their then child-prodigy Corvette Stingray competitive on track. The result was an option package that included a lightweight, powerful engine with novel mechanical fuel injection, much stiffer suspension, and heavy duty brakes, and this option package was given the then innocuous, now legendary codename of Z06.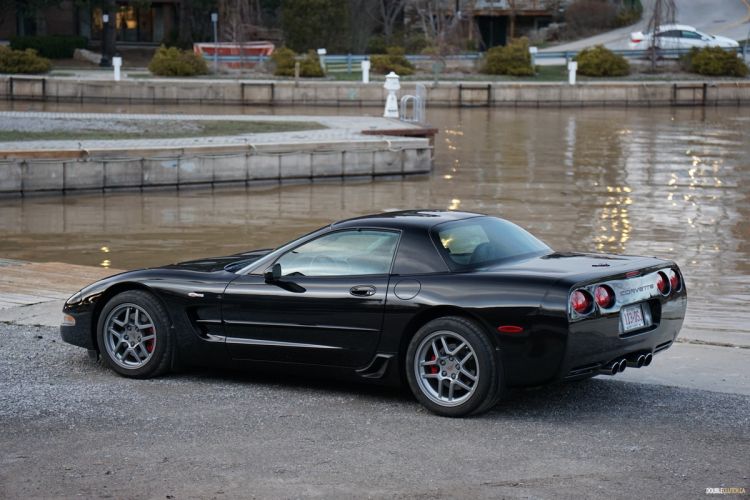 Just as it was decades ago, the C5 generation of Z06 Corvette was a project that turned America's sports car into a weapon. The most obvious change is the choice to employ the fixed-roof notchback body, which was unique to the C5 (and a personal favorite of mine), as it was lighter and stiffer than the targa-top bubble-back cars. The Z06 also benefited from FE4 "heavy duty" suspension, larger brakes, larger wheels and tires, and added cooling capacity. There were weight saving measures in the form of thinner glass, reduced sound proofing, and a titanium exhaust system.
Of course, the Z06 also benefited from added muscle in the form of the LS6 V8 engine; an angry LS1. It featured sodium filled exhaust valves for better heat dissipation, a much more aggressive camshaft, and stiffer titanium valve springs, all of which contributed to more top end power – 405 horsepower and 400 lbs-ft of torque in the case of our test car, working through much shorter gearing. In our modern era where Volvos are beating those power numbers, it doesn't sound like much, but through the Borla exhaust on our example, it sounds like a loosely harnessed thunderstorm, it feels like a force of nature, and a 12.4 second quarter mile time is objectively fast no matter how you shake it.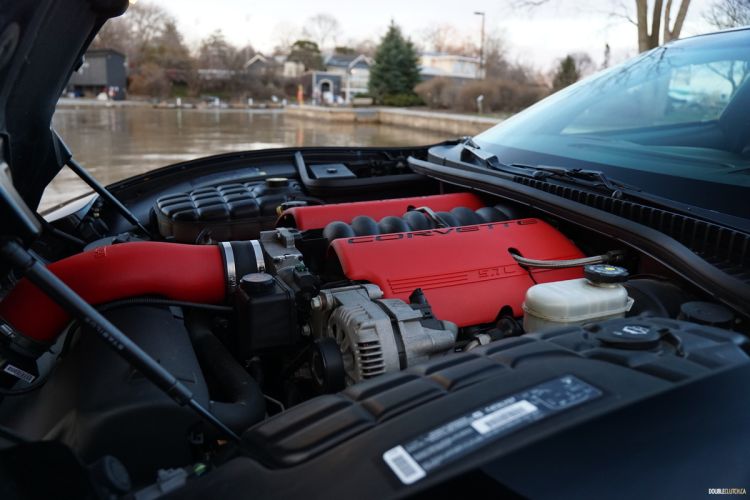 My time with the Z06 left me a little shaken, as it's akin to playfully wrestling with a tiger. It may be generally good natured, pleasant, and even charming, but it will never let you forget that it's a  powerful beast that can rip your face off like it's nothing. It's an intimidating thing just to approach, with its dramatic proportions; low, wide, with a pronounced, muscular hood. Purposeful. More than one person compared our black Z06 to a batmobile. It looks fast because it is fast. Sure, a modern sports sedan might blow its doors off, but they don't have anywhere close to the visual drama of this thing.
Opening the door, sliding over the low sill and dropping into the driver's seat is a further reminder that is not just a car that happens to be fast, this is a proper sports car. You're sitting just a few inches off the ground, looking up at the world in their dull crossover cages, over a deeply sculpted hood that's almost as dramatic from this vantage point as it is from outside. Visibility is actually very good, and the seats and seating position are fantastically comfortable. The interior space of the C5 Corvette catches a ton of flack for flack being "so 90's GM" but hey, would this be better with a bespoke radio?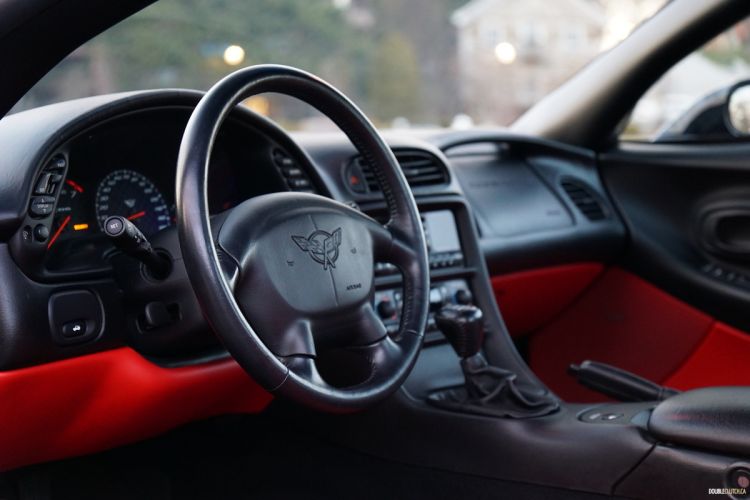 The steering wheel, switchgear, and gauge cluster all look and look and feel good, function perfectly, and there is absolutely no guesswork to anything. Honestly, it's a lot better than people give it credit for. Get in, adjust your seat, open the windows, put some tunes on and buckle up; wonderful. A twist of the key brings the mighty motor to life with a startling rumble that had me giggling to myself with nervous excitement and trepidation about my own self control (more on that later), before settling into a menacingly lopey idle. 
Setting off reveals some interesting dichotomies about the Z06. The first thing that stands out (outside of the noise, of course) is the shifter, as its travel is incredibly short, stiff, and notchy. It takes a very deliberate effort that takes quite a bit of getting used to, and will make just about anything else feel like a child's toy. If you're trying to retain some modicum of stealth, you will need to work hard with that demanding shifter and shift very often to keep the revs low to avoid making a scene everywhere you go.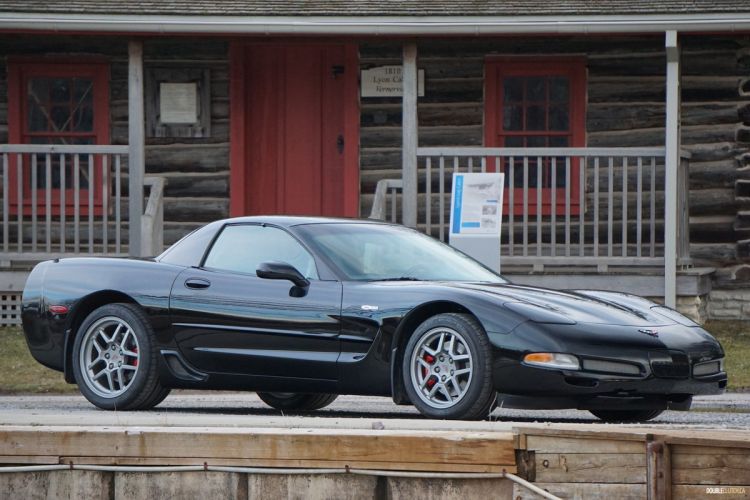 Once you get over those idiosyncrasies, you'll discover the Z06 is actually quite docile, and easy to drive around town. The steering is light, the clutch takeup is also fairly light and easy to modulate, and the engine's prodigious torque and tractable nature makes it impervious to being in the wrong gear; it could spend its entire life below 1500 rpms and never feel like it's struggling. On most roads, the ride is even pretty compliant, and ambient noises are kept fairly low, save of course for the bellowsome exhaust, which for all its racket, doesn't drone and is never unpleasant.
That exhaust grumble is always there, ever-present, egging you on. It takes a concerted effort to resist your base urges and drive this car in a civilized manner. But when you decide to give in and bury the skinny pedal, that tamed animal goes right back to being a beast. Without any turbos to spool up, power delivery is instantaneous, and it just keeps building and building, getting louder, angrier and nastier, morphing into a fierce mechanical scream at its 6,500 rpm redline. Its generous displacement means there's an overabundance of tire roasting torque at all low rpms, and the aggressive camshaft profile means that unlike other pushrod mills, it never runs out of breath. It loves to rev, but never needs to.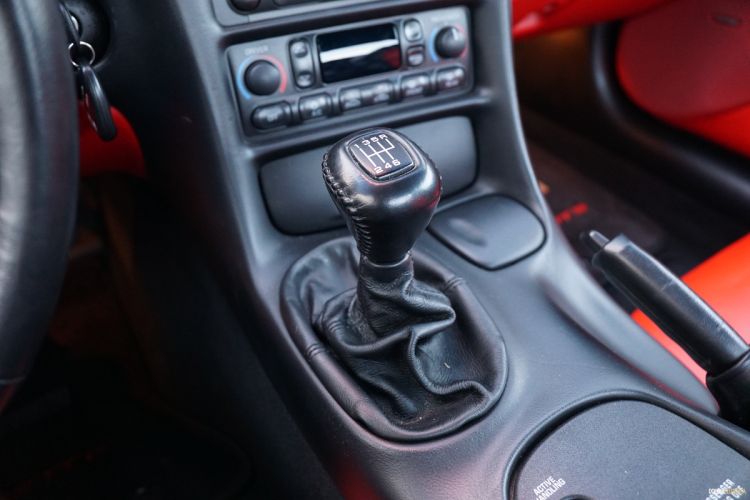 It's a violent thing. You're forced hard back into your seat, only relieved for a moment to forcefully bang the next gear into action. The vicious engine, despite the advent of a limited slip differential, is constantly fighting with the traction control system, itself wisely calibrated to allow a surprising amount of leeway, struggling to contain the rear end through first, second, and third gear. This barely controlled symphony of sensations is glorious, delivering a massive dopamine hit, and more than a little dosage of adrenaline.
That adrenaline comes from a just-right amount of fear; this is a scary car to drive fast if you're not used to this sort of thing. This is not something like a modern sports sedan where you have a plethora of protections against pratfalls, the Z06 is an edgy thing that really hopes you know what you're doing, because it will kill you if you don't. This sensation of intimidation is magnified by the chassis tuning, which combines incredibly high limits of adhesion with somewhat tricky balance, and a bit of a penchant for getting unsettled.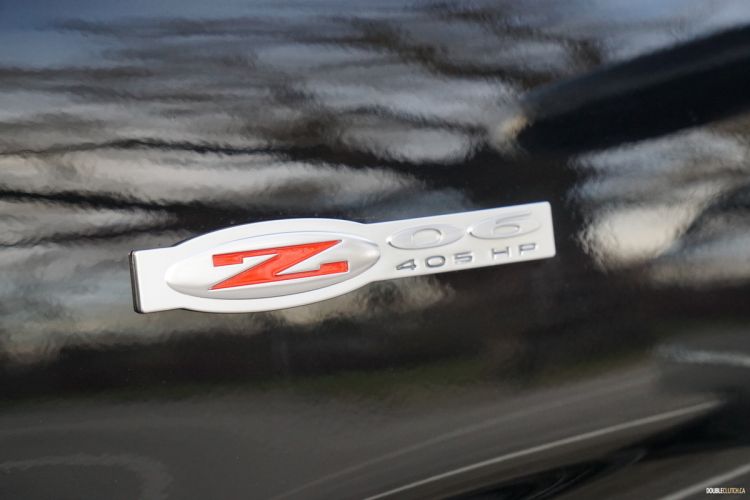 See, the front end has a tendency to get light at speed, and over undulations too. You'll be hustling it through a fast sweeper, and if the pavement is at all uneven or you're not careful about how you've loaded up the front tires, there will be a split second where it feels like there's no one home on the other side of the steering wheel. You just have to trust it. Similarly, the rear end has a very unnerving sideways shimmy over bumps, an effect which is amplified exponentially by large applications of power, which is exactly when you want the rear end to feel planted. Again, you just have to trust it, and hang on. It is not for the faint of heart.
I adored this 2002 Chevrolet Corvette Z06, and I want it very badly. In rational terms, it's not super expensive, it's reasonably cheap to operate and even pretty good on gas. It's comfortable to drive, and the rear parcel shelf and a surprisingly commodious trunk means it could be a decent daily driver. On the irrational side, it is an intimidating and intoxicating thing to wield; power corrupts, corrupts absolutely. That little sprinkling of terror, both of the car and of your own impulse control, makes you feel alive in a way few other cars can. In a world where every car tries to fluff you up and make you feel like a big man, the Z06 made me feel like a little boy, playing with toys he shouldn't be messing around with. I haven't felt that way since… well, since I was a little boy.
See Also:
Enthusiast's Corner: 2001 Ferrari 360 Modena
Enthusiast's Corner: 1997 Toyota Crown Comfort