This 1990 Toyota Camry AllTrac is just that, and somehow a car that I've been trying to find for the past five to ten years. You see, this is a car that tugs at my heartstrings every time I look at it, and I wholly accept that this makes me an extremely strange individual. This is also the first car my father ever bought, or well, a replica of it.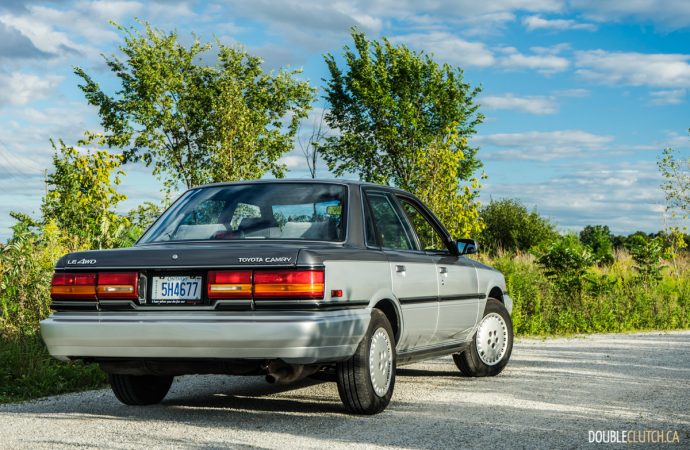 My father immigrated to Canada just about 30 years ago, and with a tiny kid (me), a reliable four-door sedan was exactly the ticket for his needs at the time. He bought one of these, also a 1990, from Brimell Toyota out in Scarborough, Ontario. He would proceed to own this car for nearly two decades and put hundreds of thousands of kilometers on it. Our little family traveled the continent in that car that the toddler version of me had affectionately nicknamed "Herbie", and I can safely say that it was the car of my childhood. These Camrys were prone to rust, and my dad had the rust on our old car fixed multiple times, as he absolutely would not accept anything short of perfection.
Eventually, I was entering the realm of driving and dear old Dad decided that I needed something "safer" and not as "old". The dear 1990 was sold to a family friend, and I developed my driving skills on a hand-me-down base model 1999 Camry CE that my mom had at the time. That marked the end of an era for our lovely little base DX, with no power options, that had served our family for what seemed like an eternity. My dad had to sell it when I was away on vacation, because he knew I'd bawl my eyes out seeing it go. He wasn't wrong – I most certainly did.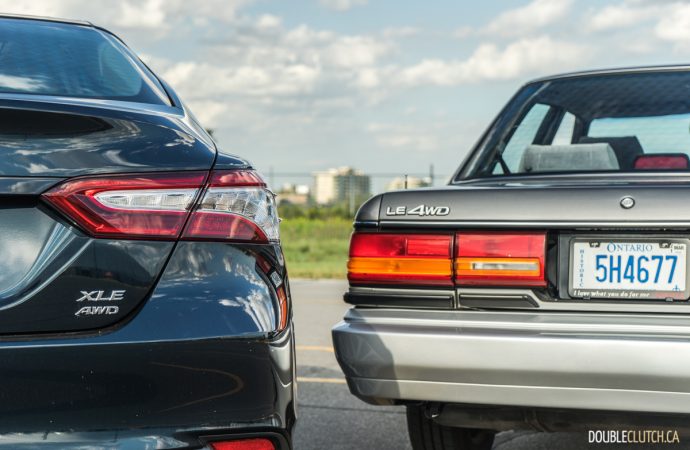 I also decided that when my finances permitted, I would eventually buy another second-generation Camry in silver, preferably an AllTrac if I could find one, and keep it forever and ever with a cost-no-object repair budget. Little did I know that the Canadian elements would have their way with the metal, and these cars would be far and few between. Of course, nobody "loved" these things enough to preserve them, and they're not really worth anything, so it was all about trying to find the right senior citizen that was willing to part with their car. Between 2016 and 2017, I set up Kijiji alerts for 1987-1991 Camrys, considering any colour except white and burgundy.
I'd get an e-mail every week or so telling me what the market looked like, but I never actually found the right car, until last Christmas eve. A friend and I found an ad for what looked like a clean Camry, listed as a 1978 model (the keen will observe that the Camry wasn't actually introduced until 1983). We set up an appointment to see it and I was immediately transported into the past. My dad had a little notebook in which he logged every fuel fill-up and service, with mileage and costs incurred. This 1988 Camry in silver had a manual transmission, and a very similar logbook in the glovebox. I just had to have it, but fate wasn't on my side. There were ownership issues and even though I had cash in hand, we weren't able to close the deal and the car vanished off Kijiji.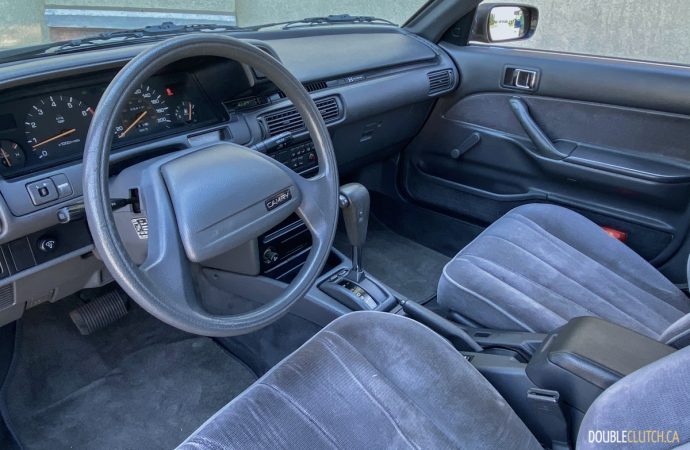 Disappointed, I kept pressing on. I eventually just about gave up, and almost bought a slightly rusty example in the right colour from Montréal. Then, one night, I was on AutoTempest which searches the entire continent, and also includes Craigslist searches. We're Canadian – nobody uses Craigslist anymore, but somehow an ad in Vancouver, B.C. caught my attention. A two-tone 1990 Camry AllTrac LE, almost identical to the one I grew up in. It had 165,000km, just barely broken in, and because west coast, rust wasn't likely to be an issue. Even if it was, an AllTrac is absolutely unattainable, so I was ready to pay for a significant amount of body work to create a minty car.
After a bit of persuading and convincing that I wasn't actually a scam artist, I sent the seller the full amount and convinced him to drop the car off at a shipping terminal to be trucked to Ontario. The guy was kind enough to sign a bill of sale, and next-day courier me the original signed ownership, a spare key, and owner's manual. My car was on its way, and just about everyone around me was convinced that I'd officially lost my mind. Thanks to a COVID delay, the car took about eight weeks to arrive in Ontario, but when it did, I was up at 3:30am to meet the driver and take delivery.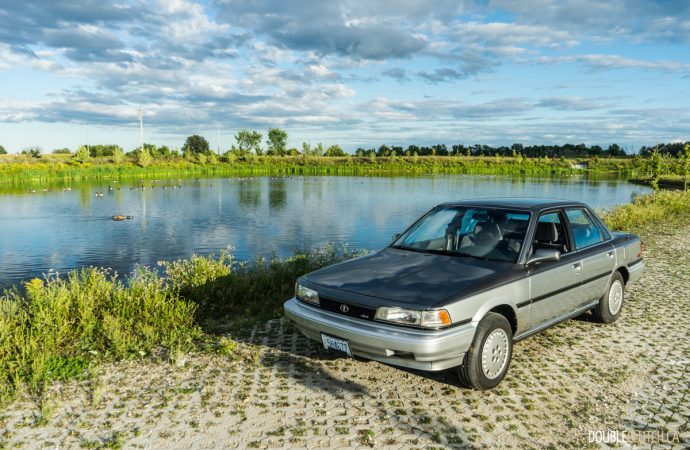 There she was, after all these years. That 25th Anniversary paint job looked great and to start the plethora of attention this car would get, the truck driver asked me what I paid for it and offered to buy it off me on the spot. The body was dirty and grimy after being exposed to the elements all these years, but it would clean up nicely. The original owner was an older gentleman who babied this thing and didn't drive it often, and the condition showed. There were some bumps and scrapes on the body, and on one side, the original Toyota mud guard had trapped some moisture behind the wheel well that caused a bit of rust. No worries, the rest of the thing was immaculate.
I spent the day getting it sorted, changing the fluids, and handed the keys to my dad on Father's Day. Here it is Dad, after all these years. Okay, maybe there are some self-motivated feelings here, but what the hell. We stood beside the car and re-created a photo of my dad and I with the original Camry in 1992 or so, and I tossed the original license plate number from the old car onto it. The man was ecstatic, and while he's not exactly an insane car guy like I am, he treats this car like I do my V8 Vantage. It doesn't see rain, will get stored for the winter, and sits in his garage with pride, while his daily driver sits outside exposed to the elements.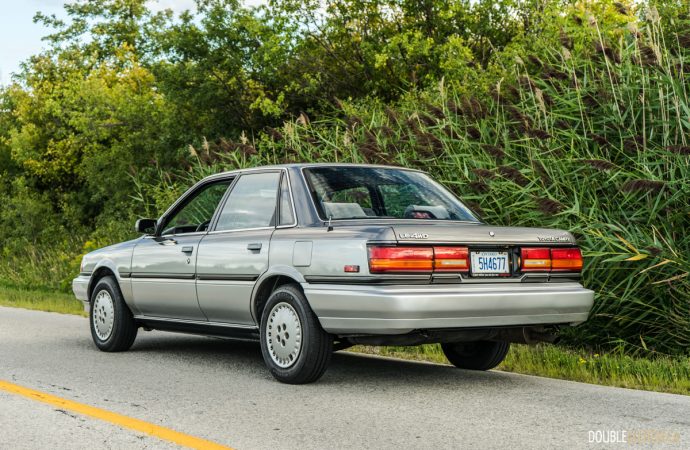 Onto the car itself – 1990 models got a 2.0-liter inline four-cylinder, naturally aspirated. It's supposed to be good for 115 horsepower when new, and the four-wheel-drive system on the AllTrac models added a substantial amount of weight. The result is a car that's an absolute dog in a straight line, though will maintain highway speeds with no issue. For comparison, my colleague recently sold his 1989 Corolla SR5, which had a 95-horsepower carbureted four that felt notably faster than this Camry. I don't quite remember the original Camry being this slow, but again, perception is everything here.
What's unique about the AllTrac's four-wheel-drive system is a lockable center differential, using a button on the console. Our model is a four-speed automatic version, and shifts with authority. As with any older car, shifts are firm and the car drives confidently after a transmission fluid drain and fill. It doesn't consume a drop of oil, and corners well too, despite a significant amount of body roll. This is a car that drives well, but remains a time capsule of its day rather than any reasonable comparison to a modern car.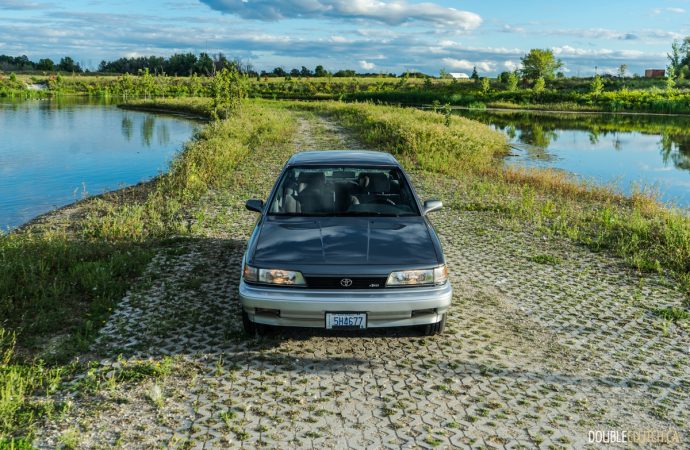 The Camry was facelifted halfway through 1990, with this "updated" model getting redesigned bumpers, taillights, and some interior bits. It's also a weird configuration, because to this day I can't imagine why it was spec'd this way. Both engines of the Camry came in two trims, the base DX and the up-level LE. Our original car was a DX, but had power steering, brakes, and air conditioning. This is an up-level LE, which means it gets power mirrors, a power radio antenna, a six-speaker stereo, and the premium velour upholstery. Somehow, it still doesn't have power windows or locks, and was never equipped with air conditioning from the factory. Yeah, it gets hot in there in July.
According to Toyota Canada, all of North America got a total of 408 Camry AllTracs in 1990. Using the assumption that Canadian sales account for about 10% of North American production, that gives us about 40 total, and I'd wager that only a small percentage remain on the roads today. It's pretty hard to put a real value on the Camry AllTrac, because the market for it is so small. They're not collectibles like the AE86 or the Supra, but a minty one will never be worth much less than $5,000 or so. We paid $2,500 for it, and after shipping, fixing the rust on the one corner and some more miscellaneous items, we're right around that $5,000 mark.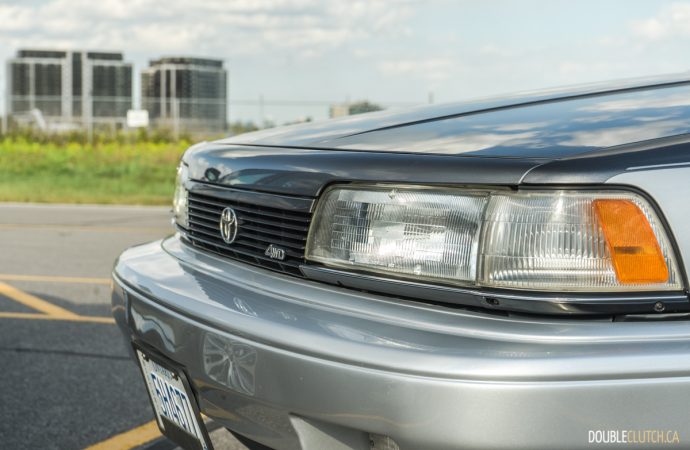 This is definitely a "forever" addition to my collection, and something I intend to cherish for years to come. While the Internet typically has a wealth of information, there isn't quite as much knowledge out there about the Camry 4WD, so I'm trying to learn as much as I can as I go along. Reliability is still very much a thing, and if all goes as planned, it shouldn't need anything more than tires, brakes, and oil changes to keep running for virtually an eternity. With Toyota having brought back all-wheel-drive on the 2020 Camry for the first time in 30 years, this car is more relevant than ever!