A little over a decade ago, Infiniti was near the top of the sports sedan segment, giving opponents a run for their money with the G37 and following it up with the excellent Q50. Both had the right styling, a burly V6 engine, and best of all, a long list of standard features. Fast forward to today, and the 2023 Infiniti Q50 Black Opal Edition left us with one thought: "What happened?!"
The general recipe is still there. Infiniti pairs a handsome exterior with a world-class powertrain that produces a great soundtrack. The Q50 is still very much the same car that charmed us a decade ago, but that is where the appeal starts to wear off — today's Q50 is too similar to the car we loved a decade ago, and really shows its age in a segment where its competitors have evolved significantly.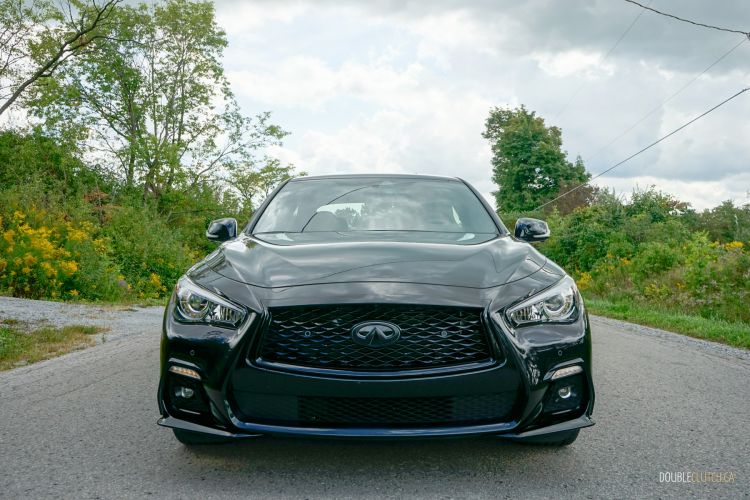 Let's start with the positives — the styling. In this day and age, where most designs favour gaudiness over classiness with big front grilles, weird (and sometimes fake) air vents, plus creases and folds all over, the Q50 remains sleek. The front end looks mean and focused, while the flowing creases add a sense of muscle. The Q50's overall look carries great presence without being polarizing, something that is rare in automotive design today.
The new-for-2023 Black Opal Metallic paint job is gorgeous. While it generally looks black, it reflects green or purple depending on the light. Photos do not do it justice; the colour shift from one angle to another is simply unreal, and it is the colour you would expect on a far more expensive vehicle, not on something that costs well under $100,000. Interestingly, the paint code for Black Opal Metallic is DAP — same as Nissan's legendary Midnight Purple available on the Nissan GT-R T-Spec. Still, with only 50 examples coming to Canada, chances are slim you will get to see it in person.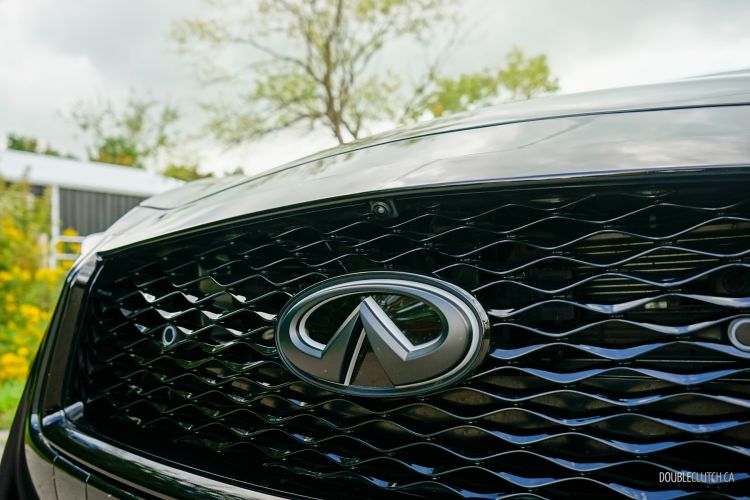 To complement this special iridescent paint job, Infiniti designers have opted to give the Q50 satin black badges all around, plus a carbon fibre lip spoiler. These subtle add-ons did well to distinguish this limited-edition model without taking away from the colour, its main selling point. Overall, the Q50 Black Opal Edition dances that fine line of grabbing attention without being flashy.
Infiniti's tried-and-true 3.0L twin-turbo V6 engine is still under the hood. It's rated at 400 horsepower and 350 pound-feet, which is plenty for any scenario. Set to the sportiest Sport+ drive mode, the Q50 is surprisingly fast in a straight line, and rewards drivers with a satisfying roar from its exhaust. Best of all, its power delivery is creamy smooth with virtually zero lag. Dare we say Infiniti's VR-series engine, along with BMW's B58 turbocharged inline-six, are two of the best engines in the industry today?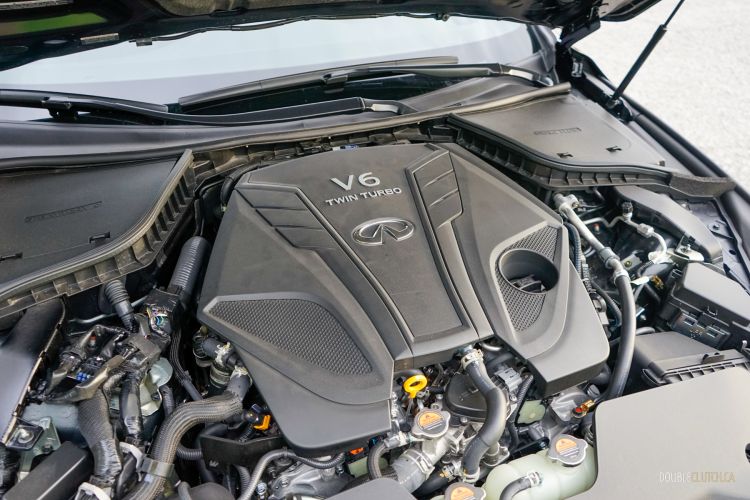 Unfortunately, the standard seven-speed automatic transmission in use since the late 2000s is still present today, and cannot keep up with the Q50's powerful engine. While shifts are smooth during relaxed driving, it's a step or two too slow when you want to hustle, even using the paddle shifters. We would love to see the Nissan Z's nine-speed automatic migrate over since they already share an engine, but it is unlikely that Infiniti will make such major mechanical update this late in the Q50's life cycle.
Fuel economy is rated at 12.5 L/100 kilometres in the city, 9.3 L/100 km on the highway, and 11.1 combined. Our observed figures came in at 11.7 L/100 km for the week over mixed use, which is in-line with our expectations. Premium fuel is indeed required.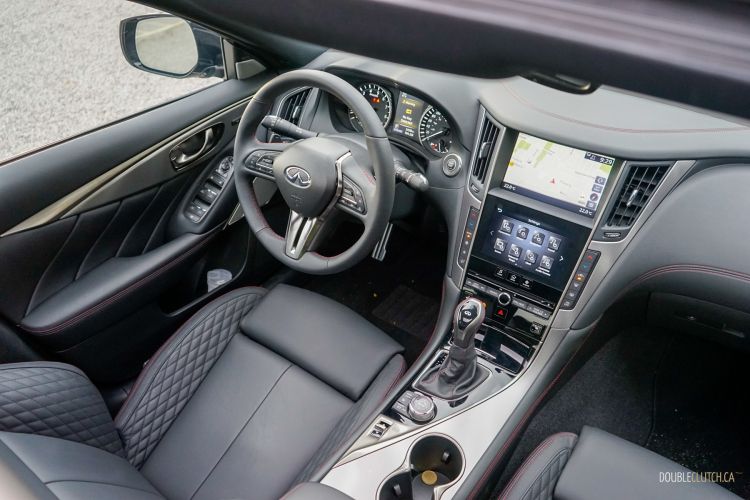 So, the Q50 looks good and offers solid performance. Where did it all go wrong? It's the rest of the package that shows the Q50's age. First off, many amenities we have come to expect in the segment are absent — such as ventilated front seats, heated rear seats, a heads-up display, a power trunk lid, and wireless phone charging. Ironically enough, the Q50 was one of the early vehicles to bring features like a 360-degree camera to the segment. But as time progressed, the competition caught up and even surpassed the Q50; it's in dire need of an overhaul if it wants to keep up.
Infotainment is delivered by Infiniti's dual-screen InTouch system that unfortunately feels just as dated. While the screen has a crisp resolution, it's a tad too small for today's standards, and the two-screen layout has been out of style for a while now. The good news is that Apple CarPlay and Android Auto is supported — though only CarPlay is wireless — and the 16-speaker Bose sound system sounds decent.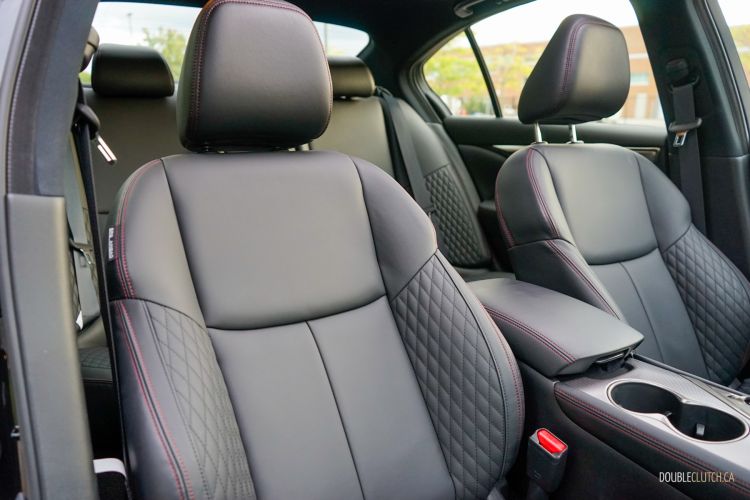 Features and infotainment aside, we still appreciate a few things about the Q50's interior. There's good space up front and the back seats are acceptably roomy, the quilted semi-aniline leather seats are supportive and comfortable, and we liked the wide opening of the Q50's 382-litre trunk. It easily accomodated our golf clubs and baby stroller — two things that typically do not go hand-in-hand, yet every golfing parent resonates with. Our only complaint with Q50 Black Opal's manners is the performance exhaust; it drones at cruising speed, and the pitch gets tiring in Sport or Sport+ modes.
When it comes to driver assists, the Q50 Black Opal comes fully loaded with features such as Intelligent Cruise Control, Backup Collision Intervention, Lane Departure Warning and Prevention, Forward Emergency Braking, Blind Spot Warning and Intervention, and Around View Monitoring systems. Most of these features have become minimum standard for modern cars, so we are glad to see the Q50 keeping up with the trend.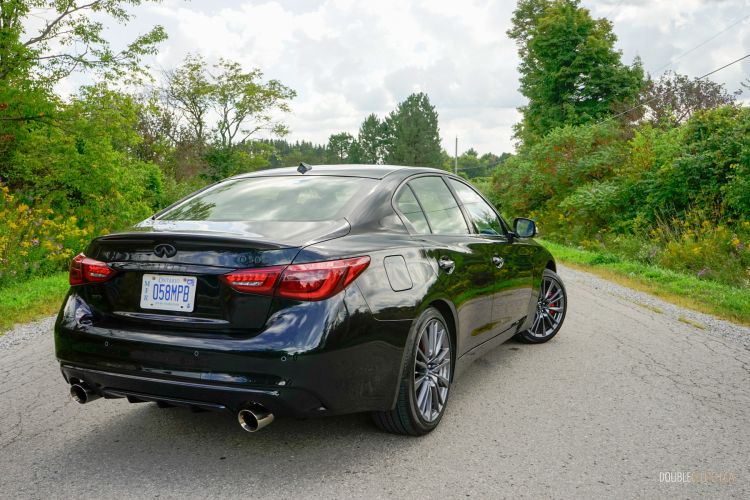 The Q50 starts at a reasonable $45,195 for the base, 300-horsepower Pure AWD trim, and moves up progressively before topping out at $65,795 as-tested for the fully loaded, range-topping Black Opal Edition. It is hard to put a value on exclusivity, but aside from the colour, we have a hard time justifying the Q50 over a Genesis G70 3.3T and the Acura TLX Type S, both of which offer more for less. We do, however, feel the lesser-trim Q50s can be a sneaky value pick, especially if you can find them readily available in dealer lots.
As you can see, the 2023 Infiniti Q50 Black Opal Edition shows its age in more ways than one, but it continues to do well in certain aspects. However, it seems apparent that we are nearing the end of the Q50's relevance, and certainly hope this is not the end of the line for the storied Infiniti sport compact sedans.
See Also