Since the unveiling of the Acura Type S Prototype in 2019, car enthusiasts have been rejoiced with the return of Acura's iconic nameplate and a renewed optimism that a brand that became an integral part of the North American car culture in the 2000s is ready to excite again. Acura recognizes how important this iconic badge is, especially to those who grew up in the new millennium, and made sure their Type S models are more than an appearance package. The first to arrive is what you see here – the 2022 Acura TLX Type S – with the MDX Type S and the limited edition NSX Type S to follow.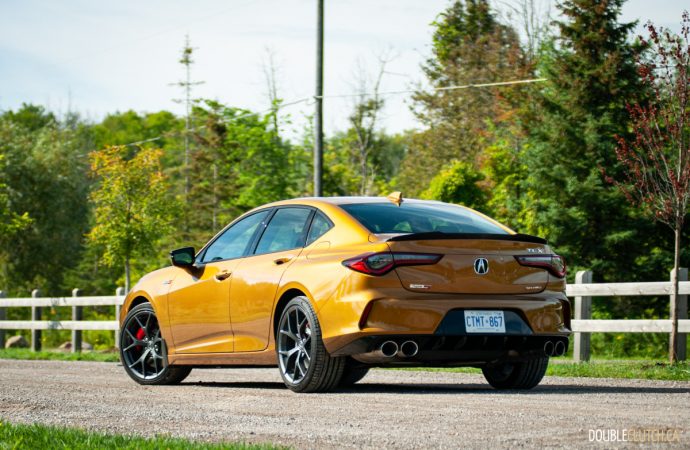 Acura designers absolutely nailed the styling of the TLX Type S. The highly sculpted body line is straight out of the stunning Type S Prototype and the TLX's fastback design gives it a gorgeous coupe-like silhouette we have not seen in any previous Acura sedans. To put the styling over the top, Acura was not shy when sprinkling metallic flakes over the distinctive Tiger Eye Pearl paint and fitted it with the gorgeous NSX-inspired 20-inch wheels. The TLX Type S is one of the most attention-grabbing vehicles amongst all compact luxury sedans.
Powered by an all-new 3.0-litre turbocharged V6 engine exclusive to Acura's Type S models, the TLX Type S pumps out a healthy 355 horsepower and 354 lb.-ft of torque. Power comes on smoothly as one would expect with any Acura six-cylinder engine before the turbochargers take over with a noticeable surge. Zero to 60 mph (96 km/h) takes five seconds and the TLX Type S has an electronically limited top speed of 250 km/h.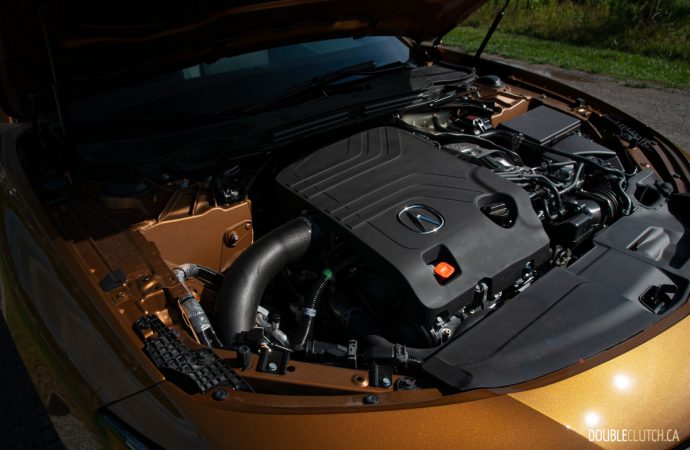 The TLX Type S gives up a fair bit of power when compared to some of the performance benchmark of its segment, such as the BMW M340i xDrive or the Mercedes-AMG C 43 4MATIC, and accelerates with a calmer demeanor. The ten-speed transmission lags in standard drive mode but sharpens up in Sport+ (a Type S exclusive), which was our preference with its steering, chassis, powertrain tidied up as well. The Sport+ mode also gave us a full soundtrack from the Active Exhaust System with its valves staying fully open, and barks during gear shifts.
Acura engineers placed additional emphasis on the chassis of the 2021 TLX Type S to deliver on the brand's promises on a dynamic driving experience. The standard TLX is already Acura's stiffest sedan ever produced, and the Type S receives additional bracing, mid-floor crossmember, and stiffer rear wheel arches to increase chassis rigidity by another 13-percent. Acura has fitted the TLX Type S with an iconic double wishbone front suspension setup and an Adaptive Damper System that makes adjustments automatically, and users can finetune the strength using the various drive modes.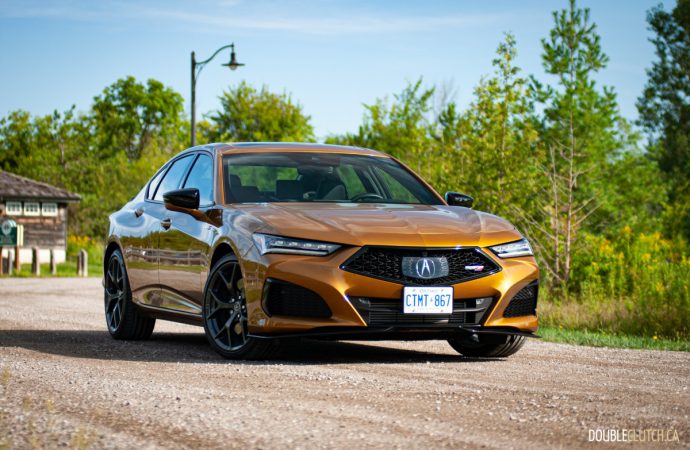 All of that work equated to a livelier driving dynamic when compared to the standard TLX model. There is a noticeable tendency to push wide at corner exits, but the understeer is predictable and the Super-Handling All-Wheel Drive (SH-AWD) is quick to bring the car back in line by directing power to the outside rear wheel. Steering feel and accuracy are about average for a modern-day electric power steering system, and the four-piston Brembo front brakes offer great stopping distance with solid pedal feel.
Fuel economy is rated at 12.3L/100km in the city and 9.8L/100km on the highway for a combined average of 11.2L/100km. Our observed fuel economy was 12.8L/100km over a city-heavy commute, and premium grade gasoline is required for the 60-litre fuel tank.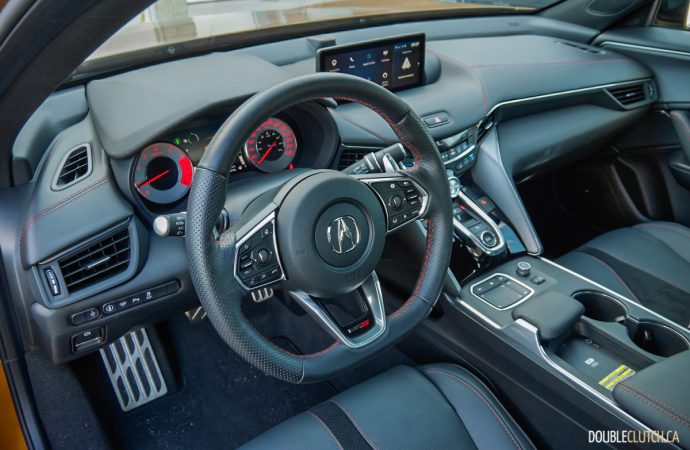 Interior layout is carried over from the regular TLX with dedicated Type S features such as a flat-bottom steering wheel, aluminum interior trims, and Type S logos on the door sill, headrests, and steering wheel. We like that most switches are clearly labeled and well within reach, and it was not difficult to find a good driving position thanks to the Type-S exclusive 16-way power adjustable front seats. There is excellent space inside the TLX Type S for either rows, and cargo volume is rated at 382-litres.
Infotainment is delivered using Acura's True Touchpad Interface system through a 10.2-inch centre display. Commands are entered using the 'Absolute Position' touchpad where you place your finger on position that corresponds to the location of the command prompt on screen. Its operation is a bit clunky, but eventually we were able to find our way around the system with the help of many customizable shortcuts. Smartphone users can also bypass this using Apple CarPlay and Android Auto, and enjoy music through the powerful 17-speaker ELS Studio surround sound system.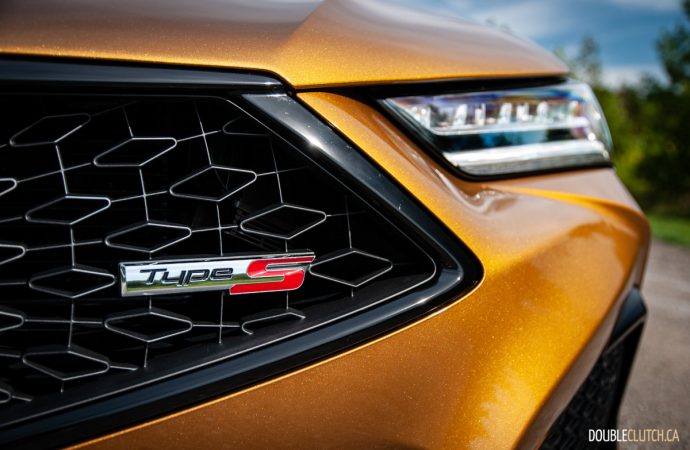 The TLX Type S comes with a full suite of driver's assistance and convenience technologies such as Adaptive Cruise Control, surround view camera, Forward Collision Warning, Lane Departure Warning, Blind Spot Information, Lane Keeping Assist, and Rear Cross Traffic Monitor systems. Curiously, the Head Up Display system is omitted on the Type S' specifications list even though it is available on the standard TLX.
The Acura TLX Type S starts at $60,000 and it will cost you $500 for any colour other than grey, bringing our as-tested total to $60,500. It competes head to head against the $59,000 Genesis G70 3.3T Sport. Both offer similar performance; the TLX Type S comes in a more attractive package along with a more spacious and comfortable cabin, while the G70 3.3T is the more engaging car to drive. Both are excellent value when compared against German competitions that can easily cost $15,000 more when similarly equipped.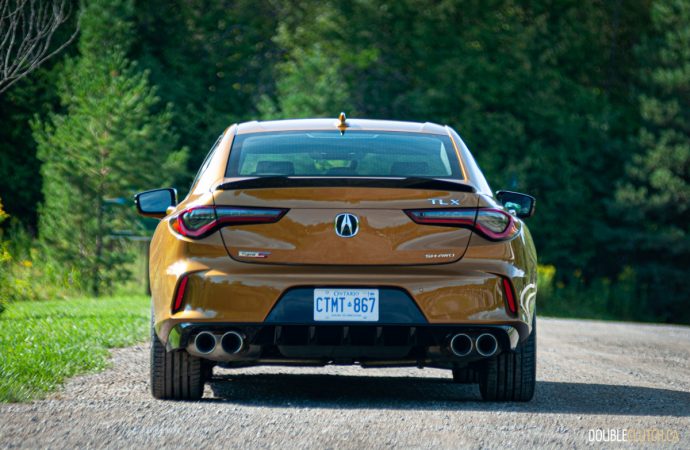 The 2022 Acura TLX Type S is a good start to bringing the enthusiasm back to the brand that prided itself on that very trait. It is not the no-compromise performance sedan that the many might have anticipated it to be, but neither were the Type S models 15 years ago. Rather, it is a modern iteration of Acura's Precision Crafted Performance mantra – one that finds the balance between luxury and performance usable on a daily setting wrapped in a very attractive shell.
See Also:
Photos by Desmond Chan