Genesis has proven to be a luxury car manufacturer that has refused to sit on their laurels in the short span they have been in existence. When the G70 was introduced to the North American market in 2018, it was awarded several dozen awards including North American Car of the Year. Though far from perfect, it showcased what Genesis was capable of. While other manufacturers will take several years to make any updates to their vehicle, the 2022 Genesis G70 3.3T Sport AWD here improves on the existing formula.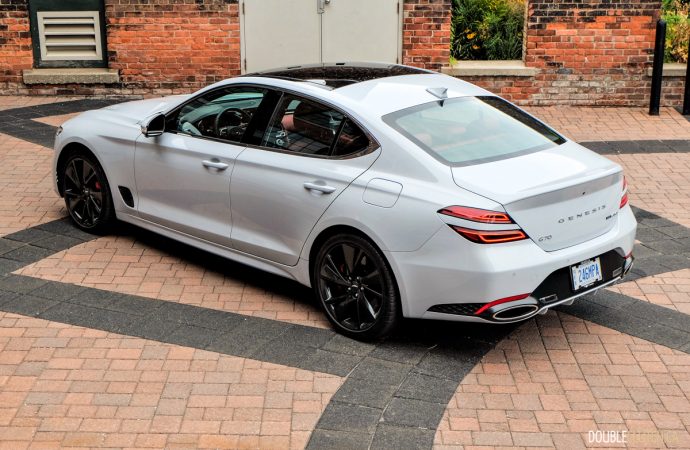 While the exterior design of the previous G70 was attractive, it lacked anything truly distinctive to allow it to stand out from its German competitors. Thankfully, this is no longer the case with Genesis having found their groove. Adopting the distinctive look that started with the latest G80, the G70 provides a more sportier style motif that makes it stand out in the segment.
Inside, Genesis was more reluctant and didn't adopt the interior in the drop dead gorgeous GV70 that is based on the same platform. This is not to say that the inside is a disappointment, but recent new Genesis models have raised the bar with their interiors. High quality materials are used throughout but still fall behind that used in a BMW, Lexus or Mercedes-Benz.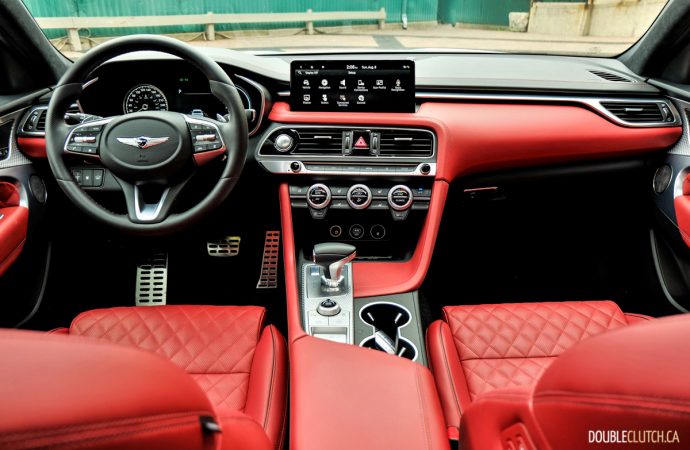 Thankfully, the biggest complaint about the small, dull infotainment system has been addressed. The fact the interface was basically lifted from Hyundai's did it no favours. An all-new new 10.25-inch touchscreen uses an updated interface that looks more premium, upscale, and at home inside the G70. Graphics and camera quality are in high definition and in line with the Genesis brand.
Wired Android Auto and Apple Car-Play are standard, though it would be nice to see support for wireless integration as in the latest Hyundai models. It's all a slick interface, with no finicky dials or pads needed; just hard buttons and use of the touchscreen. The 15-speaker Lexicon sound system is fantastic and matches well with the overall ambiance of the G70's interior.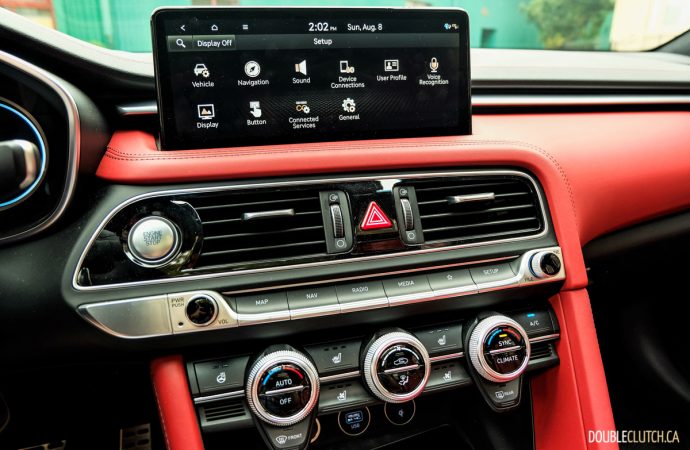 With use of the same platform, interior space and cargo room have not changed. Rear legroom is still an absolute challenge when considering the overall footprint of the car, as well as the larger accommodations in competing vehicles. Those with growing families who really do like this platform may want to consider the platform-mate, the Kia Stinger GT, which does admittedly trade off some of the G70's luxurious appointments.
The 2.0-liter turbocharged inline four-cylinder remains the base engine, though enthusiasts will gravitate towards the 3.3-liter twin-turbocharged V6 that's equipped on this model. It has been a winner since day one – power is available across the board and doesn't let up in the slightest. The V6 pushes 365 horsepower and 376 lb-ft of torque to all four wheels, meaning this G70 will rocket to 100km/h in 4.7 seconds. The exhaust now provides a slightly more pronounced burble that was missing on its first go-round and no, it doesn't provide any fake pops or bangs.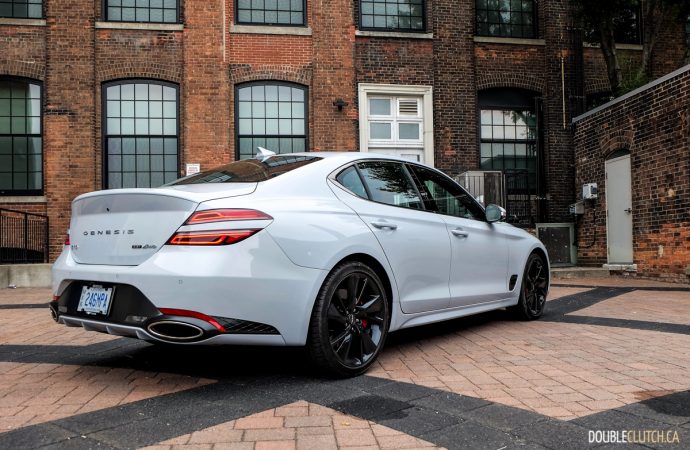 The large Brembo brakes are equally impressive and feel great under stress. Four-piston calipers can be found up front, and two piston calipers round out the rear. A couple of inattentive drivers during our test week had us forced to use the G70's braking system to its full potential and it certainly proved confidence inspiring. The chassis has not changed and to be honest, it is still as impressive as ever. Body roll is limited and during spirited driving, road imperfections are barely noticeable. The adaptive dampeners do a fantastic job and the difference can actually be felt when transitioning between the different drive modes.
A Sport+ mode has been added that improves steering response and feel in addition to shutting off various electronic safety nets that allow the G70 to let loose. Engage manual shift mode and the eight-speed automatic transmission will now hold gears to redline without upshifting automatically. Driving this sports sedan truly is a joy and it shows that Genesis is truly serious when it comes to performance.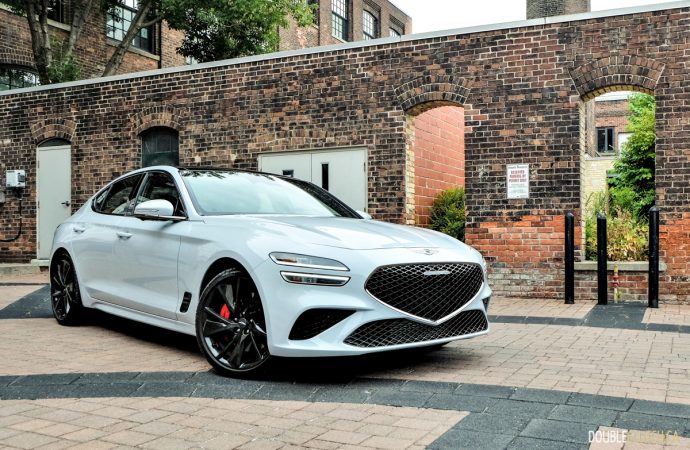 While the Genesis G70 fuel numbers released are not very impressive on paper, during our test week we achieved an impressive 11.4L/100km in mostly stop and go traffic with the air conditioning on at all times. Official ratings for the 3.3-liter engine are 13.5L/100km city and 9.1L/100km on the highway, with 91-octane premium fuel required.
What Genesis has brought to the table with the new G70 is truly impressive. The initial model showed the world what the brand was capable of. Today, the 2022 Genesis G70 3.3T Sport AWD has been improved and moved the yardstick once again. Other luxury automakers don't have much of an excuse on models that haven't changed as significantly in several years. If Genesis' plan was to disrupt the luxury field, they have succeeded with their current lineup of sedans and sport utility vehicles.
See Also:
First Drive: 2022 Genesis GV70