How do you define character? For a house, it may be a big garden, unconventional colour choices, or maybe even a couple of gargoyles up front. For a car? Nine times out of 10, sound has a lot to do with it. How an engine hums, sings, rumbles, and roars is often the defining quality — especially in a car like the 2023 Porsche 911 Carrera 4 GTS.
So, I can understand why more than a few Porschephiles would peer into their crystal balls with more than a little trepidation, all the while holding their breath until they're blue. The 911 is known for its sensational soundtrack as much as its sultry silhouette, so what happens when you take away that core element? If the 2023 Porsche Taycan GTS is any indication, no matter what sort of electrification the future holds for the 911, you can breathe.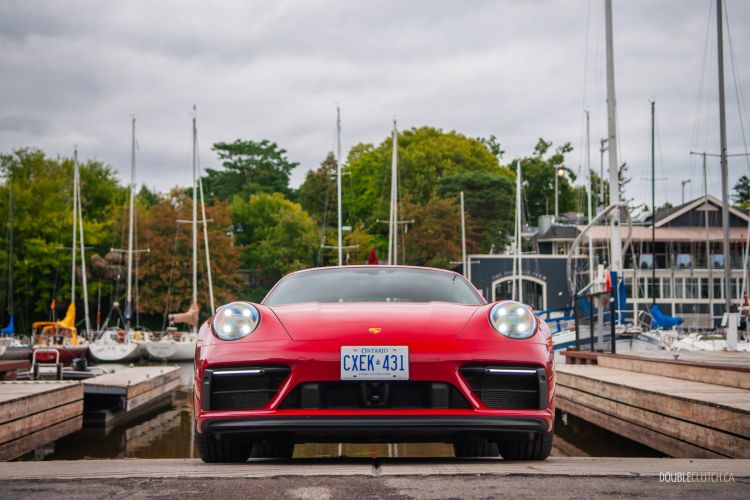 There's much more to the 911 than its vocal engine, but that certainly doesn't hinder its appeal. Even back when Porsches were little more than warmed-over Beetles, a flat-six over the rear wheels has been a staple. In this latest 992-generation GTS we have here, its twin-turbocharged 3.0-litre sixer huffs out 473 horsepower and 420 pound-feet of torque, sent to all four wheels via Porsche's incredibly smart eight-speed PDK dual-clutch automatic transmission. It'll do zero-to-100 km/h 3.1 seconds with AWD, and RWD models in 3.2. You can still spec Porsche's seven-speed manual transmission; stick 911 GTSes do the sprint roughly a second slower, but to the right person, the trade-off in engagement is worth it.
For such a beloved and iconic sports car, people sure love to complain about the 911's evolution over the years. People complained when the 911 went liquid-cooled when the 996 debuted in 1998. People complained when the 911 went all-turbo when the refreshed 991 debuted in 2016. It's all a load of bollocks. In GTS flavour, the 911's turbocharged flat-six is still delicious. Its gravelly idle builds into a throaty wail as you build revs and flirt with the redline, although to be fair, it's not quite as vocal as its predecessors.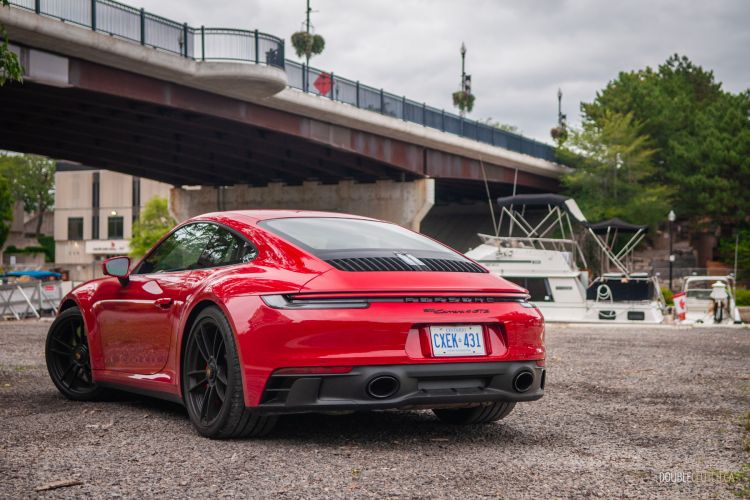 Still, you can't deny the newest 911 doesn't sound like a 911 should — if you wore a blindfold, you'd still know you're in a 911 — and you certainly can't argue with its thrust. Despite Porsche's quoted zero-to-100 km/h sprints, it's not impossible to crack the two-second range according to most buff books. I didn't substantiate these claims myself, but I can certainly confirm the 911 GTS is friggin' fast.
But what happens when you keep wearing that blindfold and take away that flat-six wail? On paper, the Taycan GTS packs a lot more muscle: using two electric motors and an 83.7 kWh lithium-ion battery pack, it puts out a heady 590 hp and 626 lb-ft in overboost mode. It's also a whole Caterham 7's worth heavier — the Taycan tips the scales at just over 5,000 pounds, versus about 3,500 for the 911 — but despite that penalty, the Taycan GTS will still knock off a zero-to-100 sprint in 3.7 seconds.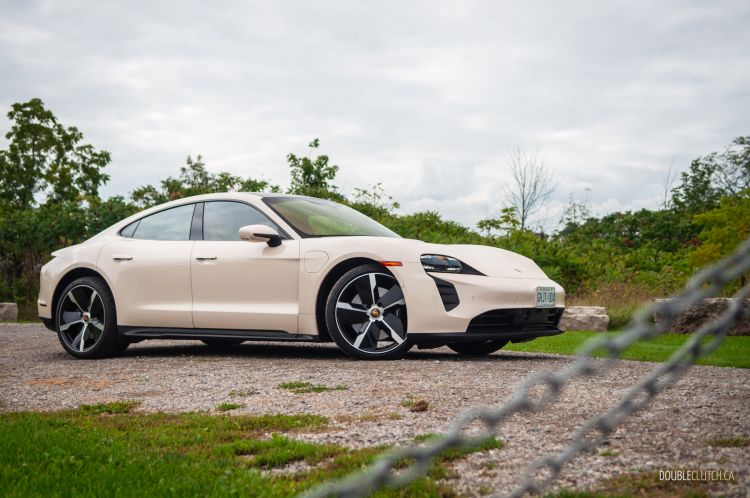 On the road, the Taycan GTS is an entirely different experience. First and foremost is all that instant torque: 626 pound-feet available right as you mash the skinny pedal is a great way to ensure you (and your passengers) are glued to the seats until you ease up and chicken out. It's underscored by the de-rigeur spaceship soundtrack you'd expect; it's not everyone's cup of tea, but certainly fitting for something that can hit what damn near feels like warp speed. If I were a betting man, I'd wager if the 911 ever goes fully electric, you'll have the option to select a flat-six soundtrack.
Beyond the obvious, the GTS duo feel remarkably similar. Both cars deliver crisp and responsive steering; it's a little light around town, but it gets heavier as speed climbs, and both steering wheels are surprisingly communicative. Both cars also set the gold standard for chassis tuning, delivering plenty of mechanical grip and remaining unflappable in tight corners. Both cars somehow manage to defy physics to a certain degree; despite the Taycan's hefty bottom line, it hides its weight remarkably well, and despite the 911's engine hanging over the rear wheels, it feels well-balanced and if you do manage to kick out the back end, it's easy to reign in.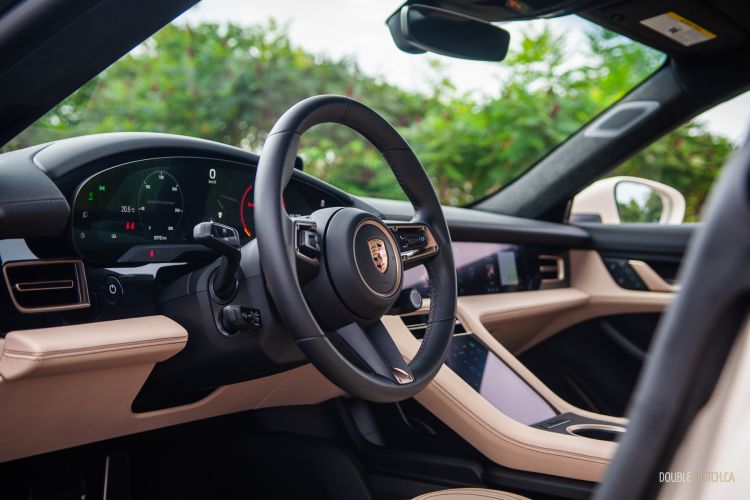 Even down to their interiors and driving positions, both the 911 and Taycan GTS feel remarkably similar. Don that blindfold again, and you'd swear you're sitting in the same car: all controls fall easily to hand, the pedals are spaced apart perfectly, and even the steering wheel itself feels the same — because it literally is, save for the 911's being finished in Alcantara. Of course, there's still one major difference here: the Taycan has a set of rear doors and a usable backseat — not that there's much headroom back there, owing to the Taycan's equally sultry silhouette.
And even on price, the duo are within a stone's throw of each other. An all-wheel-drive 911 GTS starts at $166,600, while the Taycan GTS kicks off at $152,100. Go crazy with the options — which is very easy to do with a Porsche — and you're looking at $202,340 and $210,350 as-tested for our particular 911 and Taycan GTS testers, respectively. Eight grand buys you two very different, yet remarkably similar Porsche experiences.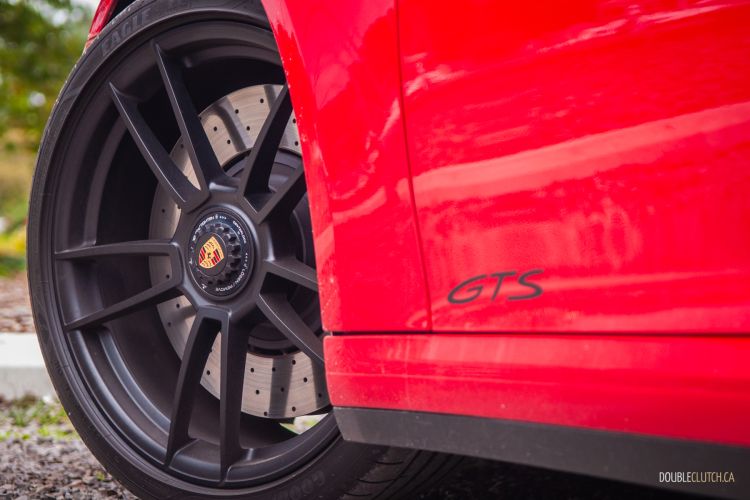 It's easy to get hung up on the past, especially with a car as iconic as the 911. It may have cemented its legacy on a handful of core elements, but change is inescapable. Even the 2023 Porsche 911 Carrera 4 GTS, despite retaining the basics, feels worlds apart from its more contemporary predecessors.
One day, the 911 will go electric; what that looks like is anyone's guess, but whatever the future has in store, I think you can count on one thing: if the present-day 2023 Porsche Taycan GTS is any indication, any zappy 911 will still feel like a Porsche.
See Also
2022 Porsche Taycan GTS Sport Turismo