We've sampled Porsche's all-electric Taycan a few times, and have even given it our outlet's Car of the Year award last year. Regardless of configuration, we came to the consensus that it's simply the best balance between electrification and performance driving dynamics. This year brings two new models to the range, the regular Taycan GTS and this, the 2022 Porsche Taycan GTS Sport Turismo. We spent a week with it to see if it really is the enthusiast's choice daily driver from the future.
Porsche introduced the Taycan Cross Turismo last year, a sort of lifted wagon with body cladding. Think of the Volvo V90 Cross Country, or the Mercedes-Benz E 450 All-Terrain, just on steroids. While the Cross Turismo has a touch of overlanding vehicle to it, the GTS Sport Turismo is a truly fast-looking station wagon. The GTS is the only way to get this body style, and it's immediately our favourite. At 195.8 inches long, 77.4 inches wide and just 54.8 inches tall, it has a gorgeous stance – the Mamba Green paint and 21-inch wheels do it all of the favours, too.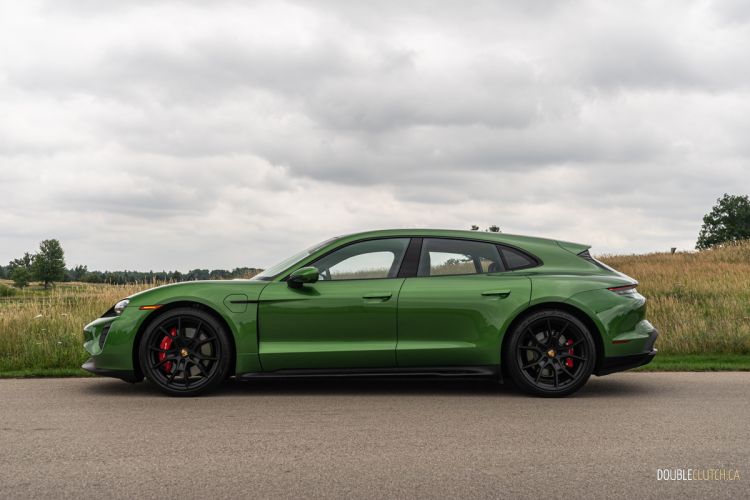 As with every other electric vehicle, the Taycan is exceptionally fast and has gobs of torque right off the line, even in its base form. The GTS' Performance Battery Plus (83.7-kWh) sits between the 4S and the Turbo models. It's good for 590 horsepower and 626 lb-ft. of torque right at idle, making for a 100km/h run from a dig at just 3.3 seconds. Interestingly, there's a two-speed transmission on board, too. For a 5,200-pound behemoth, these are staggering numbers. Regardless of the mode it's in, the Taycan GTS responds to accelerator inputs with immediacy and organ-rearranging thrust.
It's not just about power either; you buy this EV over others because it provides a true performance driving experience to go with its electrification. The 305-series rear tires have an immense amount of grip, and the Taycan GTS hugs the road with no less confidence than a 911 Carrera. All GTS models come with Porsche Active Suspension Management, which brings with it adaptive dampers. As such, ride quality is just about perfect, and despite the low stance of the car, it's not nearly as harsh as it looks.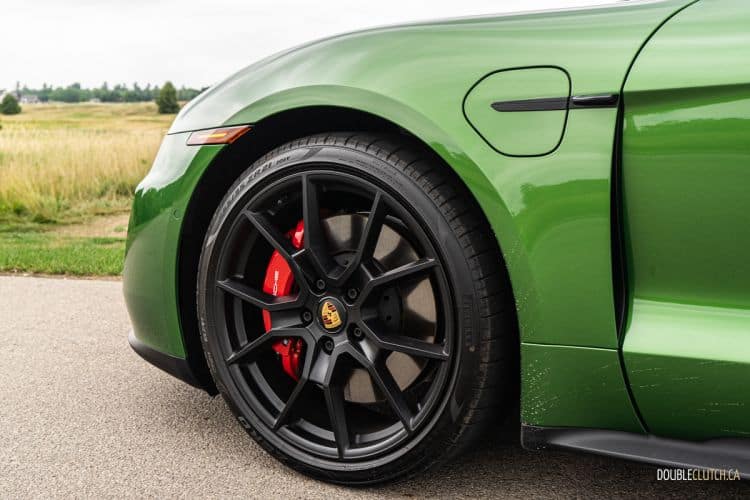 Body control is incredibly good and the Taycan GTS handles all road surfaces with ease. Steering response is direct and the rear-axle steering optioned on our tester helps with both cornering at speed and reducing the turning radius. One thing that's easy to forget about is the sheer size and footprint of the Taycan – it's really wide. We'd recommend all buyers to opt for the rear-axle steering to ensure better maneuverability in urban settings. Those with single-car garages will want to measure first, because it may be too wide to comfortably fit.
We observed about 380 kilometers of real-world driving range with the Taycan GTS, which isn't all that great. There's a Range mode that limits speed, but also tries to maximize driving range by prioritizing use of the rear motor unless the front one is really needed. It's worth mentioning that while it's an inferior product in every other way, the Tesla Model S Plaid, priced similarly, can do up to 637 kilometers on a single charge. We observed about five hours to charge to 80% using our Level 2 home charger, more than enough for the average commuter.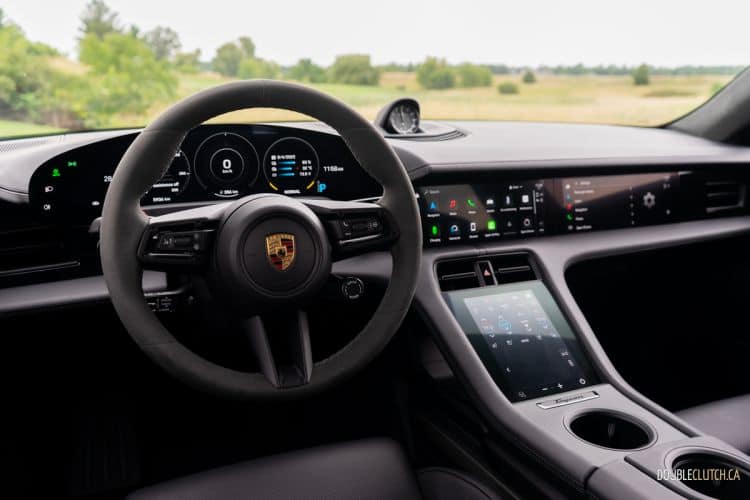 Inside, the Taycan is a bit of a spaceship, albeit an extremely comfortable one. The driving position is easy to settle into, but it's worth noting that it's hard to see the corners of the vehicle. For a big car, that could be a problem. The cabin is packed with screens, though the all-digital instrument cluster doesn't stray from Porsche's heritage. Wireless Apple CarPlay is easy to set up, but there isn't a dedicated knob or rotary dial for volume or tuning. There's also an optional screen for the passenger, which we found to be a bit gimmicky, though definitely a conversation piece.
There's plenty of room inside the Taycan GTS Sport Turismo for four adults, and while headroom isn't all that generous due to the low roofline, my six-foot frame had no issues sitting behind my own driving position. The slick panoramic glass roof looks awesome, but it does not open at all, and there's no shade to block my scalp from the rays of the August sun.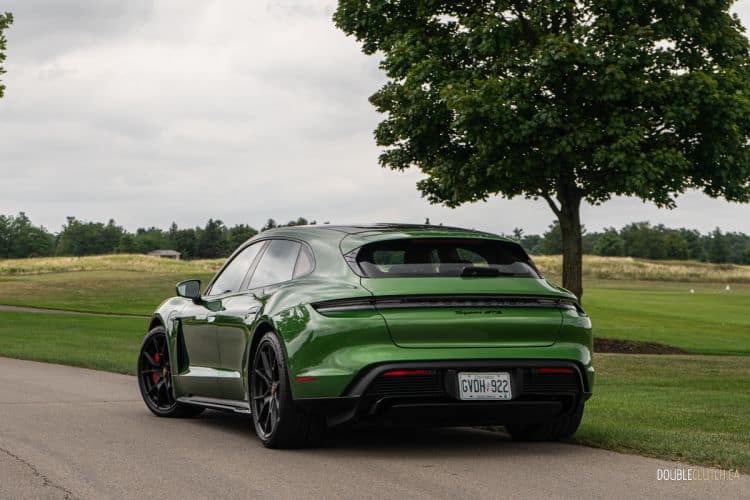 The regular Taycan starts at $125,600 for the 4S, with the Cross Turismo at $131,600. The GTS is the only way to get the Sport Turismo model, and it comes in at $154,700. As expected from the Porsche brand, endless configuration possibilities exist, and our Mamba Green Metallic tester came in at $185,710. Notable options include rear-axle steering ($2,170), Porsche Dynamic Chassis Control Sport ($4,090), 21-inch RS Spyder wheels ($3,300), and Adaptive Cruise Control ($2,330).
The all-black interior on our tester could use a splash of colour, and thankfully things like contrasting seatbelts and stitching can easily be optioned. And while we love the infinite customization available across Porsche's lineup, the extra charge for the adaptive cruise is a bit ridiculous considering it's a standard feature on just about every mainstream car. That said, there's something to be said about using the Porsche configurator to spec your Taycan exactly how you want it, and see the image come to life a few months later. Other than with Porsche, this level of precision doesn't really exist outside of the truly exotic automotive landscape.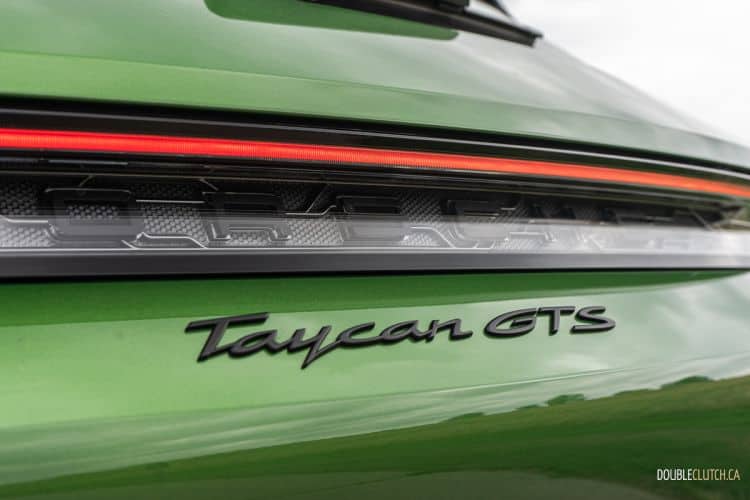 While there seem to be new EVs coming onto the market with every passing day, the 2022 Porsche Taycan GTS Sport Turismo is something special. It combines actual fun with sexy looks, and throws in a splash of that wagon appeal that most enthusiasts just love. Those who can palate the price tag shouldn't hesitate, because this really is one of the best cars money can buy today.
See Also:
2022 Mercedes-Benz EQS 580 4MATIC