When you own a lot of toys, you need a big toy hauler that can handle the load, and that's exactly what the 2023 Ford F-250 Super Duty Tremor was built for. The heavy-duty pickup truck from Ford shares some DNA with its best-selling F-150, but from the second you look at it, or climb up into it, it's clear that it's not just clad with bigger body panels, like some of their other trucks.
The F-250 is a heavy-duty-class pickup truck through and through, from the eight-bolt wheels and higher ride height through to the significantly stronger frame and powertrain you just can't get on an F-150. Our tester was the second-from-the-bottom-tier XLT trim, meaning chrome bumpers, powered cloth seats, and not a ton of tech, but still an incredibly capable vehicle that seats six, and with a bevvy of option boxes you can tick to make the truck your own.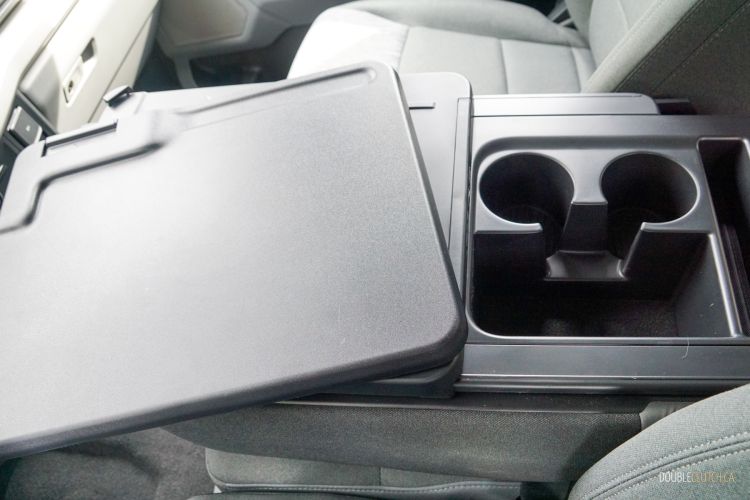 Our test vehicle had several of these option boxes ticked, including the $400 Interior Work Surface, which provides a place to put a laptop or notepad to get work done. This surface slides forwards and back, and can rotate just a little bit towards the driver by an amount that is so useless that we wonder why Ford even bothered.
The most notable option box that was ticked, however, is obviously the Tremor Off Road Package, which makes this already tall truck even taller, adding 35-inch off-road tires and 18-inch wheels, skid plates, fixed running boards, off-road suspension upgrades, and a powertrain upgrade, as well as other off-road-focused bits and pieces that actually make the F-250 more capable off-road, and are not just for show.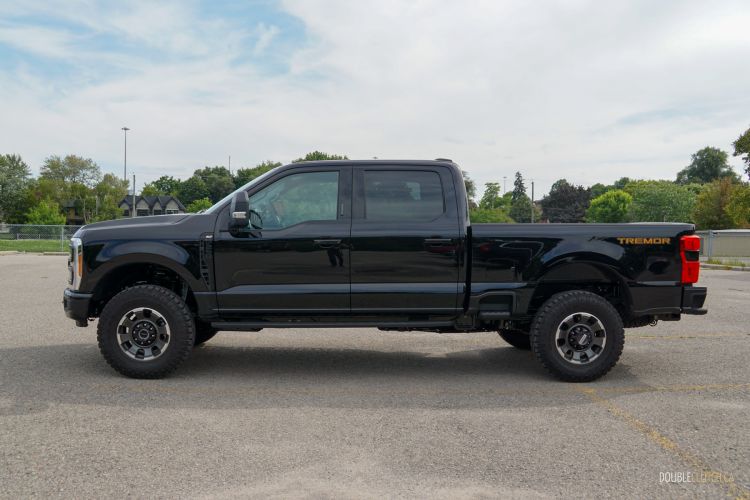 The Tremor package costs $5,500, but also requires a few other options on the XLT trim making the true cost of this upgrade $14,595. Those extra packages bring along things like the black appearance package, blind-spot monitoring and several cameras, a B&O Sound System, heated seats, Ford's Sync 4 infotainment, LED lighting, and more — which are all welcome upgrades. The base F-250 XLT with the Crew Cab starts at $73,295, but ours worked out to $92,485 as-tested, before fees and taxes.
Seating for six makes the F-250 a pretty good work truck for a crew needing to get to a remote job site, or for a family heading out into the wilderness with a couple of ATVs in tow, and supplies and gear in the bed. The off-road-tuned suspension proved rather comfortable even on paved roads, but the knobby tires impacted steering feel and passengers would certainly notice the added road noise. The tire feel alone is enough to make you second-guess the need for the Tremor package if you're buing an F-250 mostly for show, but that isn't the biggest reason I wouldn't recommend it as a family vehicle, or even as a truck for the big-boss who wants something better than the rest of the crew.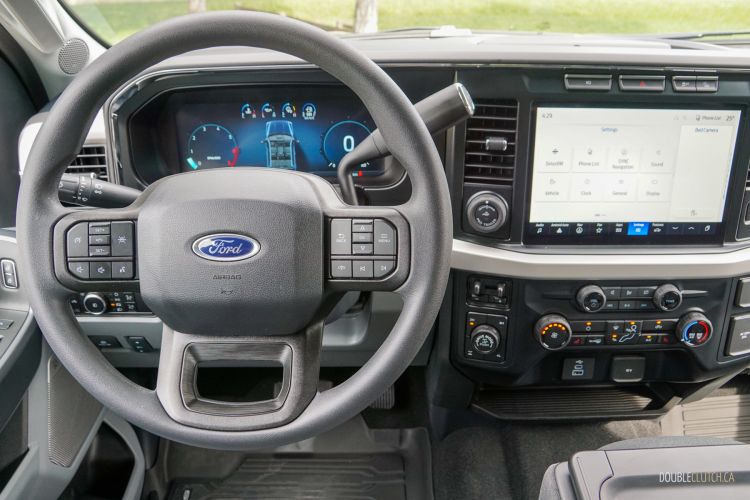 The biggest reason is the powertrain. The F-250 is built to haul, and that's immediately apparent when driving around with no trailer or payload. The heavy-duty 10-speed automatic transmission is dialed in for hauling, so it overcompensates before each shift by letting go of the torque converter lockup a bit early. This means you're launched forward a bit before each shift in a rather unpleasant way — a sensation I can only imagine vanishes when hauling a heavy load, where it instead translates to wonderfully smooth shifts.
Compared to a light-duty truck, it's the opposite: when you're pulling a heavy load, you'd feel a bit of a lurch after each shift as the powertrain compensates for the acceleration lost by the heavy load during shifting, and struggles to regain momentum.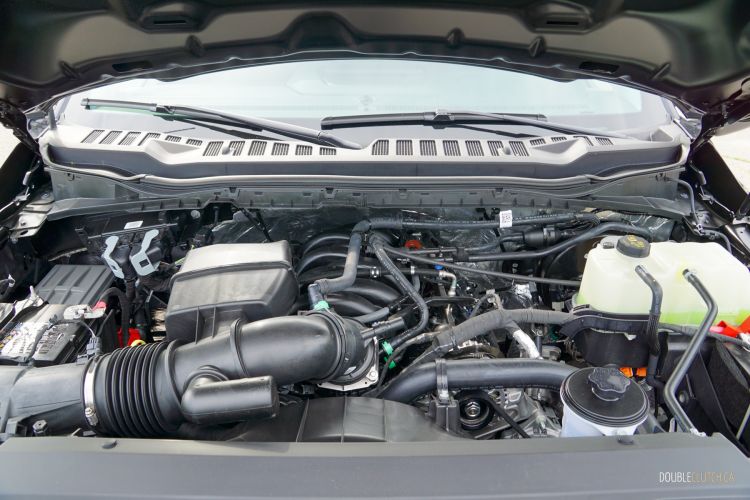 Let's not forget about the engine. Unless you're ponying up an extra $10,975 for the diesel, or $13,475 for the high-output version, you'll burn a ton of gas to drive this unloaded behemoth around town. Rocking Ford's 7.3L 'Godzilla' V8 gasoline engine that is rated for 430 horsepower and 485 lb-ft of torque, our Super Duty stomped around town barely putting any of that power to use, but still managed to consume an average of 25 L/100 km.
But that power can indeed be put to impressive use, and that's why I say the F-250 is a great truck for those who do need to haul. This tester's configuration, with the Crew Cab and 7.3L gas engine, is rated for a payload of nearly 1,799 kilogramsg (3,958 pounds) and a towing capacity of 7,530 kg (16,566 pounds). That's right — it can haul nearly two tonnes in the bed alone. If that is not enough, get yourself an F-350, which cracks the two-tonne mark even without the diesel.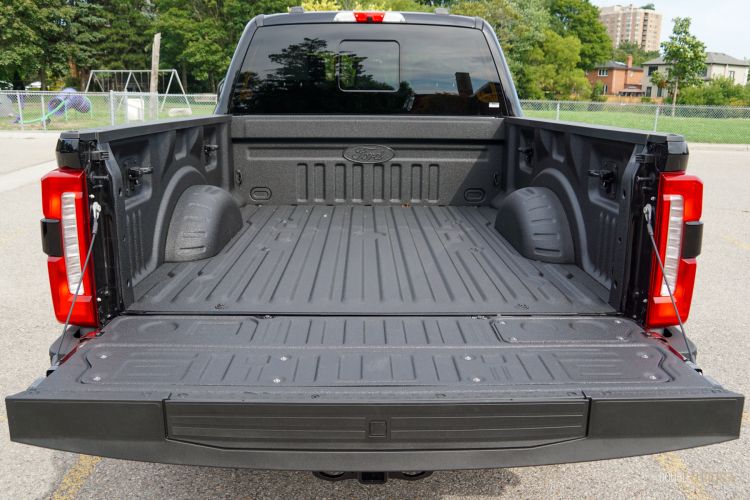 It's hard to imagine actually taking this kind of truck through the kinds of off-road courses you'd take a Jeep Wrangler through. The wheelbase is just massive and would barely make the turns, but the F-250 would be an incredible companion for getting deep into the wilderness with a trailer full of ATVs, or camping way out on a rocky outcrop. You can tow a small city, live comfortably, and even power your gear with the 2.0 kW Pro Power Onboard outlet in the bed.
The 2023 Ford F-250 Super Duty Tremor really only has two competitors in this class — the hulking Chevrolet Silverado and GMC Sierra 2500 HD trucks, and the Ram 2500. Each have their own strengths and weaknesses, but they can all haul significant payloads. This class it usually comes down to brand loyalty, specifications, and price. If you are in the loyalty category to either the GMs or the Ram, take a hard look at the F-250 before you pass it up. It's built to haul and can be equipped with a laundry list of tech that makes this truck feel very modern, and not at all a step down in comfort from a half-ton.
See Also