The GMC Sierra Denali has long been a favorite of ours around the DoubleClutch office, with its decadent interior appointments, excellent neo-traditional powertrain, and thoroughly handsome styling that actually succeeds at justifying its six-figure sticker. This week, I had the privilege of spending some time with its corporate twin: the 2023 Chevrolet Silverado High Country. They're very nearly identical under the skin, with the biggest difference being the general vibe.
See, whereas decked out Denalis get less chrome, dark trim and satin wheels so as to dress up, the Chevy gets more chrome. The split grille of lesser Silverados is shed in favor of a large chrome grille with four thick horizontal bars, garnished with a prominent gold bow-tie logo and bright silver wheels with chrome inserts, to complete the formal cowboy look. It looks far better than every other trim of Silverado, and it might even be more handsome than the all-business Sierra.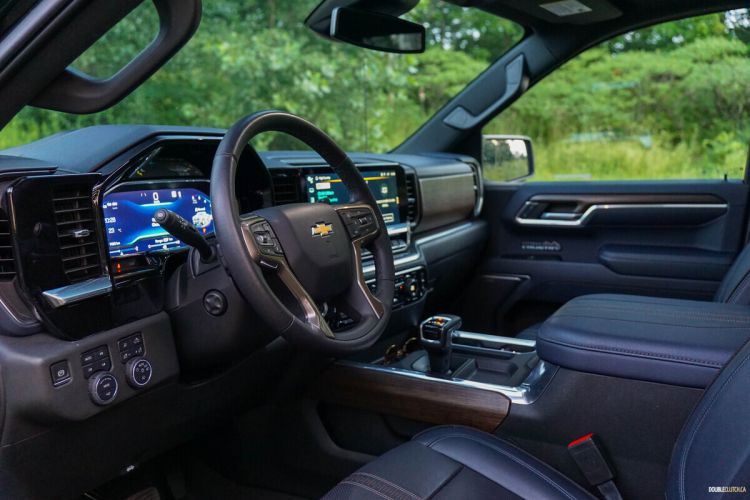 The handsome honky-tonk theme continues inside, with our test vehicle being draped in Nightshift Blue Ares leather and open-pore Paldao wood trim. The dark blue leather, with its contrasting brown stitching and inlay details, bears a striking resemblance to a pair of jeans and looks fantastic against the warm wood, soft black plastics, and metallic finishers. The upper trims of Silverado benefit from the Sierra's updated dashboard design, too. It looks modern and functional.
The biggest upgrade with this dashboard is a more attractive integration of a much nicer display — a wide 13.4-inch touchscreen, flanked by a 12.3-inch digital gauge cluster. The infotainment system is equipped with Google software for maps, search and assist functions, and the gauge cluster is easily configurable to display whatever you want to see. It's all very well thought-out and generally intuitive, but we noticed a number of functions could be quite slow to load and respond at first.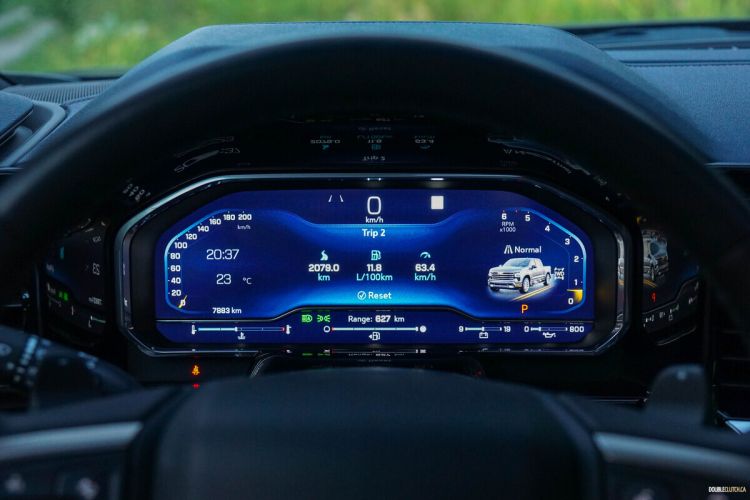 Our High Country tester is a lovely place to sit, but it does take a few noticeable steps backwards from the Sierra Denali Ultimate. It makes do with a seven-speaker Bose audio system, rather than 12-speaker system on the GMC. Furthermore, massaging seats and the microsuede headliner aren't available, and it loses a lot of the tech toys that are standard on the top-skew Sierra; the most notable of which is any form of adaptive cruise control, let alone GM's genius SuperCruise.
None of this means it's anything but a pleasure to drive. It's impressively refined and comfortable, courtesy of electronically adaptive shock absorbers that also allow the big truck to be impressively agile. Handling is secure and predictable with excellent body control, reassuringly solid brakes, and a wonderfully linear powertrain that makes it easy to toddle along like a limo or roast tires, depending on your mood. All the driver controls are well-gauged and feel right, and it all does a good job of making the truck feel smaller than it actually is.
The cabin is quiet, thoroughly isolated from road and wind noise, and the chassis is relatively free of the body shudders you'd expect in a truck, although not quite as slick as the Ram trucks on air springs. The engine is thoroughly quiet, almost surprisingly so — most luxe trucks leave a generous amount of engine noise on the table to give the impression of brawniness, but GM isn't playing that game here. Its long-proven 6.2-litre V8, with 420 horsepower and 460 pound-feet of torque, just is brawny and doesn't need to make a fuss about it. That said, if you do want to make a fuss about it, a $2,600 cat-back exhaust is available from the factory.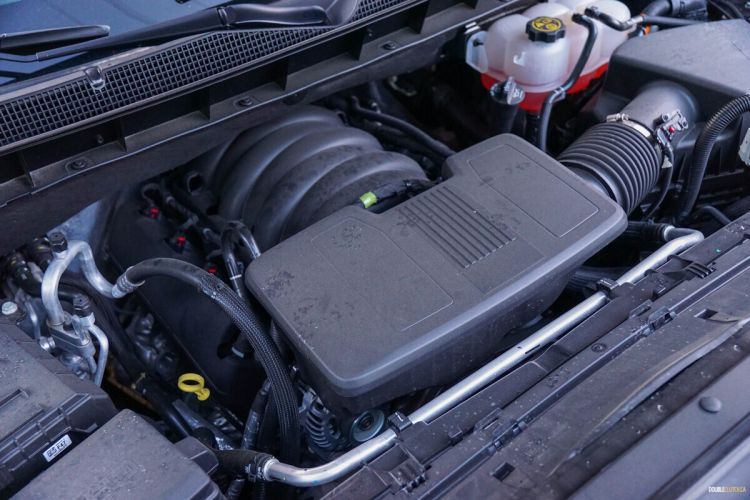 This good-ole-fashioned pushrod V8 forgoes the modern trends of turbocharging and hybrid assistance, and instead proves to us all yet again that there is in fact, no replacement for displacement. Old fashioned doesn't necessarily mean old tech, as it makes use of some clever engineering, including variable valve timing, direct injection, and cylinder deactivation, the latter of which is extremely impressive. You will never notice it working, but you will notice the astonishing fuel efficiency. We averaged 13.7 L/100 km in our testing. This is all enabled by an excellent 10-speed automatic transmission, which was smart and seamless in its operation.
Of course, for all its luxury frills, the High Country can and will put in a hard day's work. It's capable of towing more than 13,000 pounds, and it's got a litany of cameras and sensors to monitor your load and help manoeuvre into and out of tight spaces. The powered running boards that automatically pop out to greet you will also swing towards the rear of the truck to ease access to the bed with a little kick of a button on the side. What used to be GMC's exclusive Multi-Flex tailgate is now available on this Chevy, making access to the bed a cinch. However, the Carbon Pro bed remains a GMC exclusive, the Silverado making do with steel.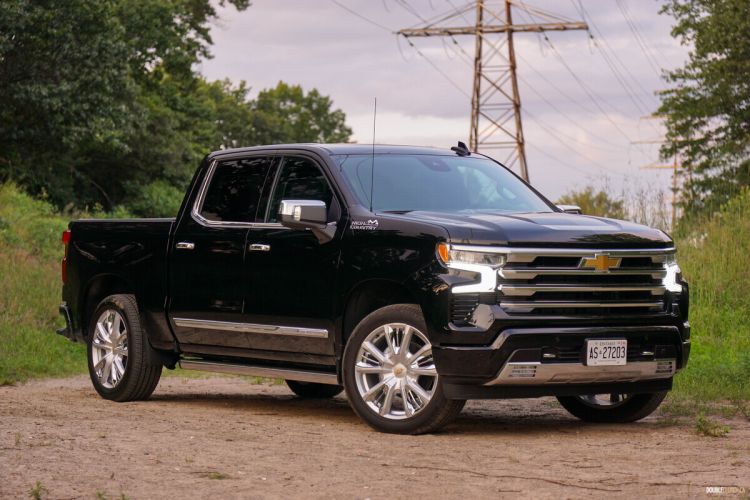 There's really not a lot to complain about with the Silverado High Country. It was designed to be a slightly less pretentious, maybe slightly more honest, and definitely more configurable truck than GMC's top-skew Sierra Denali Ultimate. It's available with either GM's 5.3- or 6.2-litre gas V8 gas engines — or the 3.0L Duramax diesel. Perhaps most importantly of all, the High Country trim is available with either a short bed as is so often the case with luxe trucks, or a proper six-and-a-half foot bed, which will make this an automatic winner over the Denali Ultimate for a lot of people who need their nice trucks to work.
It's remarkably handsome, well appointed, satisfying to drive, easy to use, and impressively efficient, all built on proven engineering without any gimmicks, and at $91,858 for our tester, it's a relatively good value among other luxe trucks. Despite being on what is now a very aged platform and with some ancient engine options, the 2023 Chevrolet Silverado High Country shows us you don't need to be chock full of city-slicker gimmicks to succeed in the fiercely competitive truck market. Maybe a little bit of honky-tonk ain't so bad.
See Also
2023 Ford F-150 Limited PowerBoost
2023 GMC Sierra AT4X AEV Edition