If there was ever an ideal car for a family road trip, the 2024 BMW X5 xDrive50e is it. This luxurious, plug-in hybrid SUV looks great, seats five comfortably, hauls a whole lot of gear, and manages to be incredibly fun to drive while also sipping fuel. I recently took one up for our annual summer cottage road trip with the family, and I'm convinced there are not many that can do it better than this.
Along with its X6 sibling, the X5 has undergone a mid-cycle facelift for 2024. The look is fresher and sportier, while much of what we have come to love in previous X5s over the years remains untouched. The most distinguishable features include the new headlights, tail lights, and the newly designed air inlets on the front bumper and fenders. We are relieved to not see BMW's super-oversized kidney grille on this freshened X5, like we have seen on the M3 and i7, thus remaining one of our favourite SUV designs in the business.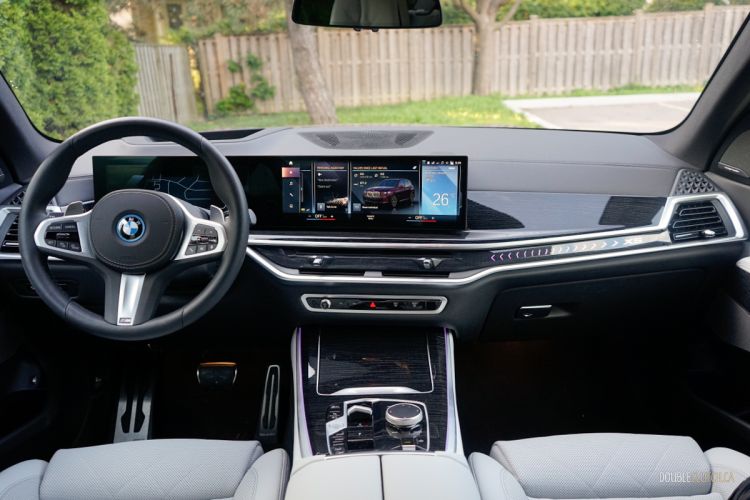 The X5's interior also sees an overhaul. It now features BMW's new Curved Display, as well as a new ambient lightbar across the dashboard. The widescreen display is made up of two screens — a 12.3-inch display behind the steering wheel, and a 14.9-inch touchscreen now home to BMW's latest iDrive infotainment system — behind one panel. The result is an interior layout that is clutter-free and not overly futuristic, but my only complaint is the integrated central air vents. They are positioned a bit too low, making for an awkward airflow angle and the slim vent design made quick cooling during summer heat a challenge.
BMW also revised the plug-in hybrid powertrain for better performance and efficiency. The gas engine and electric motor produce a combined 483 horsepower and 516 pound-feet of torque — very respectable numbers — which is good for a zero-to-100 km/h run of 4.8 seconds. These numbers are a drastic improvement over the outgoing X5 plug-in hybrid, which was rated at 389 hp and 443 lb-ft of torque.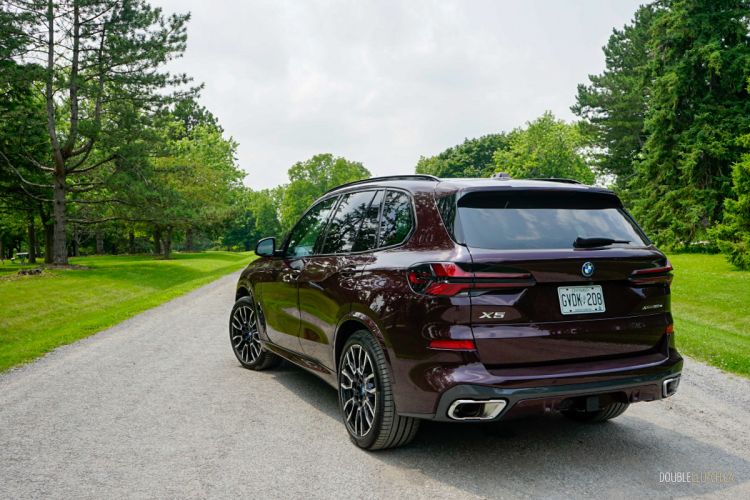 Needless to say, when you need to get going in a haste, the plug-in hybrid X5 can do it with absolute ease, but what's more impressive is when you want to just casually go about in town, the electric motor can do about 64 kilometres before you need to use any gasoline. Under electric power, the X5 behaves just like any EV would — power is instantaneous and did not feel laggy until well into highway speeds.
Over the course of our 600-kilometre road trip, we only used about 42 litres of gasoline, which is absolutely phenomenal considering we had a full load of passengers and cargo. Though premium fuel is recommended, it felt like a bargain considering the amount of get-up-and-go the X5 packs, as well as the 7.0 L/100 km we averaged.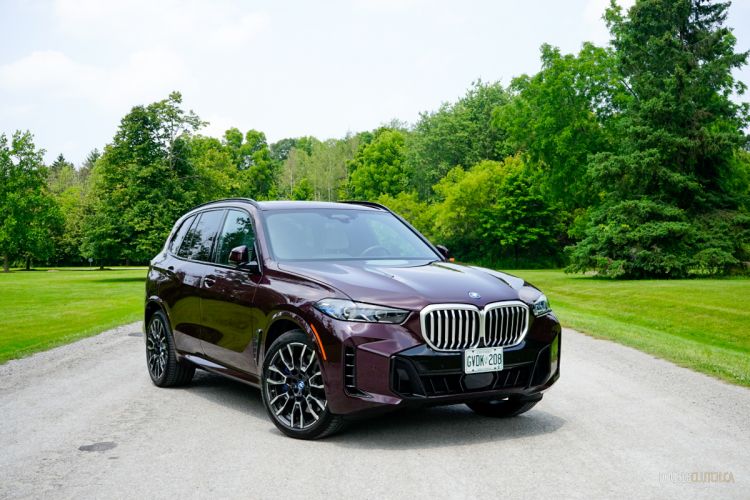 The X5 xDrive50e is not just powerful, but also quite fun to drive. Steering is responsive and accurate, and BMW engineers have done a great job resisting physics in this massive 5,500-plus-pound monster. In the corners, the X5 feels quite stable and planted, with minimal understeer as long as you do not carry too much speed. Brake feel is also quite good for a plug-in hybrid, as many with regenerative braking systems often feel vague.
When you are ready to calm things down, the X5 happily accommodates. The transition between gas and electric is seamless, noise is nicely controlled, the ride is supple, and most importantly, there is plenty of interior space to relax comfortably, even on longer hauls. The optional Sky Lounge panoramic glass sunroof not only lets in a good amount of sunlight into the cabin during the day, it also helps set the mood at night using its embedded ambient LED lighting. This turned out to be a real party trick for the kids on our return trip. We also took full advantage of the X5's 880 litres of cargo space with the seats up — it easily accommodated the kids' bikes along with all of our luggage, which with a family of five, was plentiful to say the least.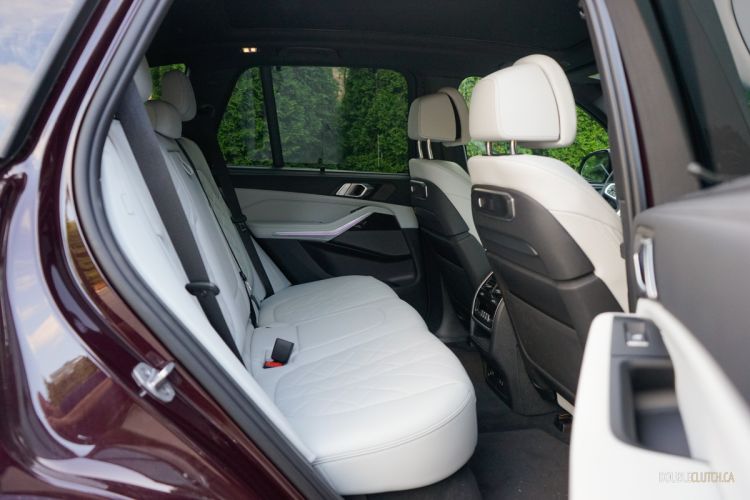 Here's the best part of the X5 plug-in hybrid — all this comfort, performance, and fuel efficiency can be had for a starting price of just $90,500. Even with our loaded tester, its sticker price of $107,000 is still pretty good when you consider just how expensive electrified cars and crossovers have become over the last few years.
To put that into perspective, the last Lincoln Aviator Grand Touring we reviewed topped out at over $100,000, and the Range Rover Sport PHEV just over $140,000. These are just a few examples that immediately come to mind, but regardless, the 2024 BMW X5 xDrive50e drives just as well, if not better in some ways. That is especially true once you load it up and hit the road with the family; on those long drives up to the cottage, the whole package comes together rather perfectly.
See Also
2023 Lexus RX 500h F-Sport Performance