Despite only being in their infancy stage, electric-powered luxury sedans are showing a lot of promises to revolutionize a segment that is traditionally characterized by big displacement and complex engine structures, as well as a ton of sound insulation to drown out internal combustion noises. Last year, we experienced the Mercedes-Benz EQS 580 4MATIC, which while far from perfect, showed us just how an electric motor can enhance the luxury automobile experience. And now, we grabbed the keys to its direct competition – the all-new 2023 BMW i7 xDrive60 – to see how BMW can push the envelope even more in creating the ultimate luxury car.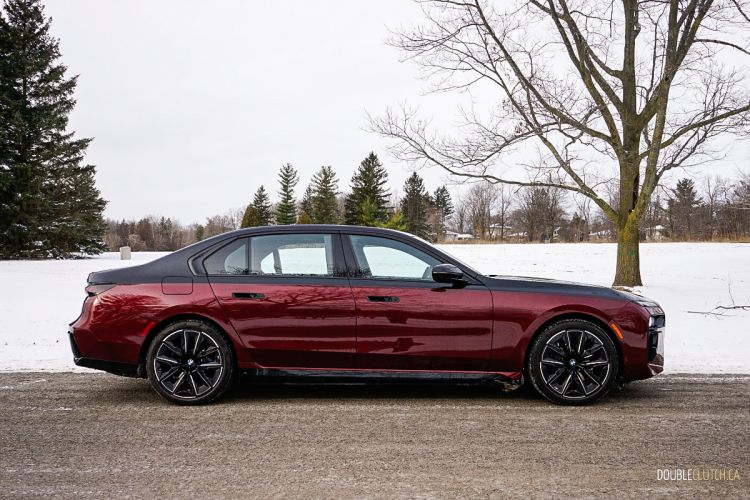 Leading with its styling, the BMW i7 is a lot to take in. Literally, there is a lot of sheet metal wrapped around this full-size sedan – it is 130 millimetres longer and 80 millimetres taller than the outgoing 7-series – setting the tone for a captivating presence. Figuratively, the i7 fully embodies the new 'in-your-face' design language used, not only by automakers, but many modern fashion designers alike, and is a concept popularized by TikTok and other social media platforms.
The signature kidney grille has once again gotten larger and now illuminates, the body contour is blocky, and the razor-thin headlights look out of place on the massive front end, but they definitely achieved what designers wanted which is to get noticed. Almost every passerby looked and gawked, and we were surprised how many of them actually knew what this behemoth is without having to explain. BMW further dressed this i7 up by giving it a distinctive two-tone Black Sapphire Metallic paintwork that costs a whopping $12,000, as well as optional garnishes such as the BMW Crystal Headlights, 21-inch wheels, and M rear spoiler. Like it or not, the BMW i7 xDrive60 is one of a kind and carries the presence deserving of its flagship status.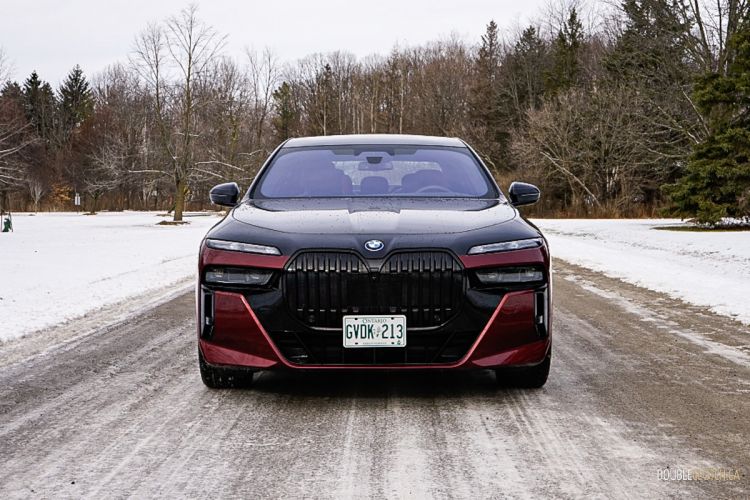 The interior is a whole different story though; it was not only universally accepted, but it managed to wow everyone that came to look at it. The design is one of best interpretations of a futuristic cockpit we have seen in a car – it is a cocktail of Amarone (read: red) Merino leather, crystal glass, metal, ambient lights, and a lot of LCD screens that are well put together in a modern and elegant package. We love the interactive lightbar and LED lighting built into the optional panoramic sunroof that offered great visual effects into cabin. It can quickly change the mood through various colour presets using the MyMode theme selections.
What's even more impressive is when you press the button located inside the infotainment to open the automatic rear doors, your VIP guests are welcomed into what BMW calls the Private Lounge. Our tester is loaded with optional goodies that includes the 31.3-inch BMW Theatre Screen with built-in Amazon Fire TV connectivity, executive lounge seating that includes a fully-extendable leg rest for the rear right passenger, massaging and climate-controlled seats, and a wireless charging pad in the centre armrest. The i7 is also equipped with a state-of-the-art Bowers & Wilkins Diamond surround sound system that comes with bass shakers in the backs of all four outbound seats for a four-dimensional audio experience.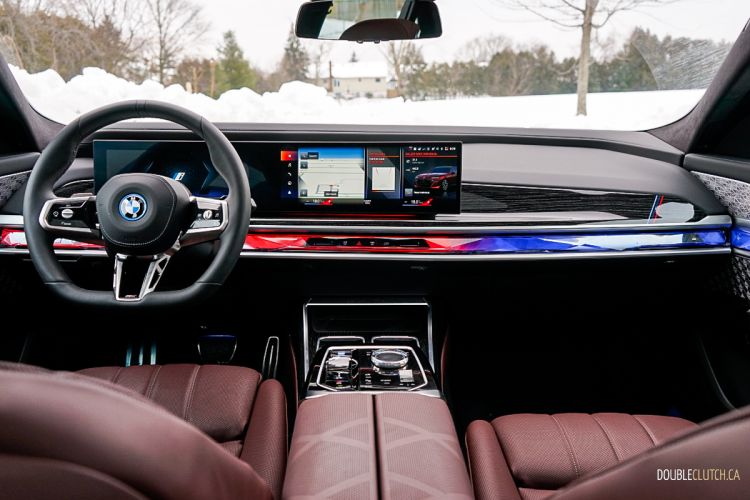 When compared to the typical rear seat entertainment system that has its screens mounted behind the front seats, the BMW Theatre Screen is on a whole new level in terms of delivering on the ultimate home theatre experience. Our initial concern was that the 8K resolution screen would be too bright and too close for comfortable viewing, but it felt natural especially with the seats in a reclined position, and the quality of the surround sound system is exceptional.
As great as an experience it was to ride along in this rolling home theatre, having a roof-mounted panoramic screen that spans across the width of the car meant a sacrifice in rearward visibility. Not only is the rear view obstructed by the screen, the sunshade for the back window also had to be made into a near blackout one to minimize distractions for vehicles driving behind the i7, and that limited the usage for it even without the screen lowered. An easy fix would be to have a rear camera mirror available where images out towards the back can be projected onto the car's rear-view mirror.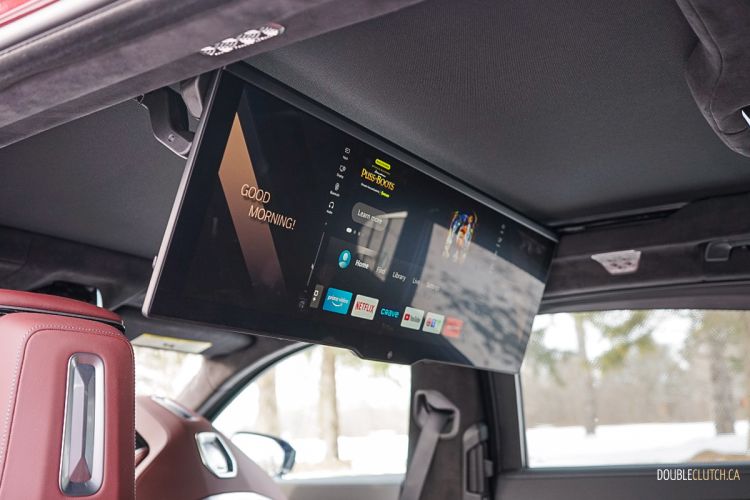 Ride comfort in the BMW i7 xDrive60 is excellent; the silent motor makes for a whisper quiet ride with nearly zero harshness or vibrations felt, and the air suspension system does a perfect job in absorbing every road imperfection. The seats are incredibly well cushioned, the strength of the massager is above-average, and there is no shortage of head- and legroom throughout – not an easy task to achieve when the batteries are squished beneath the floor. Trunk space is wide and accommodative at 498 litres with a pass-through for lengthy cargo.
Two motors – one on each axle – are tasked to power this 5,900-pound-plus sedan. Total output is rated at 536 horsepower and 549 lb-ft. of torque. The electric motors in this case are perfect; the instantaneous torque propels it from a standstill to 100 km/h in less than five seconds, while offering effortless power at any moment's notice. We just love the amount of torque that is readily available; traditionally, carmakers rely on big engines with complex technology layered on top to ensure a supple and smooth ride for their flagships, and the switch over to electric feels like a match made in heaven.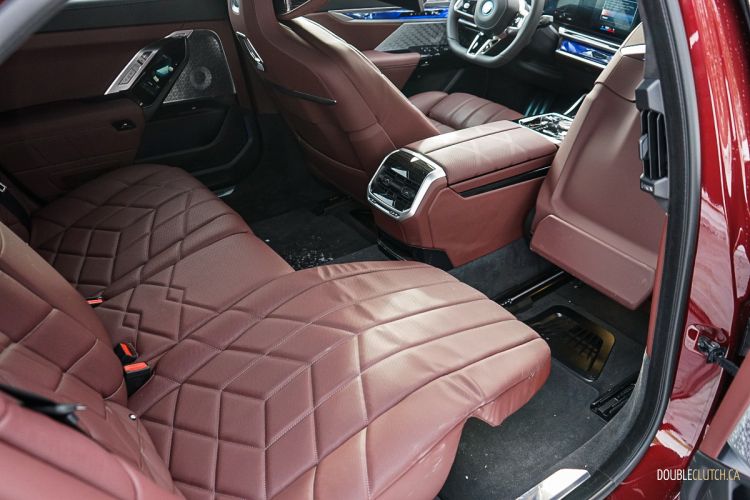 As with any electric vehicles, drive range is of utmost importance and the BMW i7 delivers up to 512 kilometres on a single charge which is plentiful. Our observed range was closer to 380 kilometres which was still respectable given the cold weather seen. The i7 comes with a charging cord that allows Level 1 and 2 charging and it can achieve a full charge from 10% in about 11 hours using a 240-volt Level 2 outlet. Those on the go can also take advantage of Level 3 DC fast charging that can top up about 128 kilometres in range in just ten minutes.
BMW has been a proponent in advanced driver assistance technology and of course the BMW i7 xDrive60 is built with the latest state-of-the-art features that includes functions like forward-collision warning with pedestrian detection, automatic emergency braking, lane-departure warning, blind-spot warning, and rear cross-traffic warning systems. Our tester also had the optional Driving Assistant Professional and Highway Assistant systems that help drivers assume most of the driving on the highway by maintaining a safe speed and distance, making steering input to stay centered in the lanes, indicating lane changes that are necessary, and making the lane change itself as soon as the turn signals are activated.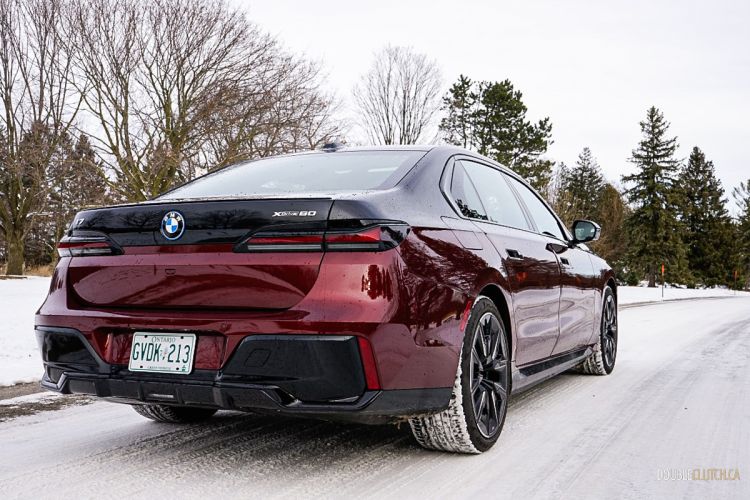 All of these technologies and features comfort come at a price, of course, and the base MSRP of $147,000 is really only the starting point that gives you the standard climate-controlled seats in the front and heat in the rear, soft close doors, and 5.5-inch colour touch display screens located on the rear doors. Our tester came loaded with all of the goodies BMW can throw at it, which brought our as-tested price to an eye-watering $194,200.
That said though, the 2023 BMW i7 xDrive60 does feel like a proper flagship in every aspect, deserving the attention of the world's elites. It delivers not only on comfort and luxury, but also on that promise of a private tech-lounge for the rear passengers that puts it above its peers. Combine with the fact that this runs silently and effortlessly while producing zero-emission, the BMW i7 now reigns supreme in the luxury automobile world, regardless of power source.
See Also:
2022 Mercedes-Benz EQS 580 4MATIC+