It wasn't that long ago that BMW created an uproar amongst their devoted faithful with the introduction of the Bangle Butt. Enthusiasts and journalists questioned the styling direction of this iconic brand back in the early 2000s, and though the Bangle-era styling has aged remarkably well, it took a few years for BMW to right this wrong. Today, we are once again in a similar situation where their unique design direction has become a topic of discussion. The latest entry is this week's 2023 BMW iX M60.
Let's get down to the elephant in the room. BMW has managed to create a buzz with their latest fully-electric entry and at this point, I believe they no longer care what is said by the naysayers online. The Bavarians have always done things their own way and they have no intention of backtracking. And good on them too, because until sales figures begin to prove them wrong, why would they?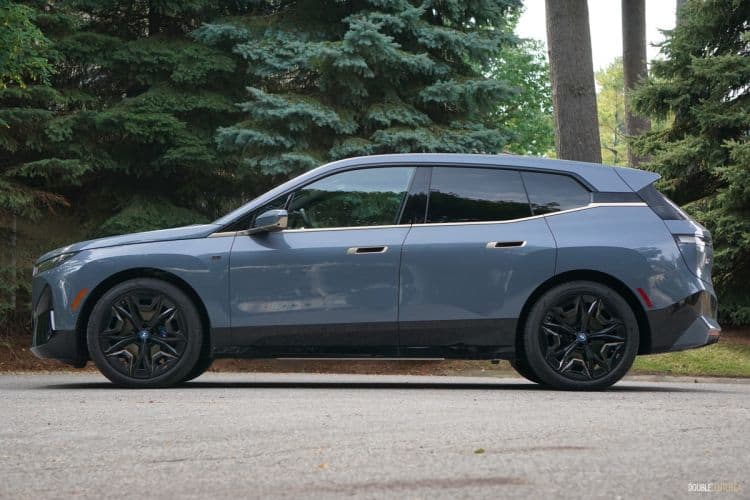 The 2023 BMW iX M60 is bold and brash. It takes no prisoners and makes zero apologies for its face. Most people I spoke with did not embrace the direction that the iX is headed. The side profile received most of the compliments for its typical SUV look. This full-sized SUV embraces the two large vertical kidney grills up front and though I am not a fan, it does look better here than on the M3 and M4. The rear looks futuristic and did grow on me. Our tester had a light bronze trim line and a darker shade of bronze on the wheels, which didn't compliment the overall exterior.
The interior of the iX is where BMW knocked it out of the park. There are a few design choices like the crystal themed seat adjusters on the door which is a bit of overkill but otherwise, it looks and feels utterly fantastic. The quilted seats are gorgeous yet manage to also provide support. Materials used on the seats, dash and door panels are top notch. The steering wheel is angular in shape and may seem odd at first, but give it a spin and you forget how it looks. Around the main control knob are haptic buttons that work well and lend to the overall clean and minimalistic interior.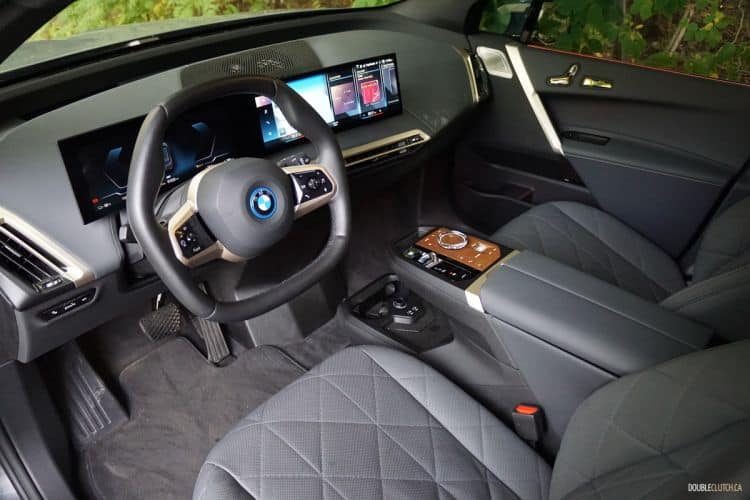 BMW's Digital Cockpit Professional is made up of two digital displays. The digital gauge cluster is 12.3 inches and the main touchscreen is 14.9 inches, both placed in one frameless curved housing. It looks impressive and the sharp graphics lift it to another level. The latest version of iDrive can be found and works extremely well with voice and gesture controls, and the 1,615 watt Bowers & Wilkins Diamond Surround System is simply sublime.
Drivers also have the choice of various IconicSounds, fake sounds piped in through the speakers to simulate motion. They vary depending on the various drive modes and are actually quite cool. These were developed by Hans Zimmer, who is a legendary music composer known for motion pictures such as Gladiator and Inception.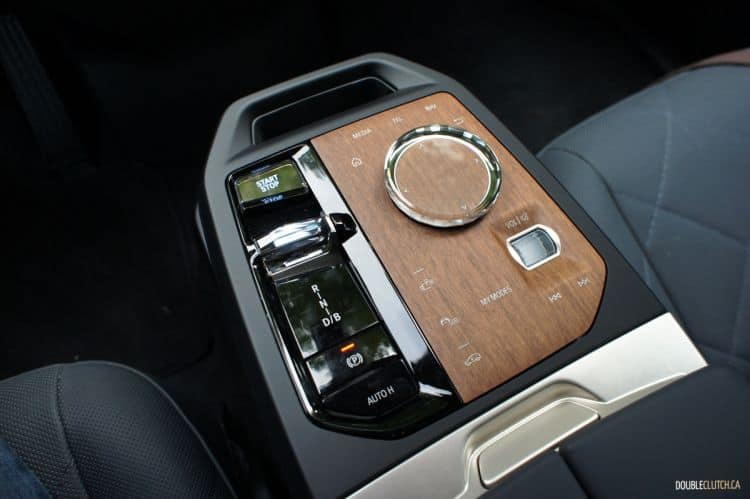 This big crossover tips the scales at close to 6,000 pounds and thankfully has the powerplant to motivate this mass. With 532 horsepower and 749 lb-ft of torque from its electric setup, the iX M60 can move. Put it into Sport Launch mode and these figures jump to 610 horsepower and 811 lb-ft. of torque for a claimed 3.8 second run from 0-100km/h. This is one seriously quick machine that will snap necks and have passengers queasy in no time.
When driving the 2023 BMW iX M60 at speed around curves and twisties, you definitely feel the weight. But with its rear-biased all-wheel-drive system, you know that BMW's engineering magic has been sprinkled around to help aid performance. Active Four-Wheel Steering is present and makes the iX handle like a much smaller machine. The air suspension system adjusts based on the drive mode selected, and even with the 21-inch wheels, ride comfort is never an issue.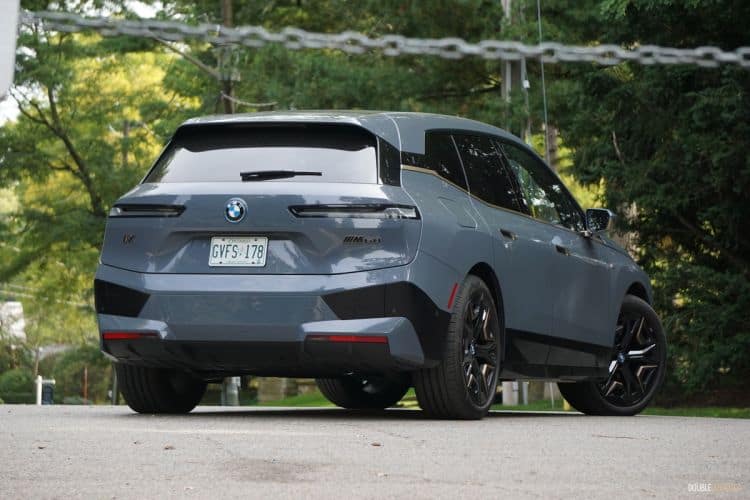 Fully charged, the iX M60's range is rated at 450 kilometers. With the outside temperature in the low 20s, this is the figure that was shown inside. However, as soon as temperatures dropped into the single digits, we noticed a 10 percent reduction in maximum range, immediately. Buyers should note this as winter approaches, range and charging performance tend to drop across the board. If EV range is your priority, opt for the "slower" iX xDrive50 which is rated at 521 kilometers.
With a Level 3 DC Fast Charger and optimal conditions, the iX M60 can achieve a charge of up to 80 percent in 39 minutes. For comparison, the Genesis GV60 can do this in 18 minutes while a Tesla Model X takes 30 minutes using the Tesla Supercharger. A Level 2 home charger at 240V will take just over eight hours to completely fill a 2023 BMW iX M60. The vast majority of buyers will get along just fine with a regular Level 2 home setup.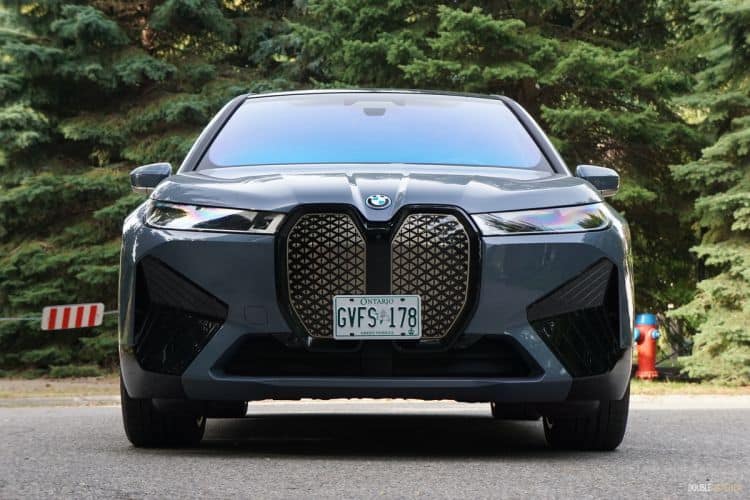 With this being a fully electric, high performance BMW, you can expect a hefty price tag to match. Pricing for the iX M60 starts at $121,750 and our tester with a slew of options comes in at $142,930. It's right in line with the Mercedes-Benz EQS SUV, Tesla Model X, and Porsche Taycan.
While the performance is amazing and horsepower numbers are simply mind boggling, the 2023 BMW iX M60 is the perfect example of the premium EV market today, with manufacturers racing to make the highest horsepower and achieve the quickest acceleration times. Make no mistake, the iX M60 is a technological achievement and will easily sell out even if the looks are not to my taste.
See Also:
2022 Genesis GV60 Performance AWD
2022 Ford Mustang Mach-E GT Performance