When Lexus burst onto the scene in 1989, it wasn't what it brought to the table that made people take notice — it's what it didn't.  The absence of noise, vibration, and harshness in the original LS is what got people talking. The "absence of" became a reputation of sorts for Lexus, carrying on into its reliability ratings and lack of frequent or costly repairs. But the problem with the "absence of" being your claim to fame is that when people eventually get used to it, it becomes a little unremarkable, and that brings us to the 2024 Lexus RZ 450e.
The RZ brings much of what the original LS brought to the table, which more than 30 years later (and with a competitor base that has made strides in noise, vibration, and harshness themselves) doesn't have the same wow factor as it once did. But Lexus knows much of its consumer base isn't looking for wow. Instead, they're looking for something that has the exact same traits as the OG Lexus, and the electrified and techno-laden RZ might just fit the bill to a tee.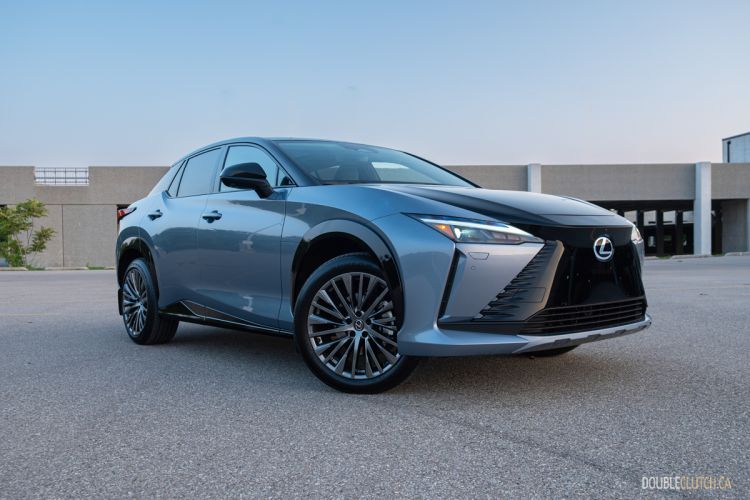 In keeping with a simple philosophy, Lexus continues to group options into just a few packages, rather than the lengthy checklist many German rivals offer up. Our tester was the range-topping Executive trim, loaded with everything you could possibly want, from a suite of very good driving assists and a crisp-sounding Mark Levinson sound system, to two-tone paint and beautiful 20-inch wheels.
The exterior is unmistakably Lexus, with the signature "spindle grille" up front despite having no real grille, and familiar headlight design. The rear three-quarter view might be my favorite, with a surprisingly sharp and sporty-looking rear end, an attractive light bar connecting the tail lights, and a sloping roofline accentuated by what I can only describe as two giant fangs hanging off the roof. The overall look is helped by tight proportions overall, falling in line somewhere between the NX and RX SUVs.  This is one SUV that doesn't feel the need to be needlessly large, something that helped it shine in the driving department.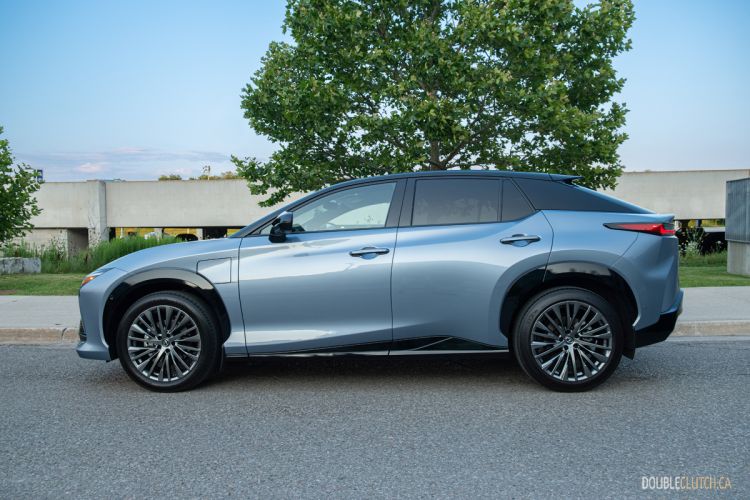 Lexus says they purposely stuffed a smallish 71.4 kWh battery pack in the RZ to keep weight down and improve driving dynamics, but I'm not sure the low-ish 308 horsepower and 315 kilometres of range were a worthwhile trade-off. Yes, the driving dynamics are good. The RZ doesn't feel like a heavy SUV. In fact, I'd say it borders on sporty, with a stiffer-than-expected suspension, good steering feel in both Normal and Sport modes — we had the regular steering wheel in ours, not the yoke, unfortunately — and a very linear throttle pedal. Even the 308 hp feels adequate, even if a little more wouldn't hurt.
But as much as I enjoyed all of that, the 315 kilometres of range had me planning out my trips and making sure I wouldn't run out of electrons. On more than one occasion, I set the regeneration to max to squeak out as much mileage as I could, even though I didn't particularly like the herky-jerky feel of maximum regen. That being said, I did appreciate the brake light graphic in the gauge cluster, letting me know when the regen is strong enough to activate the brake lights.
Charging the RZ can take longer than some competitors as well, due to the 150 kW charging architecture. Genesis, for example, offers up to 240 kW on the GV60. This means the RZ will take about 30 minutes to go from a 10 to 80 per cent charge, versus the GV60 giving you that much charge (and more range, to boot) in as little as 18 minutes. Lexus has a reason for this, claiming that the slower charging will help maintain battery integrity and charge capacity over the years. You could also argue that most of the RZ's customers won't travel more than 315 kilometres in a day and will charge daily overnight, minimizing the impacts of slower charging speeds and range anxiety.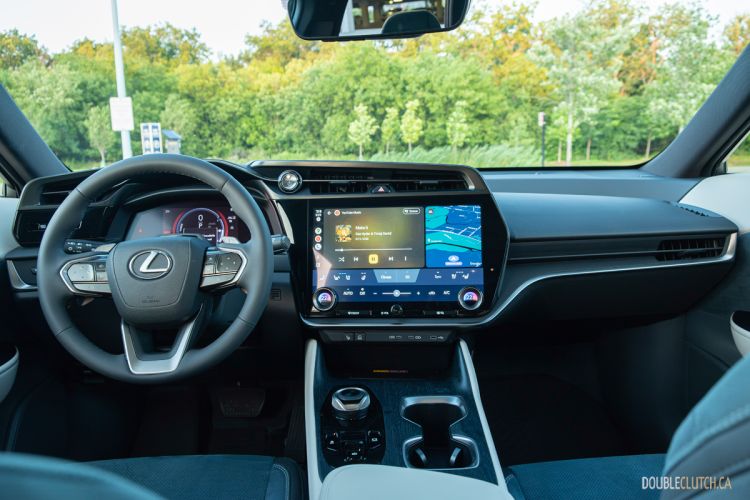 The interior is a serene place to be, giving off minimalist vibes with its light ivory and blue colour scheme and interesting use of materials throughout; I was particularly fond of the "Thunderstorm" ultrasuede seats. Space is plenty adequate for a vehicle of this size, only falling short in the trunk department due to that aforementioned sloping roofline, although the opening is wide. The large, two-panel sunroof has a neat party trick where you can make it go completely opaque with the touch of a button. However, the infotainment might be the star of the show, offering up a very clean and modern user interface on its tack-sharp 14-inch touchscreen display.
The digital instrument cluster tells a separate story, clearly designed for the RZ's "lesser" siblings, the Toyota bZ4x and the Subaru Solterra. It's tiny, and has big black borders on either side and soft graphics on a matte screen. It really takes away from the feel the rest of the cabin provides. A solid heads-up display wins back some points, providing context to the multi-function touch sensitive steering wheel buttons.
Another hard-to-ignore part of the experience is all the beeps and warnings that Lexus insists on including. The seatbelt beep is among the loudest I have heard, the "driver not paying attention" alert is far too sensitive and useless, if you don't drive with your hands at 10-and-two. Heck, the RZ constantly beeps at you while in reverse, like you're piloting some kind of commercial bus. I understand safety, but the fabulous 360-degree camera provides enough reassurance as to where you're going. Thanks for caring, Lexus, but we don't need this level of babysitting.
At $80,850 as-tested excluding freight and PDI, it's hard to argue if the 2024 Lexus RZ 450e provides enough value to justify its price compared to its lesser Toyota and Subaru siblings, not to mention far more powerful and exciting, equally luxurious, and cheaper EVs like the GV60. The RZ is a great Lexus and will certainly satisfy existing Lexus owners looking to make the jump to EVs, but doesn't move the needle enough to bring any newcomers into the fold.
See Also