Here's a not-so-far-fetched hypothetical: you're ready to go electric, and you like the idea of a Tesla Model 3. You dig the minimalist interior, the boatload of cool tech, and you can probably do about 500 kilometres between charges. Of course, when you're dropping almost $80,000 on a premium EV, you also probably care about things like refinement, fit-and-finish, and because Model 3s are practically everywhere, you want something a little rarer. Enter the 2023 Polestar 2 Dual Motor.
You may remember Polestar as the Swedish automaker's in-house tuning division, spicing up plain-jane models with go-fast bits and bright blue paint. But that was a different time — today, Polestar is its own brand focused on performance-oriented EVs. There's a lot of Volvo influence inside and out, but as far as the badges are concerned, the Polestar 2 is definitely, totally, 100 per cent not a Volvo.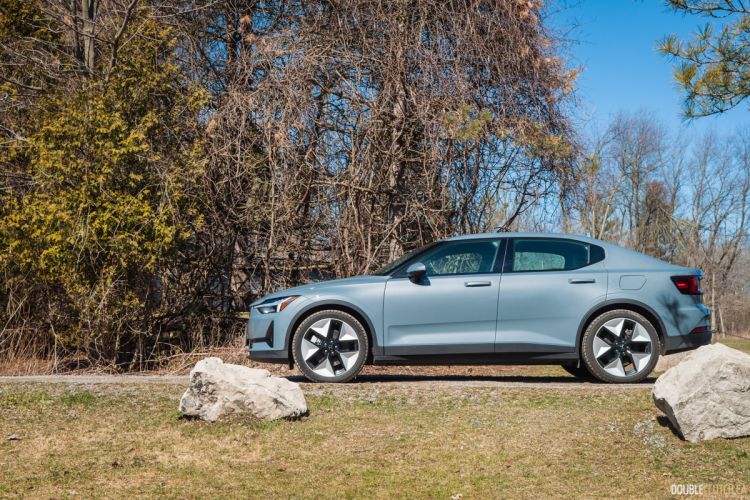 The base Polestar 2 makes an unremarkable first impression, at least on paper. Starting at just under $54,000, base 2s are powered by a single electric motor on the front axle, putting out 228 horsepower and 243 pound-feet of torque. Weighing in at just over 4,500 pounds, it's as sprightly as you'd expect, with a seven-second zero-to-100 km/h sprint. But at least range is decent, rated at 434 kilometres on a single charge. 
For not-much-more money, the dual-motor Polestar 2 on test here is definitely the one you want. As the name suggests, it gains a second electric motor on the rear axle, bumping total output to 402 hp and a meaty 487 lb-ft of torque, and cutting your zero-to-100 km/h sprint down to 4.7 seconds. If that's still not enough, the optional Performance package boosts output to an even meatier 469 hp and 502 lb-ft of torque. Impressive numbers in a vacuum, but it's outshined by other performance-minded EVs like the Kia EV6 GT and the Tesla Model 3 Performance.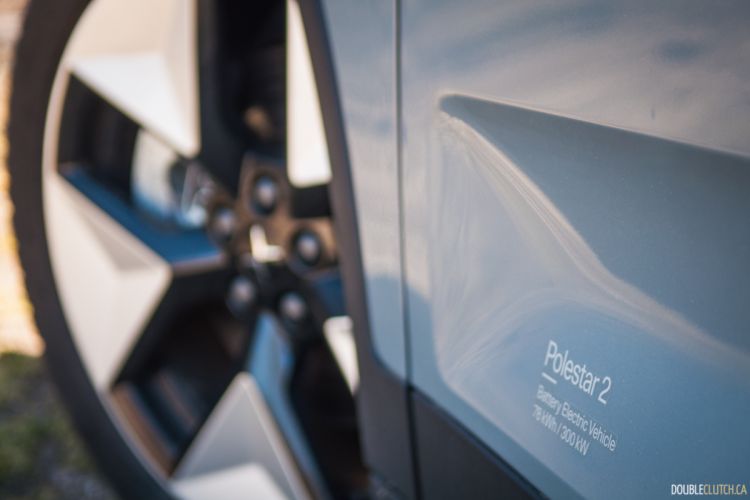 Nevertheless, it's not always about the numbers. Take the EV6 GT, for instance: with 576 hp and its hilariously tail-happy nature, the EV6 is a properly fun car. But it can also be a bit much: crank everything up to 11 and the wallop of instant torque and ferocious acceleration is a great party trick, but it's also a bit much. The throttle pedal can sometimes feel like an on/off switch, even dawdling around town. It's a little tiring. 
There's a similar sporting nature to the Polestar 2, but you have to dig a little to find it. Dawdling around town, you'd never guess the 2 is packing 400-plus horses. There are no Jetsons-esque sound effects, no overboost or drift modes, and very little in the way of drive modes. The steering is accurate, responsive, and very light, even in its heaviest setting. The ride is firm, but not overly harsh. Power delivery is a big contrast to the on-off switch-like behaviour in other performance EVs; put your foot into it and the Polestar 2 eases you in for the first half-second before shooting you forward.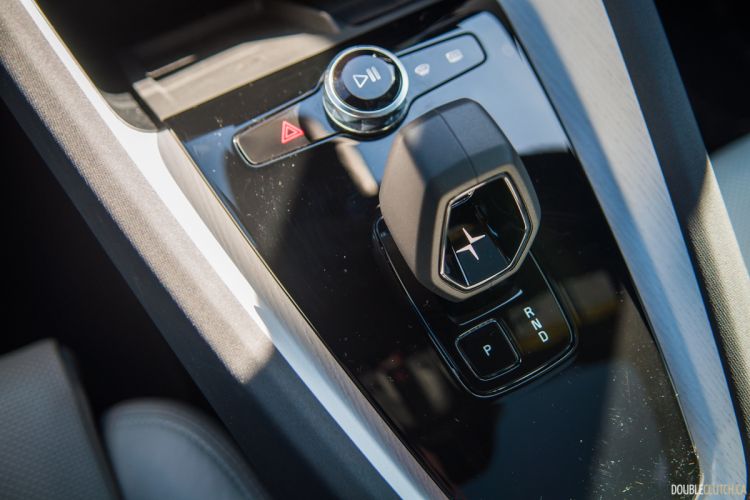 All that said, the Polestar 2 can still put a smile on your face. Crank the wheel too quickly and you may get a hint of body roll, but it corners commendably flat and there's ample grip. Once you get past that initial throttle ease-in, acceleration is still ferocious and unrelenting. Ease the stability control choke-hold, and the Polestar 2 is a wee bit tail-happy, too.
All Polestar 2s utilize a 78 kWh lithium-ion battery, resulting in an EPA-rated range of 418 kilometres on paper. Our real-world numbers were close, coming in at 350 km in the chilly early April air. Recharging that battery takes about 8 hours using a standalone charger at home; plug into a Level 3 quick-charger with 10 per cent of juice left, and you'll get to 80 in about half an hour — or so Polestar says. Of course, public charging is always a game of roulette; we plugged into our local Level 3 charger with the readout showing a big fat zero, and came back just over an hour later at 68 per cent, which would've been enough for about 280 km.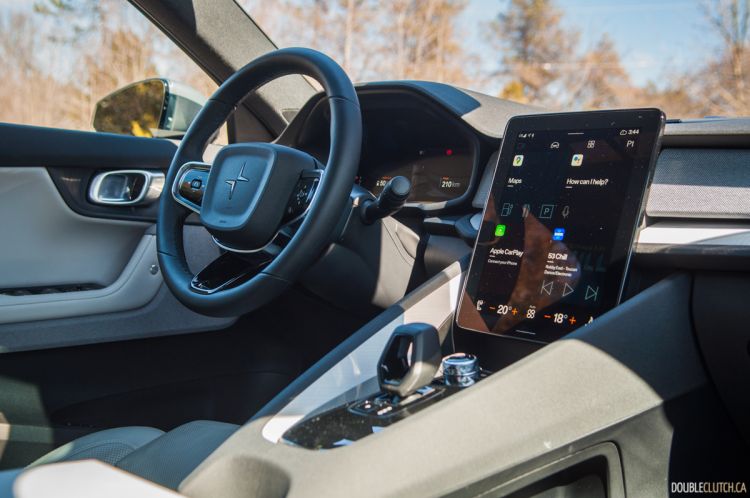 On the outside, the Polestar 2 certainly looks and quacks like a Volvo. Despite the different badging, there's a strong familial resemblance between the 2 and pretty much any other Volvo, and despite the sedan-like silhouette, the liftback is a welcome and practical touch. It's a handsome car overall, but Polestar's colour options are downright dreadful — you can choose from white, silver, beige-ish silver, primer grey, bluish grey, and black. And they all cost $1,500, except for silver. What happened to Rebel Blue?!
If you like Volvo's knack for minimalism, you'll love the Polestar 2's cabin. The layout is clean and simple, fit-and-finish is top-notch, and while there isn't a lot of razzle-dazzle to the in-car tech, the infotainment is intuitive and the graphics are crisp and intuitive. Moreover, visibility all around is superb, the whole space is well-isolated from wind and road noise, and despite the lack of physical switchgear, it's all fairly intuitive.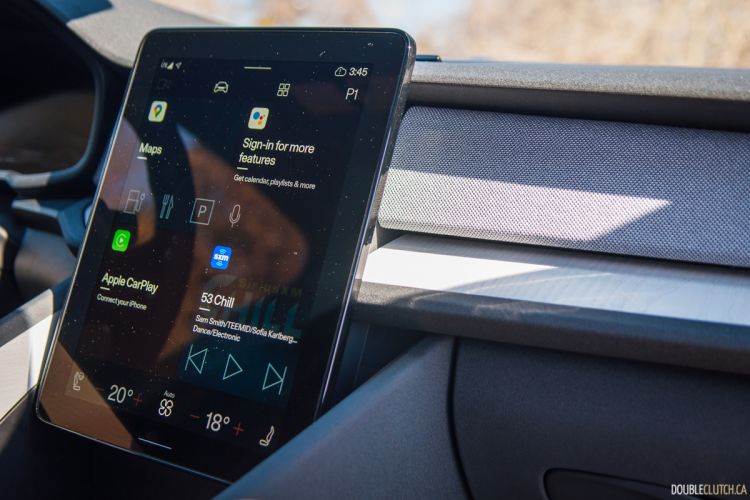 We have a few gripes, though. The fixed glass roof, lack of a sunshade, and gloss black trim on the centre console creates a lot of midday glare. There isn't a lot of storage up front, either; you'd think with the flexibility of EV packaging, the Polestar 2 would have larger cubbies and more storage pockets up front. Oh, and for the money you're forking over, wireless CarPlay and Android Auto would've been great.
Speaking of money, the Polestar 2 covers a broad range. Base, single-motor models start at $53,950, while dual-motor 2s kick off at $58,950. Factor in all the options and packages specced on our tester — some nifty, others you'd expect to be standard, like a heated steering wheel, adaptive cruise control, and of course, a paint colour that isn't silver — bringing the grand total up to $77,350. That puts the Polestar 2 squarely within the same league as the EV6 GT, GV60 Performance, and of course, the Model 3 that everyone seems to have.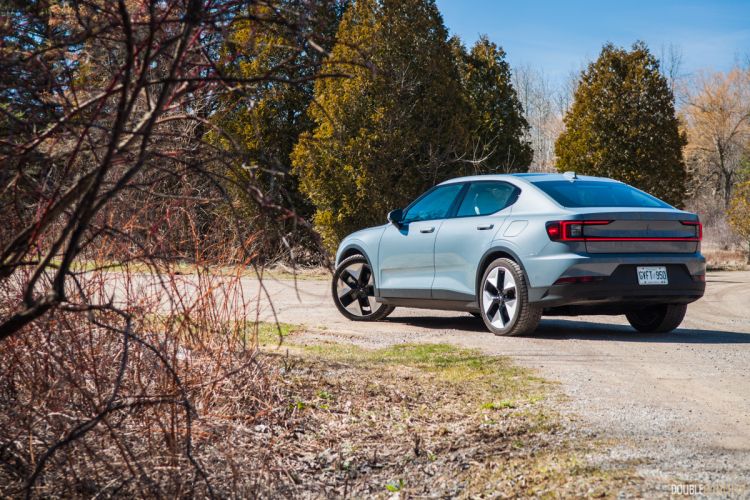 The EV segment is a bit of a popularity contest. Some try to win you over with edgy styling and a boatload of cool tech, others with all the torque and the ability to sprint from zero-to-100 km/h faster than you can say "Bob's your uncle." The 2023 Polestar 2 Dual Motor lives somewhere in the middle: if you prefer a more balanced and subtle approach to sporty EVs, look no further than this Volvo by any other name. 
See Also: