The last time Kia pulled the wraps off a halo car, it was a world-beater. The Stinger simultaneously put the entire sport sedan segment on notice and redefined what "a Kia" could be. But as the Stinger nears the end of its run, the 2023 Kia EV6 GT is poised to take the reins as Kia's halo car. Trouble is, it's really hard to make lightning strike the same place twice.
Think of the EV6 as Kia's version of the HYUNDAI IONIQ 5 and GENESIS GV60. Strip away the paint, wheels, sheet metal, and pretty much everything else identifying it as a Kia, and the EV6 is essentially the same vehicle underneath as its all-electric cousins. Where the IONIQ 5 adapts a retro-modern look and the GV60 is billed as the upscale version, the EV6 — particularly the hot-rod GT — positions itself as the sporty one of the bunch, at least until the IONIQ 5 N arrives.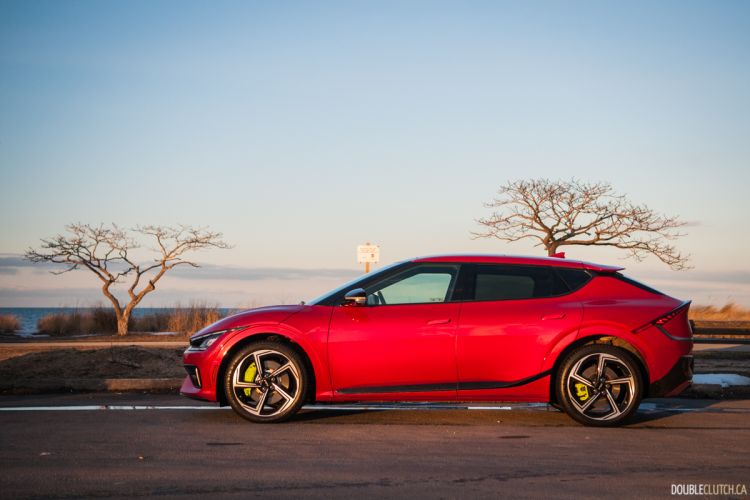 The numbers certainly back this up. To make the GT what it is, Kia left the 77.4 kWh battery pack unchanged, but it moved the standard, rear-wheel-drive EV6's 160 kW electric motor to the front, and plugged in a 240 kW motor out back. The end result is a whopping 576 horsepower, 545 pound-feet of torque, and according to Kia, a zero-to-100 km/h sprint of 3.5 seconds. Those numbers handily blow Kia's last halo car out of the water.
In addition to those powertrain tweaks, the EV6 GT boasts a number of additional performance-focused hardware upgrades over lesser models. The brakes are a dead giveaway; the 15-inch front and 14.2-inch rear discs are appreciably larger than the 12.8-inch rotors fitted to the standard EV6, not to mention the calipers (including a four-piston monoblock setup up front) are finished in a decidedly Porsche-like acid green. The GT also gets a quicker steering rack and a unique front strut design, as well as an electronic limited-slip differential on the rear axle and 21-inch wheels shod in Michelin Pilot Sport 4 S summer tires, although our particular tester wore Continental winter rubber.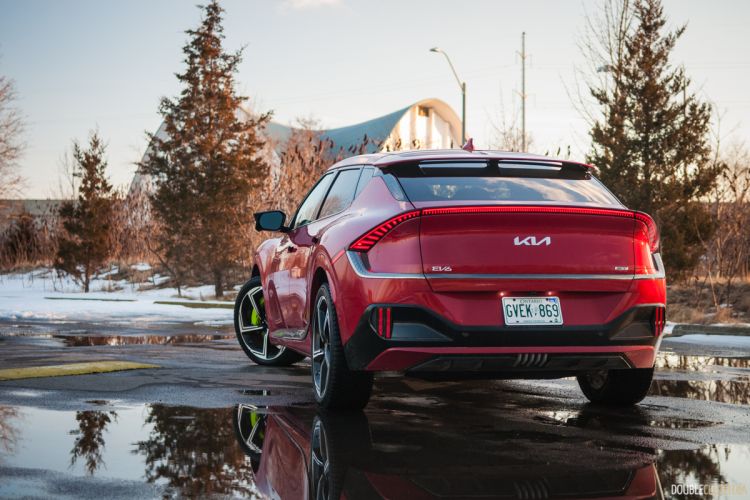 Toss it all into a bowl, mix until well-combined, and as a performance car, the EV6 GT impresses. With all 545 lb-ft of torque available right off the line, it's wicked fast and addictive; crank it all up to 11 by tapping the acid green button on the steering wheel — this activates the EV6's GT drive mode, which sharpens all inputs and unleashes all 576 ponies — floor it, and you (and your passengers) will practically be superglued to the seats until you let up.
Steering is well-weighted and responsive, but work the wheel too quickly and you might pick up an unexpected shot of body roll as the EV6's mass transfers from side to side, but there's plenty of mechanical grip to hold its own on a tight on-ramp.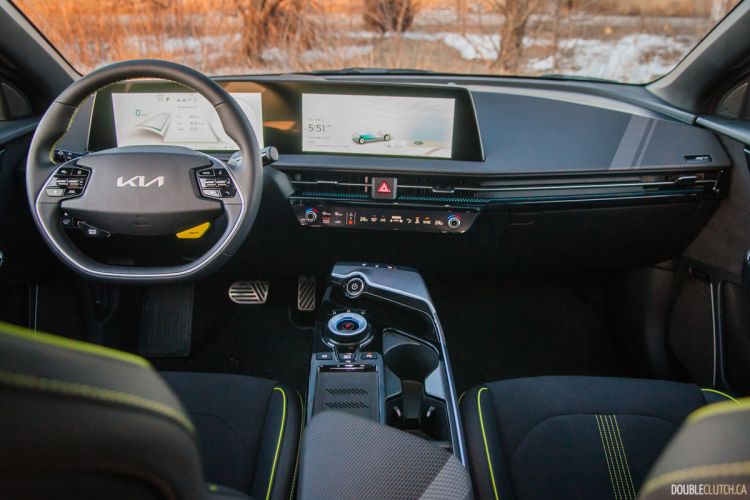 Not to mention, the EV6 GT is surprisingly tail-happy. Goose the throttle around a corner, and the back end will kick out just enough to make you giggle before the fun police (read: stability and traction control) shuts the party down. There's even a Drift Mode for more tail-wagging antics, although you have to jump through hoops in order to fully activate this Easter egg. Say what you will about EVs killing driving fun, but there's a surprisingly playful side to the EV6.
Performance may be the name of the game here, but the EV6 GT is perfectly content with being treated like a regular car, too. Despite the 21-inch wheels and rubber-band tires, only the roughest of bumps, potholes, and other imperfections make themselves known. Wind and road noise are well-controlled, too; the double-pane front windows and whisper-quiet powertrain — you can choose from a trio of soundtracks for the electric motors, or silence them completely — make for a serene driving experience.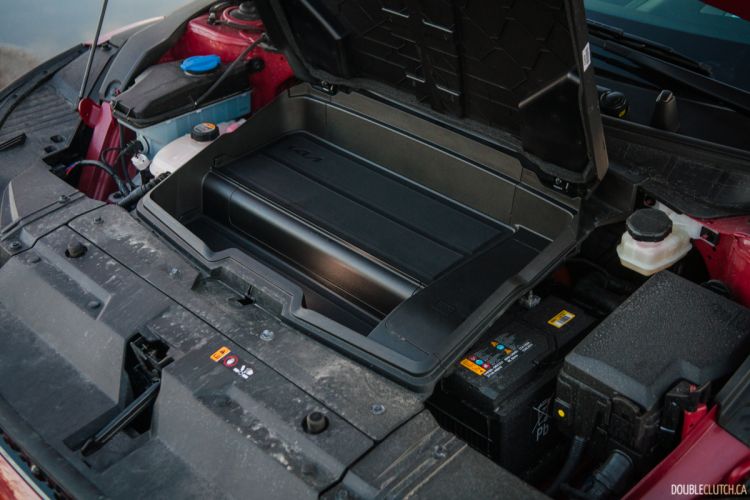 Now, as dynamically impressive as the EV6 GT is, you do have to make some concessions. First, and most notable, is range. On paper, lesser EV6s can do anywhere between 373 and 499 kilometres on a full charge, depending on battery size and motor configuration. On the other hand, the GT is officially rated at 332 km, although the best we could eke out in the middle of winter was about 310 km, which admittedly isn't that far off. You could probably beat those numbers "in ideal conditions", with ample regenerative braking, and with far fewer full-throttle pulls. 
Fortunately, the EV6's 800-volt architecture somewhat makes up for the lacklustre range with speedy charge times. Kia says you can expect a 10-to-80 per cent charge in 18 minutes on a Level 3 charger. Of course, your real-world experience may vary, especially if you rely on public charging infrastructure. We plugged into a Level 2 charger while running some errands, and after about an hour, that stint only added about 20 km.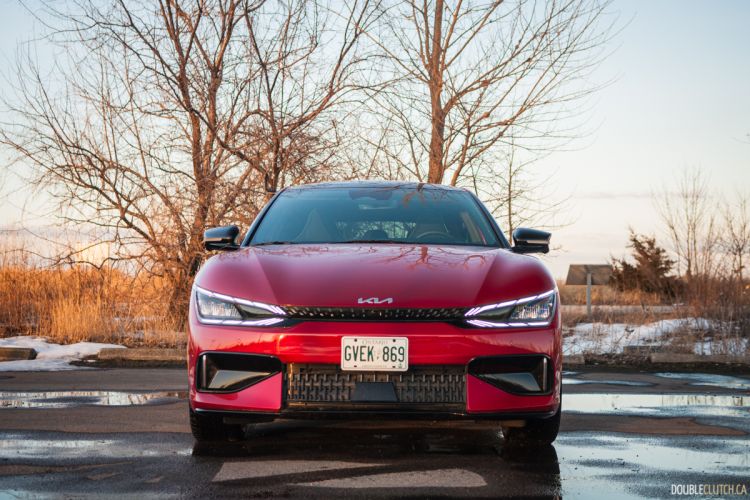 At least it was enough to get home; we then promptly plugged the EV6 into the Level 3 charger closest to home with the battery hovering around the 10 per cent mark and hopped back in about an hour and a half later with a full charge. Not bad, but then again, relying on public charging infrastructure is often a dice-roll. 
The second concession to the EV6 GT is its interior appointments. It's a pleasant enough environment, but it simply isn't worth the price tag — more on that later. The layout is as creased and angular as the sheet metal, visibility all around is pretty good — except for out the back when the rear window is dirty, on account of the EV6's lack of a rear wiper — and the infotainment is responsive and boasts crisp graphics.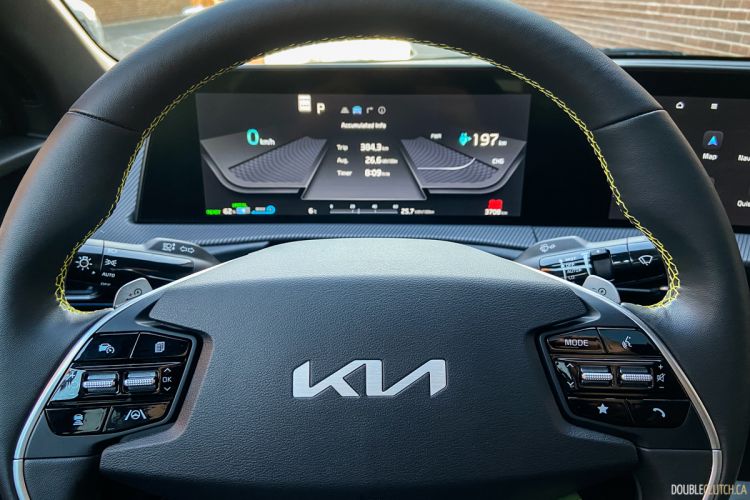 But materials feel slightly above average at best, and there's one infernal UX gimmick we just cannot get over, aside from the lack of a rear wiper: the combined touch panel handling the infotainment and climate controls. This setup is just plain stupid. Technically, you get two physical knobs, but you have to hit a tiny arrow on the touch panel in order to flip between infotainment and climate controls. Performing even the simplest of tasks, like turning up the volume, is frustrating and requires you to take your eyes off the road momentarily to ensure you're hitting the tiny little arrow icon. Do better, Kia. 
And finally, we have the price. The base, rear-wheel-drive EV6 starts at a not-totally-unreasonable $44,995 — just barely qualifying for the federal EV rebate. But this full-zoot EV6 GT costs a lot more, at $75,495, plus $250 for a colour that isn't black. That's a lot of money, considerably more than Kia's last game-changing halo car. It's also a lot of money for stuff that's missing; oh sure, the GT dazzles you with Jetsons-inspired sounds, funky ambient lighting, and gobs of insta-torque.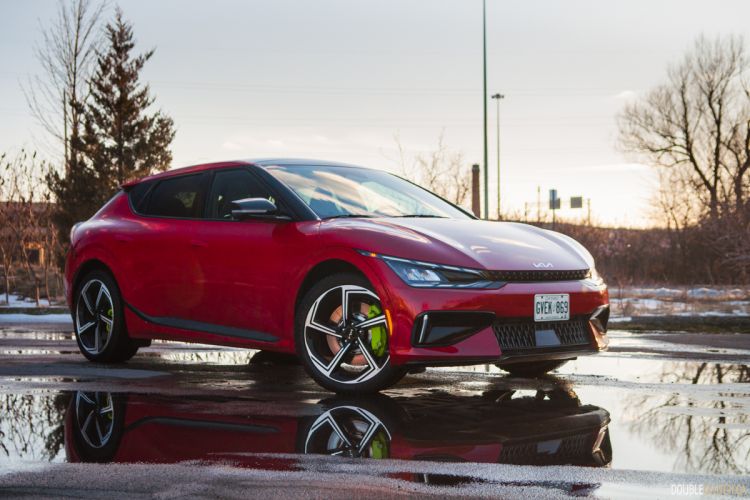 It's also missing some pretty weird basics, like wireless CarPlay and Android Auto, the gosh-darn rear windshield wiper, and strangely enough, power-adjustable seats. That's right — you're forking over almost $80,000 for something with manual seats, and it's not like the EV6 GT is an M2 or an Exige. For that kind of money, the GV60 Performance has a bit less torque, but feels much more hashtag-worth-it inside. 
The trouble with following up on a halo car is, it's really hard to make lightning strike the same place twice. Part of what made the Stinger such a world-beater was that it did things much more expensive cars would, at a much lower price point. The 2023 Kia EV6 GT is a stellar evolution — it's fast, futuristic, and makes spaceship noises — but the almost-$80,000 price tag makes it a tough sell, particularly when the GV60 feels much more upscale inside, and the upcoming IONIQ 5 N promises similarly wild performance — and a rear wiper. 
See Also:
2022 Ford Mustang Mach-E GT Performance