A lot of people tend to forget that Nissan was among the first to enter the modern EV game with the little Leaf, whose sales were never very strong on this side of the pond, and have since fallen off a cliff. Without having an established market precedent, Nissan went with the logical assumption that someone shopping for an EV would be seeking something economical, sensible, and that tread lightly on both the wallet and the planet. Their second dedicated EV, the 2023 Nissan Ariya, is a tacit admission that they were wrong with the Leaf. Do they have it right now?
They weren't totally wrong with the Leaf, but it's not what people were actually willing to spend money on. As we've seen over and over again, a lot of people don't want a sensible, economical little car. They want a big, decadent, battle-tank SUV, but practical constraints see that desire walked back to somewhere in the middle. As a result, premium-ish, midsize-ish, crossover-type things are a hot segment, and that's what Nissan has targeted here.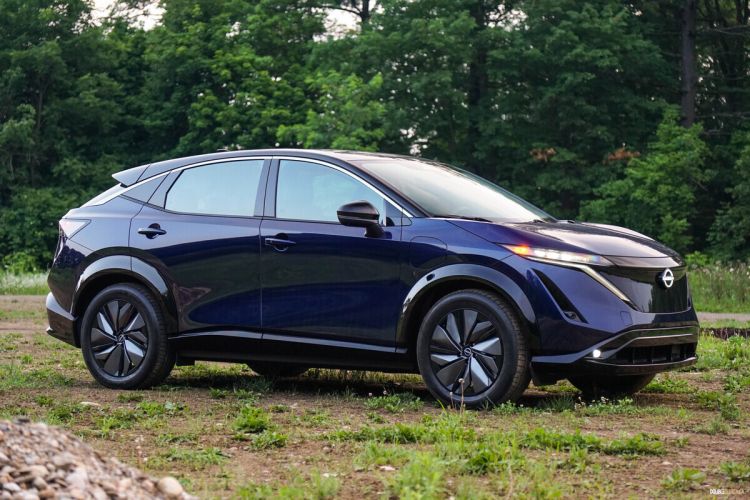 Enter the Ariya. A new, all-electric, premium-ish, midsize-ish, crossover-type thing. Our Evolve+ tester is right in the middle of the Ariya trim levels; well equipped, with a single motor between the front wheels, and the larger of the two available batteries, at 87 kWh. This configuration is the long-haul commuter, offering an impressive range of nearly 500 kilometres. There is a dual motor, all-wheel-drive option that Nissan calls e-4ORCE, which almost doubles the available power at a modest 30-km range penalty.
Part of the Ariya's energy frugality comes from its slick shape, carefully designed to slice through the air. It's a very clean and minimalist design, with gentle curvature accentuated with sharp creases and striking lighting design that breathes some life into the ubiquitous teardrop silhouette that nearly all EVs are forced to adopt. It's a distinctly Nissan design that does a fine job of differentiating itself from its EV competition, and looks like a premium product.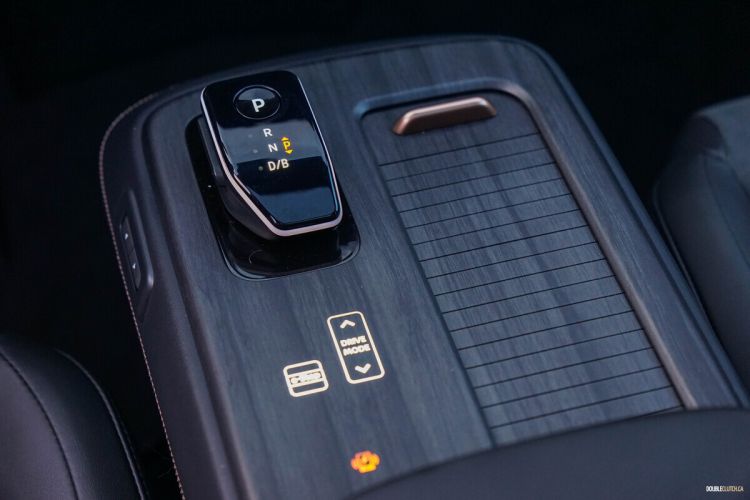 Nissan has gone to great lengths to make the interior of the Ariya look and feel like a premium product, and they've succeeded comfortably. It continues the hyper-modern design theme of the exterior, leaning heavily into minimalism without being stark. Buttons have been eliminated, replaced with capacitive touch points embedded into the matte wood trim that sweeps across the dash and center console. We don't love capacitive controls, but the decision to house them in a matte surface, instead of the piano black that everyone else is using, instantly elevates the cabin's appearance and gives it a huge leg up.
It's a nice place to be for sure. The small dash and floating centre console, combined with the low floor and a panoramic roof, give the Ariya a very airy feel that accentuates how spacious it is. Quality materials are employed, with soft-touch plastics and leatherette surfaces over most touch points, and the tasteful copper-coloured trim and stitching elevates the appearance even more. Nissan's Zero-Gravity seats are fantastic, and the Ariya is impressively well isolated from noise, with the 10-speaker Bose audio system filling the void.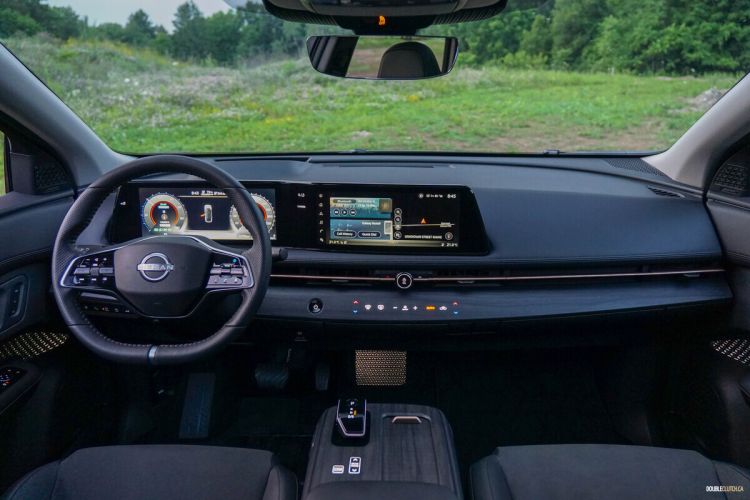 Infotainment comes from twin 12.3-inch displays, integrated in a single frame that's parked on top of the dash, as is seemingly mandatory now. Nissan's newest infotainment system is easy to use and works well, but still lacks some of the visual flare of some of its rivals. Further, while the displays appear to be crisp and sharp, the touchscreen looks just a tiny bit fuzzy behind its thick touch digitizer, almost like a phone with a cheap screen protector. Nonetheless, it works seamlessly and integrates well with the physical controls on the steering wheel.
On the road, the Ariya does a brilliant job of being a wonderfully comfortable long-haul vehicle. Nissan's ProPilot suite of driver assists adds safety, peace of mind, and reduces fatigue over extended drives by doing most of the work for you. The driver controls generally feel natural, save for an slightly awkward brake pedal that can make it a little tricky to stop smoothly. This could be neatly circumvented by the one-pedal-driving feature from the Leaf, but Nissan bewilderingly opted not to include it on the Ariya. Instead, the Ariya uses an adaptive regenerative braking system that slows it down, but forces you to use that wonky brake pedal to stop completely.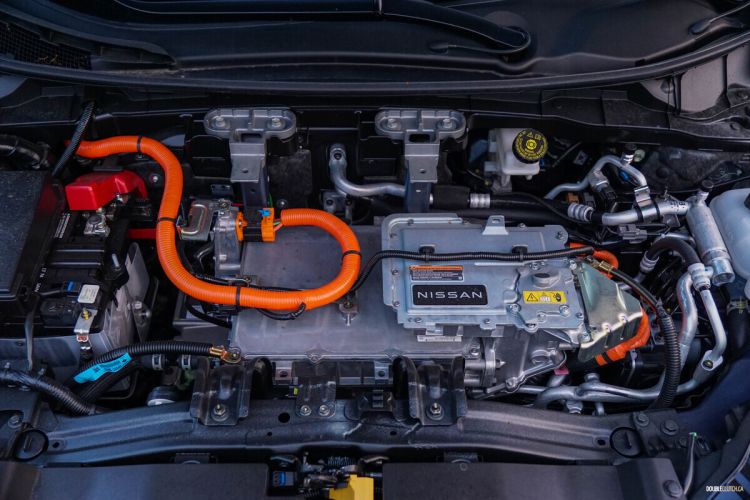 Speaking of wonky, the base Ariya is one of the slowest EVs you can buy. Its single motor puts out a modest 238 horsepower, and is calibrated not to do the instantaneous shove that EVs are known for so as to not overwhelm the front tires. It's got more than enough grunt for confident highway merging and is perfectly fine 95 per cent of the time, but if you like that sensation of having more muscle hiding under the skinny pedal, you'll need the dual-motor model. Even then, I'm not sure I'd call the Ariya fun to drive. It's designed to be pleasant and comfy. That's all it does, and it does it well.
That's where the Ariya struggles for me. It's a well-made, practical, comfortable, and attractive EV, but its only real standout feature is its design and comfort. In the viciously competitive segment of electric premium-ish, mid-size-ish, crossover-type-things, I'm not sure the Ariya stands out among the likes of the Polestar 2, Ford Mustang Mach-E, and the Hyundai Ioniq 5. All of its competitors feature their own striking design with nice cabins, plus faster on-board chargers and better driving dynamics.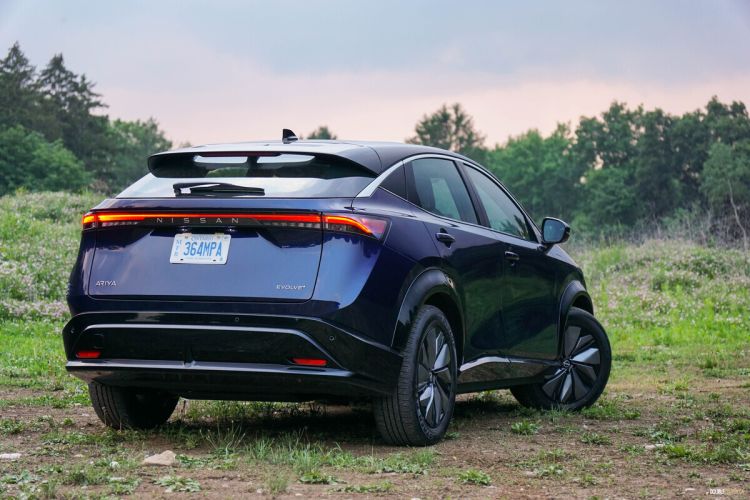 Pricing starts at $52,998 for a base Ariya Engage, all the way up to $69,998 for the loaded, leather-lined, dual-motor Ariya Premiere e-4ORCE. Our Ariya Evolve+ tester landed at $64,998 as-tested; the top trim models represent a compelling value, whereas our upper-middle test car seems maybe a bit lacking compared to its competitors.
Among electric premium-ish, mid-size-ish, crossover-type-things, the 2023 Nissan Ariya is a solid, if maybe somewhat middling entry. Only time will tell if it falls into the same trap as the Leaf, being too sensible for its own good.
See Also