In case you've been living under a rock for the past decade, Hyundai has shed its economy car roots morphing itself into a premium brand and the 2023 Hyundai IONIQ 5 Ultimate AWD is a shining example of just how far they have come.
As both an automotive enthusiast and journalist, I have been fortunate enough to spend some time behind the wheel of all types of vehicles and yet it's difficult to recall a vehicle that has garnered more random interest than the IONIQ 5. I have noticed pedestrians visibly stop their conversations with one another and stop dead in their tracks to look at it on the street. People that generally have no interest in cars have flagged me down to find out more about what I was driving.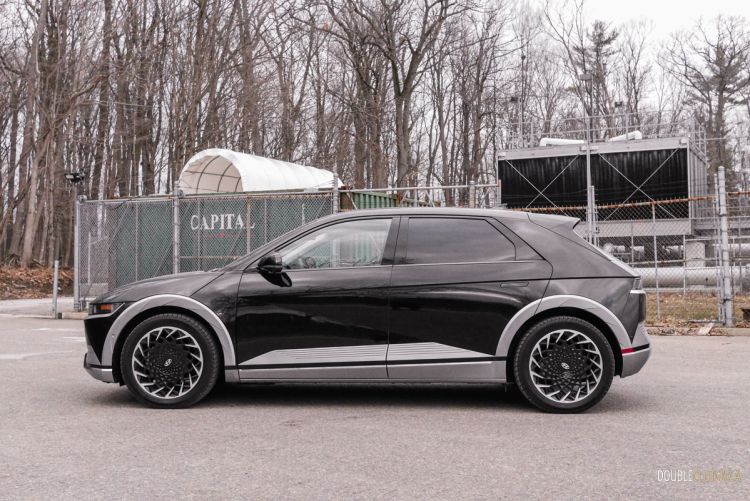 It starts with the out-of-this-world 70s science fiction exterior design. The boxy silhouette, over-fenders with razor like cuts, the LED pixel taillights – the IONIQ 5 is the perfect mash-up of ultra-modern originality and retro familiarity that strikes a chord every time you see it. Our test car is especially striking in Phantom Black, with the 20-inch wheels, full array LED lighting and "V" shaped light guides exclusive to the Ultimate package.
Hyundai realizes you might have to spend extra time in the cabin waiting for a battery top up, so they've made the interior a truly inviting atmosphere. A wide array of textiles with alluring textures creates a truly unique, comfortable and modern space. A 12.3-inch digital information cluster is flanked by another 12.3-inch touchscreen for infotainment and navigation and is all encased in a slick white bezel. The EV architecture allows for a completely flat floor, and combined with clever design like concave shaped door cards and a minimal dash create a very roomy feeling interior.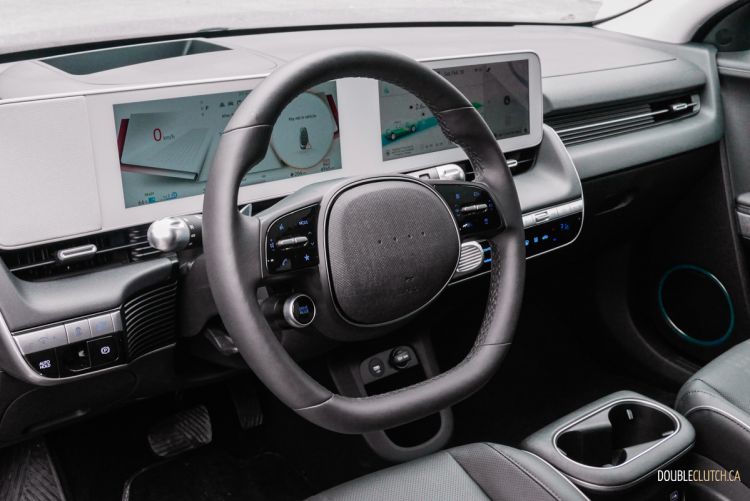 The Ultimate package is packed with every conceivable option and is effectively a must-have. Highlights include a driver's seat with ottoman style leg support allowing you to recline with extra comfort. Customizable ambient lighting allows you to set the mood when the giant one piece sunroof isn't showering the interior with natural light. A sliding center console and second row seats allow for all sorts of configurations so occupants and cargo can be moved around with ease, as well as making entrance and egress easier for all.
It also includes a plethora of the latest tech. The surround view monitor and blind view monitor allow you to keep tabs on your surroundings, while an advanced augmented reality Head-Up display keeps your eyes focused on the road while providing info like when the vehicle ahead is moving, traffic signs, and navigation directions. Lane keep assist, radar cruise and highway driving assist make a long commute effortless.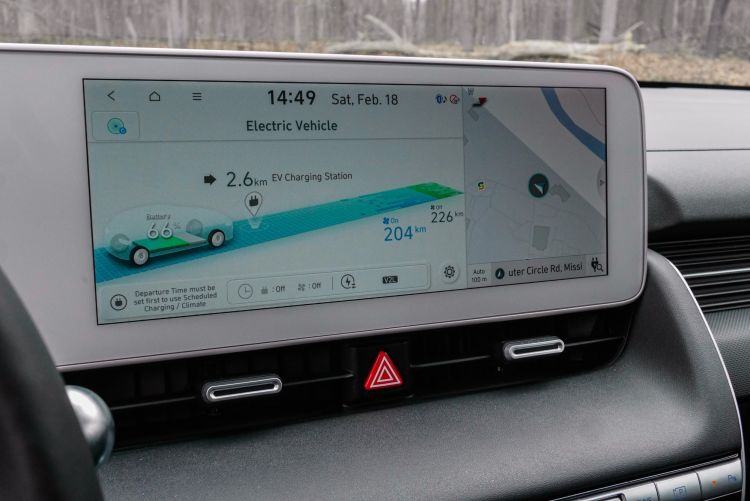 There are a few things to nit pick though. You get wireless device charging, but no wireless Apple CarPlay or Android Auto. To make things worse the USB port in the center console is strictly a power outlet, meaning you need to use a dedicated port beneath the dash. Running a wire up from the floor to your device seems ill-conceived given all the other thoughtful interior design elements. Heated and ventilated seat and heated steering wheel controls are only accessible through the touchscreen versus physical buttons which can be a nuisance while driving. The eight-speaker Bose premium audio system isn't bad but doesn't quite reach the heights of competing systems.
The IONIQ 5 is a great introduction to electric vehicles. It's easy to drive with good steering feel, comfortable suspension setup and that signature EV smooth and effortless power delivery. Our test vehicle being the Preferred Long Range AWD model has dual motors combining for 320 horsepower and 446 lb-ft. of torque. With a curb weight north of 2,000 kg that's good for a brisk 5.1 second run to 100km/h, this is a big improvement over the base model's 8.5 seconds.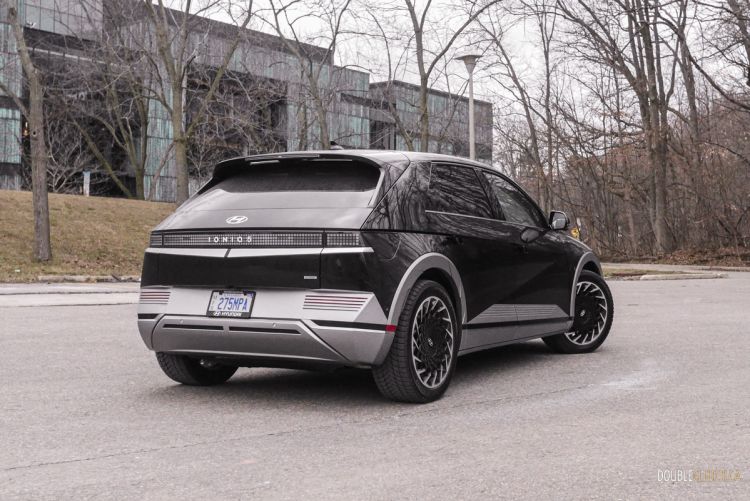 The IONIQ 5 does its best to quell range anxiety with a dynamic range indicator taking up a third of the instrument cluster. It changes depending on the driving mode selected and other factors like climate and battery condition. It's important that range doesn't fluctuate in unpredictable ways and we found the IONIQ 5 to be very reliable in our week of harsh winter conditions. With 99% battery it showed 321 kilometers versus the 414 it should be capable of in ideal conditions.
Hyundai claims a full charge should take five to six hours with a Level 2 charger or 17 minutes at a Level 3 fast charger. My daily commute was about 40 kilometers each way and with stop and go traffic in rush hour very little battery power is consumed. I was able to take advantage of a free Level 2 charging station and in under three hours full battery power was restored. Hurray for free commuting! We are now in the early days of EVs where early adopters can benefit from the growing infrastructure with minimal lineups and increased charging costs that we will surely see when EVs reach mass market adoption.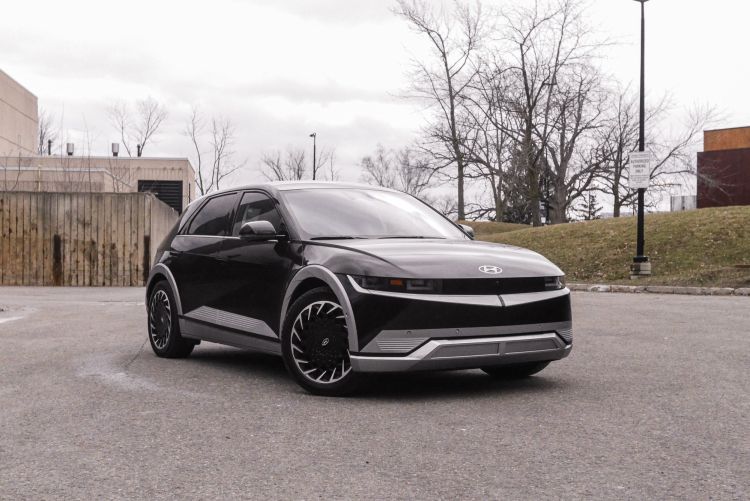 Pricing starts at $48,999 for the Preferred model with 58-kWh battery and a single electric motor. The Preferred Long Range model gets a larger 77.4-kWh battery and slightly more powerful motor for an additional $4,000. With only a single motor this model is capable of the greatest range in the lineup, 488 km. Our Preferred Long Range AWD with the 77.4 kWh battery and dual motors is an additional $2,000 or $54,999. Add the Ultimate package for $6,000 and premium paint for an as tested price of $61,249.
With its neck breaking ultra-modern yet retro styling, well designed interior filled to the brim with the latest tech, and one of the best EV powertrains in the industry, The 2023 Hyundai IONIQ 5 Ultimate AWD makes a strong argument for EVs and clearly shows how far the brand has come. With news that Hyundai's world class Performance N division is putting the finishing touches on an N version, we can't wait to see what they come up with next.
See Also:
2023 Chevrolet Bolt EUV Premier