Our loyal readers know that we have always been a fan of the Chevrolet Bolt – it is not particularly exciting but is more than capable as a no-nonsense electric commuter. However, given North American car buyers' disdain for anything not 'crossed-over', the Bolt had gone largely unnoticed for years and Chevrolet had no choice but to create this – the 2023 Chevrolet Bolt EUV Premier.
Just as you expected, the Bolt EUV looks like a jacked-up version of the regular Bolt hatchback. It is not a knock against its design though, as the redesigned Bolt and the new Bolt EUV both look sharp and trendy and we love that the design is conservative, unlike many other electric vehicles (EVs) on the road. The top trim Premier is distinguished by the body-coloured front bumper accent and door handles, and the unique 17-inch machine-face aluminum wheel design.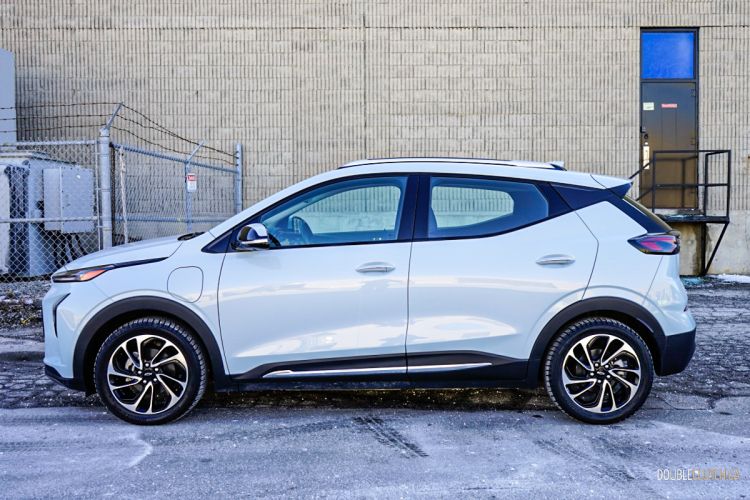 Powered by a 200-horsepower electric motor, the Bolt EUV has the power to move quickly just like any EVs today. All of its 266 lb-ft. of torque arrives as soon as your right foot presses down, and the Bolt EUV can arrive to 96 km/h in about seven seconds. While that number might not jump out at you these days, we assure you that the initial propulsion to 60 km/h will make you feel like you are in a much faster car, and that is really all one needs to get around town effortlessly.
While the Bolt EUV is nimble due to its compact size, its driving dynamics fall short of the newer EVs such as the Hyundai IONIQ 5 and the Kia EV6. There is an innate low centre of gravity advantage due to the heavy battery located beneath the floor so it feels stable in corners, but the vague steering and brake feel is hard to overcome. Good news is that most of the Bolt EUV buyers are not typically looking for spirited drives and the little EV works just fine for the daily grind. Our tester had the optional Super Cruise feature that allows for semi-autonomous driving on compatible highways, and it worked well when we took the Bolt EUV out of the city for a weekend road trip.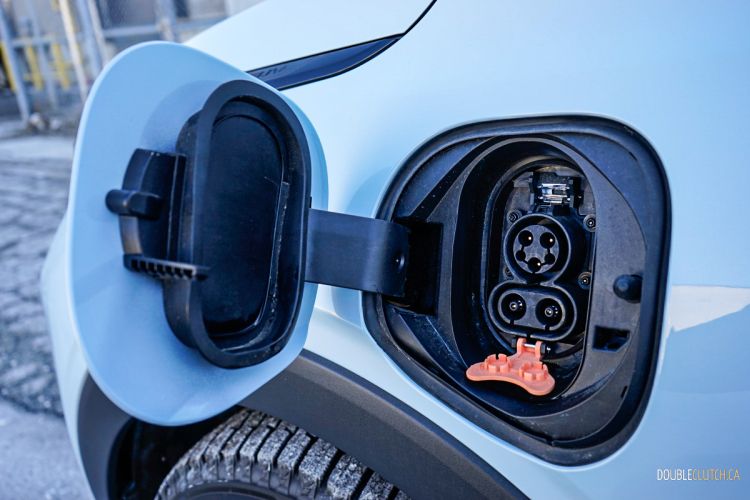 Estimated drive range on the Bolt EUV is rated at 397 kilometres which is respectable, however our observed range was only around 300 kilometers on a full charge throughout the week. We suppose the cooler winter weather had its impact on the range, but the result was disappointing nonetheless. Additional trip planning effort was required during our road trip to account for stops at DC fast chargers.
The interior of the Bolt EUV employs a utilitarian approach. Yes, the materials and layout are a bit basic, but it is in fact loaded with features that one would not normally find in subcompact hatchbacks. A heated steering wheel is standard across all trim levels, and our top-of-the-line Premier trim comes with heated and ventilated front and heated rear seats. Our tester was equipped with optional features such as a panoramic sunroof and Bose premium seven-speaker audio system that elevated the experience quite a bit.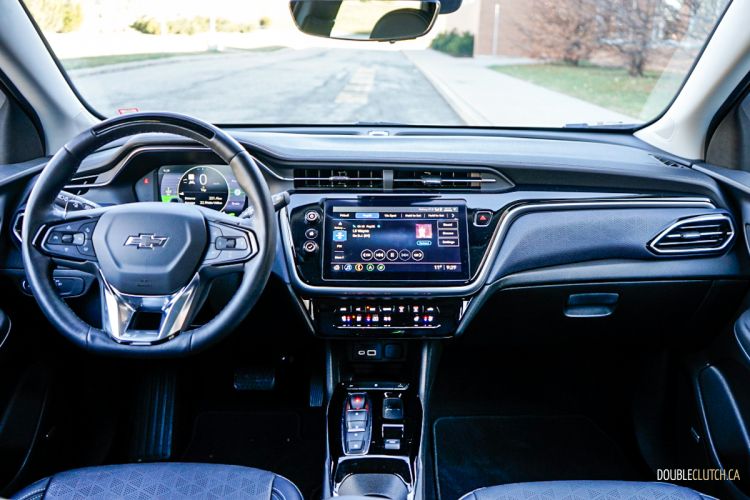 Infotainment is delivered through the 10.2-inch touchscreen on the centre console, and it supports wireless Apple CarPlay and Android Auto connectivity. The user interface is simple and intuitive, and we particularly enjoy the vivid image quality from the surround vision camera and the rear camera mirror. There is decent space up front and acceptable rear passenger legroom, but family users will find the cargo space to be a bit tight at 462 litres.
Standard on all 2023 Bolt EUV models is the Chevrolet Safety Assist driver assistance technology that includes front pedestrian braking, forward collision alert and automatic emergency braking, lane keep assist with lane departure warning, following distance indicator, as well as automatic high beams system. Our tester also received Enhanced Automatic Emergency Braking system as part of the optional Super Cruise package.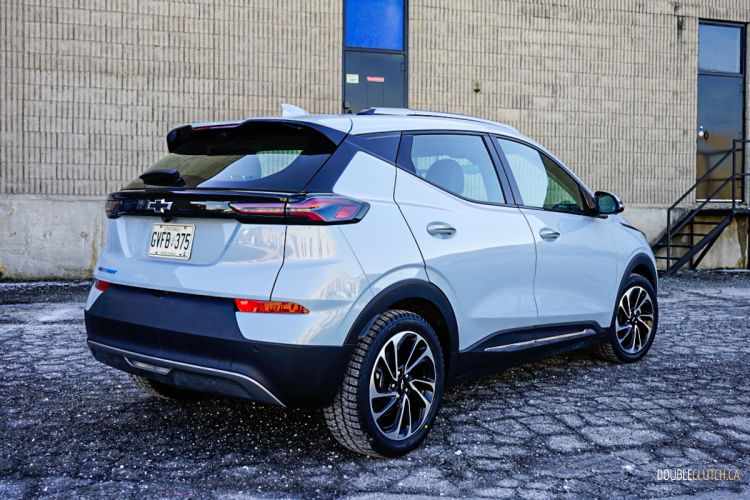 Base pricing of the 2023 Chevrolet Bolt EUV is a reasonable $40,548, with the top-of-the-line Premier starting at $44,048. Our tester had included the Ice Blue Metallic paint job ($495), Sun and Sound Package ($2,495), and Super Cruise Package ($2,330) to bring the as-tested total to $49,368.
At its size and price point, the Bolt EUV is most likely to be cross-shopped against the Kia Soul EV and Nissan Leaf, which were all solid options when they came out several years ago but feel a bit outdated when compared to newer and slightly more expensive entrants such as the Hyunda IONIQ 5, Kia EV6, and the Volkswagen ID.4.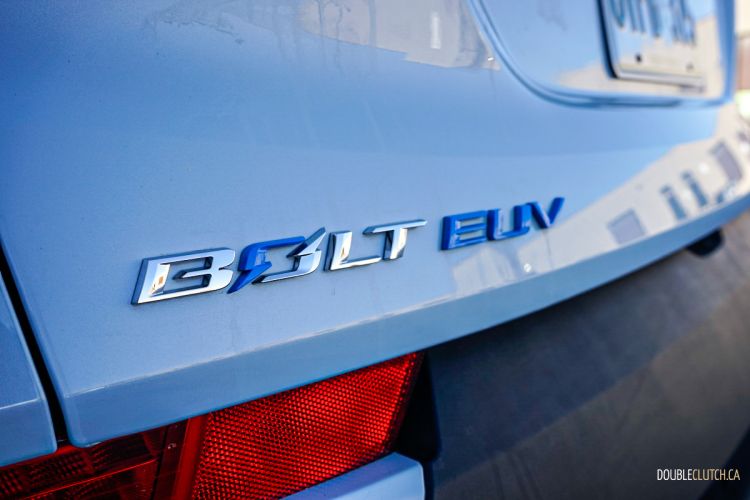 All in all, the 2023 Chevrolet Bolt EUV Premier is a good option for city dwellers who are looking for a solid, no-nonsense electric-powered commuter. It may not be perfect, but its cute looks and comprehensive convenience and safety features list make it easier to like. If Chevrolet can keep up its supply at the dealerships, we will not be surprised to see more of these on the road.
See Also:
2022 Volkswagen ID.4 AWD Pro S