The 2023 Cadillac Escalade ESV Sport Platinum represents the pinnacle of General Motors trucks. It's the biggest, the most decadent, loaded with their most impressive tech, and I struggle to comprehend who it's for. Who needs a limousine that's also a tow rig? Who regularly needs this much space, capability and opulence? Who needs a vehicle that can do and be so much and doesn't have space for multiple more specialized vehicles? The running joke of the week was "who needs a luxury condo that can drive itself?" After repeating this in jest so many times, it hit me. For $145,683, this actually could be a decent deal on a condo alternative.

Hear me out. The enormous Escalade ESV occupies some 127 square feet, leading to a cost of $1,147 per square foot, which is comparable to (if not better than) a lot of Toronto micro condos in prime locations. It has plenty of space and a litany of amenities, and I can walk in it about as easily as some basement apartments. Unlike those same basements, it's beautifully appointed with premium materials and thoughtful design touches, confidently reminding us why Cadillac can charge a substantial premium over a comparably gigantic GMC Yukon Denali Ultimate (itself a lovely vehicle in its own right).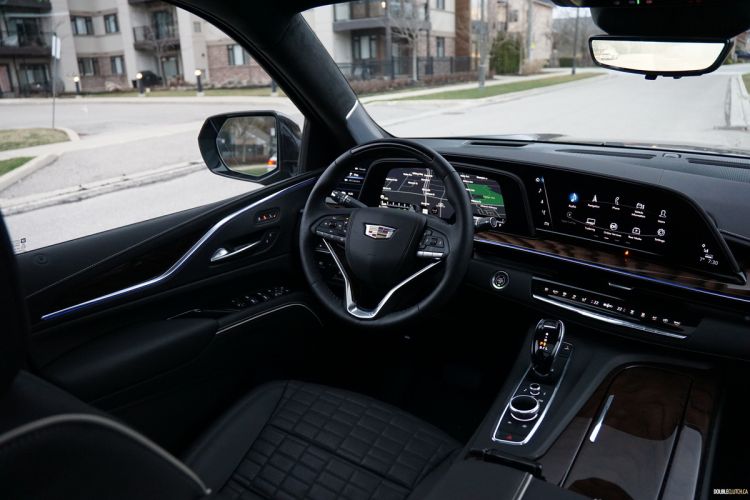 It's furnished with four leather office chairs, the front of which are 16-way adjustable, heated, ventilated, and massaging. The rears can easily pop out of the way at the touch of a button to allow easy access to a nice loveseat in the third row, which will fold itself flat at the touch of a button, located both in the overheard console up front and the rear cargo area. Everything is trimmed in jet black leather, with subtle metallic accents, customizable mood lighting, and an abundance of glossy walnut; the coffee table/center console is gorgeous.

Living accommodations go beyond furniture though, and the Escalade continues to deliver with amenities. There are no less than six displays; three overlapping screens for the driver/office, two 12.6-inch screens/televisions in the rear seats/theater, and a heads up display for good measure. Audio is handled by a studio reference system courtesy of AKG, with two pairs of wireless headphones for private viewing in the theater and thirty-six speakers and a subwoofer making up the surround sound system for everyone else. Does your condo have that many speakers?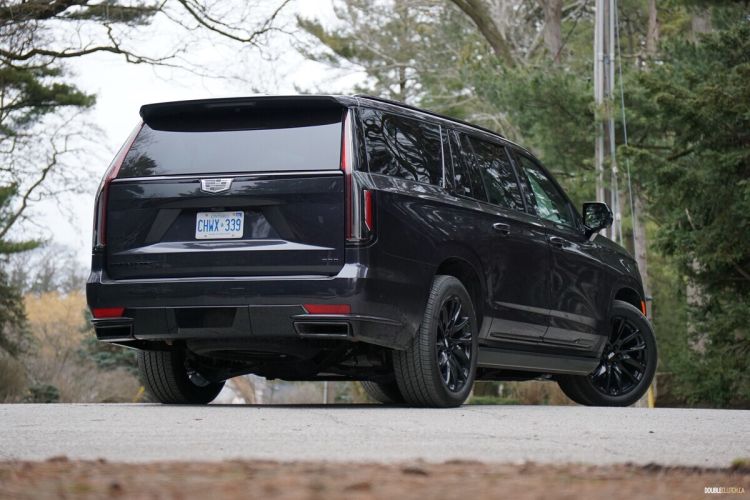 The technology in the driver's office is astonishingly well executed, with the above mentioned overlapping displays making up the centerpiece. In the center is a massive screen that can be configured to display traditional gauges and info, a map, or an augmented reality camera system that ties into the built-in navigation. On the left is a smaller touch screen that can be used to configure the main screen and display additional info. To the right is another large display for the infotainment, which is slick, seamless, and intuitive, with the option to control via direct touch or with an iDrive-esque knob and shortcut buttons. Oh, I forgot to mention: the rearview mirror is a screen too.
There's also a plethora of steering wheel buttons and controls as well, giving you a multitude of options in how you'd like to dictate what's going on, and climate control is handled by a slick array of metallic buttons. It's all intuitively laid out and easy to understand, and Cadillac has been careful to ensure that everything essential is handled by physical buttons and knobs that aren't fingerprint-magnet piano black. All the tech works impeccably, and GM's trick Supercruise hands-free driving feature is incredible to behold; it's pretty wild to watch a condo drive itself.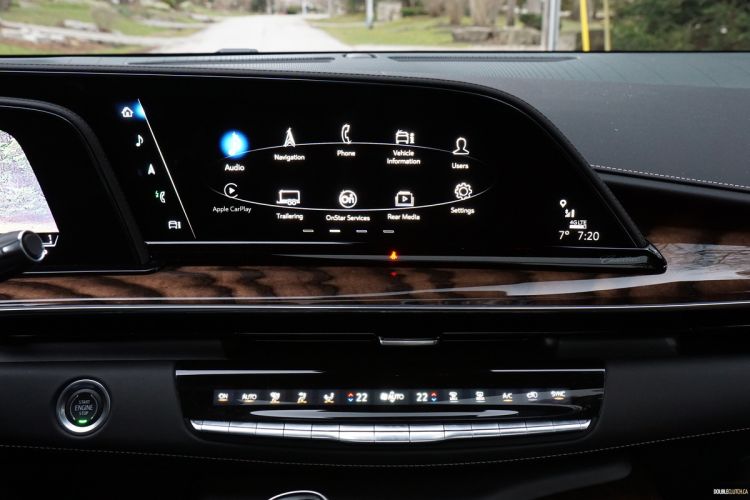 Of course we can't talk about this rolling condominium without bringing up appliances; chief of which is GM's legendarily excellent 6.2L V8, producing some 420 horsepower and a gloriously mighty bellow through the $2,720 performance exhaust on our tester, which allows this  apartment to hustle with authority. GM's imperceptibly slick 10-speed automatic transmission pairs with slick cylinder deactivation to return an observed fuel use of 13.4L/100km, meaning this rolling apartment has pretty reasonable utility costs, and it's pretty astonishing for a huge truck.
On the road, this building rolls on a cushion of air, courtesy of magnetorheological shocks working in conjunction with air springs. Ride quality is sublime, with only the sharpest aberrances in the road being echoed through the chassis via the 22-inch rims, which are standard along with blacked out trim on our Sport Platinum trim model, which makes the big ESV look like an ominous obelisk. You'd never guess that amongst all the luxuriant excesses, this is also a serious truck that can tow 8,000 lbs. Similarly, it does a good job hiding its size with light, linear driver controls, and is adorned with a litany of cameras to assist parking your condo in the bottom of a condo.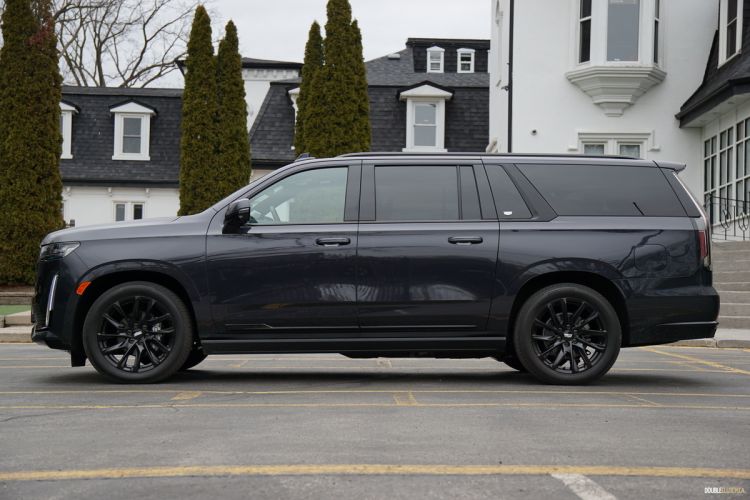 The 2023 Cadillac Escalade ESV Sport Platinum is a magnum opus, blending magnificent opulence with unmatched capability. It is this and only this that can offer the utility of a monstrous truck and the sumptuous accommodation of a world class luxury car. It takes the old adage "you can sleep in your car, but you can't race your house" to its illogical extreme, being both more competent than a lot of vehicles and a nicer place to be than a lot of people's homes. I'm still a little stumped as to who needs this much vehicle, but I'm here for it, and I'm starting to think condo shoppers should be too.
See Also:
2022 Cadillac Escalade Platinum
2023 GMC Yukon Denali Ultimate