Toyota's Land Cruiser has worked hard to earn its reputation for bulletproof reliability, true go-anywhere prowess and a reasonable amount of comfort. Its more premium sibling, the Lexus LX, is famous in North America for retaining an almost incomprehensible amount of resale value due to the same reasons. As such, the latest 2022 Lexus LX 600 F-Sport has massive shoes to fill. Finally completely redesigned and riding on a new platform, we were genuinely excited to get behind the wheel of this behemoth and see how it stacks up.
Immediately noticeable is the LX's polarizing styling. The front end is entirely taken over by the grille – it's not necessarily ugly but I highly doubt it'll age nearly as well as this model's predecessors. Still maintaining its body-on-frame roots, the LX 600 rides on a platform Lexus calls "GAF". It's related to the TNGA underpinnings that lie under just about every new Toyota today, and this is mostly a good thing.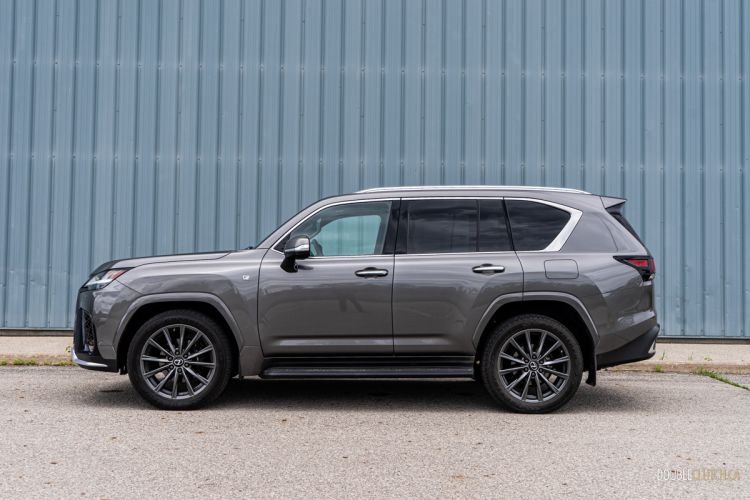 Let's get the "bad" out of the way first – the LX 600 F-Sport is one of the worst-riding body-on-frame modern vehicles. Being a Lexus, we have high expectations for ride quality and road manners, and there are some challenges here. It's not harsh like an older full-frame truck would be, but there is too much float to overcompensate for the innate behaviour of a body-on-frame vehicle. As such, despite the advanced suspension and configurable dampers, secondary motions are way more than we'd like to see. A full-size Range Rover and even the GMC Yukon Denali trump the LX in this regard.
Additionally, the dual-touchscreen interface managing the LX 600's infotainment can be infuriating. A 12.3-inch screen houses the main system, and a seven-inch unit sits below it offering access to climate control, off-road modes, and some other settings. It's a vast improvement from previous Lexus interfaces, but a lack of hard buttons for commonly-used features is noticeably missing. Wireless Apple CarPlay and Android Auto are on board, though we couldn't get the wireless charging pad to work for more than three minutes at any point during our test week.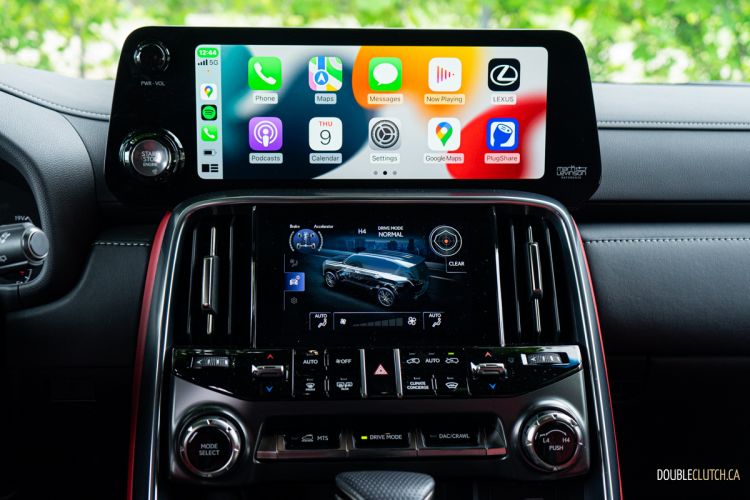 A twin-turbocharged 3.5-liter V6 powers this big brute, replacing the old naturally aspirated V8. This powertrain is shared with the new Tundra, and while it isn't as creamy or linear as the V8 it replaces, the numbers are tough to argue with. Output is 409 horsepower at 5,200RPM, and 479 lb-ft. at just 2,000RPM. A 10-speed automatic changes gears imperceptibly, and the V6 is actually very well suited to the LX's personality. There's some turbocharger lag off the line, but once it gets going, the LX 600 is very smooth and maintains speed comfortably. Passing power is plentiful and the transmission does a great job being in the right place at the right time.
Higher trim levels of the LX 600 get adaptive air suspension, Active Height Control, among other features, while our tester was equipped with just adaptive dampers. It also gets a lockable Torsen center differential, and other off-road goodies. Our testing consisted of a few hundred kilometers of pavement crushing, so we didn't exactly get a chance to evaluate its off-road chops, but we're confident that it won't disappoint. That said, we'd be willing to wager money that just about every LX 600 sold in Canada won't go any further off road than hopping the odd curb in a Costco parking lot.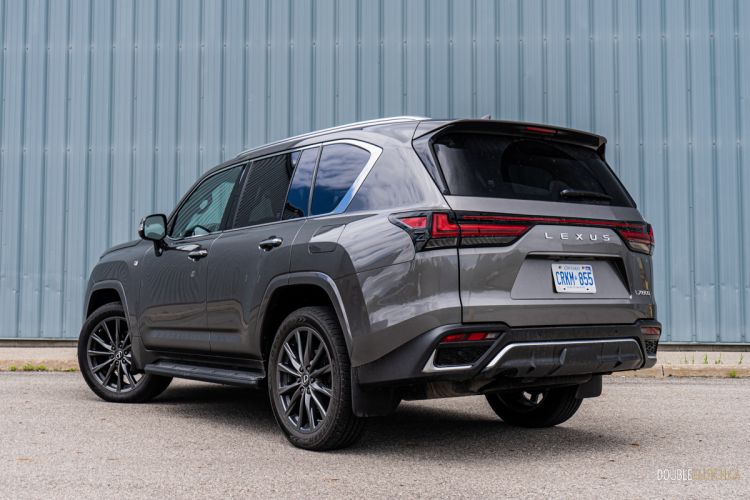 Lexus Canada rates the new LX 600 at 14.2L/100km city and 10.8L/100km highway, for a combined 12.5L/100km, naturally operating on 91-octane premium fuel. Over 500 kilometers of mostly highway driving, we observed 12.4L/100km. This is a more than adequate figure for a sub-6,000 pound full-sizer. The fuel tank will hold nearly 96-liters of the stuff that's now about the same price as a high quality champagne.
Inside the LX 600, things are top notch. The seats are superbly comfortable and it's very easy to find the optimal driving position. Everything is mostly reachable from the driver's seat, and materials are extremely nice overall. Aside from some piano black plastic bits that are very dust, fingerprint and scratch prone, we couldn't find any poor quality finishes anywhere in the cabin. The second row seating area has less legroom than we expect for an SUV of this size, and the third row is best left to smaller children.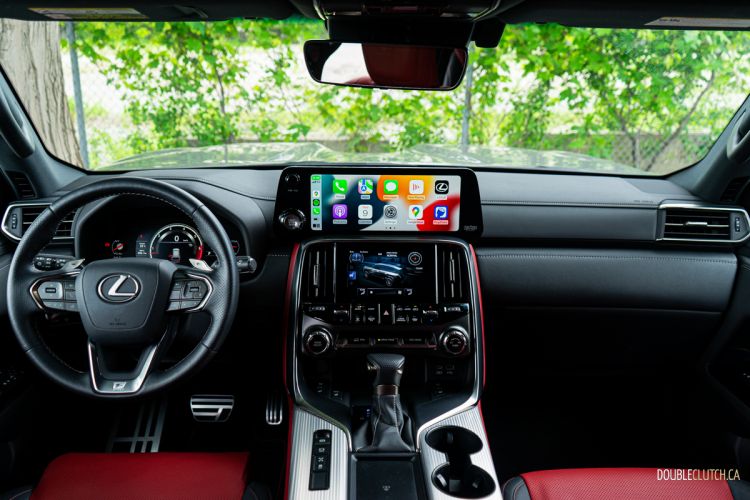 Pricing for the LX 600 starts at $106,950 for the base model, adding an extra $13,000 for the F-Sport Series 1 model tested here. This adds mostly sporty bits like 22-inch wheels, aluminum interior trim, and sportier pedals. Other options included here are the 25-speaker Mark Levinson audio system, rear sunshades, ventilated second row seats, and a higher quality leather seat. This brings the as-tested sticker to $119,950. The top-spec Executive VIP Package will bring the price to $151,200 for the best LX 600 money can buy!
In a vacuum, the 2022 Lexus LX 600 F-Sport is a pretty darn good machine, and a respectable flagship for the Lexus brand. Unfortunately, it has big-name competitors like the Cadillac Escalade, Lincoln Navigator, and Mercedes-Benz GLS, not to mention the big Range Rover. Lexus will still sell every single LX, but these buyers are attracted by the nameplate, heritage and reliability of the model rather than what this latest one actually offers.
See Also:
2021 Cadillac Escalade Platinum