I recently (eight hours ago as of this writing) watched the Elvis biopic, a tale of The King of Rock's career, as narrated by his infamously awful manager, Colonel Tom Parker. It's oddly befitting, because I write this, I find myself drawing some very unfortunate parallels with our 2023 Volvo XC40 B5 tester. The movie opens with this fresh, new, revolutionary talent, and then spoiler alert: he dies at the end, having succumbed to drug addled misery, brought about by tragic stagnation and mismanagement.
I mention this because Volvo made a name for themselves early on as revolutionaries, inventing a little thing called the seatbelt, and then not patenting it for the greater good. They established a reputation building nice cars for nice people. And now, they're starting to step on their own blue suede shoes.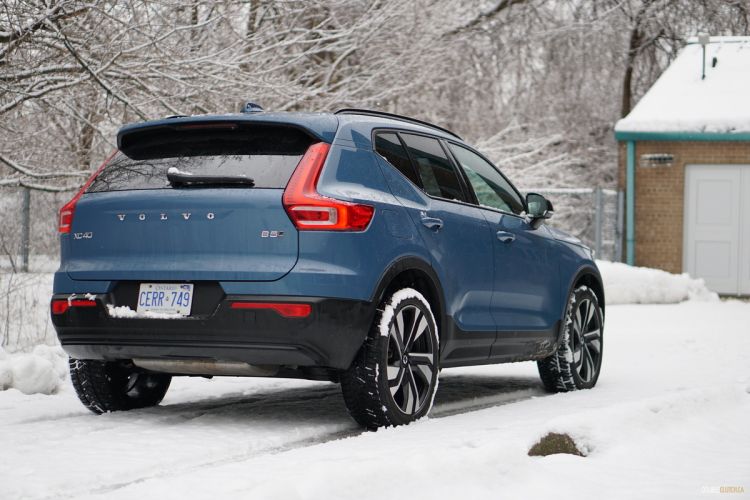 Towards the end of our time with it, our test vehicle displayed a bold warning across its large digital gauge cluster: "Stop safely, 12V battery critical charging fault." Myself, being a bit of a curmudgeon and insisting that I do, in fact, know everything, decided to adopt the I.T. Crowd mantra and just turn it off and on again. I've seen it work with other issues on other press cars, and I'm willing to forgive a one-off random fault. Sure enough, the problem was gone, and stayed gone until I tried to get into it the following morning – whereupon it locked me out in the cold with an apparently dead battery. On a brand new, $57,950 vehicle from a company that I really like, this is hugely disappointing.
This XC40 is supposed to be a nice car, by a brand known for making nice cars, and selling them for nice car money. It's not even a quirky sports car, or something experimental, or even at all interesting, it's a commuter crossover that's been in production for years. I could accept that it's a one off fault, but one of our staff members is going to dispose of their brand new, fully loaded V90 Cross Country for the same fault, which tells me not only is it not this one car, but it's not even limited to this one model.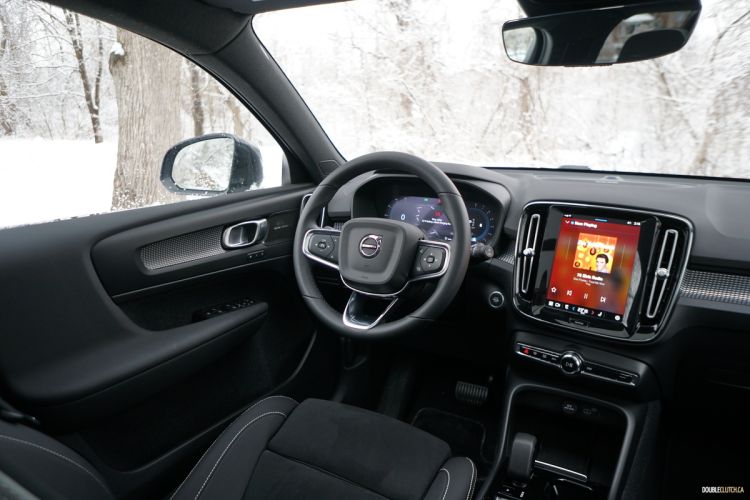 It's not even just this problem, either. Volvo has shifted all of their models to their new Google based infotainment system (who themselves have been in a steady decline for years, but that's another discussion), and I still can't figure out for the life of me why this was greenlit as it is. There are now two "home" buttons, Volvo's existing physical button just below the screen and Google's app button in the lower left corner. Volvo's home button only serves a handful of functions, making it effectively useless, and Google's home brings up a list of tiny tiles that are hard to see and harder to pinpoint accurately while on the move, with an unbecoming amount of aliasing.
The digital gauge cluster is brilliant at a glance, before you realize the large center portion of the display has all of two functions: map, and off, leaving more than half of the display blank. Some functions are hopelessly bewildering too, as for the life of me, I could not figure out how to listen to AM radio. It's still loosely based on Volvo's Sensus system, just worse, and on its own it's a minor annoyance, but taken in conjunction with the other flaws creeping up, it becomes part of a troubling pattern of behavior. It's a shame because very much like with Elvis Presley and the problems that dogged the latter stages of his career, there's still so much potential here.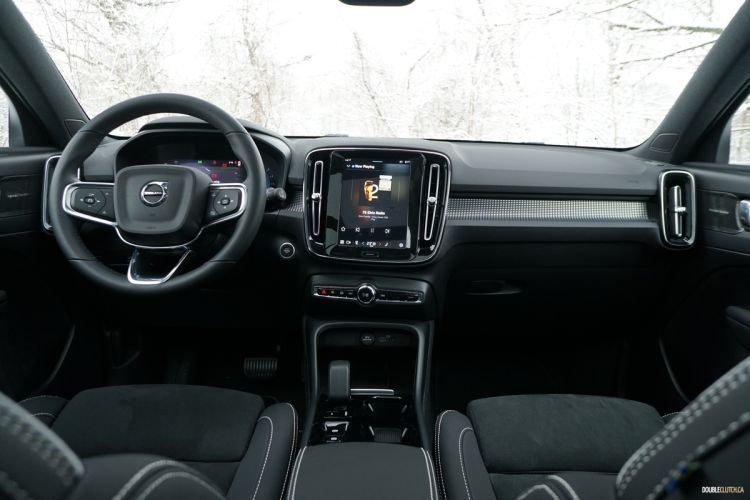 The XC40 shares with all Volvos the same crisp, handsome exterior design, a beautifully clean interior design, and organic driver controls; Volvo is one of the last car companies on Earth that really knows how to calibrate steering and brake feel. The leatherette and microsuede seats are ergonomically sculpted for excellent support, and all the touchpoints in the cabin feel excellent. Visibility is great, and passenger and cargo accommodation is terrific. It's impeccably well screwed together with quality materials, and it's well insulated from wind and road noise, save for the mechanical noise from the "B5" powertrain, which is new to the XC40 this year.
We've already evaluated this in other Volvos; it's a 2-liter turbocharged four banger with a 48-volt mild hybrid system, good for some 247 horsepower while returning a combined fuel economy of 9.3L/100km. The hybrid augmentation makes for a really slick start/stop, and seamless torque when taking off. It feels peppy, never quite feeling fast but being more than capable of hustling the XC40. It's paired with a seamless 8-speed automatic and all wheel drive, both of which were largely undetectable in operation – typical Scandinavian subtlety. Our only gripe was the very un-subtle noise produced from this mill, which was rather jarring against the otherwise very quiet cabin. This engine doesn't sound this agricultural in other applications, and it's another bothersome oversight.
It's all so disappointing because in a lot of ways, the XC40 is a fantastic product. The core tenants that make up a brilliant car are all there: It's quick, it's efficient, it's comfortable, it's practical, it's safe, it looks great inside and out, it strikes a wonderful balance between body control and ride comfort, it feels natural to drive. It does a lot of things better than its contemporaries in the luxe-compact-crossover space.
Unfortunately, my experience with the 2023 Volvo XC40 B5 has me worried Volvo has entered the same troubling phase as The King's residency in Las Vegas. They haven't rolled out an entirely new product in a couple of years, which would be (and generally is) forgivable, were it not for the missteps. I'm not sure who the corrupting force is in Volvo's story, but I hope they find a way off this bridge over troubled water soon.
See Also:
2022 Mercedes-AMG GLB 35 4MATIC