It feels like most trucks are constantly apologizing for the fact that they're trucks. They know they're too big, they know they're too overbuilt, they know they had to be too big and too overbuilt to appeal to your inner testosterone-laden fantasies. They know you don't actually need them, they know that living with a truck can be a cumbersome ordeal, so they go out of their way to apologize and hide it, with creature comforts and parking assists and a litany of other features to make up for its failings as a vehicle. The 2022 Ram 1500 Rebel G/T does not do that. It is an unapologetically truck flavored truck; big, loud, and dumb. Naturally, we loved it.
The new for '22 G/T Package takes the already big, loud, and dumb Ram Rebel and injects a wonderfully superfluous dosage of ridiculousness, borrowing some of the raucous attitude of the biggest, loudest, and dumbest Ram TRX. For $3,495, you get a heaping helping of hardware designed to enhance the Ram driving experience, including but not limited to a bulging hood hiding a massive cold-air intake, console mounted shifter, aluminum shift paddles, aggressively bolstered leather bucket seats, 48-volt eTorque mild hybrid system which offers an extra 130 foot-pounds of torque, and of course, a gloriously exhaust system.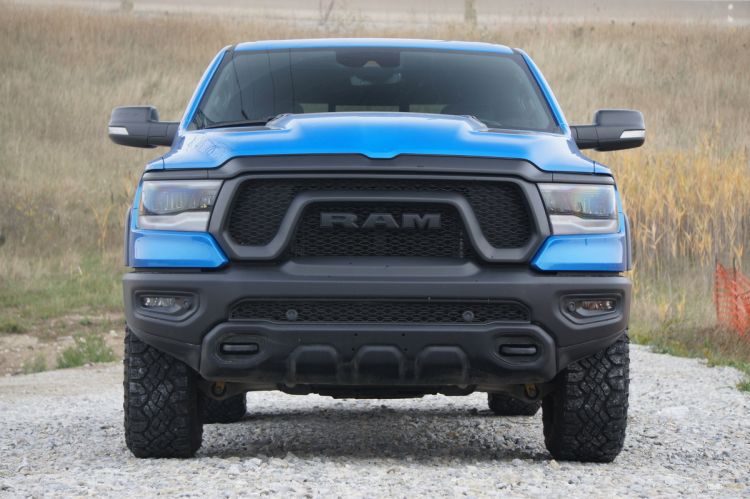 This exhaust system is honest-to-God perfect… for this application. The Ram Rebel G/T crackles to life with a mighty bellow from the 395 horsepower 5.7L Hemi V8, and stomps around grunting like an angry gorilla pounding its chest, mad at the world just because. It's just barely on the acceptable side of obnoxious, and mercifully has zero drone when you're underway. There are no active valves or quiet modes or anything like that, this exhaust is always on – again, unapologetic. It's handily the best part of the truck (if you're into that sort of thing), but it will annoy your neighbors if you leave for work early in the morning.
On the road, the Rebel G/T is good old-fashioned fun, feeling just as much like a very tall Challenger as it feels like a truck. It may lack some of the niceties you'd expect from an $80,800 truck, most notably radar cruise control and a 360 parking camera, but it feels very right. There's a very well gauged intrinsic quality to the way the Ram feels, and that is a big part of the reason why these trucks are so popular.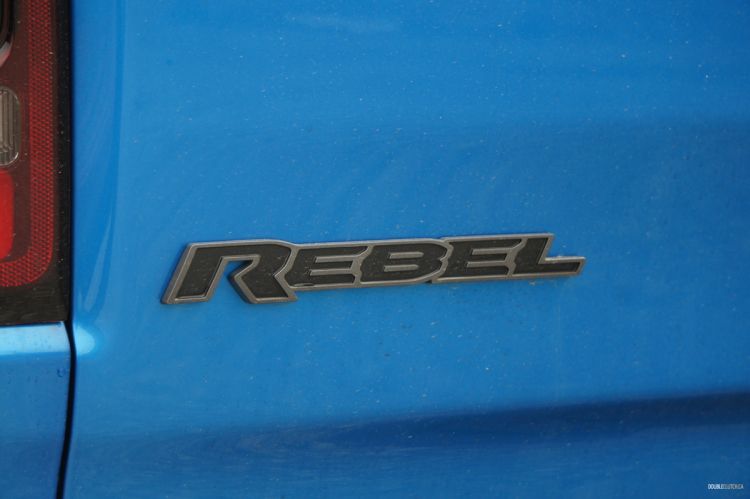 The steering is slowish and a little on the heavy side, but communicative and satisfying – it doesn't hide from its heft. The Rebel's coil springs and Bilstein shocks on all four corners are decidedly firm, amplifying small imperfections but simultaneously doing a great job isolating really broken pavement and rough terrain. 
As you might expect from such a firm setup, it offers remarkably good body control, with very little roll in hard cornering. The throttle response from the HEMI V8 is fantastic and the ZF eight-speed automatic we've pretty much always thought was brilliant is still brilliant. The eTorque hybrid system hides in the background, you'd basically never know it was there, more or less serving only as a conduit for the slick but slightly too over-eager stop/start system.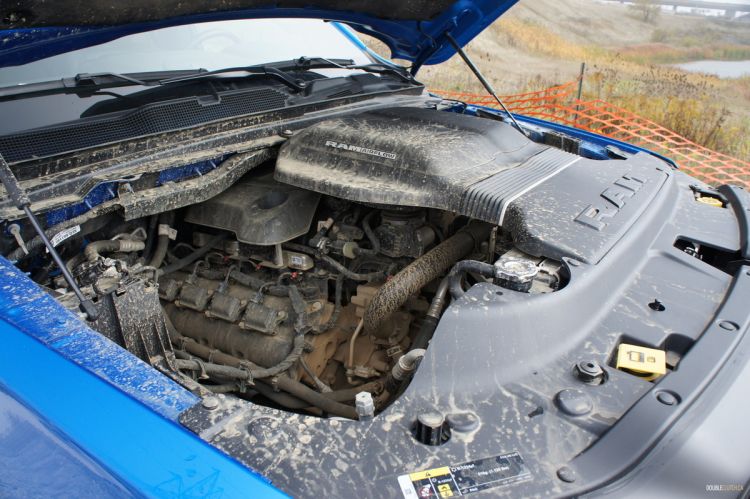 It also assists in bottom end torque when taking off – which is allegedly for efficiency purposes but also makes roasting the rear tires very easy. Speaking of efficiency, we saw an average of 15.4L/100km, which isn't awful, but definitely very much on the thirsty side. If you exercise restraint, it allegedly can dip down to 11ish, (which we observed for about thirty seconds) but that's not what this truck is about.
This generation of Ram's cabin space has been a homerun since day one years ago, and it's still holding up admirably today. Our tester was fitted with the massive 12.4-inch vertical touchscreen with Stellantis's excellent UConnect system, which is intuitive and works very well. We'd prefer some of the key functions – like climate control – had their own dedicated hardware, but it's acceptable here.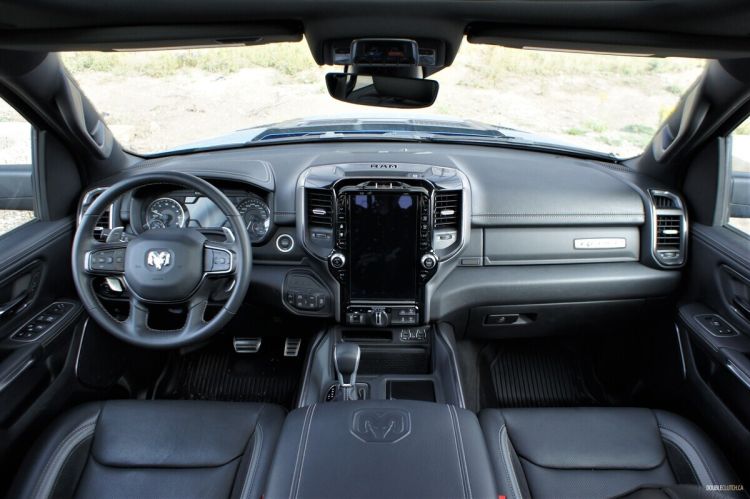 The G/T gets niceties like the heated and ventilated sport seats, leather wrapped steering wheel and aluminum paddles are great, and the console mounted shifter is so much more badass than the dash mounted dial on more pedestrian Ram trucks. Our tester's panoramic roof was a hit among us, it makes the truck feel so much more open and airy and fun. Of course, space and storage are abundant, and material quality is generally solid.
Everything we liked about Rams is present here, and everything we loved about the best Rams is dialed up a notch. This is a great means of capturing the beastly attitude of the hilariously over the top Ram TRX in a package that doesn't cost six figures, and is actually-maybe-sorta- kinda-practical-ish. GM offers more refinement, Ford offers more features, Toyota offers more modernity, but the Ram offers the most dumb fun.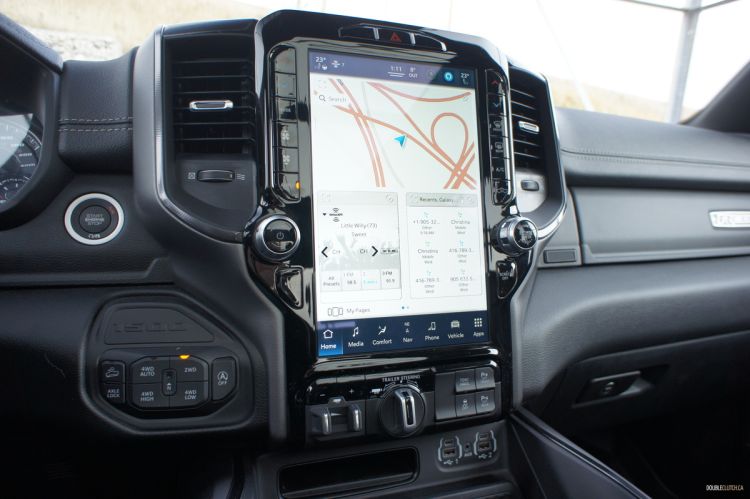 And you know, there's an argument to be made that trucks are inherently pretty dumb – hardly anyone actually needs the capability of a modern truck. They're dumb, they're supposed to be dumb, and the 2022 Ram 1500 Rebel G/T embraces this. What do you want a truck to be? If you want your truck to be a loud and proud rebel without a cause, this is it.
See Also: