The previous Chevrolet Silverado and GMC Sierra were dated almost as soon as they were released back in 2019. Unfortunately, GM's trucks were falling short of their competitors both in styling and interior appointments, and the industry made that clear pretty quickly. As a GM fan, I felt it a shame as the new platform, in my opinion at least, was a significant upgrade over the old one, and better to drive. Thankfully, GM has put some real muscle behind the this refresh aimed specifically at addressing those issues, as well as finally adding a new trim to get in on the hot off-road market. To see if they've really come to the table this time, we spent a week with a 2022 Chevrolet Silverado ZR2.
While I just can't learn to like the side profile and bodyline on this generation, the 2022 Silverado does address a lot of the awkwardness associated with the front fascia. More importantly though, the ZR2 package turns the truck into a real eye catcher thanks to a very aggressive gloss black front grille and thick steel bumper with genius replaceable endcaps (in case things get a little rough on the trails), beefy skid plates, bright red tow hooks, 33-inch tires and optional black tubular rocker protectors. Our tester came finished in Glacier Blue, a color that caught many compliments.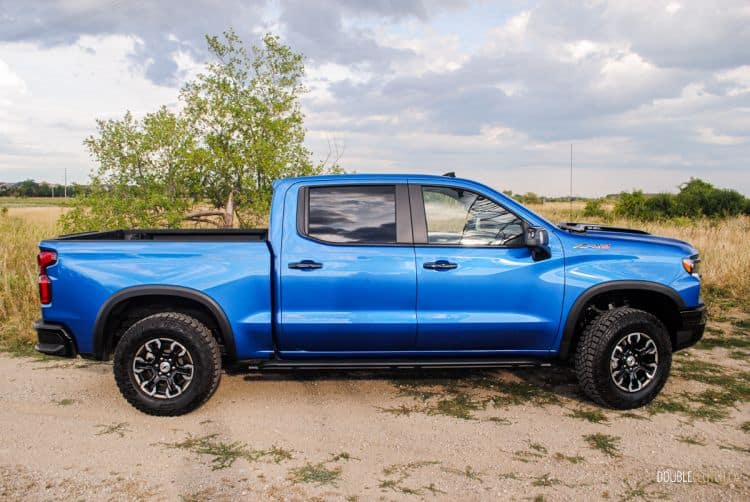 Funny enough, the exhaust on the ZR2 was both my biggest surprise, and my biggest let-down. On a positive note, it sounds phenomenal, set up to allow the big 6.2-liter V8 to just howl with a powerful boom, and loud enough to make it very clear that this isn't an ordinary Silverado. Somehow though, it does not drone in the cab at all, a really impressive system. However, it's totally hidden, at the back of the truck you have to bend down and look to see the two turn down tips tucked up behind the bumper. It just seems wrong to have something that sounds so good totally out of view – especially on a truck like this.
The interior has been a focus, and thankfully that attention has paid off. Even though the ZR2 is not the top luxury trim, there's plenty of leather to be found on the seats, dash, console and door panels. The ZR2 uses an exclusive 'Graystone' colored leather with black contrasts. The dash is totally new and now dominated by two very nice screens; a 12.3-inch digital cluster and a 13.4-inch infotainment touchscreen. The seats are a bit hard for my tastes, but are supportive in all the right places and in the ZR2 come standard heated and cooled, and are complimented by a matching heated steering wheel.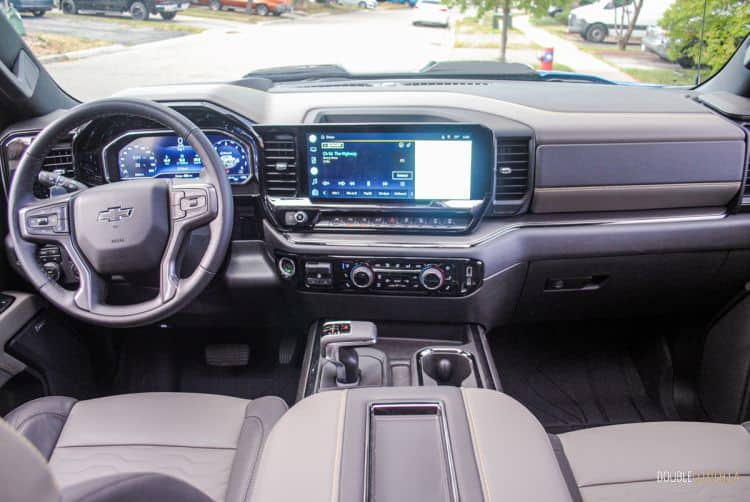 Of course, in this crew cab format there's loads of space for the whole family, and plenty of well planned out spots to keep things. Whether it's tools, equipment, safety gear, or everyday carry items, truck owners tend to keep a lot of stuff in their cabs and GM delivers with huge door pockets, a deep center console, optional under rear seat storage, and hidden storage cubbies within the rear seat backs. My one gripe with the new interior design is that GM has followed their competitors in moving the gear selector onto the console. Not only does it take up valuable space, the lever itself is finicky and I am doubtful it's going to stand up to years of hard work and abuse.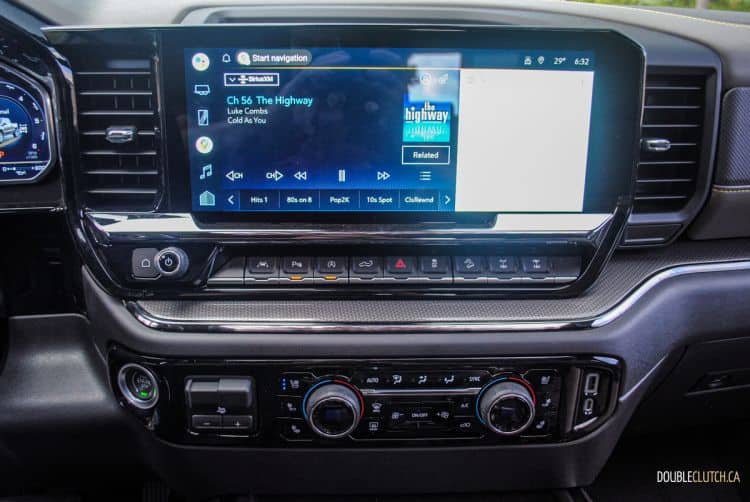 One other big upgrade inside the Silverado is its infotainment system, which is totally new for 2022 and on LT models and up resides in a crisp 13.4-inch touchscreen. The system looks great, responds quickly, is fairly intuitive to use, and offers new features such as wireless Android Auto and Apply CarPlay, as well as a built in Google suite including Google Maps.  There is a real volume knob, but no tuner knob, which I find annoying,
The Silverado can be optioned with a number of engine options ranging from a basic 4.3-liter V6, to the time-tested workhorse 5.3L-liter V8, a 3.0L Duramax diesel, up to the big beastly 6.2-liter V8. The only engine available with the ZR2 package however, is the 6.2-liter V8 which comes mated to a 10-speed automatic. As noted, the V8 sounds incredible through the pipes of the ZR2, and with 420 horsepower and 460 lb-ft. of torque, it blasts the burly truck to speed with authority.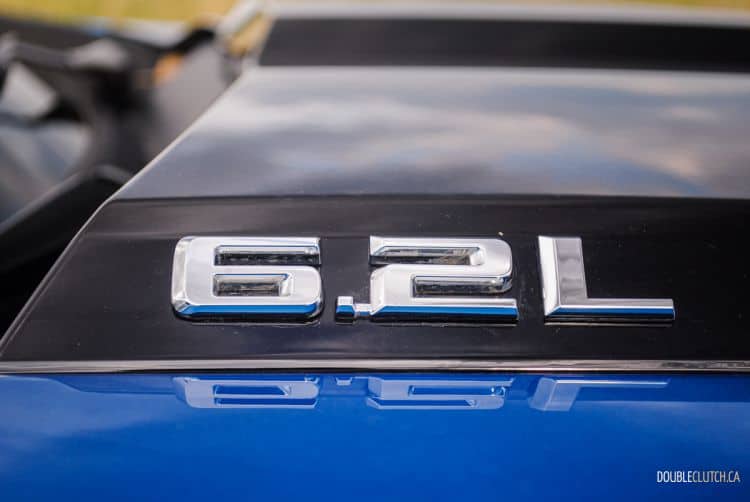 I've said this before, but the 6.2L really is the engine to have in a pickup truck of any brand. It's responsive, throaty, delivers nice linear power and if you're gentle with your right foot is capable of impressive economy. Thinking long-term, it's also still a fairly simple naturally aspirated V8, with no turbochargers or mild hybrid systems to create service headaches.
Of course, a truck as large, powerful and capable as the ZR2 isn't going to be a fuel miser, but I observed an average economy of 12.9L/100km over a good mix of highway and city driving. Interestingly, EnerGuide says it's capable of 10.6L/100km on the highway, which would be seriously impressive if it was able to perform anywhere near that number. Premium fuel is recommended as well for maximum performance. It will run on regular, but the engine management system will detune to accommodate the lower octane and you'll feel the difference in available power.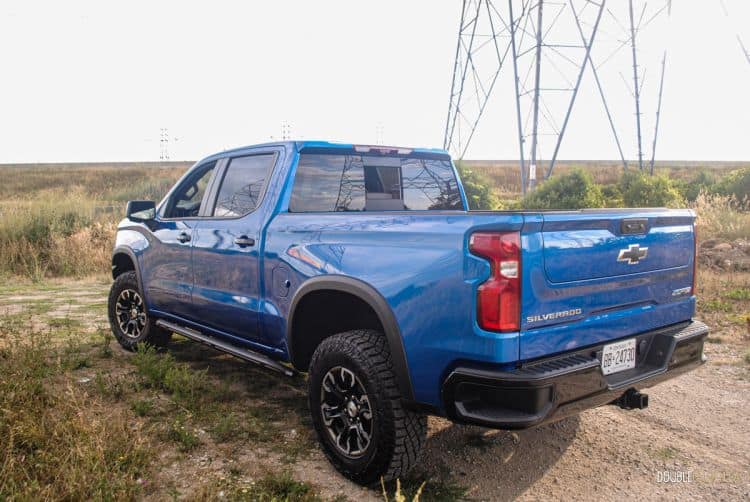 The ZR2 package, while intended as an off-road trim, is not as hardcore or over-the-top as some of the competitive off-roaders like the Ford Raptor or the Ram 1500 TRX, which are truly purpose built off-road trucks. It is, however, more off-road oriented than say the F-150 Tremor or the Ram 1500 Rebel. The ZR2's key trick is Multimatic's DSSV shock absorbers, which are regarded as some of the best and most innovative shocks on the market.
The fancy shocks, combined with the 33-inch mud tires, front and rear electric locking differentials, 11.2 inches of ground clearance, and a fascia that's been designed for a steep approach angle, deliver a very capable off-road machine.  My off-road testing was limited to field of tall grass and a gravel service track, but the truck handled it without even engaging 4-LO or any of the more advanced off-road settings, and comfortably cruised at speed on the gravel as if it were on smooth tarmac.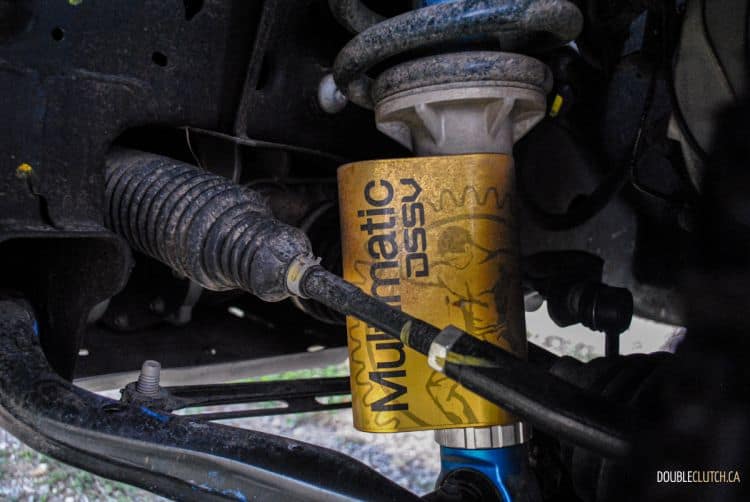 Speaking of which, the ZR2 is surprisingly comfortable and compliant on the road, again, thanks in part to the shocks, which do as well absorbing city potholes as they do trail ruts. It's a suitable highway cruiser with the most confident steering feel of the big three's pickups, and has a compliant ride and serene cabin. If the ZR2 is this nice on the open road, I imagine that the 2022 Silverado High Country would be a real treat to travel in.
Pricing is typical of the full-sized pickup truck market with the ZR2 starting at $77,748. Our tested price came up to $83,903 thanks to the addition of the Technology Pack ($2,355) which adds heads-up-display, rear view camera mirror, adaptive cruise control with lane keep, and power telescoping steering wheel. Our test truck also came optioned with a power sunroof ($1,325), the rocker protectors ($1,360) and the Multi-Flex tailgate ($525).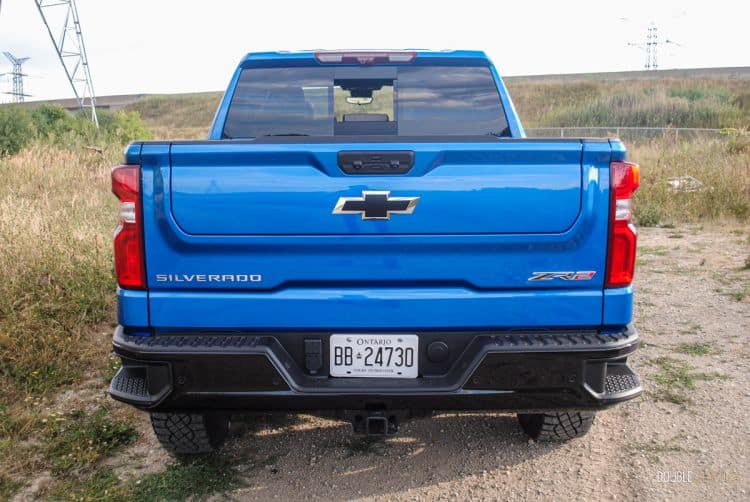 This is a thorough and impressive refresh on the Silverado, directly addressing the key issues that have held an otherwise top notch platform from the industry praise it deserves. A fresh interior, brand new tech, and a bold new face should be what the 2022 Chevrolet Silverado ZR2 needs to put some pressure on its competitors. Additionally, the ZR2 makes a compelling argument for itself, offering decent value relative to its competitors, the glorious engine, and more than enough off-road equipment for all but the most hardcore off-road enthusiasts.
See Also:
2021 Ford F-150 Lariat PowerBoost