VANCOUVER, BRITISH COLUMBIA – If there ever was a recipe to create an automotive icon, we think the team at Toyota stole it when designing this all-new 2023 Toyota GR Corolla. We are not suggesting that this is one of the GOATs, not yet at least, but there is every indication that this GR Corolla will live on as one of the hot hatch legends of all time in the automotive world.
Let's start with the styling, and there is plenty to like here. Classic long front and stubby rear end proportions? Check. Boxy fender flares? Check. Functional air vents? Lowered ride height? Racecar inspired lightweight alloy wheels? Wild exhaust tip design? Check, check, and check. And if this is all still not enough for you, Toyota will sell you a limited Circuit edition that adds hood vents, forged carbon fibre roof, and a big wing to help squash every desire to modify your GR Corolla.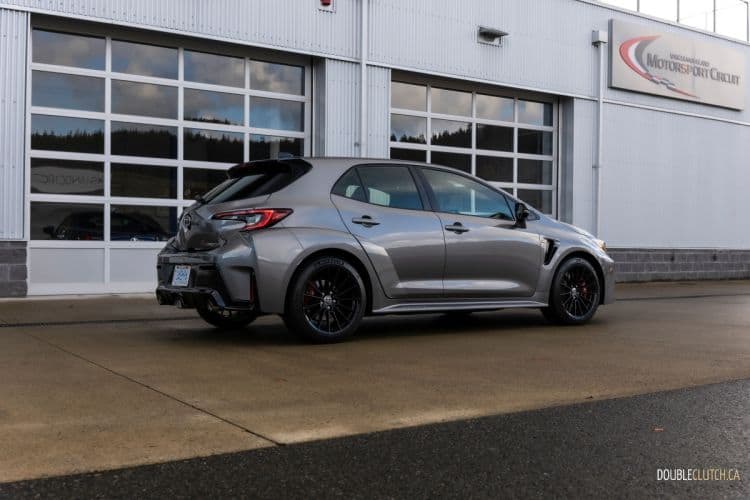 Much like many classic hot hatches, the GR Corolla's interior resembles what a typical boy racer would do to their mother's grocery getter – you'll notice the aluminum pedals, bucket seats, sporty steering wheel, and a beefy spherical shift knob slapped over an otherwise pedestrian interior layout. This is not a knock against the interior design, but rather exactly what hot hatch buyers want – an unapologetic demonstration of the concept of function over form.
All these dress-ups are moot-point if there is no performance to back it up, and you can be rest assured that Toyota has that entire page on their secret recipe book highlighted. Their engineers made sure this is not just a run-off-the-mill Corolla engine dialed up a notch, but a special one that is an instant classic. Even its cylinder count is unique here – we counted just three of them displacing 1.6-litres in total, and this mill is force fed by a turbocharger to output 300 horsepower and 273 lb-ft. of torque to propel the GR Corolla from naught to 96 km/h in under five seconds.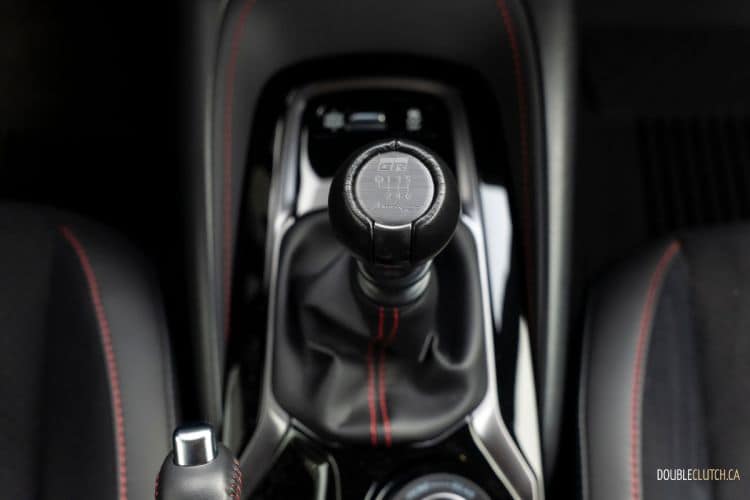 A six-speed manual transmission is the only option found here, because there is simply no better feature than having three-pedals in the footwell to instantly increase a performance car's desirability and resale value, as well as for maximized driving engagement, of course. It shifts slick with short but precise throws, and the clutch is easy to use even for the most novice driver. There is also automatic rev-matching and hill start assist to make things easier.
To properly evaluate this fiery hatchback, Toyota invited us to put the GR Corolla through its pace on the Vancouver Island Motorsport Circuit – a short but challenging course with many tight turns and elevation changes. Right away, we were impressed by the fast revving engine and lightning reflex. The GR Corolla is swift to get up in speed thanks to the short gear ratios but it also meant a busy time shifting on track and a buzzy experience on longer road trips.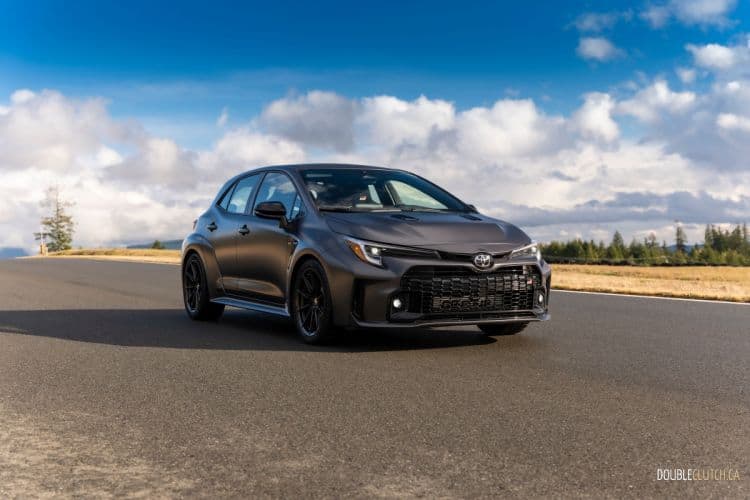 Toyota has added 349 additional weld points and four additional braces to the rigid TNGA-C chassis to ensure minimal body roll and understeer. Unlike our friends in the United States, all GR Corolla models in Canada will receive front and rear Torsen limited-slip differentials as standard equipment that for even greater cornering control.
Think that's it? No way. There are a couple other party tricks up the GR Corolla's sleeves; first of which is the exhaust system that manages to make all the right crackles and pops to let onlookers know this is not your parents' commuter, and the other is the rally-racing inspired GR-Four all-wheel drive system that offers three torque distribution bias – users can choose between having forty, fifty, or seventy percent of power delivered to the rear wheels.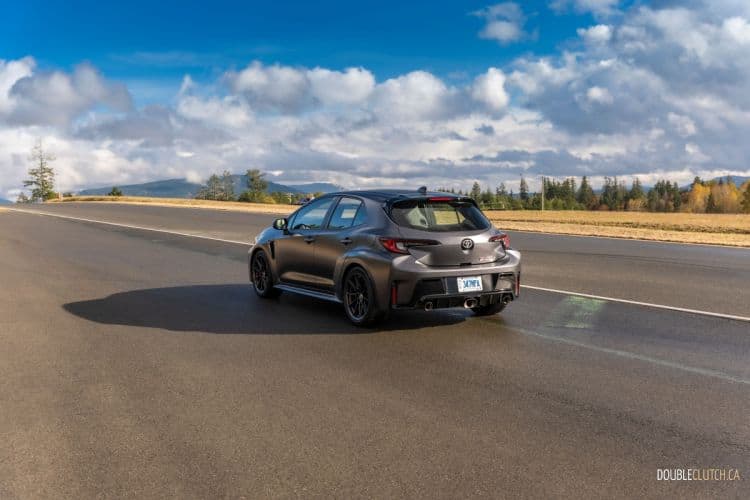 From the cockpit, we notice there is good visibility thanks to the GR Corolla's large windows and side mirrors. Headroom is not an issue even with helmet use, and the bucket seats did an acceptable job fixating us and are relatively comfortable even for long drives. We liked the 12.3-inch digital instrument cluster that displays vital information such as all-wheel-drive mode, gear position, turbo pressure, as well as an easy-to-read tachometer with flashing shift indicator that was crucial in keeping us informed while minimizing attention away from the roads ahead.
The biggest difference between getting a modern sports car and a classic hot hatch comes when you start counting amenities. There are plenty to list on the GR Corolla, including wireless Apple CarPlay and Android Auto, dual Bluetooth connectivity, and Toyota Safety Sense 3.0 driver assistance suite that includes pre-collision system, road sign assist, lane departure and tracing, blind spot monitor, and radar cruise control systems. Toyota says their objectives are to offer up technologies that support drivers but not to replace them and the GR Corolla certainly manages that.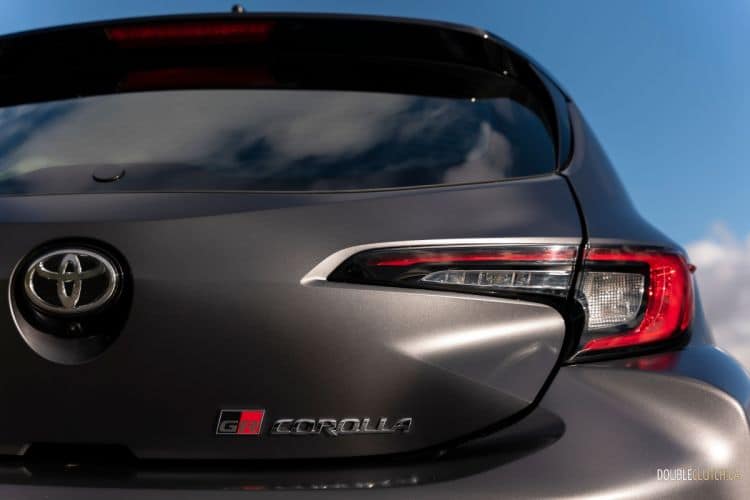 Starting price for the 2023 Toyota GR Corolla has been announced – $45,490 for the GR Corolla Core Edition, and $53,990 for the limited Circuit Edition. We can hear it now, "$50K for a Corolla?!", but let us assure you that this is way more than that – the GR Corolla is a pocket rocket dedicated to real driving enthusiasts and has every bit of what it takes to become a legend for years to come. And if you are still not convinced, Toyota will sell you a special Morizo Edition that features extra torque, close-ratio manual transmission, and a rear-seat delete for $59,990 – that is if you are one of the lucky 10 in Canada and 200 in the world chosen to buy it.
See Also:
2022 Toyota GR Supra 3.0 Premium
2022 Subaru WRX Sport-tech SPT
Track Test: 2022 Toyota GR86
*Photography courtesy of Toyota Canada*