After years in the making, Jeep finally has a competitor to Ford and General Motors' full-size SUVs. This is the 2022 Jeep Wagoneer Series II, which is a sub-brand under the Jeep umbrella that's marketed towards a more upscale clientele as well as Jeep's existing customer base looking for a premium three-row ute. A dedicated body-on-frame vehicle, the Wagoneer is positioned to go up against the likes of the popular GMC Yukon Denali and Lincoln Navigator.
Jeep's lineup has been almost completely redesigned for the 2022 model year. Starting with the ever-popular Grand Cherokee, there is now also a three-row Grand Cherokee L, which competes with larger three-rows like the Volkswagen Atlas, Ford Explorer, and Honda Pilot. Those wanting more luxury can step up to the Wagoneer, which sits a little bit higher, and rides on completely different architecture than the unibody Grand Cherokee L. Sitting at the top of the podium is the Grand Wagoneer, with its heavy six-figure price tag.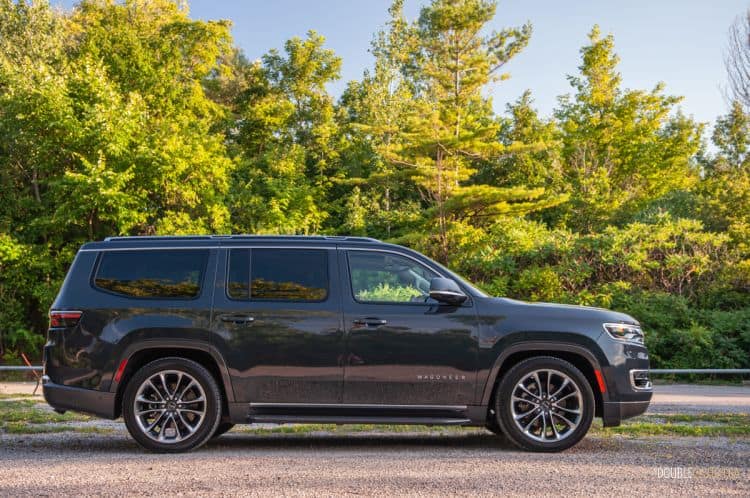 Styling is largely up to the eye of the beholder, but our main issue with the Wagoneer. It has a very handsome fascia, but the side profile looks awkward, with some unusually thick pillars and smaller windows. Our Series II tester came riding on 22-inch wheels and wide 285-series tires, the same size as the Denali coincidentally enough. The River Rock Blue is a subtle paint scheme that is about as flattering as it gets as well; we find that darker colours do a better job at hiding the Wagoneer's pillars.
Inside, the Wagoneer is scrumptious. Ours was equipped with Global Black trim all around, and Sea Salt seats. It's a gorgeous combination, and frankly the interior digs are best in class. Where the Ford and Lincoln feel artificially premium, the Jeep's materials feel legitimately expensive, and worth every penny of the sticker. Everything is put together nicely, and there are no squeaks or rattles to be found. Panel gaps are minimal, and the fit is well above our expectations.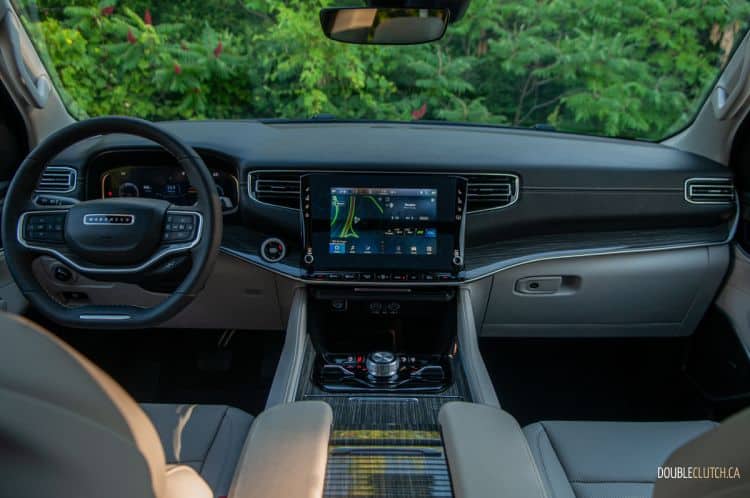 Space is fairly generous, with considerably more room than either model of the Grand Cherokee. The second row can either be configured as a three-across bench or captain's chairs, with our tester having the former. The third row has enough space for adults on shorter trips, but for longer hauls should be reserved for smaller children. Maximum towing capacity for this model is a generous 10,000 pounds.
Powering the behemoth is Stellantis' tried and true 5.7-liter naturally aspirated V8 hooked up to a mild hybrid system. While the last Grand Wagoneer we tested had the larger 6.4-liter, this HEMI V8 is more than adequate for the application. Output is 392 horsepower and 404 lb-ft. of torque, and sending power to all four wheels is the equally good ZF-sourced eight-speed automatic. The Wagoneer is quick enough, though not as eager or throaty as the 6.2-liter GM offering. It feels more immediate and confident than the Ford turbocharged V6.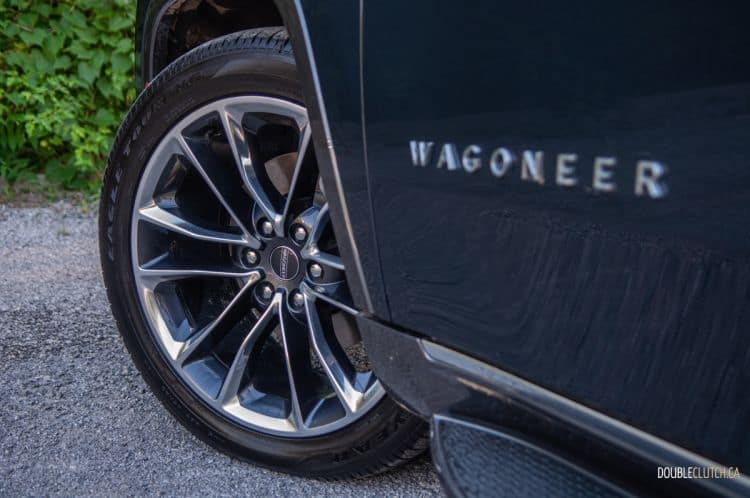 From a driving dynamics standpoint, we would argue that the Wagoneer trumps its rivals. The Quadra-Lift air suspension and adaptive dampers optioned here make for excellent body control, minimal roll, and road feel that is reminiscent of a large unibody SUV. It's no jitterier than the Grand Cherokee L, and while steering feel could be firmer, but overall this is a winner. The four-wheel-drive system also has an electronic limited-slip differential, and has adjustable settings for various road conditions.
The Wagoneer's tech suite, however, isn't quite as sharp as its cabin looks. The 10.25-inch infotainment screen houses the latest version of Uconnect, and it offers wireless Apple CarPlay and Android Auto. Unfortunately, we experienced a lot of bugginess throughout our test, including connectivity issues and a few instances of the system fully shutting off. We would also like to see physical buttons for frequent controls like the heated and ventilated seats.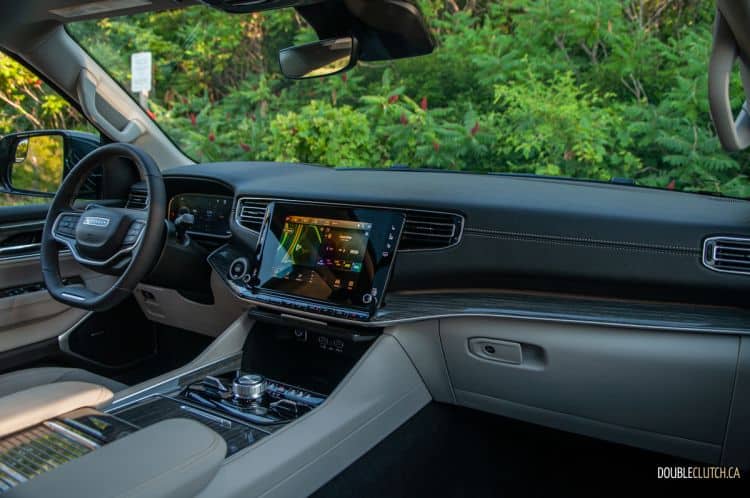 Jeep rates the 2022 Wagoneer at 15.6L/100km in the city and 11.7L/100km on the highway, for a combined rating of 13.8L/100km. Our week of carting family members around for our managing editor Nick Tragianis' wedding came in right at 13.3L/100km, and this included a highway haul to Niagara Falls and back, because apparently tourists from Europe enjoy seeing such attractions. The 100-liter tank will accept 87-octane regular fuel, because it is a standard Mopar V8 after all.
Adding onto a starting price of $80,995, our Wagoneer Series II came jammed with options including the Convenience Group I ($4,695) adding the air suspension, adaptive dampers, heads-up display, window sunblinds, surround-view cameras, active park assist, and more. The Premium Group I ($3,995) includes the three-panel panoramic sunroof and 22-inch wheels. As tested and pretty well loaded, our unit came in at $93,175 after destination.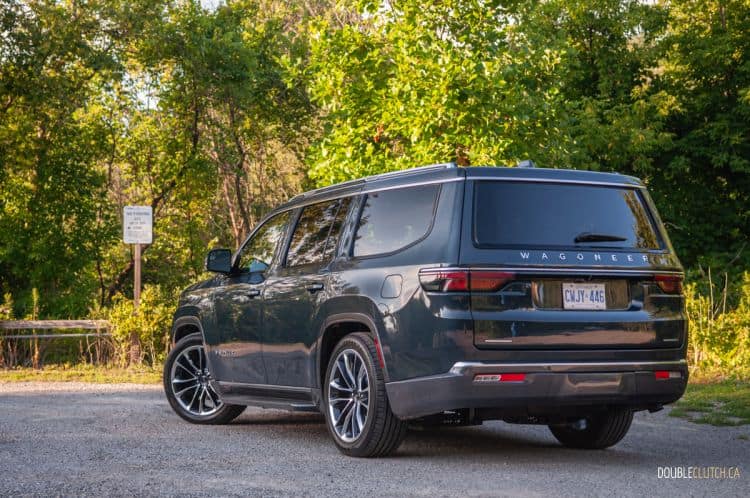 For the purpose of cross-shopping, this is right in line with the Yukon Denali and top-spec versions of the Chevrolet Tahoe. Comparing the flashy Escalade wouldn't be a fair fight, because that's the Grand Wagoneer's job. Dark horses here also include the new hybrid-powered Toyota Sequoia and Infiniti QX80, but we wouldn't exactly recommend either of those against the Wagoneer or any of the big boys from General Motors.
While there are a few things holding it back, the 2022 Jeep Wagoneer Series II is a good, premium offering. We're not huge fans of the Lincoln Navigator and have put the GM models on a bit of a pedestal. We chalk the infotainment bugs off to this being an early production unit, so aside from those, the interior is an excellent place to spend time. If you're towing and doing longer trip on the regular, the Wagoneer is the big SUV you need in your life.
See Also:
2022 Jeep Grand Cherokee Summit Reserve
2020 Lincoln Navigator Reserve