Lexus has been one of those manufacturers that make you scratch your head from time to time. This is a company that can make a vehicle so special that you can't help but gush over it when you get behind the wheel. Models that we think made history include the original LS 400, the LFA supercar, and the current LC 500 – examples of their best foot forward. With the all new 2022 Lexus NX 350 AWD on test, we try to determine if it makes enough of an impact to make it a contender in the highly competitive premium crossover segment.
With a strong following based on its rock solid reliability, build quality and luxury, Lexus could be seen as coasting for the last several years. Their sport utility vehicles have been extremely profitable and account for a huge portion of its current success. Enthusiasts have opted for sportier, more proven German competitors, while Lexus has remained unfazed by this, staying true to their nature and perfecting luxury, quality, and reliability.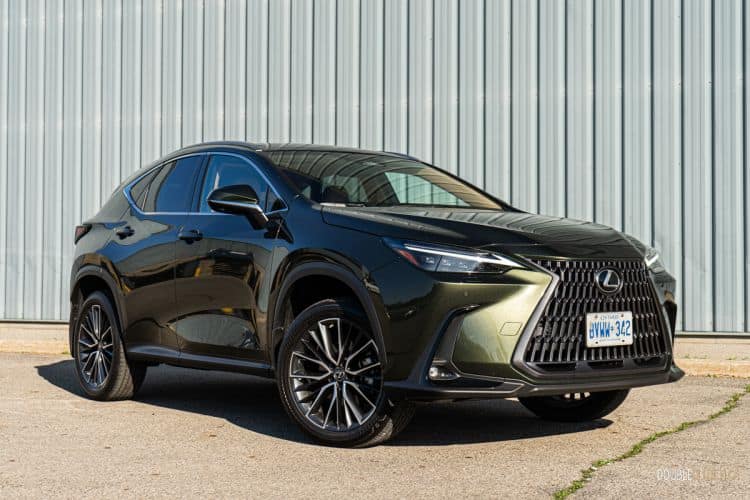 This second generation Lexus NX has received numerous updates over the 2021 version and all of these make what was considered an average SUV at best into one of the best in the segment. With the availability of two gasoline powertrains, a conventional hybrid, and a plug-in hybrid in the NX 450h+. Lexus has listened to its customers' feedback and made the improvements needed to keep up with players such as the Mercedes GLC and BMW X3.
Outside, the 2022 Lexus NX has received some nips and tucks to make it an overall more attractive design that now resembles the larger, more attractive RX. LED lighting is now standard all around and the windshield is more sloped. The Nori Green Pearl paint looks amazing and would be my color of choice. The black and silver wheels top off the overall exterior.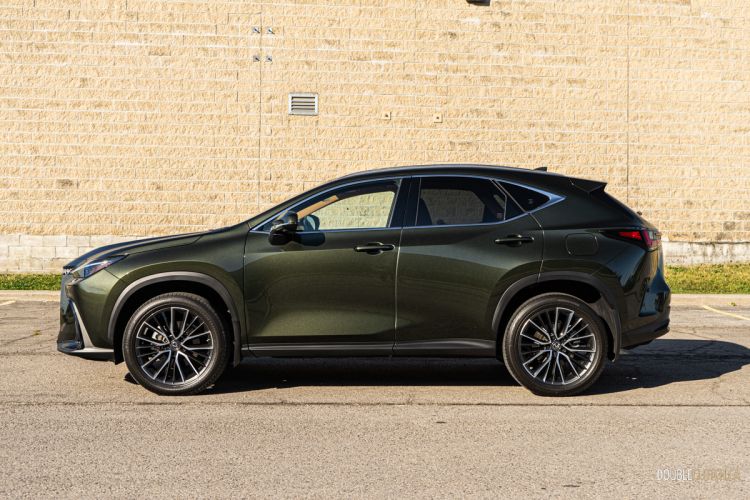 The 2022 Lexus NX 350's interior has been improved in just about every way possible. The two-tone design in black and tan looks sumptuous. This compliments the overall exterior color and elevates the NX's luxurious intent. The tan leather on the seats, console and door panels feels premium.The roof also shares the same color, however don't look for any alcantara or suede material. The infotainment screen is better integrated with the overall dash and thankfully, Lexus has done away with one of the worst touchpads to ever be put into a vehicle. Who knew that a touchscreen would work so well?
With improved speed, graphics and resolution, the newly updated looks and feels like something that should be in a modern Lexus. Choose to use the built in navigation system and prepare for a treat if you have used the outgoing Lexus software. Wireless Apple CarPlay and Android Auto are present. A nice touch is the heads up display (HUD) that shows which buttons you are touching on the left and right control pads on the steering wheel. This allows the driver to focus on what's ahead without having to look down to operate.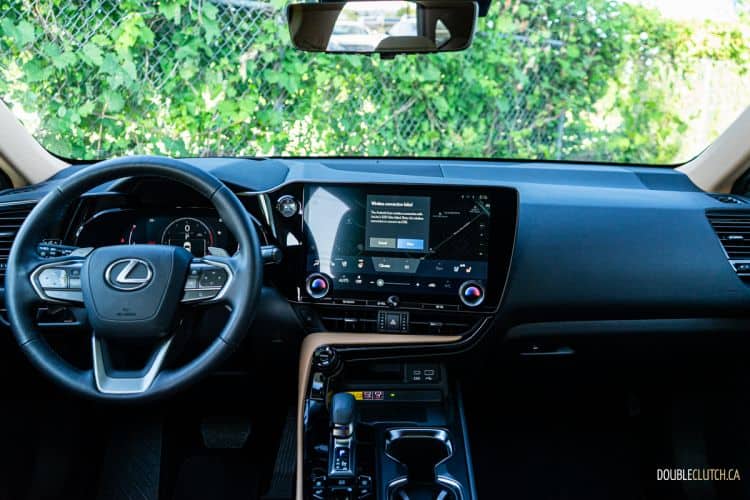 Since this is a Lexus, comfort is the name of the game. The seats are built for long road trips or keeping you at ease when stuck in city traffic. The cabin is ultra-quiet and wind noise is absent. Those seated in the rear will not be comfortable if they are over six feet tall as leg room is at a premium. Thankfully, cargo room has improved 28% over the previous generation.
Our 2022 Lexus NX 350 AWD is powered by a new turbocharged 2.4-liter four-cylinder engine that pumps out 275 horsepower and 317 lb-ft. of torque. Basically put, this pumps out significantly more power than the previous 2.0-liter unit used in the old NX 300. Paired with an eight-speed automatic, expect a 0-100km/h sprint time in 6.8 seconds. The four-cylinder is responsive and torquey, but does sound a little bit harsh and un-Lexus like when really pushed.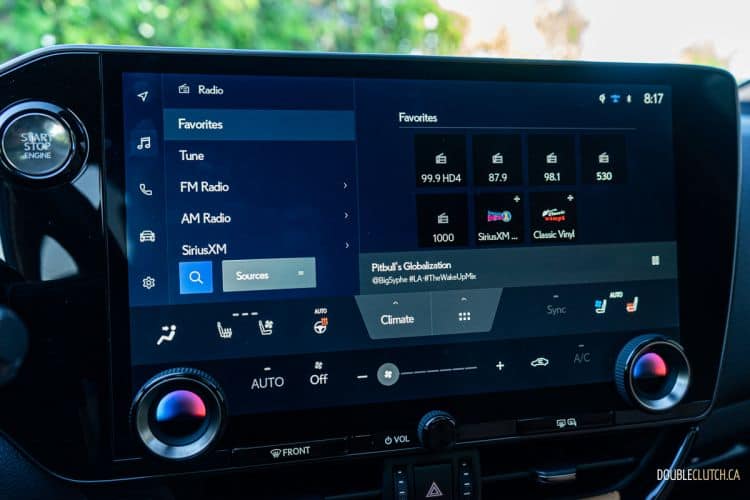 NX buyers can opt for three other engines. A base NX 250 comes with a non-turbocharged 2.5-liter motor with 203 horsepower. Our NX 350 sits right above it and is followed by two hybrid options. The NX 350h comes with 240 horsepower from a naturally aspirated four hooked up to two electric motors. NX buyers looking for performance and fuel efficiency will choose the NX 450h+ that shares the same 302 horsepower plug-in hybrid engine used in the Toyota RAV4 Prime.
For improved handling, buyers can choose an F-Sport trim level that comes with adaptive suspension in addition to more exterior touches. Our tester passed on this option and with Toronto's summer of construction back in full swing, the right choice was made. The ride is relaxed, composed and perfect for those that prioritize comfort over sportiness, which is exactly what most crossover buyers want.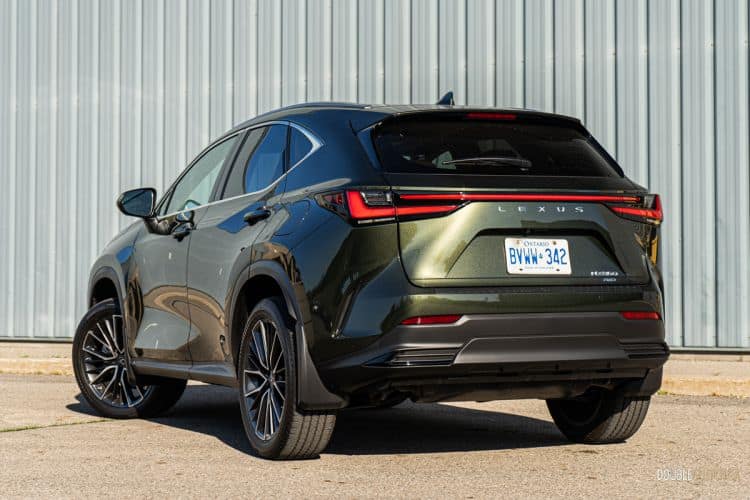 Pricing starts at $47,400 for the base NX 250. Our NX 350 AWD starts at $54,850 and comes in as tested for $64,000. This falls in line with its competitors but at this price point, a 2022 Genesis GV70 2.5T Prestige would be a better option for an additional $500. The NX 350h starts at a reasonable $49,900 and the plug-in hybrid NX 450h comes in at $59,950.
Sport utility vehicles have driven the Lexus brand's growth and success. The 2022 Lexus NX 350 AWD proves that they can make competitive crossovers that provide an excellent balance of luxury and technology. Buyers looking for isolation from the outside world will feel right at home and should seriously put an NX on their list for a test drive.
See Also:
2022 Acura RDX Platinum Elite A-Spec