In today's car market, the crossover SUV is king, dominating sales to such an extent that a lot of companies have been forced to put their traditional car-shaped cars on the back burner, or abandon them altogether. In and amongst the sea of tall, awkward hatchbacks masquerading as "adventure vehicles," the 2022 Kia Forte GT-Line sedan is a refreshing look at how things could be if we weren't all so collectively obsessed with looking more interesting than we actually are.
Since its debut in 2019, the Kia Forte has always been a smart, well executed little car that's every bit as good as its more established rivals, and for 2022 it gets some spiffy new athleisure wear. The new for 2022 GT-Line hits all the athletic style marks, sporting contrasting gloss black and matte red highlights, aggressive front and rear fascias, a tidy decklid spoiler, and sparkling satin 17" wheels. Our test car's metallic Hyper Blue paint injects some additional personality and sets the whole outfit off nicely.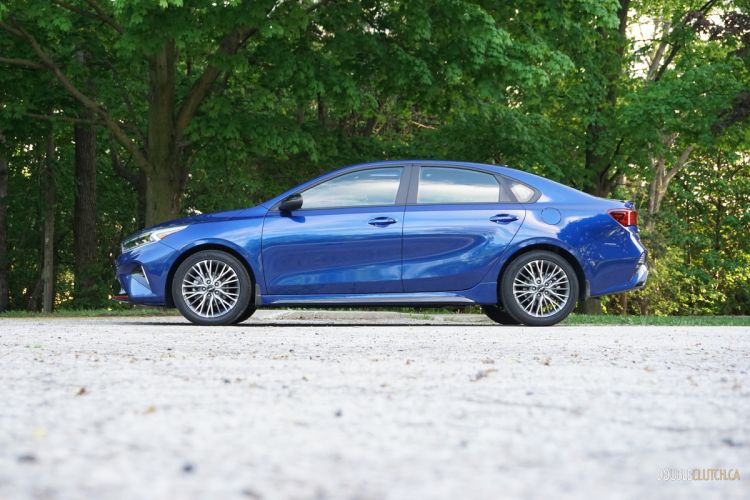 However, like so many of us rocking the athleisure style, the Forte GT-Line isn't actually much of an athlete; it's just an outfit. It makes do without the turbocharged muscle of the Forte GT, making do instead with the base Forte's naturally aspirated 2.0-liter inline four, routing all of its 143hp to the front wheels through a continuously variable transmission. Suspension remains unchanged from the base car as well, with no firmer this or stiffer that to reign in the extra power it doesn't have.
Okay, so maybe the Forte GT-Line is also a little fixated on looking more interesting than it actually is, but it opts for sweats and sneakers in lieu of the stilts and shoulder pads everyone else is posing with nowadays. In lieu of genuine sporting character, for $26,795 you get a sharp little sedan with everything and the kitchen sink when it comes to frills and features.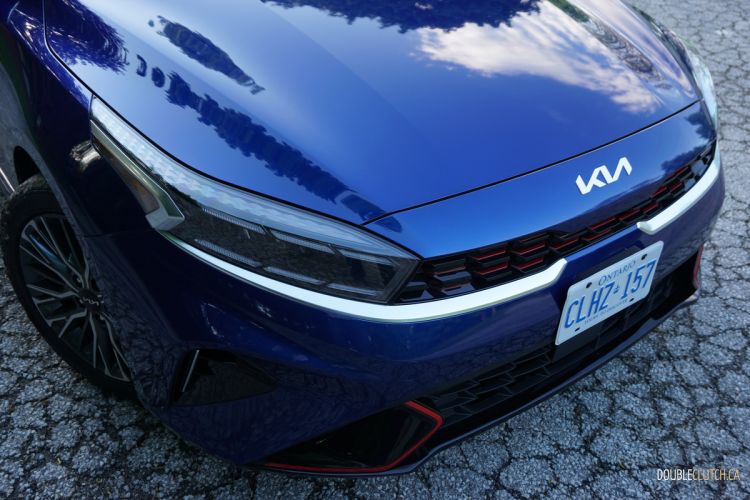 The GT-Line package includes all the aforementioned athletic wear, as well as leatherette seats with white stitching and firm bolstering, power adjustment for the driver, ventilation for both front seats, and heating for front and rear. You get a black headliner, moonroof, leather trimmed shifter and flat bottom steering wheel. You get dual zone automatic climate control, a 10" touch screen with Android Auto and Apple CarPlay, a wireless phone charger, as well as the full suite of Kia's driver assists, including blind spot detection, steering assist, and full speed range radar cruise, and collision prevention.
Perhaps more impressive than the laundry list of content is how well it all works together. The Forte's interior space and user experience is a shining example of good design. The appearance is clean and attractive, with good materials on all touch points, and very little in the way of gloss black trim to gather greasy fingerprints.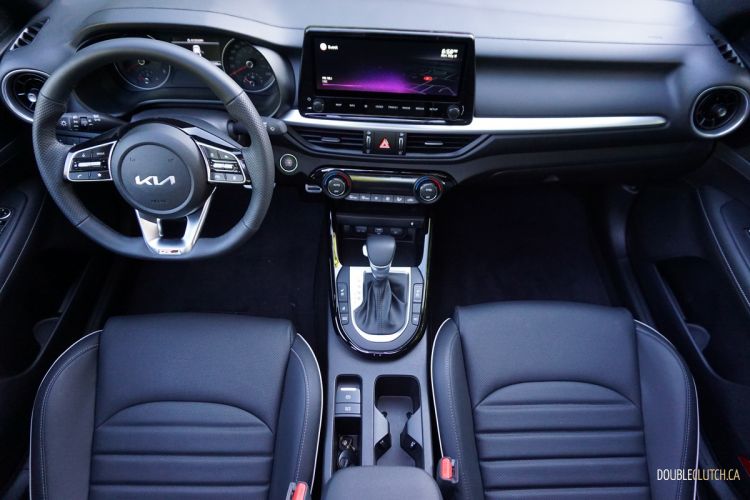 All controls are logically laid out and intuitive, and, being that they are honest-to-god buttons, easy to find and use while on the move. The touch interface is crisp and wonderfully intuitive, augmented with volume and tuning dials, with a very here-and-now neon sunset aesthetic. Steering wheel controls are similarly intuitive, and work well with the center display. Job well done here.
While it may not be winning any awards in track and field, the Forte GT-Line is a good sport and knows how to play ball on the road. The engine has eager response, and the CVT does a great job of both making use of the engine's power and hiding the fact that it's a CVT. It uses eight "gears" to disseminate its meager power, and it's surprisingly good in sport/manual mode, rifling off immediate gearchanges up and down with almost no nannying to get in the way when you're trying to have fun. They say it's more fun to drive a slow-car-fast than a fast-car-slow, and being able to regularly delve deep into the throttle and snap through the "gears" without worrying about getting arrested every time is indeed entertaining.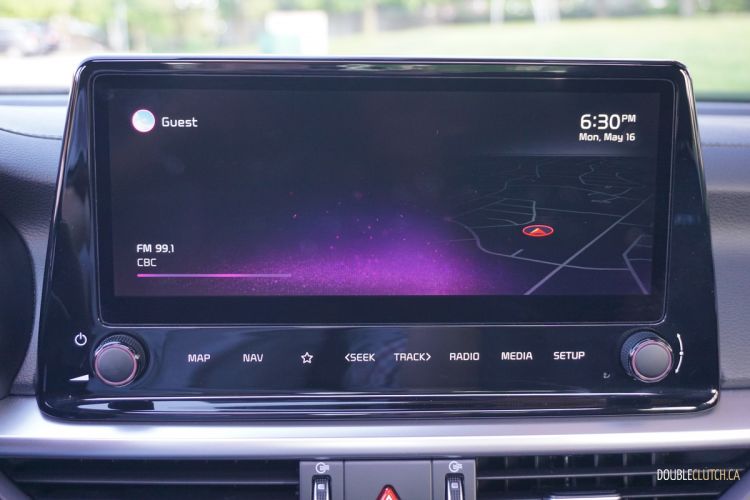 The Forte GT-Line's chassis supports the athletic motif, with quick, communicative steering and decent body control and grip. The brakes are a hair on the overeager side, typical for Kia/Hyundai, but reassuring and fairly easy to modulate. The whole package works well when driven playfully, but begins to unravel and reveal its econobox roots when pushed hard, with lots of front end plow on display. Athleisure is the name of the game for a reason.
Leisure is where the Forte GT-Line excels. That non-sport tuned suspension provides good ride comfort, and the seats are supportive and comfortable over long trips in any conditions with heating and ventilation on tap. The cabin is well insulated, and the engine is quiet and smooth with linear response. Leg, head and knee room are generous in front and rear, and outside visibility is excellent in all directions – you don't even need the backup camera to park this thing. The radar cruise and lane keep assist work together very effectively, allowing you to really embrace leisure if you only feel like pretending to drive.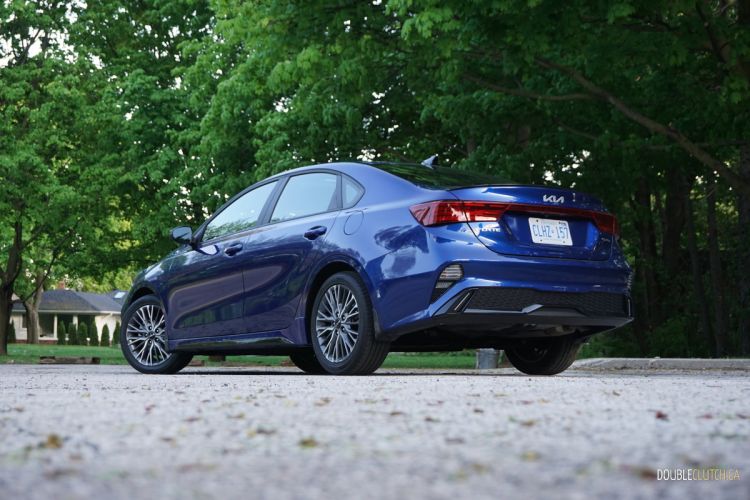 Not actually being a real athlete works for the 2022 Kia Forte GT-Line. Swapping out cleats for sneakers makes it comfy and casual to drive. Not having to maintain muscle mass means it can keep a skinny fuel diet, using just 6.5L/100km in our testing. It looks sharp and ready to get sweaty, without any of the fuss of actually being sweaty. Very much like skipping the gym, it's an easy sell every day.
See Also: