Land Rover is one of those brands that you just can't help but like because they've simply carved out a healthy niche for themselves, without sacrificing what the brand really represents. The Defender is a prefect example of that; it is the toughest and most capable vehicle Land Rover has ever built, but since most of them will spend much more time in a mall parking lot than on the trails, it is extremely civilized as well. We took some time with the top-dog, a 2022 Land Rover Defender 110 V8, to appreciate all that it has to offer, and note some of its funky quirks.
We recently tested the Defender 90, the stubby two-door version, and while I rambled about how good it looked (it does look great), truthfully, it is just not practical. The Defender 110, with its more traditional four-door body style is more usable and isn't hard to look at either. Our tester came finished in Santorini Black with gloss black 22-inch wheels, it all made for a very villainous looking SUV. Moving around to the rear, you can't help but notice the very prominent quad exhaust tips dangling below the bumper, or the glorious rumble they emit.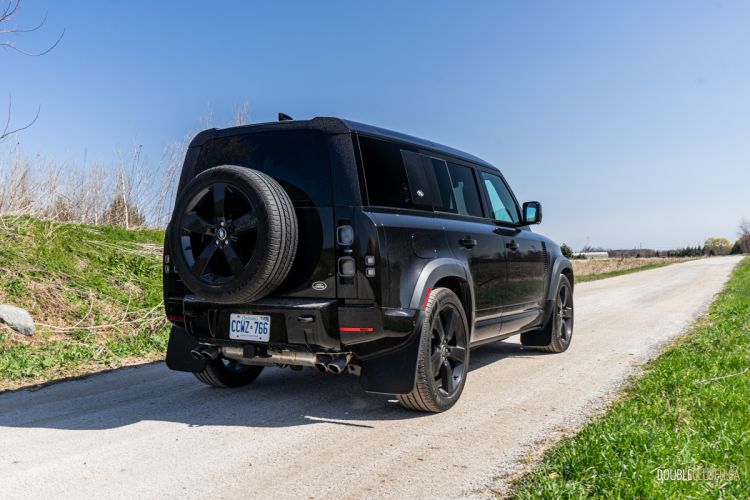 The rear swinging gate, is another distinctive feature of the Defender, but it is heavy and can make loading awkward in tight quarters. Exterior fit and finish is impeccable and manages to look very modern and fresh while retaining all the boxy characteristics that one expects from a classic Defender – a great merger of traditional and contemporary styling.
The interior design represents the Defender's mission just as well. It is extremely functional and comfortable, striking to look at, and impeccably built. Being a top tier trim level, our tester is adorned with such refinements as Windsor leather and Robustec 14-way heated and cooled front seats, a full length panoramic sunroof, Meridian sound system, a nice ebony colored headliner, Suedecloth heated steering wheel and big 11.-inch touchscreen. Everything you touch feels high-quality and robust, and everything fits together perfectly.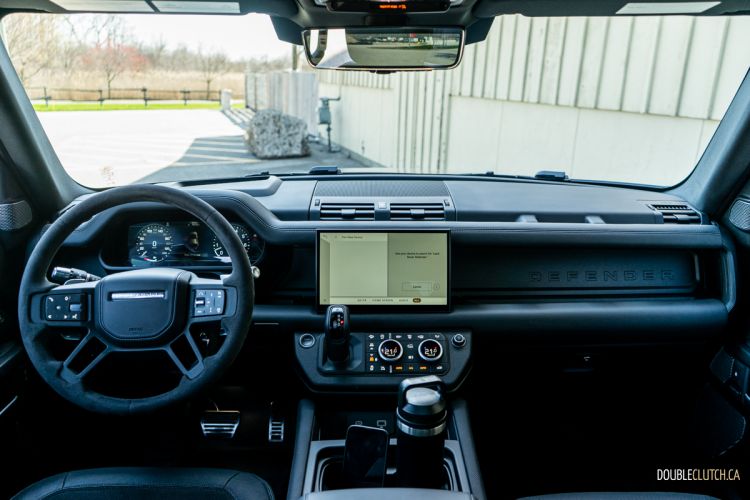 As well appointed as the Defender V8's interior is, there is still a strong aura of rural practicality. There's no open pore wood or other high-end finishings that can't be washed down safely, it has a rubber floor (with carpeted mats) for easy clean-up and a tough plastic lined cargo area. Even the seats, while comfortable, are not the plush rich leather you'd expect in a six-figure luxury SUV. These combine Windsor leather and a durable fabric Land Rover calls Robustec to put together what I'd consider the ultimate off-roader seats.
The driving position is great, and there's plenty of leg, head and shoulder room for all five passengers. The front of the cabin is vey well designed to maximize storage for items you want to have at hand and includes two large cupholders, a large refrigerated center console, and plenty of open storage trays in the console, doors, and the dash. The rear cargo area is significantly larger than the Defender 90, but still on the tight side by today's standards. It is very well appointed with tie-downs, a cargo cage (optional), 12V outlet, and even a separate blower motor for any pets that might ride back there.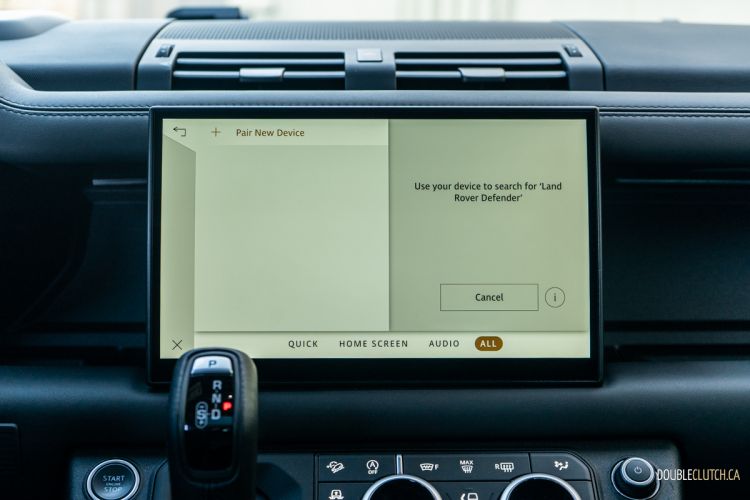 In typical JLR fashion, the infotainment system, while slick looking on a big 11.4-inch touchscreen is abysmal. It is not intuitive to use, it's laggy, uses lots of confusing icons and is just generally frustrating. Similar can be said for most of the controls; whether it's the digital gauge cluster, steering wheel controls, or even the climate control, it's all very difficult to get used to, even after two weeks in Defenders. If there's a bright spot in the Defender's interior tech it's that the Meridian sound system sounds excellent.
While operating the tech can be frustrating, the powertrain more than makes up for it. The Defender V8 is powered by the 5.0-liter supercharged V8 putting out 525 horsepower and a whopping 625 lb-ft. of torque. It is a big, powerful, menacing boosted V8 that is packed with excitement and character. It sounds great, it pulls like a freight train and is just an absolute joy to pilot.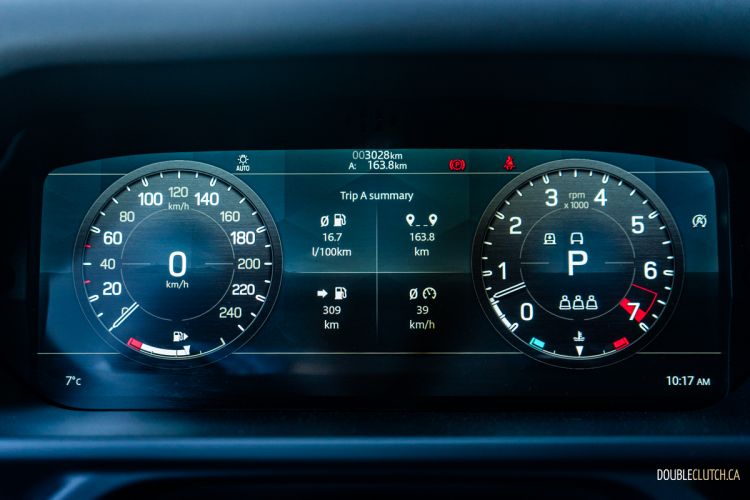 The burly V8 is mated to an eight speed automatic making excellent use of the engine's big power. Of course, the Defender 110 is available with other engines; a base 2.0-liter turbo-four or a mid-range 3.0-liter supercharged inline six. I was impressed with the six in the past, and truthfully it'll do just fine, but the V8 adds so much character that it's very hard to ignore.
The big V8 is also well complimented by the Defender's on-road manners, which are better than any other off-road focused machine, thanks to new unibody construction, independent rear suspension and adjustable air springs. The Defender floats over city potholes and cruises confidently and quietly at speed on the highway as well. Steering is light and precise, and the experience is competitive with any other luxury SUV on the market – which is saying a lot when you consider the Defender's off-road prowess.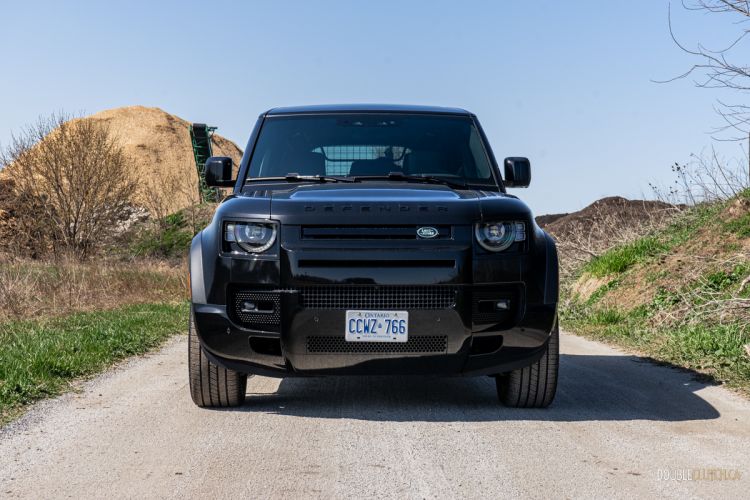 The Defender's real mission is about taking you, your family, the family pet, and whatever else you want to bring, just about anywhere a four wheeled vehicle can go. Despite its on-road refinement, it still boasts class-topping approach and departure angles, 11.5-inches of ground clearance, and 35-inches of water wading ability. These are numbers that will have Jeep Wrangler owners paying attention. You also get some of the more upscale off-road equipment such as adjustable air suspension, Land Rover's Terrain Response system, a two-speed transfer case, a standard locking center differential and active rear-locking diff.
If you're not an expert off-roader, there's also enough technology on-board to take a lot of the guess work out of the task. I do have to say though, I was slightly disappointed at the fact that the Defender V8 is only rated to tow 3,500-pounds – it's adequate for light tasks, but is easily topped by other SUV options.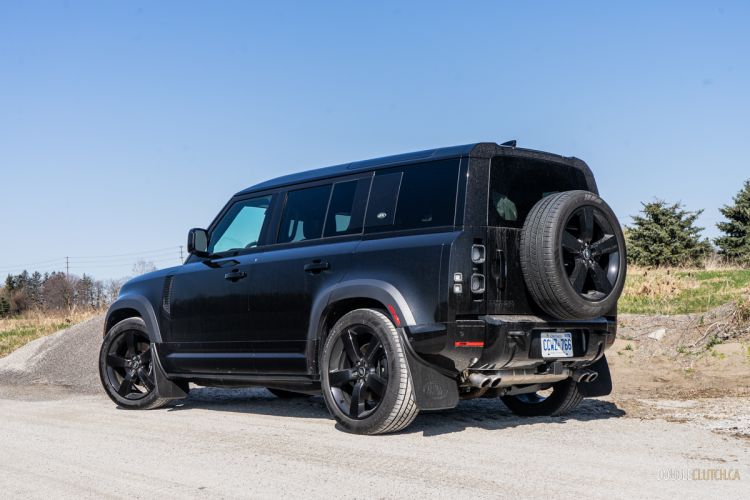 You'll also find that the Defender comes with plenty of small 'nice to have' features that are geared towards adventure; our tester had a portable air compressor and an on-board water tank with rinse system that can be used to rinse off muddy boots and other items when the day of adventure is wrapping up. This stuff, while on the edge of gimmicky, all seems very high quality and well thought out, which speaks to Land Rover's decades of experience in building adventure vehicles.
Of course, there's nothing cheap about owning a Land Rover Defender, and that's true both at the dealer and at the pumps. The 5.0-liter supercharged powerhouse prefers premium fuel and swigs it at an observed rate of 16.5L/100km over a week of mixed driving. I am sure there's room for improvement if you softened up your right foot, but where's the fun in that?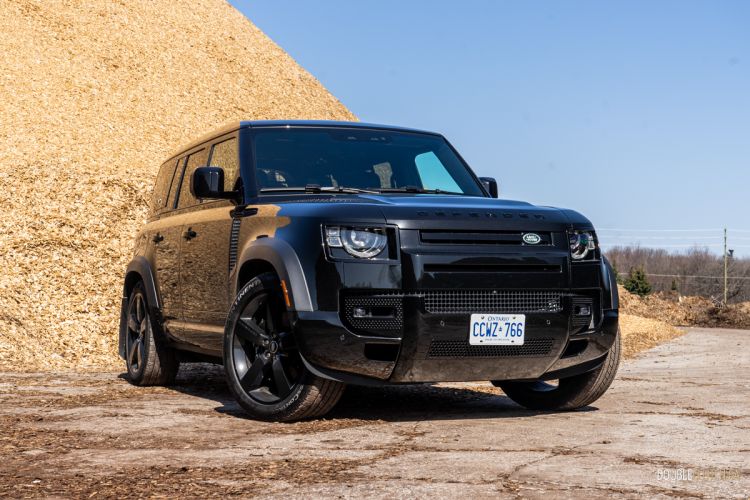 At the dealer, while you can get into a base Defender with the four-cylinder for $67,000, the V8 starts at $128,900 and goes up from there as you start adding more options. Our tester came to $135,867 with extras such as the exterior blackout package ($1,200), the gloss black wheels ($500) and the Country Package ($2,291) adding equipment such as mud guards, wheel arch protection, rear bumper scuff plate, the aforementioned water rinse system and a full height cargo area cage partition. You can spec out a very nicely equipped six-cylinder Defender 110 for under $100,000, but if you want the V8 (and you do), be prepared to pay up.
The 2022 Land Rover Defender 110 V8 is one of my favorite SUVs on the market today because it is just so unique. It looks striking without being over the top, it drives great, sounds great, is a master of off-road terrain and represents a very intriguing blend of modern technology, luxury and old world practicality. It certainly has its list of drawbacks, but its charm is enough to make all but the worst of them fade away.
See Also:
2021 Land Rover Defender 110 S P300
2021 Jeep Wrangler 4xe Rubicon