Reinventing an icon is no easy feat. Play it safe and you won't attract many new buyers into the fold, but change too much and you'll alienate the fan base that made your offerings so special to begin with. Fortunately, Land Rover seems to have this delicate dance figured out — as it should, because the 2021 Land Rover Defender 90 tested here is arguably the most important Landie in a very long time.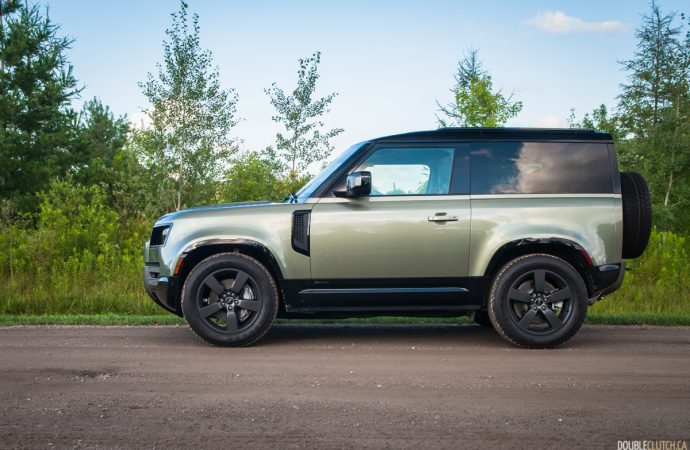 And it's been an equally long time since we've seen a capable, factory-fresh off-roader that isn't the Jeep Wrangler, at least here in North America. Good luck getting a Ford Bronco when they finally hit dealers, and while the Mercedes-Benz G-Wagen certainly has the goods, those stratospherically expensive trucks are treated as Beverly Hills boulevardiers more than anything. There's definitely a place for something fancier and easier to live with than a Wrangler, but more affordable (and less ostentatious) than a G-Wagen — and the Defender fills that niche perfectly.
Much like the Wrangler, the Defender can be had as barebones or as kitted-out as your heart desires. You're spoiled for choice in the powertrain department; Jaguar Land Rover's ubiquitous 2.0-litre turbocharged four-cylinder engine comes standard, good for 296 horsepower and 295 pound-feet of torque. If our recent go with this engine in the Jaguar XF is any indication, do yourself a favour: skip the turbo-four and go for the inline-six living under the blocky hood of our particular tester.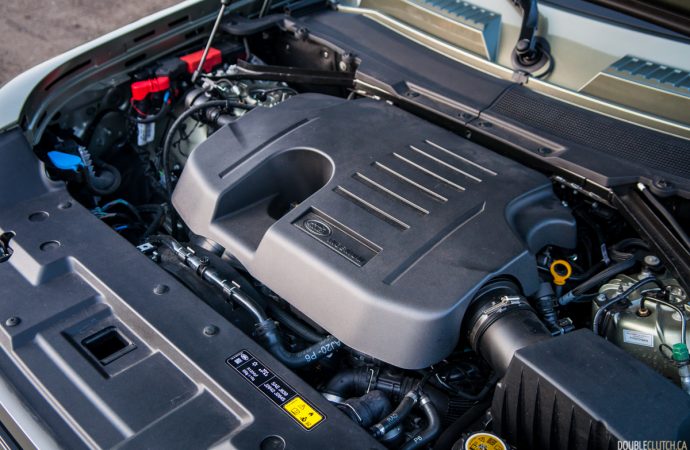 Putting out a more-than-respectable 395 horsepower and 406 lb.-ft. of torque, the turbocharged inline-six is well-matched to the Defender. Paired to a 48-volt mild hybrid system, it's creamy smooth, responsive, and with the zero-to-100 km/h run clocking in at 6.1 seconds, it's a full second faster than the turbo-four. The sixer also delivers excellent fuel economy, all things considered: we saw 11.8 L/100 kilometres over the course of a week, with much of that taking place on the highway. Curiously, that's on par with the Wrangler 4xe plug-in hybrid over a similar city-and-highway mix, although the Defender's big tank and thirst for 91-octane gas means fill-ups can be pricey. A supercharged V8 rounds out the Defender's engine lineup, although with 518 horses on tap, you'd have to be a special kind of nut to go for that one. The inline-six is definitely the sweet spot, and all engines are hooked up to an equally creamy-smooth — and smart — eight-speed automatic.
Its chassis and road manners are where the Defender truly shines. Sure, it ticks off all the boxes a focused off-roader should: the permanent, rear-biased AWD system uses an electronic diff on the rear axle for side-to-side torque-vectoring action in sticky situations where the mud looks like chocolate milk, the adjustable air suspension allows for up to 11.5-ish inches of ground clearance, and the 38-degree approach and 40-degree departure angles in two-door form are a close match to the stubby Jeep Wrangler Rubicon's 44 and 37-degree angles.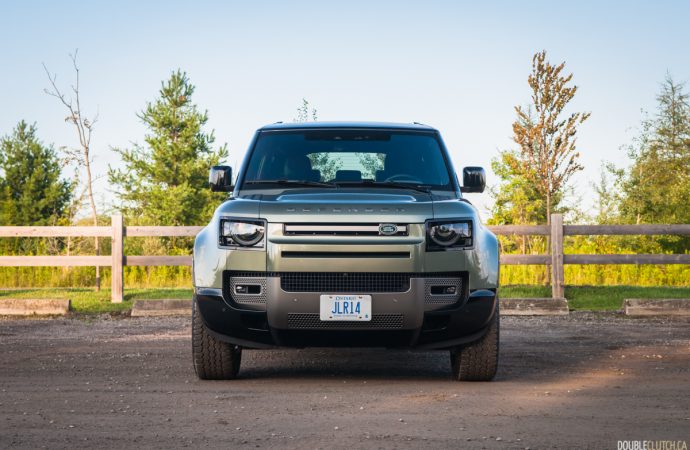 But what do you really want to know about this truck that can climb a 45-degree incline and wade through up to 900 millimetres of water? That it's legitimately comfortable on pavement, and considering that's where most Wranglers and Defenders will spend more than 99 per cent of their time, highway manners matter way more than you think. Say what you will about the Wrangler's capabilities, its on-road behaviour leaves a lot to be desired, even with the much-improved JL generation. In the Defender, you don't have to constantly saw at the wheel, wind noise is almost non-existent, and it isn't overly twitchy. Dare we say between the sublime engine, the smart transmission, and well-sorted driving manners, the Defender is rather pleasant on the highway? 
Inside and out, the Defender strikes a good balance between form and function, albeit with a slight emphasis on the latter. Its boxy design is pretty much par for the course in the dedicated off-road segment, but our tester's three-door configuration and green paintwork looks properly unique among the droves of blob-shaped crossovers and SUVs that dominate our roads. Be prepared for double-takes, thumbs-up, and Given the amount of attention and double-takes the Defender received, Land Rover certainly hit a home run.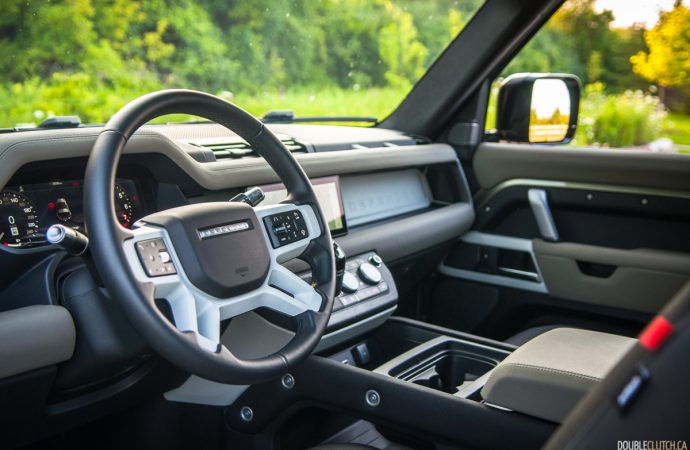 But the interior is where the Defender's function-over-form-but-form-still-matters approach is the most apparent. The overall layout is simple and intuitive, with a good mix of crisp and responsive displays for the instrument cluster and infotainment, as well as physical switchgear on the centre console and a seemingly infinite supply of storage cubbies and pockets. The upright driving position and massive windows lend to an airy feel and excellent visibility all around, the fit-and-finish is first-rate, and the mix of premium materials and hard-wearing textiles works together quite well. Oh, the Defender has a dead pedal, too! You don't know what you're missing until you've driven a Wrangler without one. It really is the little things in life that matter. 
We only have a couple of real nit-picks against the Defender's cabin. The warning chime from the proximity sensors is really loud; you may appreciate a less intrusive setting between 'screaming at you' and 'off' so you can actually focus on your surroundings when you're squeezing into a tight parking spot. As well, the two-door Defender 90 body style isn't the most practical: access to the rear seats requires a bit of contorting, and there's only 15.6 cubic-feet of cargo space with the rears up. If cargo space and rear seats are priorities, go for the four-door Defender 110.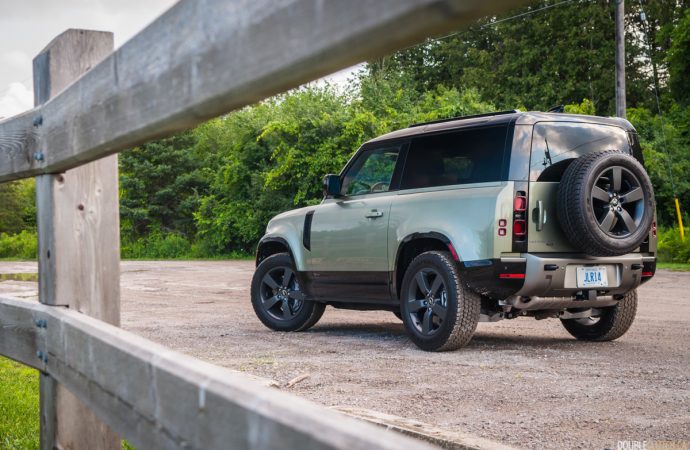 Price-wise, the Defender covers a pretty broad range. Base 90s start at $62,800 with the turbo-four, while the supercharged V8 will run you well over $120,000. The cheapest way to get the inline-six is our X-Dynamic tester; it starts at $72,400, but this one topped out at just under $90,000 as-tested. 
That's a hefty chunk of change, but when you think about the 2021 Land Rover Defender 90 is far more agreeable driving manners — and not to mention the excellent interior appointments — perhaps stepping up to this Landie over an absolutely full-jam Wrangler might actually be worth it, as long as you exercise some restraint when picking out any bells and whistles. Turns out you can have your cake and eat it, too. You'll just have to pay (a bit extra) to play. 
See Also:
2021 Jeep Wrangler Rubicon 4xe