These days, headlines of new pickup trucks are dominated electric-powered thousand-plus-horsepower heavyweight monsters that are not something that anyone would ever need. Fortunately, while Ford is surely busy making one of such futureproof electric truck; they also were hard at work in creating something that real world users are looking for – a compact unibody pickup with carlike dynamics and the utility of a traditional open-bed workhorse. We snatched the keys to this 2022 Ford Maverick Lariat and set out for a week of evaluation.
The Ford Maverick is a handsome truck that carries all of the right proportions. It appears bigger than it is, until you park it beside another SUV – it is actually smaller than most three-row SUVs on the market. The squared-off front end looks macho and the Cyber Yellow Metallic paint job catches attention everywhere. You can distinguish the top-of-line Lariat trim by the LED headlamps with signature accent lighting, body-coloured mirrors and tailgate, as well as 18-inch two-tone aluminum wheels.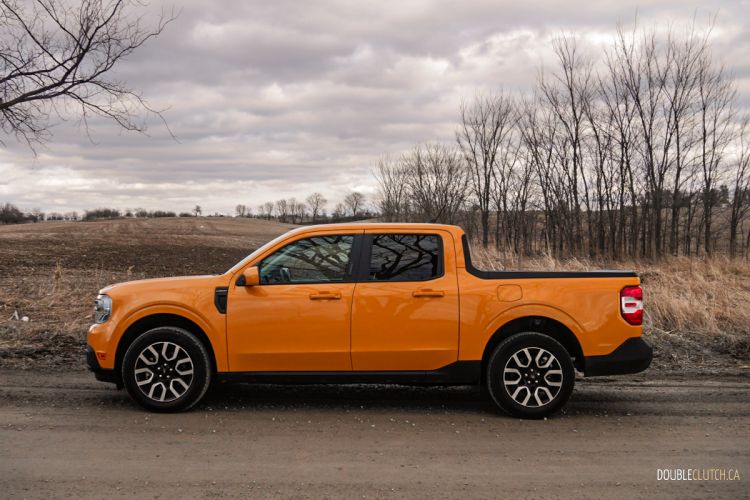 Base engine on the 2022 Maverick is a 2.5-litre hybrid four-cylinder, with the optional upgraded powerplant tested here being a 2.0-litre EcoBoost turbocharged inline four-cylinder. Unlike the standard XL and XLT, the Lariat model is only available with the turbocharged engine and rewards with punchy acceleration and brisk performance. The standard eight-speed automatic is much better than the ten-speed transmission found on the Ford Ranger. Shifts are quick and smooth, and we were able to accurately predict its next move which is not something we can say about the ten-speed box.
Thanks to its compact size and unibody construction, the Maverick is a pretty decent truck to drive. Steering response is direct and it mostly goes where pointed. Body roll is well controlled which is always an important factor for trucks, and the brake pedal offers a confidence inspiring feel. Ride comfort is good as the suspension does well soaking up road bumps without wallowing too much. Buyers really should consider the Maverick over larger trucks if urban crawling and light trucking is all they do.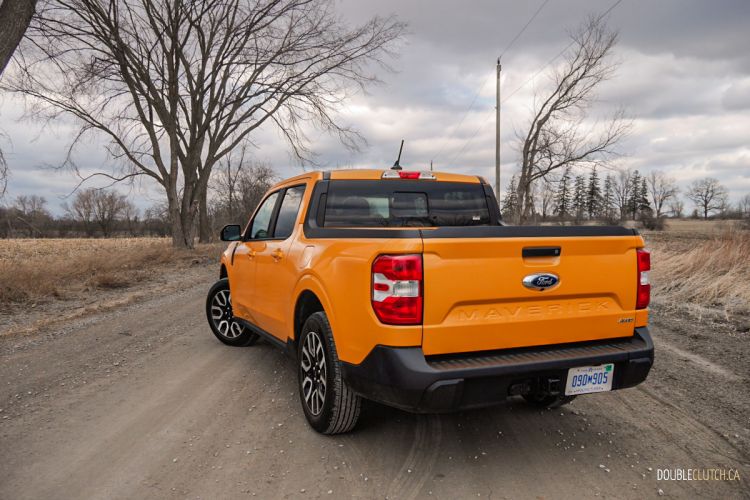 Fuel consumption for the Maverick with the EcoBoost is rated at 10.7L/100km in the city and 8.1L/100km on the highway for a combined rating of 9.5L/100km – about 3.3L/100km more when compared to the hybrid model. Our observed rating during our city-heavy commute came in at 10.2L/100km, and regular grade gasoline is accepted on the 62.4 litres fuel tank.
The interior of the Maverick is rather basic but Ford dressed up the Lariat model to avoid a cheap looking cabin. The two-tone colour scheme added a level of sophistication for a small utility vehicle like this, and we like the industrial design with the exposed screws and metal accents for a sense of ruggedness. The driver's seat is eight-way adjustable and felt supportive for longer trips, but the rear bench is rather flat and uncomfortable which was to be expected with a truck this size.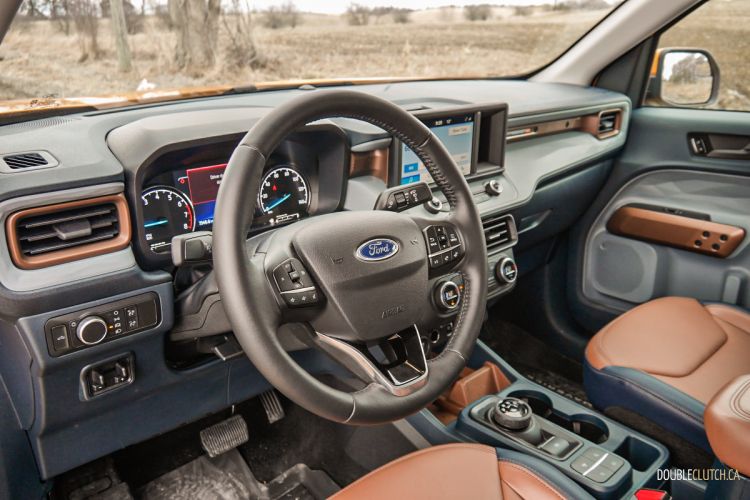 The bed length is about 4.5 feet – extendable to 6-feet with the tailgate folded down – and max payload is rated at 1,496 pounds. The Maverick with the EcoBoost engine can tow up to a maximum 3,990 pounds with the optional 4K Tow Package, doubling that of the standard front-drive hybrid model.
Infotainment is delivered through Ford's SYNC3 operating system using the eight-inch touchscreen on the centre console. The system is quite user-friendly with acceptable screen resolution to keep the interior feeling modern, and our Lariat model is equipped with an additional 6.5-inch customizable screen on the instrument cluster. Android Auto and Apple CarPlay integration is supported and the Lariat model comes with four USB charging ports and a wireless charging pad to keep those devices going. The standard six-speaker sound system is adequate but there is an optional Bang & Olufsen sound system available for pickier listeners.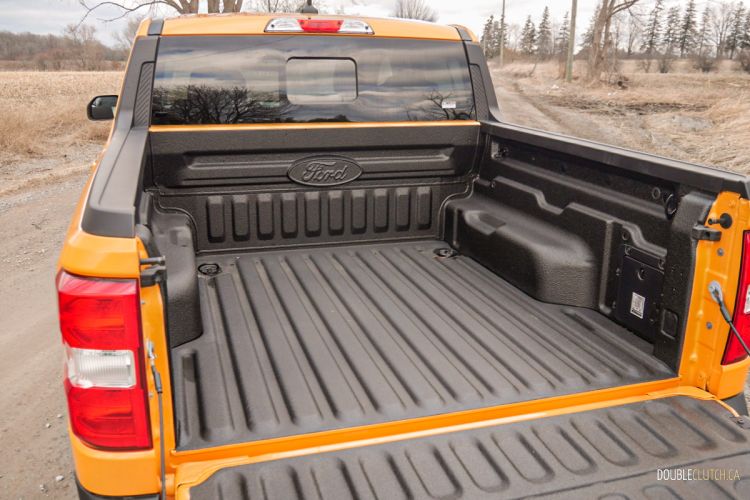 The 2022 Ford Maverick is equipped with standard Co-Pilot360 driver's assistance technology including automatic high beam and Pre-Collision Assist with Automatic Emergency Braking systems, and buyers have access to more technologies such as Blind-Spot Information, Lane Departure Warning, Lane-Keeping, Evasive Steering, and Lane-Centering systems by opting for the Ford Co-Pilot360 Technology Package.
With a starting MSRP of $26,900, the base Maverick XL is a serious bargain when compared to other compact pickups in the market. Our as-tested total for this top-trim Lariat model came in at $37,010, which offers tremendous value when you compared to the other unibody compact truck that recently came out last year – the Hyundai Santa Cruz. While they both offer similar car-like driving dynamics and utility, the Santa Cruz is the more stylish option and the Maverick is unbeatable if value or fuel economy are your priorities.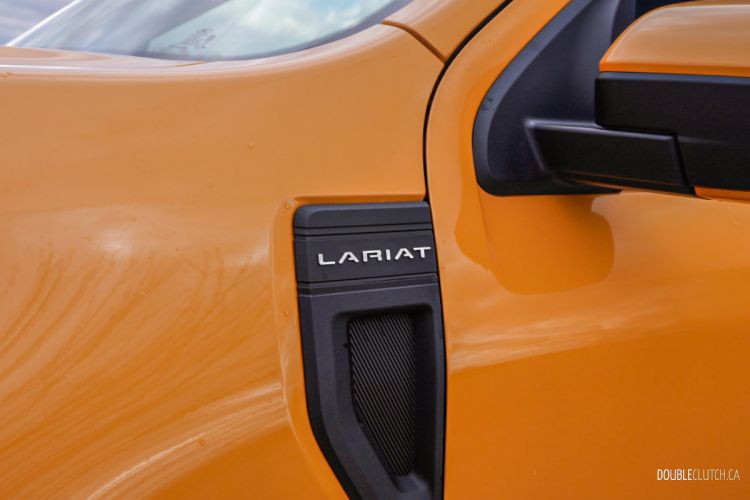 The 2022 Ford Maverick Lariat fills a niche in the market that was left behind by the Mazda B-series and the pre-2011 Ford Ranger before they went up a weight class. It is not only a value pick, but a solid performer for anyone seeking a small workhorse without sacrificing efficiency or on-road dynamics. Ford has quietly kept a winning card in its hand and we expect to see many of them on the roads in the near future.
See Also: