An often-parroted sentiment in today's truck market is that half-tons have grown too big. While it may seem like an old-fashioned complaint, it has some merit. Most non-commercial consumers would be better served by a midsize truck that offers the size and capability of a 20-year-old half-ton. But are the midsize trucks as good as the half-tons? To find out, I grabbed the keys to a 2021 Ford Ranger Tremor for a week.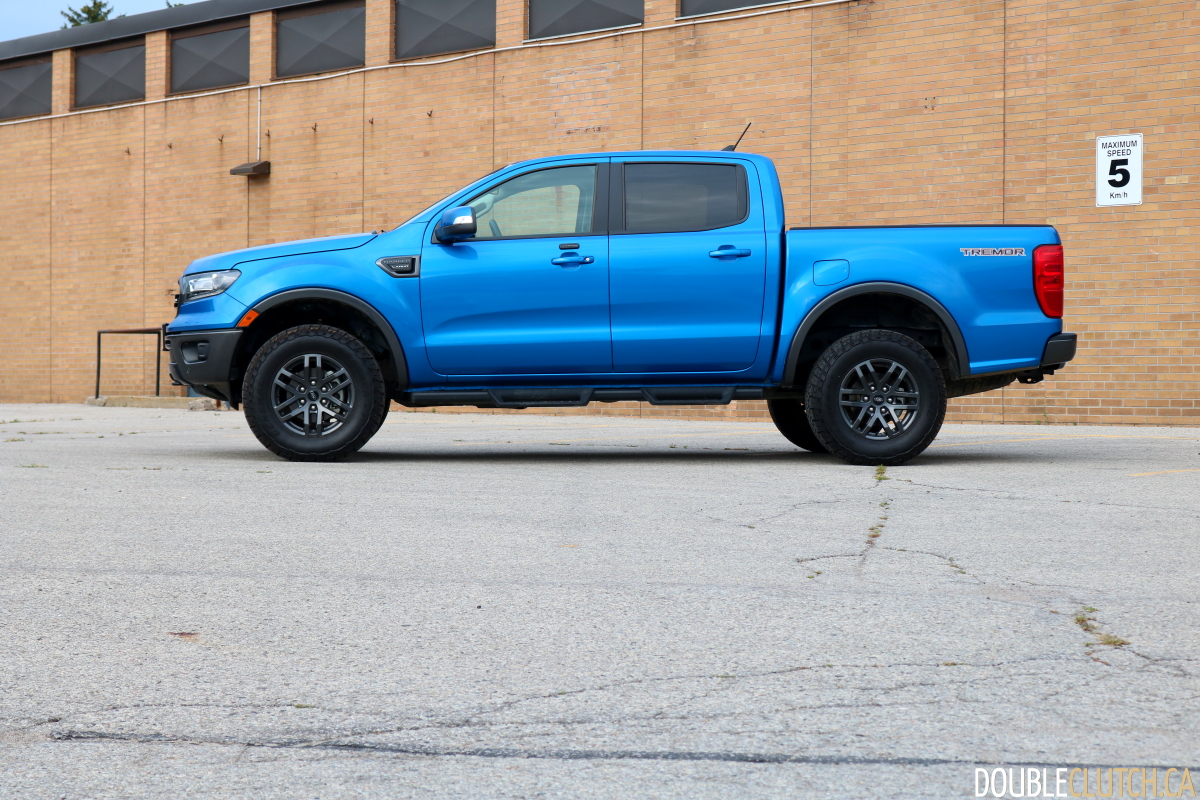 While the Ranger is a fairly recent arrival to our shores, it actually dates back to 2011. That being said, the general shape of the design has aged well and Ford has made some unique alterations for the North American market. For instance, the rest of the world doesn't get the steel front bumper that provides added durability and cements the Ranger's body-on-frame image. The Ranger nameplate stamped into the tailgate shows familial ties to the larger F-150, as do unique wheel arch moldings and tail lamps.
My test truck came equipped with the Tremor package, which adds loads of tasty rugged goodies. On the outside, General Grabber A/TX all-terrain tires wrapped around Raptor-inspired 17-inch alloy wheels anchor the truck to the ground while a subtle lift and an air dam delete add clearance for tackling tough stuff. Rounding off the looks are a special grille with red accents, arch trims and bumpers finished in a dark shade of grey called Magnetic, hoop steps, tow hooks and a front bash plate. Underneath, the goodies continue with a locking rear differential, FOX dampers, a full array of skid plates, a range of driving modes, low-speed off-road cruise control and off-road pages in the gauge cluster.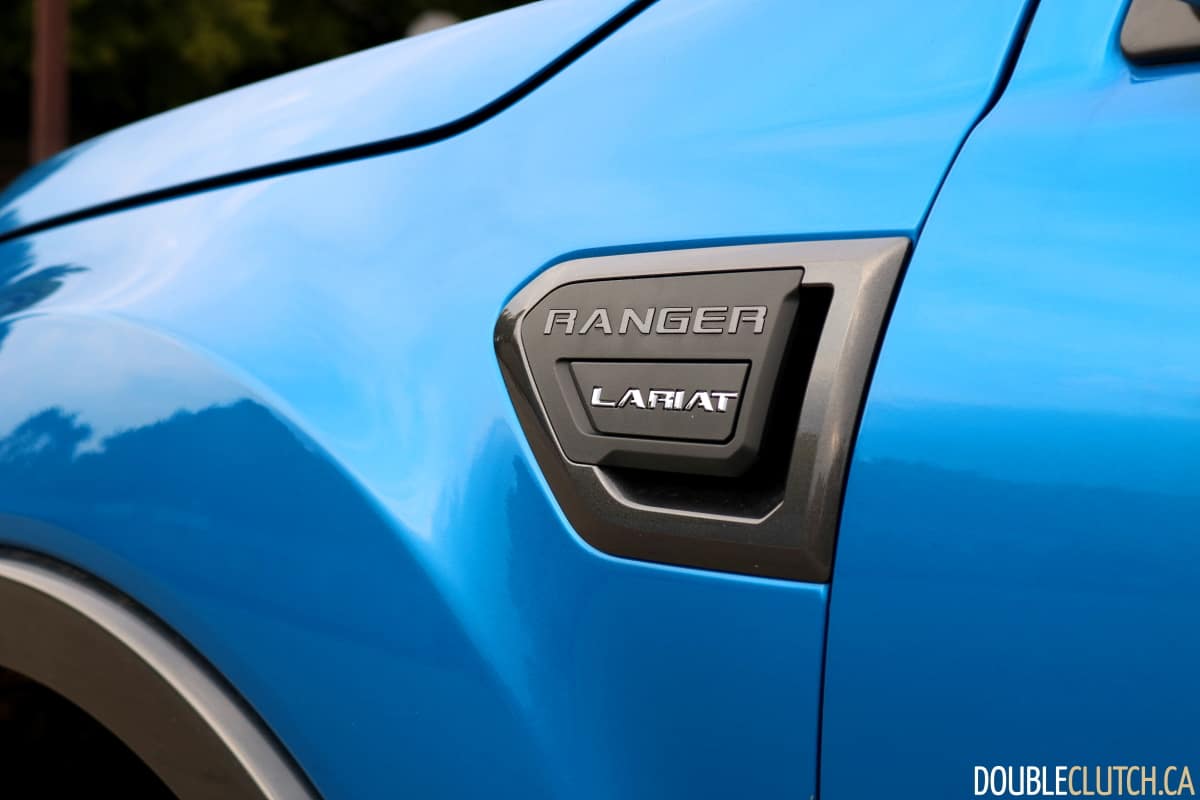 On the cargo hauling side, there's only one thing that stands out particularly about the Ranger's six-foot bed. The tailgate isn't damped, there's no special step to get in and no three-pin plug socket in the bed wall, but the tailgate is integrated into the central locking system. While I would've liked to see more functional additions to the cargo area, the remote locking tailgate is a smart touch that adds peace of mind when used in conjunction with a hard-shell tonneau cover.
On the inside, the Ranger is a mixed bag. On the plus side, the seats are quite comfortable and there are plenty of physical controls for just about everything. Powertrain-related controls like the old-school manual handbrake, the four-wheel-drive selector and the button to lock the rear differential are located on the centre console, logically partitioned from comfort functions. The driving position's quite good too, with plenty of adjustability in the seat and steering column. In fact, switch pod aside, there's a brilliant sense of quality to the Ranger's interior. The switchgear is all nicely damped, the plastics are generally quite nice and most things feel well affixed.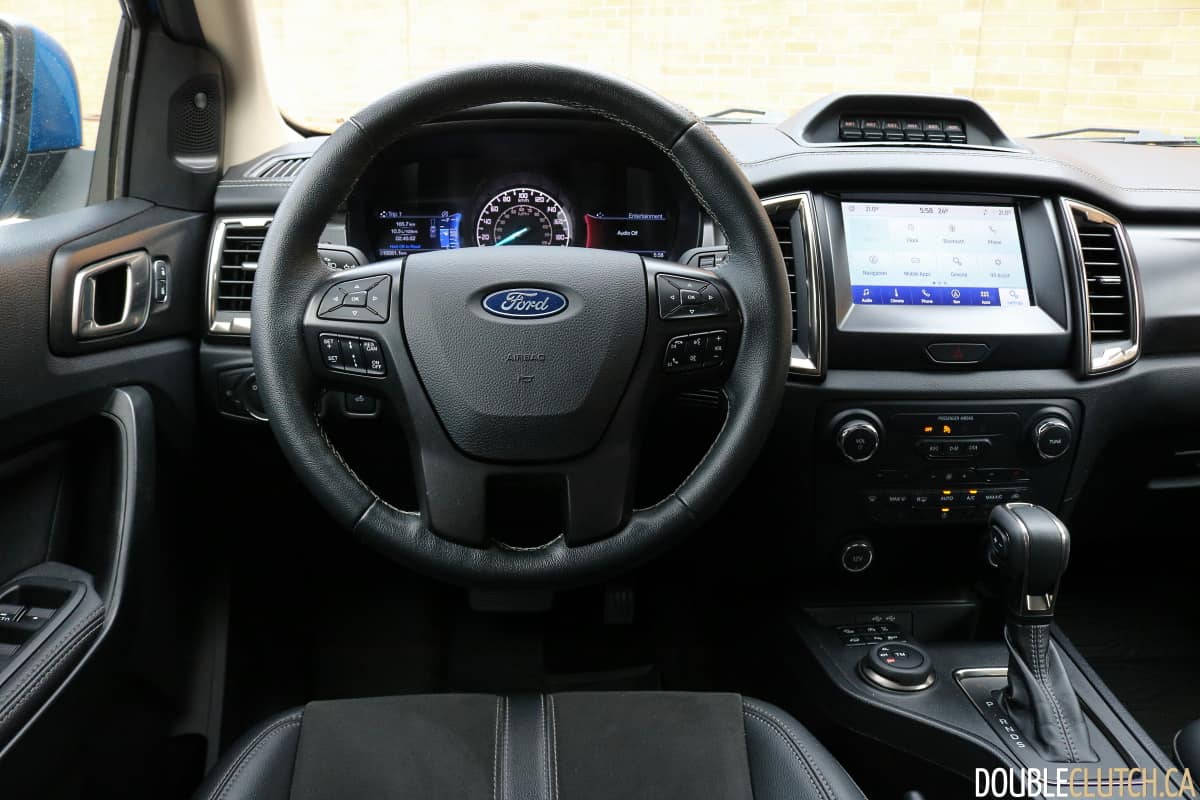 On the minus side, some interesting corners have been cut. The crudely affixed auxiliary switch bank looks as if it was pulled out of the mold by Wolverine. The edges are jagged and it just doesn't fit on the dashboard properly. Folding down the rear seat for more in-cabin storage exposes the subwoofer and amplifier, two things that would be very costly to replace should cargo damage them. Folding up the rear seat squab reveals a one-piece design that's annoying if a child seat is installed and putting passengers in the back reveals a general lack of rear passenger room.
As the Ranger is an old design, some of the tech is equally old. The large speedometer flanked by two screens dates the gauge cluster and isn't user-friendly, while the infotainment screen itself features poor black levels and merely acceptable resolution. Ford's Sync3 infotainment system continues to offer questionable Apple CarPlay connectivity, with numerous drop-outs experienced during my week with the Ranger. As for the stereo, my top-trim Lariat tester came optioned with the B&O Play premium audio system which is not quite as good as it should be. Mids are muddy, bass is blown-out and highs are merely acceptable.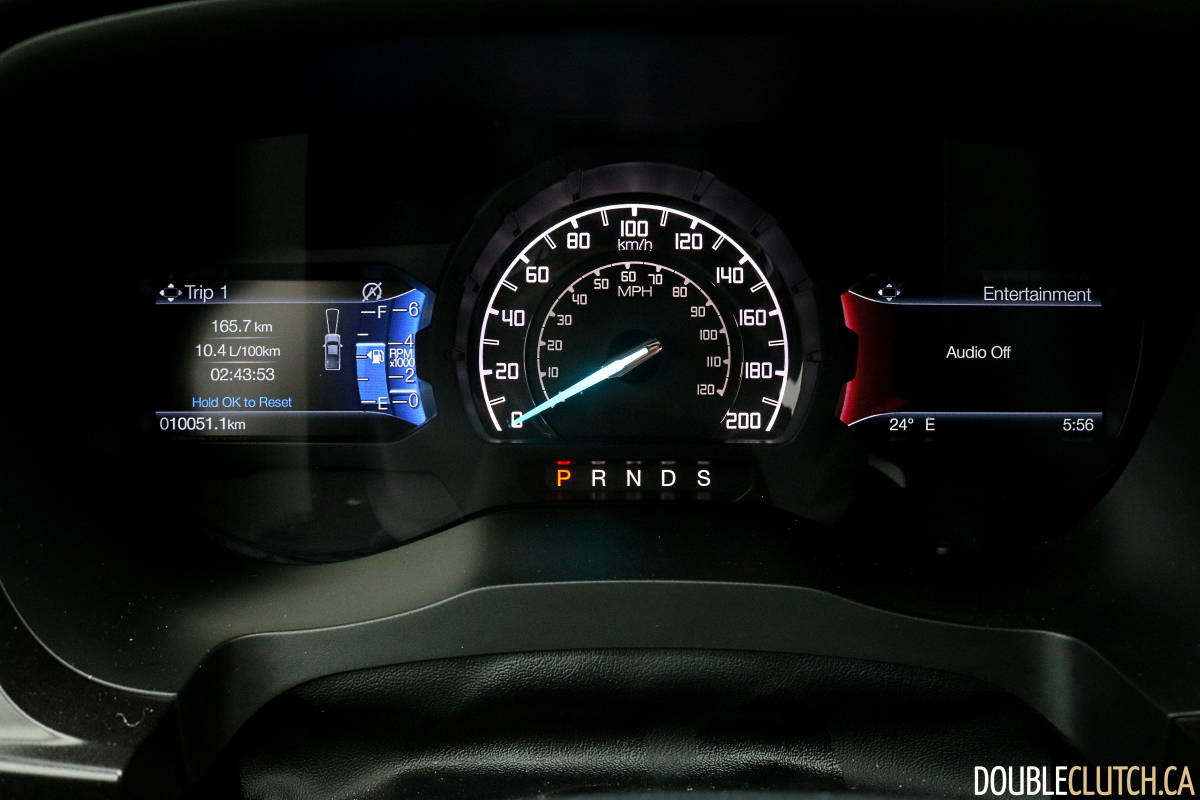 Powering the Ranger is Ford's 2.3-litre EcoBoost four-cylinder engine and ten-speed automatic gearbox. While reasonably potent at 269 horsepower and 310 lb-ft of torque, it features auditory smoothness on par with Eastern Bloc agricultural equipment augmented by fake engine sounds straight out of Gran Turismo 3. If you ever so much as breathe on the throttle, it'll dump fuel, build boost, downshift with all the subtlety of dropping a cast iron bathtub out of a 10th-storey window. This wouldn't be a deal breaker if the engine had enough grunt out of boost to cruise smoothly but it just doesn't. On any given round trip, the Ranger feels as if it's going uphill both ways, forever at odds with aerodynamic drag, weight and tire friction.
I'm afraid it gets worse from there. The ten-speed gearbox features some of the worst programming on the market, stutter-stepping in arrhythmic manner between gears even at a steady cruise. It also takes absolute ages to get into tenth gear after merging onto the highway and downshifts can be somewhat unpredictable. At least fuel economy is good. We averaged 10.7L/100km in mostly highway driving, besting the government estimates of 12.3L/100km highway, 12.1L/100km city and 12.2L/100km combined.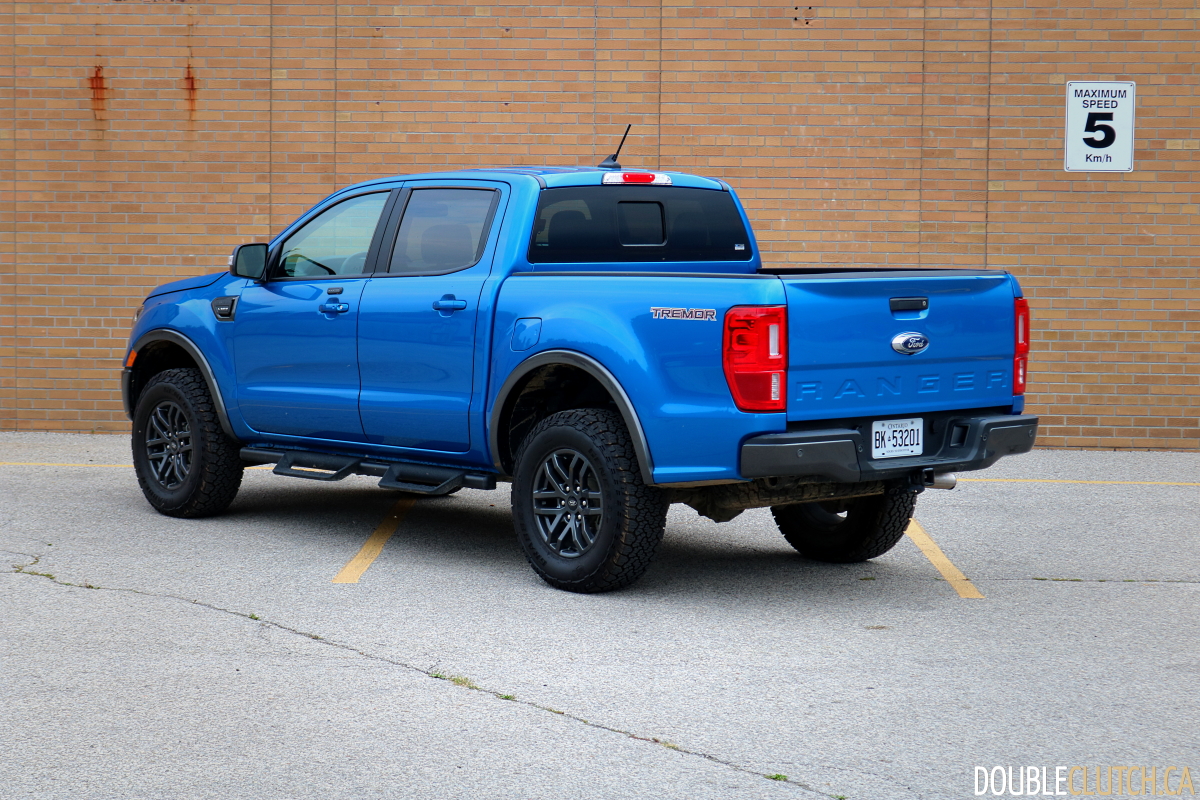 In terms of ride and handling, the Ranger's actually quite good. The Tremor package adds Fox dampers that feel well-matched to the springs and there's a decent steadiness to the chassis in sweeping corners. The steering is pleasantly weighted and reasonably quick. The turning circle is rather exceptional for something of this size and the height of 1,860 millimetres makes it easy to manoeuver around underground car parks. There are some minor demerits stemming from plenty of road and wind noise, although they're not entirely unexpected.
Now you may be thinking to yourself, "With architecture this old, a powertrain this poorly-tuned and some corners cut on build quality, surely the Ranger must be cheap, right?" Well, yes and no. My test truck, optioned to the absolute nines, clocked in at under $53,000. While a Chevrolet Colorado ZR2 offers more off-road tech for similar money, it's also equipped more sparsely and styled to be significantly uglier than the Ranger. A Tacoma TRD Pro retails for a little bit more money than the Ranger at $56,830 while a Jeep Gladiator Mojave starts at $56,315 and goes way up from there if you want any options. However, the new Nissan Frontier Pro-4X will sticker for an amazing $47,498.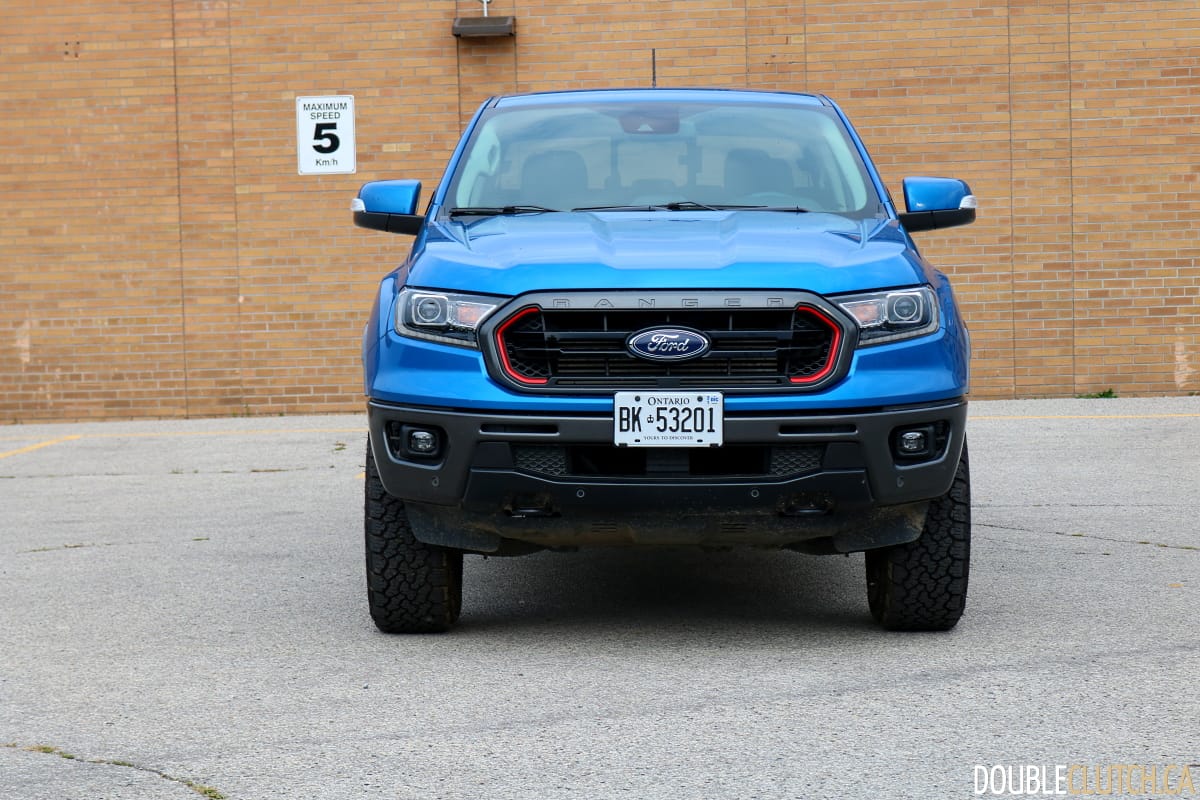 Yet, despite all the Ranger's glaring flaws, I can't actually hate it. As a concept, it's sound. Not everyone needs a yacht-sized half-ton, yet many crave the slow-breathing body-on-frame feeling that can't be duplicated by the Honda Ridgeline or Hyundai Santa Cruz. In fact, some of the sensations the Ranger exudes are just so right. The powerful whoosh of the mechanical cooling fan, the nimble narrowness of the body, the slight jiggle of compliant body mounts.
The term "Americanization" often comes with unflattering adjectives attached. Cheapened. Slapdash. Unrefined. While all of these apply to the 2021 Ford Ranger Tremor, I certainly wouldn't condemn anyone who buys one. Character is a lost art in modern vehicles, yet for better or worse, the Ranger has it in spades. For anyone who's just looking for a small truck for the occasional garden centre run, my advice is to wait. Judging by our experience with the Bronco Sport, the upcoming Maverick holds much promise indeed.
See Also: