In the year 2020, cars are more economical, more gadget-laden, more practical and more refined than ever, and yet somehow often less fun. The 2021 Jeep Gladiator Mojave is here to change that. Ready for some old-fashioned, open-air internal combustion fun?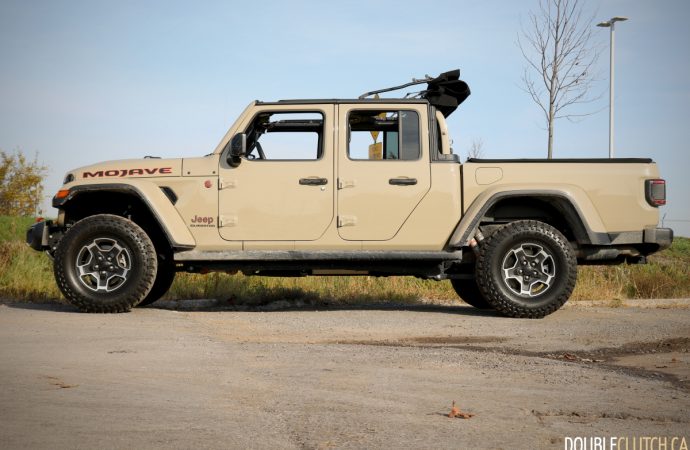 The Gladiator Mojave's styling is exactly what it implies on the tin. It's a Jeep. It's a truck. It's a Jeep truck. While a mullet is traditionally described as "business in the front, party in the back" the Gladiator's Wrangler-like front end and five-foot bed means it fits the description of "party in the front, party even harder in the back." It's a mashup childhood dreams are made of, a pair of Pit Viper sunglasses on 33-inch all-terrain tires. Wicked.
And because it's very much a Jeep, two styles of removable tops are on offer. Recommended is the soft top seen on our test vehicle. Despite Jeep recommending two-person operation, it's downright easy for one person to open up in a matter of minutes. A removable hard top is also on offer for greater security, although that's absolutely a two-person job to remove and erect should one not wish to wake up the next morning feeling as if they lifted an Airbus A380.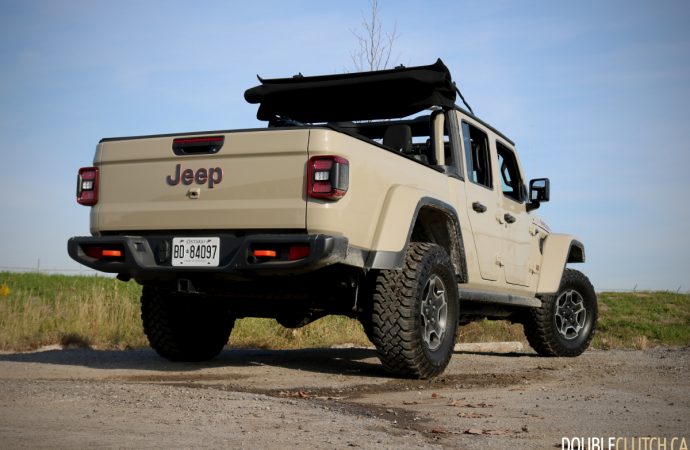 As for the truck side of the equation, the five-foot bed is quite narrow but access is fairly good and payload capacity is roughly half a ton. The bed also includes generously-sized tie-downs for securing loads and the tailgate is damped for smooth opening. Towing capacity is also hampered slightly by the Jeep side of the truck equation, maxing out at 6,000 lbs when properly equipped. Again, not quite as capable as most mid-size trucks but still more capable than most buyers will ever need.
Step inside the Gladiator and things are both extremely ruggedized and nicer than one might expect. The infotainment on our tester is Jeep's familiar, user-friendly 8.4-inch screen and just about every toy one could want within reason is packed around the interior. For active lifestyle types, a removable Bluetooth speaker is available that charges in the vehicle. It's a bit middling for sound quality and likely not worth the $395 price tag but hey, it's the thought that counts.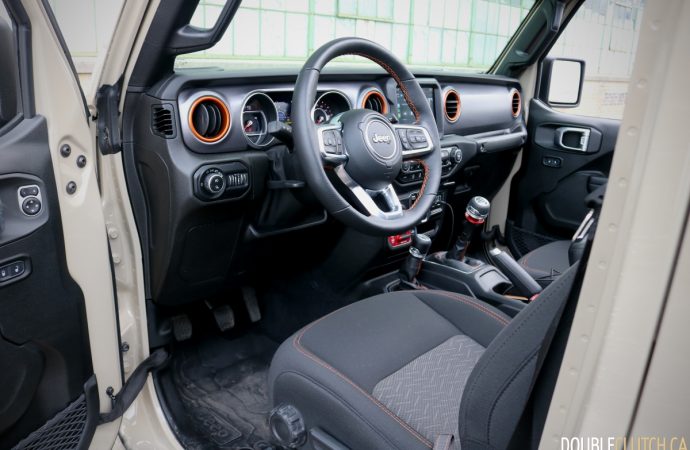 Speaking of thought, Jeep knows that a select few nutjobs will take the top off the Gladiator in freezing winter weather, so the heated seats and steering wheel are quite effective and the infotainment screen is surrounded by a water-resistant rubberized bezel.
The Gladiator's seats are rather tall and upright, manually-adjusted and offer up a confusing set of controls. The lever on the side of the driver's seat adjusts height while the knob ahead of the lever adjusts lumbar. How does the backrest adjust? By pulling a strap that's frequently hidden by the seat belt. Still, once a comfortable seating position is found, the Gladiator offers good head, shoulder and legroom in all areas save for the slightly tight passenger footwell. It's a real four-wheel-drive vehicle with a beefy transfer case, so some encroachment on space is excusable.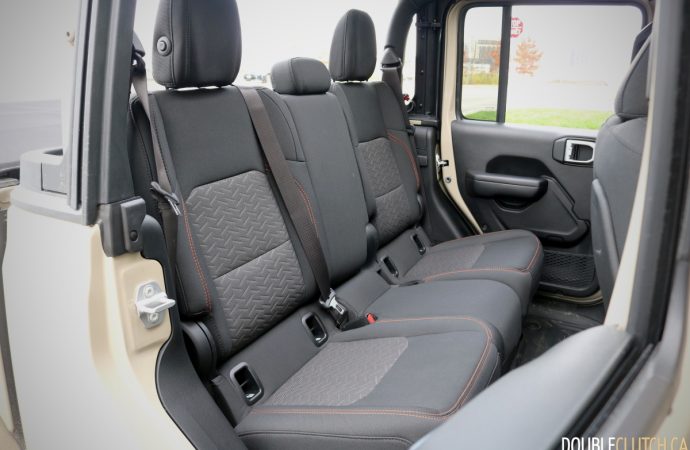 Rear seat occupants get a bit of connectivity that's quite nice to have. USB-A and USB-C charging ports are present, as is a standard three-pin socket backed by a 400-watt inverter. That's enough juice to power a coffee machine or a hair dryer for camping expeditions. Apple CarPlay and Android Auto are standard while our test Gladiator came fitted with the optional Alpine stereo, a must for high-speed top down motoring. While not the most defined system in the world, it offers bass to rival Glastonbury and treble that's well-controlled, if not particularly brilliant.
To create the Mojave, Jeep took a Gladiator and beefed it up to go over the rough stuff fast. On the mechanical side of things it gets 4.10 Dana 44 axles and a rear locker, a trick set of Fox external-reservoir dampers with progressive hydraulic bump stops, a lifted front end by an inch, reinforced frame, gnarly cast-iron steering knuckles and 33-inch Falken Wildpeak mud terrain tires.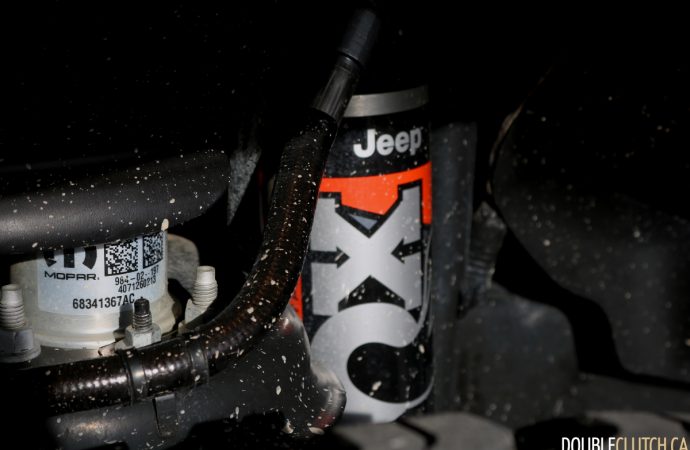 While this all sounds macho and hardcore and will likely do wonders off the tarmac, it also has the lovely side effect of positively sublime ride quality. While other vehicles may crash over apartment-sized potholes with all the grace of a Grizzly bear attempting ballet, the Gladiator Mojave takes them with such composure that not a drop of coffee will be spilt from the cupholder.
As for the handling side of ride and handling, the Jeep Gladiator Mojave drives simultaneously better and worse than many expect. The steering is one of those sitcom sawing-at-the-wheel-while-driving-perfectly-straight systems that's quite vague. Lean on it slightly, and it's more capable than its on-centre play suggests. Just don't lean too hard, as 33-inch mud terrain tires aren't known for their grip and Jeeps aren't known for having low centres of gravity. The Mojave handles off-road obstacles like rocks, gravel and mud with aplomb and makes getting muddy so easy that even a novice could take on Moab in it.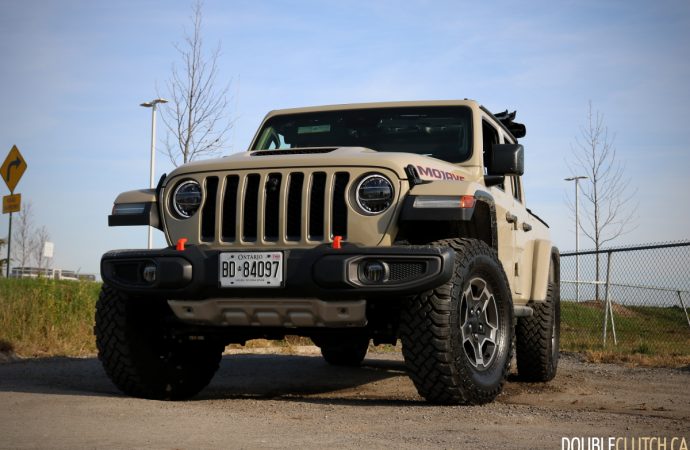 Power comes by way of the familiar Pentastar V6 making 285 horsepower and 260 lb-ft. of torque. Standard equipment as fitted to our test truck is a six-speed manual gearbox with reasonably crisp throws and an intriguingly oversized shift knob. The clutch is light and doesn't have a ton of feel but it's just communicative enough to avoid constantly stalling. Optional is an eight-speed automatic which is likely just fine.
While the Gladiator Mojave comes fitted with an auto-stop system that shuts the engine off at traffic lights to keep Greenpeace off its back, fuel economy is thirsty enough to keep OPEC very happy. We averaged 14.6L/100km over a week of mixed driving which is 2.0L/100km worse than the government estimate. Frankly, it's not upsetting as nobody has ever looked at a Jeep Gladiator and said "I bet that's quite economical to run."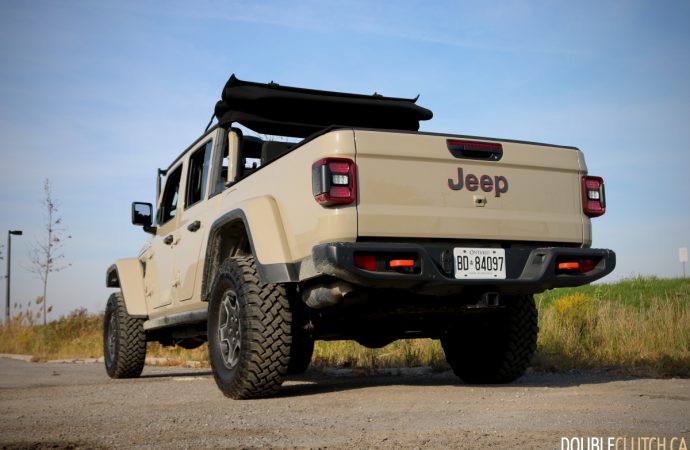 Let's get down to brass tacks. The Jeep Gladiator Mojave isn't cheap. While it starts at $54,845, our test car came equipped with $13,120 in options. Some of these options are absolutely necessary like the LED headlamps, heated seats and steering wheel and Alpine audio system. While a Toyota Tacoma TRD Pro or Chevrolet Colorado ZR2 may be better value, the Mojave isn't comparable to either of those, or anything on the road.
The 2021 Jeep Gladiator Mojave is an absolutely anthemic vehicle for people who want to carpe the hell out of every diem. If you want to feel alive, buy one, preferably with the six-speed manual, and never put the top up unless the weather is brutally hostile. It's a Jeep thing, Gladiator drivers understand.
See Also:
2020 Chevrolet Colorado ZR2 Bison
2020 Jeep Wrangler Unlimited Rubicon