Even in a world filled with conversations about electrification and autonomy, the name that has stood out the most this year is "Bronco". Ford has put most of their marketing dollars this year into announcing the return of one of their most iconic nameplates of all time. Conveniently, they also debuted the product on OJ Simpson's birthday, a move we don't buy for a second to be a coincidence. We were invited to take a first drive in the entry point to the lineup, this 2021 Ford Bronco Sport, in "Badlands" trim.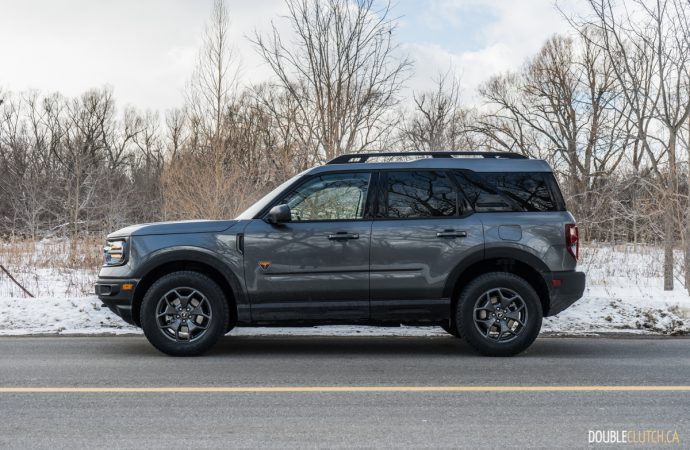 The Bronco Sport is most certainly not the full, big-body Bronco that's joining the lineup later this year. This is a unibody crossover based on the Ford Escape, and effectively a soft-roader. But while purists across the continent are grumbling about the Bronco name being affixed to such a machine, we disagree with that criticism. The thing is, today's mainstream crossovers in this segment, like the Toyota RAV4, Honda CR-V and Nissan Rogue, while fundamentally good, are a sea of dreary grey, with zero excitement to them. That's just not the case with the Bronco Sport.
Just look at the thing – the aggressive, boxy styling is absolutely cool, and I suspect that Jeep Wrangler customers who have no real intention to go off-road will cross-shop this model. It looks aggressive inside and out, has unique touches, and unless you're reading technical material, you really won't find any similarities to the Escape it's based on. It goes up against the likes of the Subaru Forester, which is marketed as outdoorsy, but again, the Bronco Sport is just far more interesting.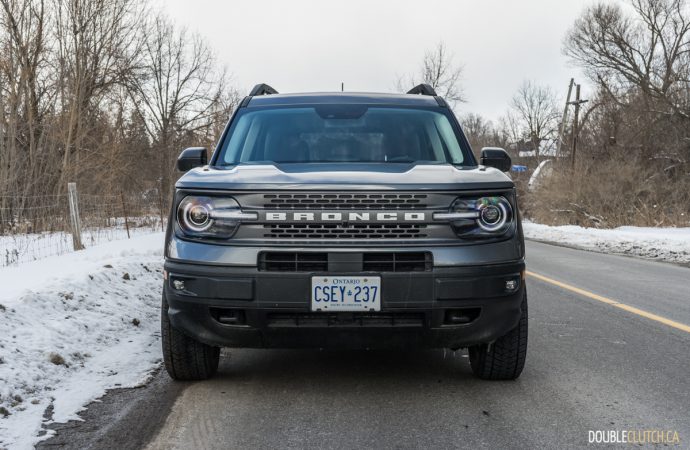 Powering this top-trim Badlands model is a 2.0-liter inline four-cylinder that's turbocharged and part of Ford's EcoBoost family. It outputs a healthy 250 horsepower at 5,500RPM and 277 lb-ft. of torque at 3,000RPM. This engine is hooked up to an eight-speed automatic transmission and feels lively and has plenty of grunt off the line. It runs out of breath when trying to pull off highway passes, but the squared-off styling's lack of aerodynamics probably contributes to this behaviour too. Worth mentioning is that base models come with a 1.5-liter three-cylinder, which isn't really enough.
For the most part, the Bronco Sport drives extremely well. Ford has stiffened up the suspension and added more capability, which also translates to a more truck-like driving experience on the road. This isn't a bad thing, because the road manners are substantially better than any configuration of the Wrangler, and those sticking to the Costco parking lot (read: many Jeep buyers) will appreciate this. The ride is fairly good, with speed bumps and road imperfections being imperceptibly absorbed by the chassis, though no adjustable dampers are available.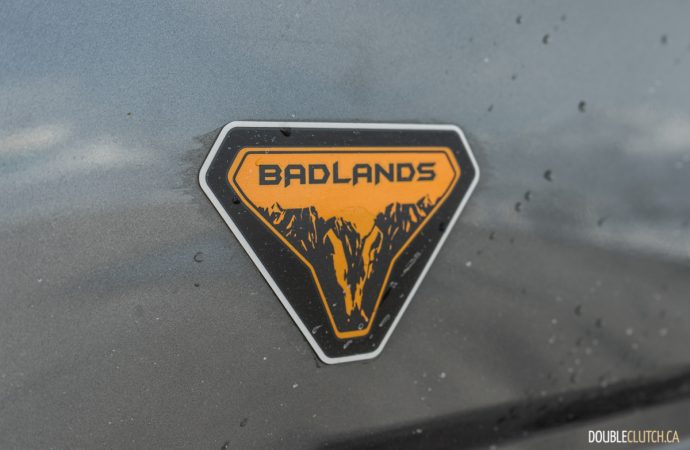 Ford calls the suspension layout here a "High-Performance Off-Road Stability Suspension", or "H.O.S.S." It's an independent MacPherson strut setup in front, and independent double lateral link semi trailing arms in the rear. The Badlands model gets 17-inch Carbonized Grey wheels on 28.5 or 29-inch all-season tires, though our tester was riding on Bridgestone DMV2 winters. Badlands models can also tow 2,200 pounds.
A drive mode selector on the console is labeled "G.O.A.T. Modes", which Ford says means "Goes Over Any Terrain". It mostly tweaks the four-wheel-drive system, which also has a twin-clutch rear diff, throttle response, and transmission behaviour to ensure drivers are in the right setting for road conditions. We also suspect ride quality is best on the 17-inch wheels rather than the big 18-inchers that are also available. Off-road bonuses are approach and departure angles of 30.4 and 33.1 degrees, respectively.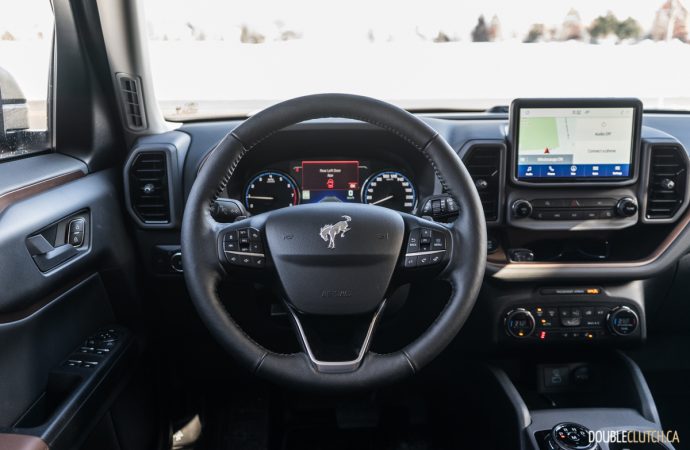 Ford officially rates the four-cylinder Bronco Sport at 11.1L/100km in the city and 8.9L/100km on the highway, for a combined 10.1L/100km. The base three-cylinder model gets slightly improved numbers, at 8.9L/100km combined. We observed a predictable 11.0L/100km in combined driving, during very cold winter conditions and liberal use of the remote starter. All trims of the Bronco Sport only require regular 87-octane fuel in the tank.
Inside the Bronco Sport, the fun touches continue, with "Bronco" easter eggs located throughout. The seats are upholstered in a beautiful "Ebony Roast", which adds some Alcantara accents along with the leather. The heated seats and steering wheel are notably toasty, and the plethora of headroom is comparable to the Mercedes-Benz G-Class. Rear seat space is ample, and quality of materials is also rugged, with a rubber floor and premium-feeling kit all around. Also, the tall roof means visibility is truly wonderful.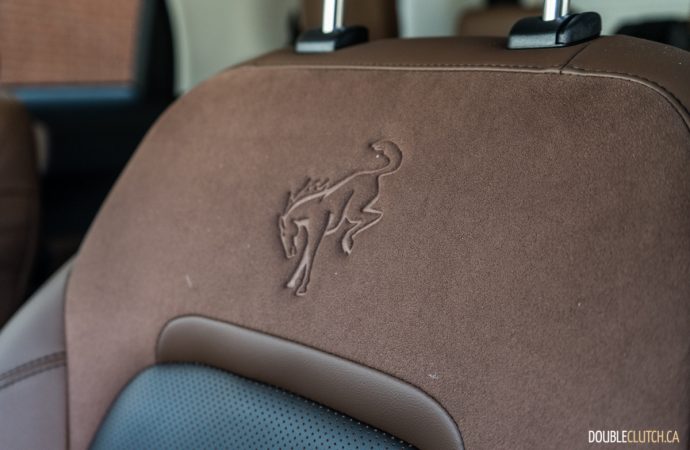 Tech is controlled using the latest version of SYNC 3 infotainment, with compatibility for Apple CarPlay and Android Auto. This trim level also gets a front 180-degree front camera, 6.5-inch digital instrument panel, satellite radio, and more. Ford's infotainment system has aged fairly well, and the 8-inch touchscreen is much better suited to the Bronco Sport's rugged personality than the massive portrait-oriented screen seen in some of their other recent entries.
Pricing starts at $32,199 for the base Bronco Sport 4×4, with some options available. It's fairly well equipped at that price point, and our top-trim Badlands starts at $40,199. It also had the Badlands Package at $3,000 for a power moonroof, dual-zone climate control, B&O sound, and more. Ford wants an extra $850 for Ford Co-Pilot360 Assist+, and $600 for a Class II Trailer Tow Package. This brings the total to $45,349, which is a smidge more than most compact crossovers, but the Bronco Sport does bring with it a splash of character and more capability.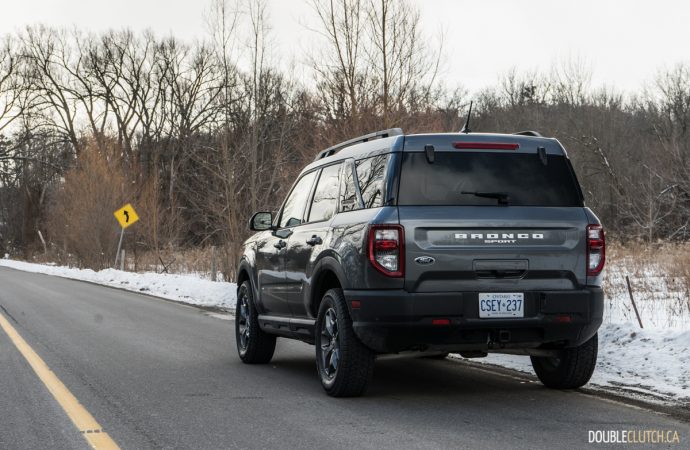 Amidst all of the boring crossovers that look the same on the roads, it's truly refreshing to see something with this much character. The 2021 Ford Bronco Sport isn't necessarily for everyone, because it doesn't have the cushy ride of a CR-V or the price point of, well, an Escape. What it does offer to buyers is a true alternative that has enough capability to get up to that campsite in the bush, or as a great companion on that hiking trip you've been meaning to take. Either way, you really can't go wrong with this one!
See Also:
2020 Ford Escape Hybrid Titanium